News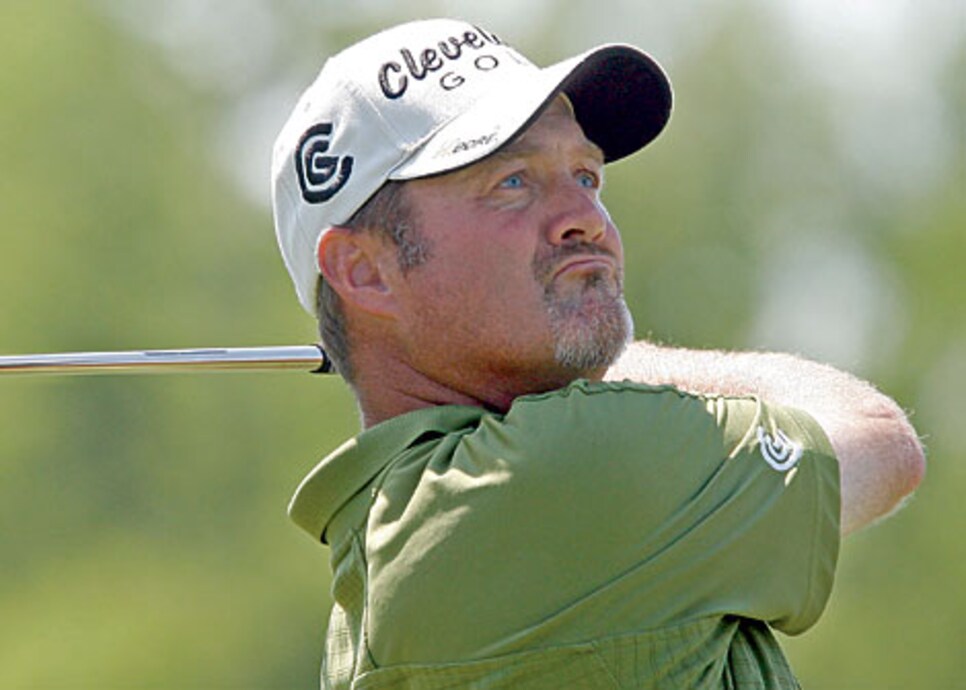 Long time coming: Kelly struggled last season, but the hard work he has put in with coach/brother-in-law Schuman paid off with his first victory since 2002.
On a Pete Dye golf course designed to deliver disaster every bit as much as its more famous cousin with the island green and the cavernous clubhouse in north Florida, in an eclectic city destined to survive disasters of its own, a serious foodie who craves the taste of New Orleans got served a tasty order of dead-duck jambalaya just in time to win the Zurich Classic. Jerry Kelly looked as though he had given away the chance for his first victory since the Advil Western Open in 2002 only to have a handful of guys turn around and serve it right back to him like the platter of Drago's charbroiled oysters someone handed Kelly as he came off the 18th green with a one-shot victory, a million or so bucks and an invitation to the Masters. I garontee.
On Saturday night the 42-year-old Kelly, who was three shots clear of the field, prepped for his final round with a meal at the Bourbon House in the French Quarter. He was joined by Denver Nuggets coach George Karl, who was taking a break from watching film of his team's playoff opponent, the New Orleans Hornets. According to Kelly, Karl had a nugget of wisdom for him, too. "You're a hockey player," Karl said to the Wisconsin native. "Go out and kick some butt."
So when Kelly bogeyed the eighth and 10th holes and found himself three shots behind Charles Howell III, who had gone out in just 31 strokes, that's exactly what he told himself and pretty much what he did—with a little help from his friends. "I knew what the back side had been doing to everybody all week. My caddie, Eric Meller, said, 'The back's been yours all week, let's go take it,' and he was right," Kelly said. "I actually brought up Coach Karl's words in my head. He said, 'Don't put your head down, just go forward.' "
Kelly has been going forward with his swing for what he figures is more than three years under the tutelage of the University of Wisconsin golf coach, Jim Schuman, his brother-in-law. The changes haven't come quickly or easily. Last year, for the first time, Kelly missed more cuts on tour than he made. In the meantime, he was relying on his short game to stay afloat, and no one helped him more with that than his fellow Cheesehead, Steve Stricker, who not only stayed at the TPC Louisiana to watch his good friend finish off his third tour victory, but gave him a lift home in his rent-a-jet, too.
After the bogey on the 10th, Kelly hit a drive and a 3-wood just to the right of the par-5 11th and got up and down for a birdie. He added another when he hit a 7-iron inside 10 feet on the 14th to get to one under par for his round, 14 under for the tournament. Cue the ducks.
The closing holes at TPC Louisiana are a mischievous gumbo of temptation and tragedy. The 16th is a drivable par 4 with water and big numbers all the way up the left. The 17th is a par 3 with water on the left and nothing but diabolical humps and bumps every place else. The 18th is a reachable par 5 with deep fairway bunkers left, water all the way up the right and no good place to miss it anywhere around the green. And the wind was kicking up a fuss, as it had all week, from the general direction of the oil rigs in the Gulf of Mexico. All and all, it's the kind of finish that proves selling pints of blood is an easier way to make a living than playing golf.
Now, here comes the flying formation, in no particular order: Rory Sabbatini aggressively hits driver over the 16th, lips out his eagle chip and misses the birdie putt from inside three feet. He then misses the 17th green to the right and can't get up and down. He reaches the back fringe of the 18th in two brilliant shots but can't get the putt to drop and posts 13 under.
Charlie Wi doesn't make a bogey all day but misses a 13-footer for birdie on the 18th and ties Sabbatini.
David Toms struggles early, birdies five of six holes in the middle of his round, then goes mute from the 12th hole in to finish one behind Wi and Sabbatini.
Ouch. Poor Charles Howell III. This one's gonna hurt. He's two up on Sabbatini, Wi and Kelly, but bogeys the 15th when he drives it in the fairway bunker and can't get home with a 5-iron. He makes an outstanding par-saving putt on the 16th after fairly butchering the short hole, then three-putts the 17th. On the 18th he aims for the front bunker with his second and slings a sweeping hook out towards the water on the right. It scampers around the bunker protecting the front middle of the green and runs off the steep embankment in the back. He bumps a 9-iron up onto the back shelf and misses to finish tied with Wi and Sabbatini.
Last but not least, Steve Marino. Playing with Kelly, he is quiet all day. Then, he pitches in from 35 yards right of the 16th and suddenly, where did he come from? He's within a shot, too. But he drives it under the face of one of the fairway bunkers on the left of the 18th fairway, advances his second 30 yards, then dumps his third in the front bunker and bogeys for 12 under.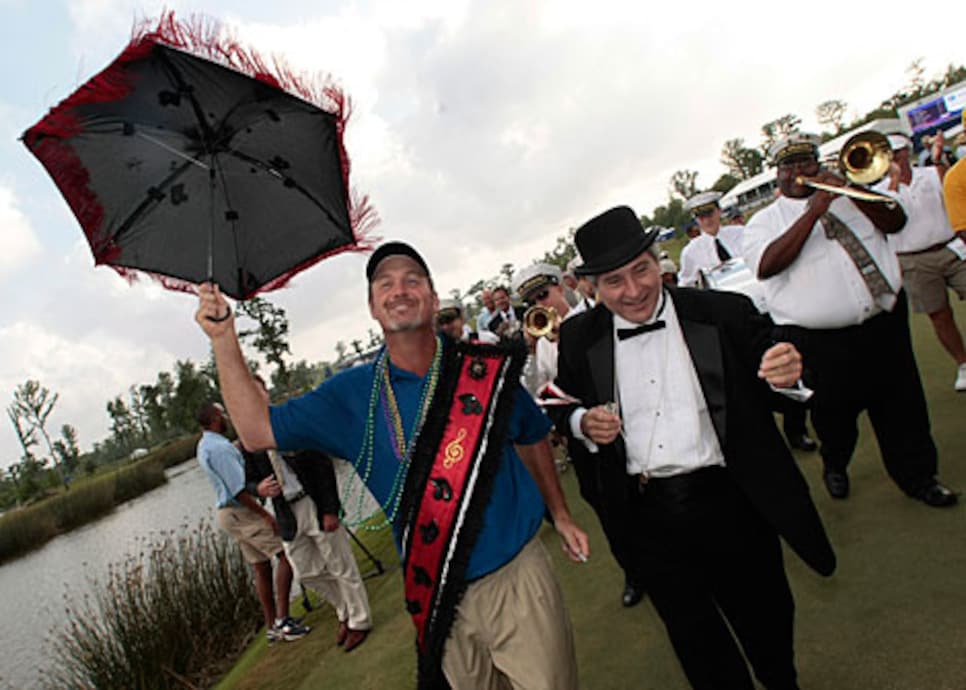 Meanwhile, Kelly is steady as you go on the 16th and 17th, knocks his third 11 feet from the cup on the 18th, hits a wobbly Bourbon Street lag putt, then holes out from just inside three feet with a putt traveling fast enough to put a dent in a hockey puck to finish at 14-under 274. If it doesn't go in, it needs a buck to pay the toll on the Crescent City Connection.
While the progress is painfully slow to some, each passing year since Hurricane Katrina seems to put a little more strut in New Orleans' step. Crime statistics are trending down. The city bonds have been elevated from junk. Dan Ackroyd is more interested in houses for real blues brothers than the House of Blues. Brad Pitt and Angelina Jolie have moved in. Nicolas Cage is moving out. (Now, there's an obvious upgrade.) Zurich Financial extended its deal with the PGA Tour through 2014. Fore! Kids and the Bayou District Foundation, with an assist from Toms, Joe Ogilvie and Rees Jones, are attempting to resurrect the City Park courses and the neighborhood surrounding them, using a model similar to the one that transformed East Lake in Atlanta. And it's still the only golf tournament in the world where the marshals are more likely to address someone as "cher" or "sweetie" than the more customary, "hey, you."
There really are only two places in golf where you're guaranteed to see tour players walking the city streets in civilian clothes, looking and acting like regular folk: St. Andrews and the French Quarter. And there are few things in sport as deeply satisfying as the spectacle of Boo Weekly poised over a heaping plate of crawfish at the Acme Oyster House. It's like watching Antonio Stradivari getting ready to string a violin.
The Zurich Classic did reasonably well in the face of stiff competition. There was the Mel Kiper/Todd McShay Draft Day Steel Cage Smackdown on ESPN, and in Nawlins, they love dem Saints. The Hornets were staying alive against Coach Karl. Joe Cocker, Rockin' Dopsie Jr. and the Zydeco Twisters, Texas Johnny Brown and the Quality Blues Band, Dave Matthews, Etta James and on and on, were appearing on one of the 12 stages at the 40th New Orleans Jazz and Heritage Festival. (And, if you think the PGA Tour has sponsor woes, at least Ponte Vedra Beach wasn't hooked up with AIG as Jazz Fest was.) And last, but by no means least, in Westwego they had the blessing of the boats performed by the pastor from Our Lady of Prompt Succor.
The week began, and in fact pretty much maintained throughout, an outpouring of sympathy, commiseration and respect for Kenny Perry who was making his first appearance since losing the Masters in a playoff. The 48-year-old was overwhelmed by the response that his dignified defeat elicited. He got calls or letters from Greg Norman, Phil Mickelson and George W. Bush—guys who blew leads at Augusta National, Winged Foot and Afghanistan. For the most part, Perry played like a race car without a passing gear and wound up at even-par 288 but convinced, as he has every reason to be, that he has a game capable of winning a major championship.
Like the bawdy houses of Bourbon Street, New Orleans throws open its arms to both the unfortunate and the uninitiated. First-time winners have a way of finding success there. It also teased a bunch of guys who have come close on several occasions already this year with another peek at the Promised Land. Wi nearly won the Transitions Championship in Tampa a little over a month ago and led the opening round with a six-under-par 66. Toms, playing pain free and interested again, has had a couple of chances to win this year but, in the end, couldn't make enough putts on the grainy bumps and hollows of Dye's TPC Louisiana. Charley Hoffman, who lost in a playoff in the FBR in Scottsdale, was felled by a horrid third-round 77, yet spent Phil Mickelson-time signing autographs afterward. Howell, Sabbatini and John Rollins, who already has two solo seconds in '09, were all there or thereabouts at one time or another.
Which is why it made perfect sense for the guy who led after 36, 54 and 72 holes to come into New Orleans fever hot. At Dye's Harbour Town the week before, Kelly had a dislocated rib, a bout with the flu and played his last six holes 10 over par, including a 10 on the last hole he could force himself to play before dragging his disease-riddled body off the golf course to withdraw. C'est golf. And, in New Orleans, that's a perfect 10.