News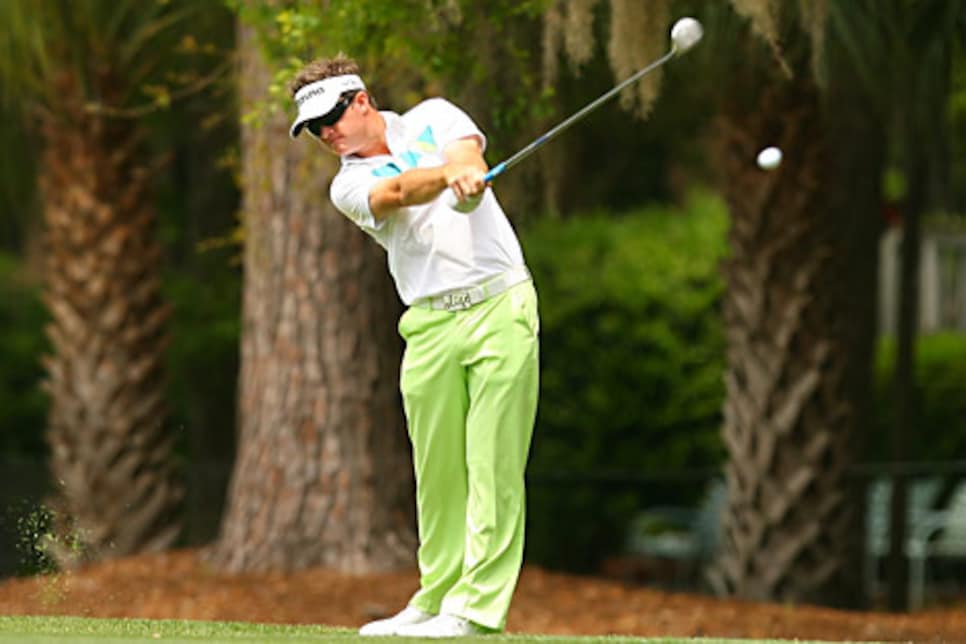 Cruise Control: Gay entered the final round at Harbour Town with a three-stroke lead then drove off with the top prize thanks to a closing 64.
Brian Gay performed some serious magic last week at the Harbour Town GL, but wife Kimberly finished a close second, which is a lot closer than any golfer finished. He ran over the field as if it were standing still to win the Verizon Heritage by -- this is not a typographical error -- 10 swings. He could have played the last hole with a putter, taken a 13, and still won. Or he could have continued on to Nos. 1 and 2 and with two pars, still won. Instead, he authored an airtight final-round 64 for a 20-under 264, breaking a tournament record on a classic course with a rich pedigree and a degree of difficulty his scorecard belies.
Then, as Brian Gay was about to slip on the tartan jacket, his jaw dropped. "I thought to myself, 'Where did all these people come from?' '' he said later. They came from all over, some from around the Gays' residence near Orlando, many from elsewhere throughout Florida, both sides of the family, courtesy of Kimberly's exemplary organizational skills. On Saturday night she was texting madly. "I didn't make much of it, because Kimberly's always on that Crackberry," Brian said.
Early Sunday she announced she was leaving their rented house to take their two young daughters to day care. And she lied. "I had 35 passes left at will call, and I wanted to make sure everything was OK," said Kimberly. "Everybody showed up, and all I told them was not to be around the first tee, then hang back in the crowds so Brian wouldn't see you. I swore our children to secrecy. All of these people, we haven't been together since Brian and I got married 11 years ago. And look what happened."
Look what happened, indeed. When Gay registered his first PGA Tour victory after 293 starts -- the 2008 Mayakoba Classic -- he said he felt uncomfortable even with a lead of five after 54 holes. So with a cushion of three on Heritage Sunday, he continued to regard thin fairways framed by pines and straw culminating in tiny greens as mere tourist traps. Also, Gay did not notice his family tree because he wears shades, keeps his head down and tends to eschew eye contact. After a bogey at No. 12, just his second of the week, he collected three more birdies to eclipse Loren Roberts' low of 19 under at this low-country gem in 1996.
Gay's symposium was another reminder that golf genius is plentiful in this league, even with Tiger Woods and Phil Mickelson absent. Luke Donald had a 65-66 weekend, yet gained no ground, only a share of second-place money with Briny Baird and his belly putter. "Angel Cabrera won the Masters using one," said Baird. "I thought, 'Maybe I'll give it a try.'
" Lee Janzen and Todd Hamilton tied for fourth while Davis Love III, a five-time Heritage champion who has taken more money out of South Carolina than Strom Thurmond, retreated Sunday with 74.
New Zealand's Tim Wilkinson began the fourth round on a mission, having found 13 of 14 fairways on each the first three days. Then Gay canned an 11-footer on No. 1 for birdie and a 58-footer on No. 2 for eagle. At least Wilkinson had a front-row seat to witness the tour's largest rout since Phil Mickelson's 13-stroke TKO at the 2006 BellSouth Classic.
"A little bit of relief and a little bit of validation," admitted Gay, who heard the usual stuff after his breakthrough in Mexico -- it was an opposite-field event, the big guys weren't there, no Masters invitation attached, and so yawn. But you don't do what he did at Harbour Town without game or a game plan. Gay is relatively short off the tee. Caddie Kip Henley (triumphant in Golf Channel's "Big Break II" reality show) "hits it 15 or 20 yards by me, which isn't saying much," said Gay. But Gay shaped his shots on a layout that demands thought, putted splendidly and remained composed atop the board. His first bogey occurred on No. 10 Friday, the same day he birdied five straight in rough conditions for a 66 to seize a lead that he padded instead of nursed. That's how thoroughbreds operate, even if it means resisting the temptation to fire at flags once in a while. "And he's so tight, he only used one ball today," quipped Henley after Sunday's tour de force.
Gay grew up about an hour from Augusta National and has attended a few Masters. "But I promised myself I would not play the course until I was in the tournament," he said. Gay is in now. "He missed twice in his career by one spot," mentioned Kimberly, surveying possible party scenarios after the award ceremony.
Brent Henley, Kip's brother, had joined the entourage after passing on a private flight to New Orleans with his golfer, Woody Austin. Kimberly also searched out the parents of Bailey Pritchard, 11, who was the standard bearer for Gay's group the three last rounds.
"Superstitious," she said. "We asked for him. I don't think that boy will be going to school tomorrow." The place where the Gays stayed is owned by a woman "somewhere in Illinois," Kimberly went on. "She wanted to do something because she thought Brian would win. So she had a case of Bud Light delivered to the house. What can I say?" Brian concurred. He worries about golf, and lets the wife take care of other things. She does that well.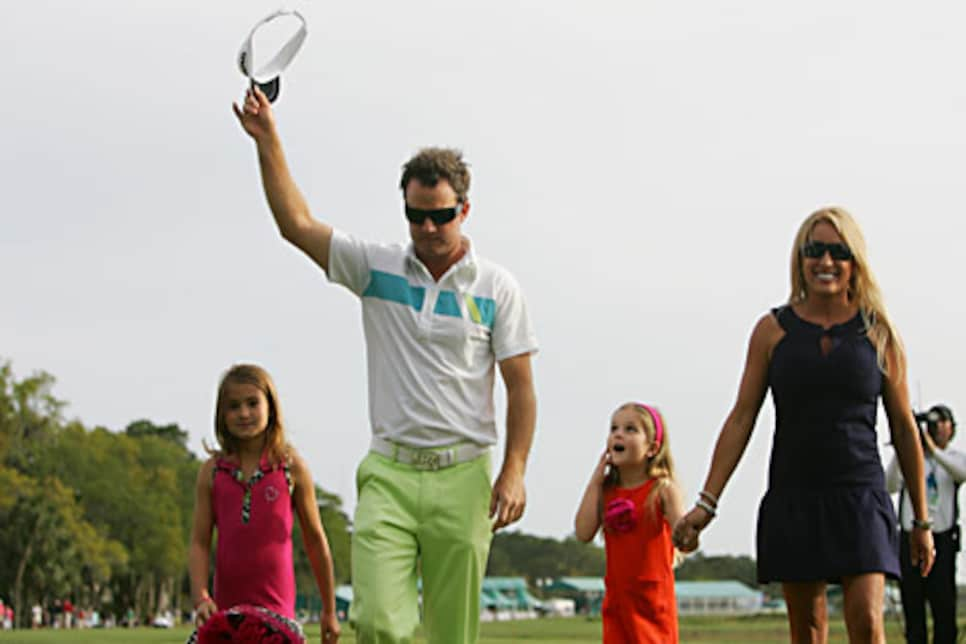 "Definitely winning last year propelled me to have my best year ever," Brian said. "You know, a lot of it is trust, believing in yourself, confidence. It's a lot mental. I think I'm a different player than way back. I've been moving, kind of going up, up, up the last three years."
Perhaps Gay also has realized that he can survive -- and in certain instances, thrive -- despite not packing pure power as a weapon. He might have missed three or four shots during 72 holes in the typically mysterious Hilton Head Island wind patterns, and if that doesn't elevate self-esteem, nothing will. Gay is quiet and reserved -- contrary to the flashy wardrobe -- but everything else about 20 under is loud.
He'll be a suitable if not different replacement for folk hero Boo Weekley at the Verizon Heritage, which proudly declares that it is among the first tour stops to use biodegradable garbage bags. Also, noted tournament director Steve Wilmot, this year's event was powered by renewable electricity. The hits just keep on coming at this special venue. Weekley, seeking a rare three-peat, developed an ouchy back early in the week. He logged a T-13, but did announce that he had discovered a cure for no-see-ums, those insidious and invisible indigenous insects that feast on humanity. They emerge around happy hour every evening, weather permitting, and cause havoc.
"If it's 65 degrees or above and there's no wind, look out," cautioned Boo. "I don't know what they do if it's cold. I guess they go to bed hungry. But if conditions are right, the way to avoid them is you get yourself a bottle of that there Listerine. You know, the mouthwash. You spread it out on your arms and face and those bugs ain't coming anywhere near you. Only thing that works is Listerine. Not Scope. Scope might be good for your breath, too, but the no-see-ums like Scope. Gotta use Listerine."
Someone mentioned to Weekley that smoking a cigar during meal hours for no-see-ums might also repel the critters. "Yeah, but them cigars stink," he said. "Listerine don't stink. Them things keep people away too." (That's part of the point, Boo.)
Weekley thought he might make a weekend charge, but after Saturday's 70 left him 11 shots behind Gay, Boo eulogized his reign thusly: "It's done drawn to a close." He did, however, state his goal to win the Heritage a half dozen times and pass Love. Meanwhile, Boo was an immensely popular champion who accommodated sponsors and fans by being eternally genial. His personality fits anywhere. Even at mannerly Augusta National, there were repeated "Boo!" calls during the Masters. "I'll do whatever they asked Boo to do here," promised Gay. Except the Boo Wear camouflage haberdashery.
When Cadillac bowed out of the courtesy-car business earlier this year, BMW came to the rescue, offering 150 vehicles from its plant in Greer, S.C. "It's about four hours away," said Wilmot. "So we sent three busses with 50 volunteers each up there, box lunches and all, to get the cars and drive them here. At the end of the tournament, the volunteers will drive them back, and then get on the bus to return here."
Wilmot said the frail economy affected the tournament "20 percent across the board." The contribution to charity would be about $1 million, he said, down by $800,000. But the upside was increased sales at food stands. Corporate tents that used to offer finger sandwiches and beverages were scarcer, so those privileged spectators accustomed to partaking found nourishment elsewhere.
Janzen's finish was his best since a third at the 2006 Southern Farm Bureau Classic. Janzen's schedule is a moving target, but the Verizon Heritage has an eligibility clause "for winners of the U.S. Open prior to 2005 who played in a minimum of 15 PGA Tour cosponsored or approved tournaments in 2008." That fits Janzen, a staple at Harbour Town since 1991. He liked it even more after Thursday's 65 and Friday's 70 that included an ace on No. 17 with an 8-iron from 178 yards, downwind. (Tommy Armour III also had a second-round ace, at No. 7). Asked about the common ritual -- the player who scores a hole-in-one buys drinks for the house -- Janzen responded, "If I was president of the United States, I'd change that. You make the hole-in-one, you should be getting the drinks. That's the worst deal."
Brian Gay had no 1s, but he had only six 5s, and his best ball for four rounds would have produced a 56. It's not supposed to be that easy, but so he made it seem.