News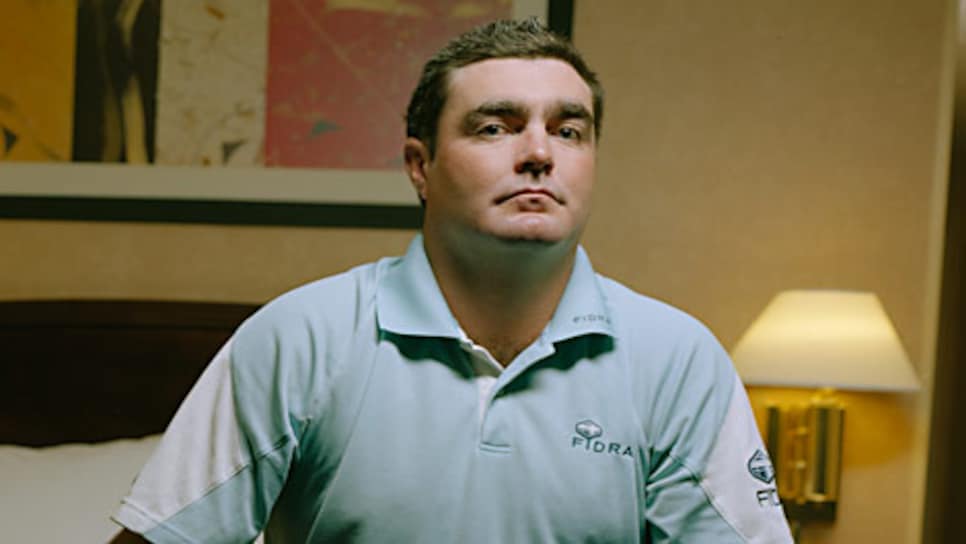 When Australian Steven Bowditch was just 17, he was paired with Greg Norman in the next to last twosome on the Sunday of his national open. A kid and a legend. Some 30 years apart in age, they were kindred spirits, in a way. A couple of prototypical Queenslanders, people who are not genetically predisposed toward dissecting golf courses, preferring instead to bludgeon them. By then, the legend had already absorbed more than his fair share of golf's body blows. The kid never saw his coming.
On that afternoon in 2000 at Kingston Heath GC, apart from a pleasantry on the first tee, the pair did not speak. Not down the first or the second. Not the third hole or the fourth. Not on the fifth or even the sixth. The seventh was a par 5, down breeze and up over a ridge. "We were on level peggings for the day," Bowditch, now 25, recalls. "He tees it up and gives it his well-known whip back. As I'm going down to put the tee in the ground, he's picking his up. He looks me in the eye and says, 'Now what have you got?' "
This was shark bait no 17-year-old could resist. Bowditch came right out of his shoes. When they climbed over the ridge, he was 25 yards ahead of Norman. They each birdied the hole. On the next tee box the pair duplicated their dance of simultaneously picking up one tee while putting another down. Bowditch savors the memory. "Halfway up he looks me in the eye and says, 'Fair enough.' That's all that was said." That evening, Norman gave Bowditch a lift home in his private jet. Neither one had the trophy, but that ride may well have been the metaphorical high point of a promising career.
I didn't want to talk to anyone. When people would talk to me, I didn't even know they were talking.'
"Bowdo's just raw talent," says Adam Scott, who is a few years Bowditch's senior. "One of those guys who's gifted with really good hand-eye coordination. When you've got that much talent, it was always just a question of when his game would mature."
Nathan Green, another Aussie, played with Bowditch back home in Australia and in Europe. "He's a larger than life sort of bloke," says Green. "Just one of those great talents. Hits it long. Just great touch. I remember him giving me a short-game lesson. The stuff he knows about the short game and some of the shots he's got is phenomenal."
Nick Flanagan, who won the U.S. Amateur in '03 and plays on the Nationwide Tour, came up a few years behind Bowditch. "I know growing up, he always seemed like he was much older than everyone else, mainly because he looked 10 years older than he actually was," says Flanagan. "He was one of those guys you always heard about, how good he was, how good he hit the ball, how much talent he had. Technique-wise and ability-wise, he was as good as anyone at that age. He was just one of those guys everyone knew was good and everyone was intimidated by."
Michael Clayton, the Australian player/journalist/architect, remembers Bowditch's golf as being, "Reckless. Aggressive. Phil Mickelson to the extreme."
Australians are no less obsessed with finding the next Norman than Americans were about locating the next Nicklaus. Was it supposed to be Steven Bowditch? The odds were always against it, though, in the early days, his name would come up in the conversation. The voodoo curse of potential has been a part of human endeavor since man learned to make stone axes. Sport is littered with flashes of unrefined brilliance that, in the end, don't amount to much. There is no knowing how good Bowditch could have become, or might still. He only turns 26 in June. But, there is reason to believe the hill he has to climb is steep and perilous.
Bowditch grew up in Peregian Beach in Queensland, about an hour and a half north of Brisbane. Bowditch is the third of four children. His father, Barry, was a cement renderer until his body could no longer handle the aching labor, and he quit to sit behind the wheel of a truck. His mother, Robyn, works in the post office sorting mail from 4 a.m. until 9. Having taken up the game at 12, Bowditch quickly became good enough to attend the Kooralbyn International School, a boarding school on the other side of Brisbane, to major in golf. The best-known graduate of Kooralbyn is Scott. Others include Andrew Buckle and Jason Day.
With the body of a stevedore, eyebrows as thick as the first cut of rough, a shock of black hair and a 5 o'clock shadow that arrives before noon, Bowditch turned pro at 18, worked for three months as a greenkeeper and then left Australia to play in Europe. He missed getting his tour card by a shot and kicked around the Challenge Tour (Europe's minor league) for roughly 18 months. By the time he came home, he was more than $100,000 (Aus.) in debt and not yet 21. Disgusted, he quit playing entirely but cold turkey lasted only a few months before he warmed to the game again and returned to the Kooralbyn Resort to work in the pro shop. In 2005 he scraped together a little money, tossed his clubs and a tent in the back of his girlfriend's Subaru and headed off to play the hardscrabble Troppo Tour in north Queensland.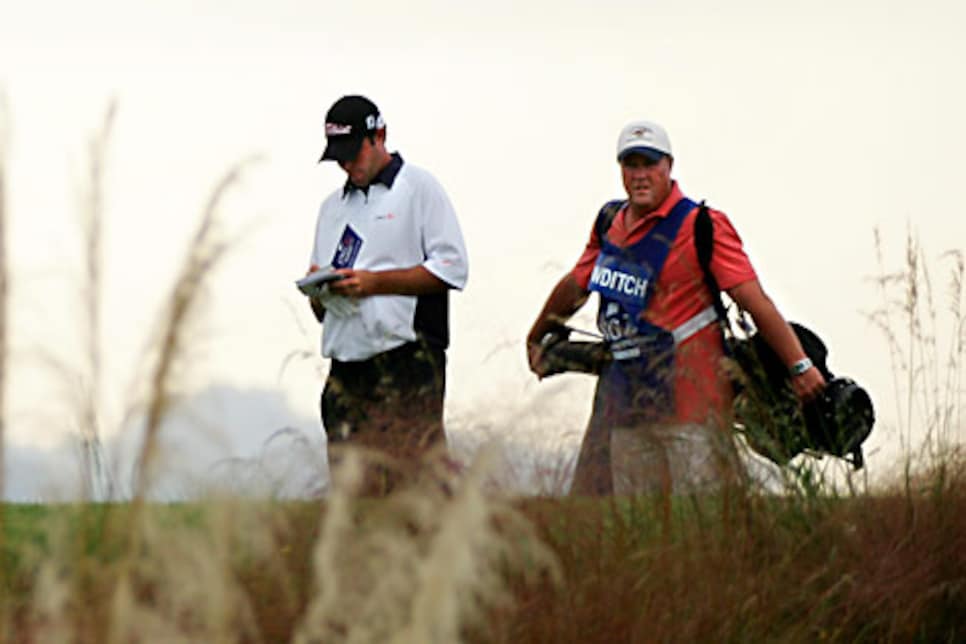 Almost inexplicably, by his own reckoning, Bowditch began to play well. He started making money. He qualified for the Queensland Open and won it by five. That got him back in the Australian Open, where he finished T-3. That got him into the Jacob's Creek Open, co-sponsored by the Nationwide Tour, which he won. He was 21 at the time, the second-youngest player to win a Nationwide event. The following week he lost to Peter O'Malley in a playoff in the ING New Zealand PGA Championship, also a Nationwide event.
Just that fast, Bowditch was off to America knowing that, if he played decently for the rest of the '05 season, he was assured of having a PGA Tour card in 2006.
What should have been a hopeful beginning turned out, very nearly, to be a sorrowful end.
The symptoms had been coming with increasing frequency for two to three years. It started with debilitating headaches once a month, then once a week, then every day. He would get sudden, inexplicable nosebleeds, sometimes so severe blood would soak the front of his shirt. There were nights he couldn't sleep and days he couldn't focus on anything for more than a few minutes at a time. On the practice range the Wednesday before he won Jacob's Creek, Bowditch got such an acute headache he sought medical attention. The fear was a brain tumor and an MRI was performed. He was almost relieved when a diagnosis of clinical depression came back instead. But diagnosis was light years removed from release of the vice grips clamped around his mind.
Others have dealt publicly with depression. Bert Yancey, a seven-time winner on the PGA Tour, experienced the sleepless nights and obsessive compulsions. Baseball's Jimmy Piersall woke up every day with a headache from the time he was 15. Piersall and Yancey would likely be described as bipolar today while Bowditch suffers from major depression.
Depressive states, however, share many symptoms. There is some evidence that depression runs in families. Piersall's mother suffered from it, as did Bowditch's grandfather, Reginald Bowditch, whose condition may have stemmed from spending four years in forced labor on the Burma Railway as a prisoner of war during World War II, subsisting on a bowl of rice and half a glass of water a day. Dick Cavett discusses his illness openly, once explaining the condition this way on "Larry King Live:" "When you're downed by this affliction, if there were a curative magic wand on the table eight feet way, it would be too much trouble to go over and pick it up."
Following his diagnosis, Bowditch was treated with monthly psychotherapy sessions. "They didn't want to put me on any medication, because they didn't think I was bad enough to do [that]," he says. "It was hard for them because everything in my life was so good." But the better things were on the golf course, the worse he was off it.
"To be honest, it was normal for me on the Nationwide Tour to be so embarrassed of my thoughts, I would sit in the locker room 'til two minutes before my tee time and run out and play," he says. "If everyone was hitting balls on the left side of the range, I'd go all the way to the end just because I didn't want to be around anyone. I didn't want to talk to anyone. When people would talk to me, I didn't even know they were talking. I couldn't work out why."
His mind would wander off on what he calls his tangents. "I'd be walking down the fairway and looking over at people having a barbecue, having a good time. I would think, 'How good would a steak be right now?' I'd then walk over there and ask them for a steak. It was just weird. It wouldn't matter how I was playing golf, if I felt like watching TV nine holes through a golf tournament, that's what I'd do. I wasn't angry. I wasn't mad. I wasn't disappointed. I'd just go do something else. It's like I was a different person." Once, he got in his car and drove 3½ hours, in no particular direction for no particular reason. When he realized what he'd done, he called his caddie to check him out of the hotel and retrieve his clothes.
Psychotherapy left his symptoms unabated. "I wouldn't sleep or eat from Monday to Wednesday and then I'd eat all day Thursday as much as I could," he says. "I had it in my mind this was my routine." Bowditch describes himself as a binge drinker, if an infrequent one, in his schoolboy days. During the '05 season he began self-medicating with alcohol. "I would finish the pro-am at midday. I would start drinking at 1 o'clock in the afternoon and go all the way until 5 o'clock in the morning and tee it up in the tournament at 7 o'clock on the first tee. Go home, have an afternoon sleep and do it again. And that went on for six weeks," he says. "I realized in June or July that I was doing it every day. That was my only escape from the person that I was." He finished the year fourth on the Nationwide money list.
"It was bad before Jacob's Creek, but it started to get really bad about Christmas time ending in '05," says Bowditch. "I just got flatlined. I lost all my anger. I lost all my happiness. I lost everything. And that's when I was playing pretty much the best golf of my career, which was strange."
In 2006 Bowditch returned to America for his rookie season on the PGA Tour. In his first 10 tournaments he had three DQs, two WDs and five missed cuts. It got to the point where he couldn't set foot on the golf course without bursting into tears. Friends would call him. He wouldn't answer and wouldn't call back. He didn't speak to his parents for two months. In April he went 12 straight nights without sleeping. Desperate to switch his mind off, he chugged an entire bottle of Scotch and slept for two days. When he woke up, he says, he put on all his heavy clothes to serve as a woolen anchor weighing down his muscular body, walked to the pool of his Dallas condominium and tried to drown himself. Discovered floating in the water by his then-girlfriend, he had very nearly succeeded. She resuscitated him, and he was transported to a hospital. When he got out, he flew home for help.
The first antidepressant Bowditch tried didn't work. "It went worse," he said. "Less sleep. By then I was running on about an hour a night, if that. We went on to strong sleeping tablets to take with it. Then the thoughts, the bad thoughts of hurting myself again, they were coming very regularly. Every day was getting worse. I was starting to get my emotions back, but my emotions were all angry."
Bowditch tried to play once in May in Memphis but couldn't manage it and posted another DQ. He finally returned full time at the end of July and made his first cut at the end of August in Reno. He was playing with Jason Day, whose caddie, Colin Swatton, was the golf professional at Kooralbyn part of the time Bowditch was a student there. "I remember walking down the last," says Swatton, "and he's right in the middle of the fairway. All he's got to do is wedge it on and two-putt and he makes the cut. He walked down to the ball, and I said, 'Come on, mate, let's just finish this off.' He says, 'I can't do it. I can't do it.' That was the first glimpse I saw of it. He was nearly crying when he knocked in the putt."
That weekend they had a night out, and Bowditch confided in Swatton.
By then Bowditch had become a curiosity, even a throw- away line. "I remember watching the Golf Channel, I was in Ohio, and they were doing that "Grey Goose 19th Hole" and one guy was saying, 'Oh, Steve Bowditch has picked up a new sponsor, Dairy Queen, for DQ.' I was thinking, gosh, you don't even know the story," says Swatton. "He used to not be able to come out of the locker room. He'd jump in the car, and he'd be gone. They just didn't realize."
Dr. Don Baucom is a Distinguished Professor of Psychology at the University of North Carolina at Chapel Hill. "A major part of depression, in general," says Baucom, "is you get all sorts of shifts in a person's sense of self and self-esteem, so that when people are depressed, they usually start evaluating themselves in much, much more negative ways. It's called learned helplessness. They feel like whatever they do, it's not going to matter.
They feel like real failures, and they can't achieve, can't be successful. So, being in a position where you're performing in public and being scrutinized a lot, for many people who are depressed, that would be just an agonizing position to be in. It's just too much to face the world."
After his poor experience with the first medication, Bowditch was put on Prozac, which helped some, and then Zoloft, which helped a great deal. A certain amount of trial and error is common since each of the medications affects the chemical composition of the brain in a slightly different way. By June 2008, under the supervision of his doctor, he was taken off medication entirely but relapse is always a concern. The people closest to him, including his mother and father, are understandably watchful. "Obviously, they're just more concerned from the past," Bowditch says. "I know I would know, with things like not remembering shots. There were times back then where I would sit on the next tee and I couldn't remember hitting a golf shot. My mind was just shut off. I'd have to ask my caddie what happened. Short-term memory loss is a symptom."
Bowditch has become associated with an Australian group called beyondblue, a nationwide depression initiative. He made a DVD for them, detailing his struggles. And, while he has never been able to bring himself to watch it, others have. He has received notes from people thanking him for saving their lives.
Now back in Dallas, Bowditch has a new girlfriend, Amanda Yarussi, a producer for Fox Sports Net Southwest and a former cheerleader at UNC-Chapel Hill. They met when he was setting up a ping-pong table in his garage and she was taking out the trash. He has started working with Dale Lynch, Geoff Ogilvy's swing instructor, and intends to play the Nationwide Tour with his status as a past winner. "It's only been the last year and a half where I love my life off the golf course but my golf's not real good," says Bowditch. "The psychiatrist found that very strange."
Unable to get into the first Nationwide event in the States, Bowditch entered a Gateway Tour tournament in suburban Dallas. Seated at a table in the clubhouse following his round, his cell phone rang. The ring tone is "One Last Breath" by Creed. When someone mentions the unusual choice, Bowditch says, "I haven't even thought about it. That's funny actually."
*Please come now I think I'm falling
I'm holding to all I think is safe
It seems I found the road to nowhere