News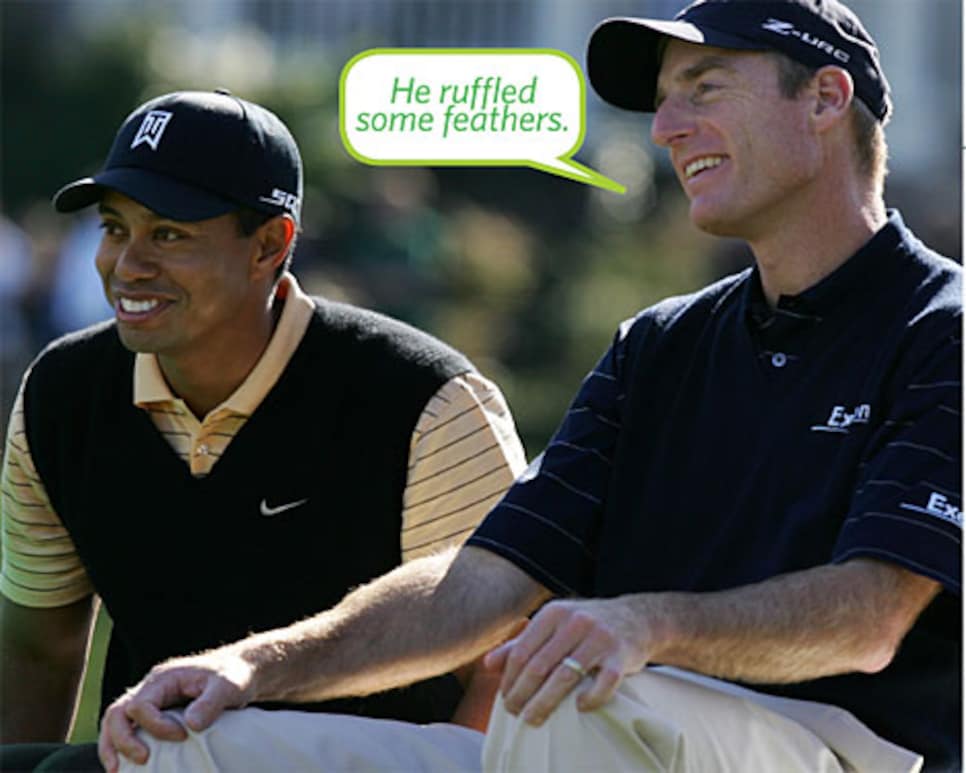 Jim Furyk is a world-class player, who neither seeks nor attracts much fanfare. But if you want to find him, he's usually around the leader board on Sundays. Except the Sundays when he's otherwise occupied.
Grillroom: __ And how many Sundays were you not reachable last year? __
Furyk: I went to nine Steelers games. Five regular-season in Pittsburgh, where [wife] Tabitha bought me tickets as a gift. One in Jacksonville, where we live. Two playoffs and, of course, the Super Bowl in Tampa. A win, but close.
But you were born near Philly.
Yeah, but we moved to Pittsburgh when the Steelers were winning all those Super Bowls. Plus my mother told me if I didn't root for them, she'd disown me.
You don't just go to games to drink beer, do you?
I really get into it. The games, I mean. I was very nervous before the playoff games. Especially Baltimore. Seems like every Steelers game is a white-knuckler.
And as coach of your son Tanner's basketball team?
Oh, no. There it's all about the kids having fun. Like my dad, Mike, told me when I was a kid: "I'll let you know what you have to do to get better, but it's up to you to do it."
How did you wind up in Captain Azinger's "Redneck" group at the Ryder Cup?
Sunday before we went to Louisville, Paul called and said I might be switching pods. He thought I could fit in anywhere, I guess. but I wanted to stay with Kenny Perry, J.B. Holmes and Boo Weekley. I did things I don't usually do with them. Like talk a lot.
You once said Americans look "constipated" at Ryder Cups.
Not in Louisville. Paul was amazing. When he first mentioned the pod system, I didn't make much of it. But the more I thought about it, I couldn't get it off my mind.
Tiger Woods is a big fan of yours.
When he first came out, he caught the tour by surprise. He ruffled some feathers, until guys figured out he's filling our pockets. Plus, he's pretty gracious.
Except when he plays golf. Otherwise, I give him as much grief as possible, anything I can think of. He takes it, and gives it back. The public doesn't see his funny side.