News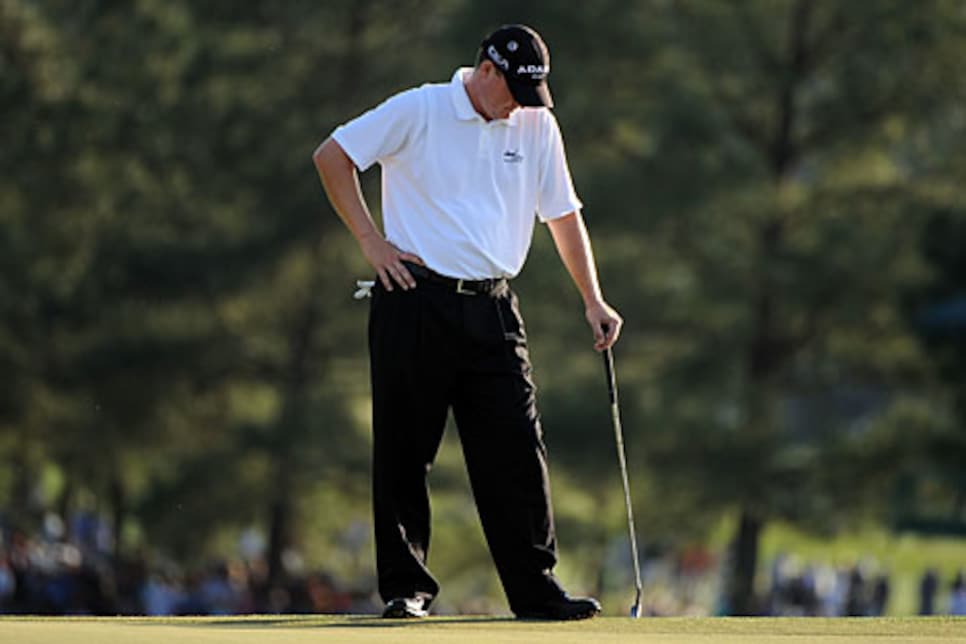 Campbell missed a short putt on the first playoff hole and ended his week with a tie for second.
Walking out of Augusta National, Chad Campbell's parents fell in line with the stream of patrons heading toward Berckmans Road. Patsy and Phillip Campbell, and their son, Michael, the golf coach at Abilene Christian, were headed back to Andrews, Texas (population 10,000), where Mike and Chad grew up on the local course, pretending their putts were to win the Masters.
"We're so proud of him, we really are," said Patsy.
"He hung in there," said Phillip. "He never quit."
The Campbells just watched Chad play 72 holes in 12 under par, which in the three previous years would have won the green jacket. But in this year's shootout, he needed to make a four-foot putt on the first playoff hole to advance with Kenny Perry and Angel Cabrera. When that putt caught the right lip and spun away, Campbell was relegated to his second runner-up finish in a major.
In 2003 he came to the 72nd hole of the PGA Championship at Oak Hill CC in Pittsford, N.Y., one stroke off the lead. He was three years removed from dominating the Hooters Tour with a swing that reminded observers of Ben Hogan's and a quiet personality reminiscent of Larry Nelson's. Playing partner Shaun Micheel hit one of the greatest final-hole shots in major history, stiffing a 7-iron inches from the cup. Although Campbell rebounded to win the 2003 Tour Championship, he has had only one other brush with a major. In the 2006 Masters, he finished T-3, three strokes back of Phil Mickelson.
"I know he's disappointed right now, but he's going to be fine," said Mike. "He's going to take a lot of positives from this. Coming down the stretch, I thought he hit some really good shots."
Campbell's putter held him back Sunday. He missed a six-foot birdie putt on 16, and from makable lengths on 17 and 18, before the playoff miss. That one came after an outstanding bunker shot to four feet had him in position to extend his playoff. "I just pushed the putt," he said. "It was a left-edge putt, and I just kind of left the blade open."
Campbell's tee-to-green game is what made him a surprise pick by Paul Azinger for last year's Ryder Cup team. He struck the shot of the day during Friday's opening session at Valhalla, a 5-iron at the last hole to seal a pivotal match. His 2-1-0 record included a singles victory over Padraig Harrington.
Campbell came to Augusta with one top-20 in eight '09 starts, perhaps because he has had a lot of changes in recent months. First, he became a father when wife, Amy, gave birth to a son, Dax, in September. Then he changed equipment companies, losing a $1.8 million deal with Nike and signing with Adams Golf for $180,000.
At Augusta, Amy stood behind the 18th green when Chad missed the playoff putt. "Lost it low," said CBS' Jim Nantz as different cameras caught Amy in tears, and Chad walking off the green after quick handshakes with Perry and Cabrera.
But within minutes he had recovered, calmly telling Bill Macatee he just needed to make a few more putts. As his father said walking out of the gates, "You can never tell if he's made a birdie or a bogey."