News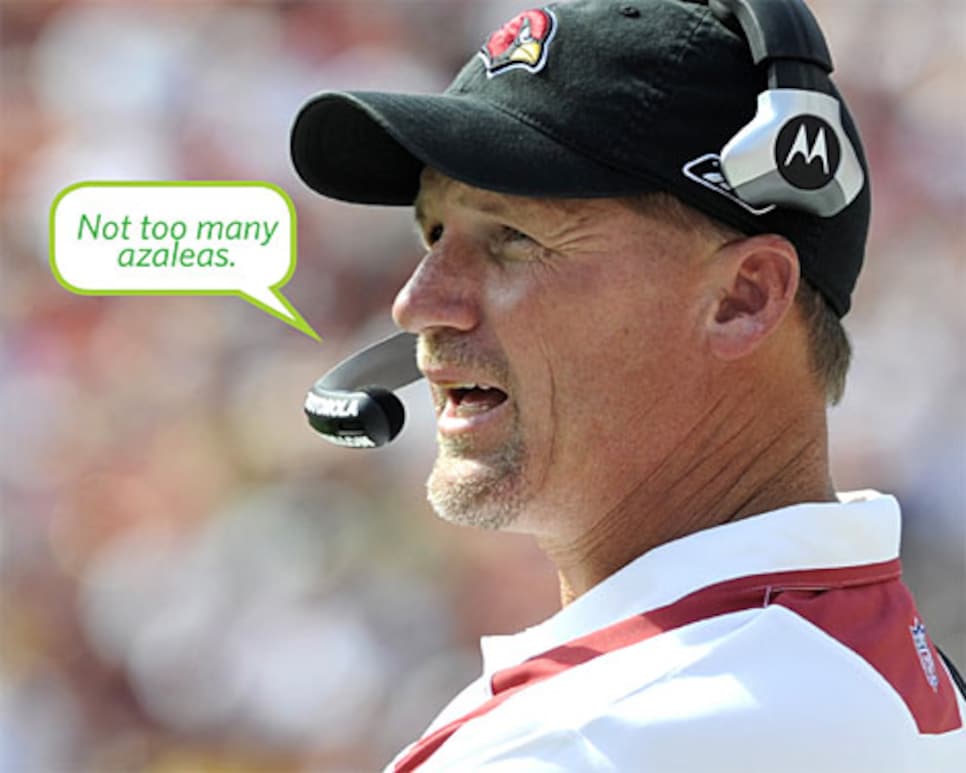 If golf fans did a double take upon seeing a familiar face in this year's Masters gallery, there's a chance they are also football fans. That was Ken Whisenhunt, head coach of the NFC champion Arizona Cardinals.
Grillroom: __ There's more than love of the sport that made Augusta National part of your off-season vacation, right?__
Whisenhunt: Absolutely. I was raised in Augusta, Ga., and for three years as a kid, I worked the scoreboard beside the 18th green.
Did you make good use of the employee badge?
I'd have a four- or five-hour shift.Rest of the day, I'd watch all over, mainly Arnie and Jack. This year my plan was to keep tabs on Rocco Mediate. We played a few years ago in Pittsburgh when I was an assistant with the Steelers.
At one time, did you imagine yourself inside the ropes?
At my best, I was a plus-2. I made it as far as the U.S. Mid-Amateur in 1994. Best score at Augusta National, 72, with an eagle on No. 11. Best ever, 65. Thought I had what it took at Georgia Tech. But I'd get three strokes a side from David Duval and Charlie Rymer and couldn't beat them.
How did you get into golf?
It's a big part of the culture in Augusta. When I was maybe 12, my dad would drop me off at a local course on his way to work. I goofed around all day but learned how to play. It was the "Cabbage Patch." Not too many azaleas.
Meanwhile, you're a future football star.
I don't know about star, but I played nine seasons with the Falcons, Redskins and Jets, while still playing golf in the off-season. After my NFL career I played in the Mid-Am. Then I turned to coaching.
Your name's still mud at Notre Dame.
Hah. I was a walk-on at Tech. We were 1-7 in 1980 when our two QBs went down against Notre Dame, which was No. 1 in the country. My first pass was a perfect spiral into the seats, but we wound up tying them 3-3. Big upset.
What about the PGA Tour guys impresses you the most?
How they control the ball and themselves. As a coach, I find what they do astounding.