News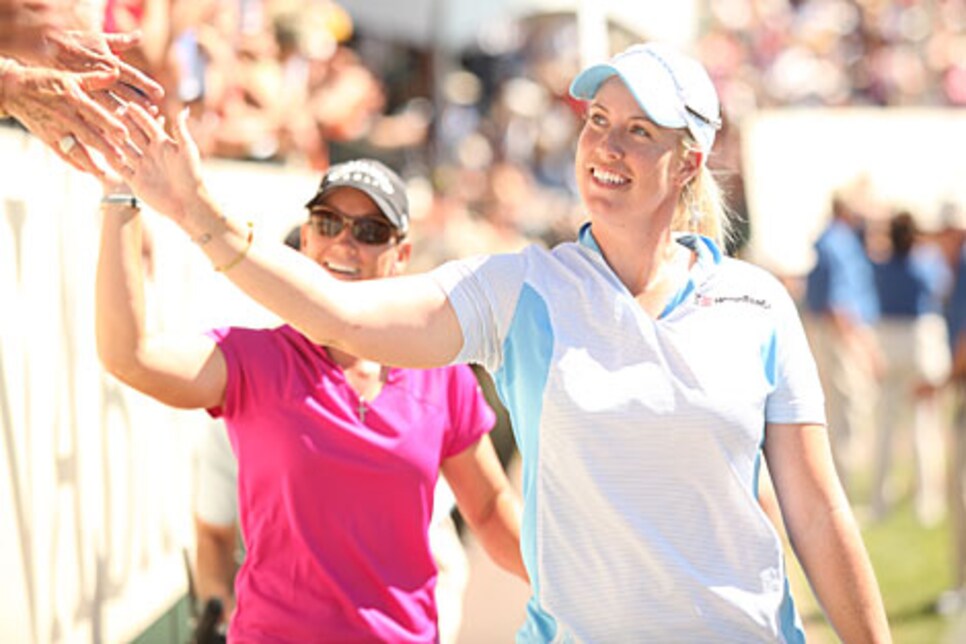 finishing touch: You had to hand it to Lincicome, who enjoyed the fans on the 72nd hole before making an eagle putt to edge McPherson (in red) and Kerr.
Ultimately, what makes a major championship a success is the quality of the golf, a star turn by the course, with a little history thrown in for good measure. All three were in attendance Sunday at the Kraft Nabisco Championship at Mission Hills CC. The Dinah Shore Tournament course proved once again it has the best closing stretch on the LPGA Tour. A trio of Americans battled head-to-head in the final group all the way to the 72nd hole (when was the last time we said that?). And once they reached that final green, Brittany Lincicome rolled in a four-foot eagle putt for a one-stroke victory over Cristie Kerr and Kristy McPherson. It was the first time any player—man or woman—has eagled the 72nd hole of a major championship to win by one shot.
Lincicome never led in the final round until the winning putt, which followed a spectacular 22-degree hybrid from 210 yards on the par 5 that landed in the left center of the green and rolled nearly to the back fringe, before tracking mesmerizingly along the curve of the putting surface and back toward the hole until it settled just past pin high. McPherson, who stepped to the 72nd tee at eight under, leading Lincicome and Kerr by one, missed her 30-foot birdie try by inches. Then Kerr rammed in an 18-footer for birdie to tie McPherson at 280. A miss by Lincicome would have meant a three-way playoff, but she knocked the putt in for the win quickly, before her nerves could get the best of her.
"It was surreal, really," said the 23-year-old kid from Seminole, Fla.—known as "Bam Bam" because of her prodigious drives—after picking up her third tour win and first major following a dismal 2008. "I hadn't played great all day, made some saves, missed that putt on 17 [from seven feet for birdie]. My heart was racing. I was trying everything [to calm myself]—singing, breathing. My hands were shaking so badly, if it were any longer I couldn't have made it."
Despite solid final rounds from Lindsey Wright (70, to finish fourth at 282), Suzanne Peterson (66) and Meghan Francella (69), the lead never left the final threesome. Kerr, whose 11 LPGA victories and 2007 U.S. Women's Open title made her the most prepared of the three for the final-round pressure, took command with two birdies in the first four holes. McPherson bogeyed the par-5 second hole and dropped another stroke with a ball in the water on the par-3 fifth. With Lincicome scrambling to make pars, it seemed as if Kerr would cruise to victory.
But McPherson—a 27-year-old University of South Carolina grad with no wins in 35 previous LPGA starts and playing in just her fifth major—recovered with three birdies in four holes beginning on No. 7. Meanwhile, Lincicome birdied Nos. 8 and 9. The threesome moved to the back nine with Kerr and McPherson tied for the lead at nine under, one stroke better than Lincicome.
Kerr seemed to take control at the par-3 14th, where she stuffed an iron shot to seven feet and made the putt. But on the next tee she hit a wild hook onto Gerald Ford Drive. The resulting double bogey put Kerr one stroke behind McPherson, tied with Lincicome. That's the way it stayed until No. 18.
When both Kerr and McPherson missed the fairway it opened an opportunity for Lincicome and she took advantage of it. "Going to 18 I told my caddie, 'Tees are up, we have got to make birdie,' because Brittany is one of the few people who can hit a club in there that's going to stop where it did," said McPherson, who is a close friend of Lincicome's. True enough. The rock-hard green would never have held a 3-wood shot, and Lincicome had decided she would go for it only if she had a hybrid in her hand. She executed the shot perfectly.
Despite her disappointing finish, Kerr said, "I think this was a very big day for the LPGA and for the United States." It was the first time since the 2003 U.S. Women's Open, when Hilary Lunke defeated Angela Stanford and Kelly Robbins in a playoff at Pumpkin Ridge, that Americans finished 1-2-3 in an LPGA major. And Americans had won only eight of the previous 36 majors.
This was definitely a major championship with challenges. First, there was some financial trimming, courtesy of the recession. Instead of a 900-person gala with entertainment by the musical group Chicago—last year's festivities—there was a 150-seat private party. The two-day pro-am was cut from 300 to 200 participants with about half paying their way instead of being guests of Kraft.
Mercifully, the Kraft Nabisco is still a major where you can hear a fan say, "I'll meet you by the weinermobile." (The Oscar Mayer promotional vehicle was not a victim of the cuts.) And there were some nice new touches as well. Each morning, every player had a rose in her locker which she was encouraged to give to someone on the course—a fan or a marshal, for example.
The most difficult pitch to handle was served up by nature. After an opening round with perfect scoring conditions in which Lincicome led with a 66, the weather deteriorated. How strong was the wind Friday afternoon? A tractor-trailer was blown over on Gene Autry Trail and course workers ended the day checking portable restrooms toppled by wind gusts to make certain no one was trapped inside.
Among the incidents that led some to think play should have been suspended Friday was one involving Jo Young Oh. She marked her ball on the 18th green, replaced it and watched as a wind gust blew it off the putting surface and into the greenside pond for a one-stroke penalty (Oh made double bogey). Doug Brecht, the head rules officials for the LPGA, said the wind was steady at 31 miles per hour at 5 p.m. with gusts to 55 mph. "We talked about [halting play] many times during the day," Brecht said. "But in our opinion it was playable."
The most noteworthy thing about Saturday's third round—played in much calmer conditions—was how little things changed. The top six players on the leader board going into Sunday—McPherson, Kerr, Lincicome, Jimin Kang, Wright and Kim—were among the top six after Friday's round. Precious few thought Lincicome would hold up in Friday's wind and fewer still who felt she would handle the weekend pressure. The book on Lincicome was that she has great talent but likes fishing as much as golf and both more than practice. Her 2008 season was a mess—she missed 11 cuts—and mental focus is not her strong point.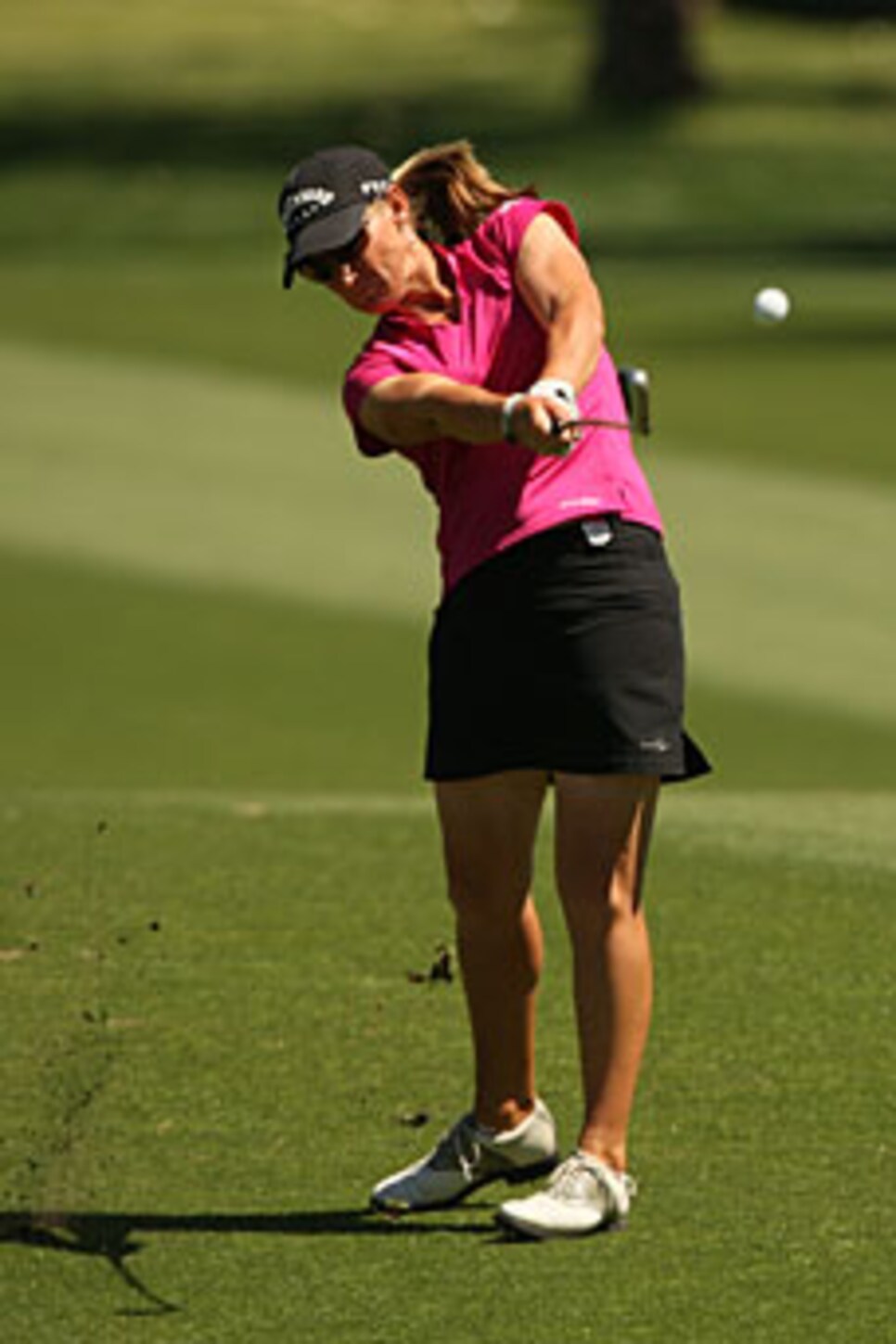 "Halfway through (2008) I said to her, 'Let's just get to the off-season so we can try something new,' " said her father, Tom, who, with his wife, Angie, runs a daycare center out of their home.
"Actually, he said I should take the rest of the year off," Brittany said. "But golf is what I do. I knew we would figure it out."
The first step was to tighten her swing, a project she undertook with her new coach, Craig Shankland. "The takeaway mostly," Lincicome said about what they worked on. "I get in trouble when I take it back shut."
Then she picked up a new caddie, Tara Bateman, who has studied at the Vision54 school, run by Pia Nilsson and Lynn Marriott. Bateman put Lincicome in touch with Kristine Reese and Tiffany Yager, who were on-site from the Vision54 school in Phoenix, just days before the Kraft Nabisco. "I signed up to go to their school next week," Lincicome said. "I just asked them to give me a couple of thoughts to get me through the week. Mostly my caddie and I worked on breathing exercises and singing songs to deal with the pressure."
Sunday morning before they teed off, Bateman was text-messaging with the Vision54 people in Phoenix, asking how to keep calm in the final round. Keep breathing and keep singing, she was told. "Even when we missed that putt on No. 17, I knew we had a good chance on 18 because Brittany hits it so long," Bateman said. "She was money from the beginning."
That's not something many have said about Lincicome in the past. The talent was never doubted, just the focus and desire. While a lot of Americans stepped up at the Kraft Nabisco, it could be that Lincicome, with a new resolve, will be the one with the most additional strides in her future—if she just keeps working.