News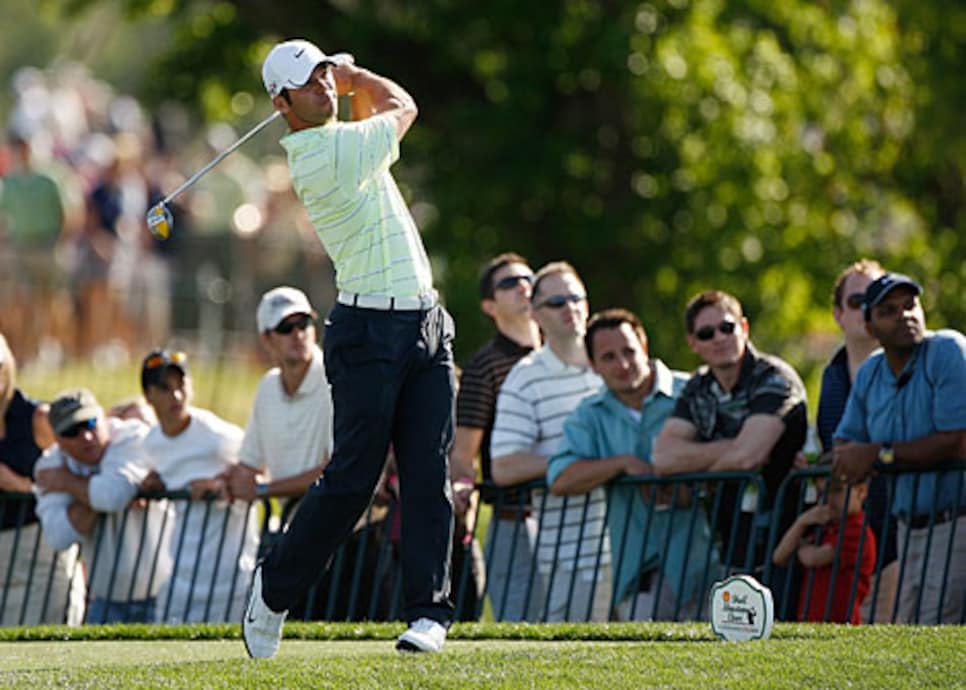 a matter of confidence: Despite having compiled a stellar record in his early years as a pro, Casey only recently has found the self-belief to go with his physical gifts.
After defeating J.B. Holmes in a one-hole playoff, Paul Casey sat answering questions as the Shell Houston Open champion and pondered the fact that he may have won the tournament—his first on the PGA Tour—not with his hands Sunday, but with his legs on Friday.
Make that Friday evening. As it neared 8 o'clock, Casey took on the persona of an Olympic sprinter instead of pro golfer. Knowing time was tight and with just one hole to go, Casey was hellbent on making it to the 18th tee before play was called because of darkness. But this was not your normal green-to-tee jaunt—the distance from the 17th green to the 18th tee at the Tournament course at Redstone GC is a healthy quarter-mile. The run proved the Englishman's claim that he is more fit these days because he broke the tape in time and hit his tee shot 318 yards into the fairway moments before play was called for the day. Under tour rules, Casey was allowed to finish, making him one of just five players to complete 36 holes Friday.
"I think that was big," Casey said Sunday night. "It's been a really long week, and I was just trying to save energy. I'd rather play the hole in the dark than wake up at 5 in the morning, get ready and have to hit that 18th tee shot cold."
Instead, Casey headed to the Masters—a place where he has had some success—on a hot streak. But more than Casey's game, it is his new-found confidence that should have opponents concerned.
"I'm finally getting to the stage where I'm starting to have belief in myself," said Casey, who credits his instructor of eight years, Peter Kostis, as the reason. "I'm a top whatever I was, 12th in the world or something like that, coming into this week. It's time to start believing that I am in that group and that I can be a top-10 player in the world and maybe a top-five."
It's difficult to believe a player with Casey's credentials would lack confidence. As a sophomore at Arizona State he shot an NCAA-record 60 in the final round of the Pac-10 Championship, erasing an eight-stroke deficit to win. As a professional he has nine international victories and has played on three European Ryder Cup teams. Still, Casey says, "The self-belief thing is very difficult to explain and work on because you don't want to be arrogant. You don't want to be cocky."
Arrogant and cocky. Two words that were often used to describe Casey after his public relations blunder after the 2004 Ryder Cup, when he spoke ill about the American team—an episode likely forgotten faster than most would have thought due to the maturity the then-27-year-old showed in the aftermath. Said Kostis at the time, "In the long-term people will come to understand that Paul is a real solid individual whose heart is in the right place."
Now, so is his head. For Casey, this past off-season was a critical one, and he took several steps, both personal and professional, that have altered not just his game, but his life in a positive fashion. They include his marriage to Jocelyn Hefner; his reunion with old caddie Craig Connolly; his dedication to a workout regimen; and extra time with Kostis (resulting in an improved putting stroke). The combination has given Casey the total package, one that helped him get around Redstone's Tournament course ninth in driving distance, T-22 in greens in regulation, sixth in putts per round and T-2 in putts per GIR. Casey needed all of that to conquer a strong field on a course set to major-championship specs.
As warm-up acts go, the Shell Houston Open relishes its now three-year role as a poor-man's Masters. Although it used to be thought that the week prior to the year's first major was an unenviable date on the calendar, conditions designed to resemble Augusta National blessed this year's event with a near major-championship field that included more than a third of this year's Masters starting lineup (37 players, including green jacket owners Fred Couples, Phil Mickelson and Vijay Singh). In all, eight of the top 10 on the World Ranking and 15 of the top 20 teed it up in Houston.
What they found were greens hitting 13 on the Stimpmeter, short rough, shaved pitching areas around the greens and similar mowing patterns to Augusta. At 7,457 yards the course even measured virtually the same length as Augusta's 7,435 yards. About the only thing missing was no one thought to put azaleas in the Shell-logoed flower beds.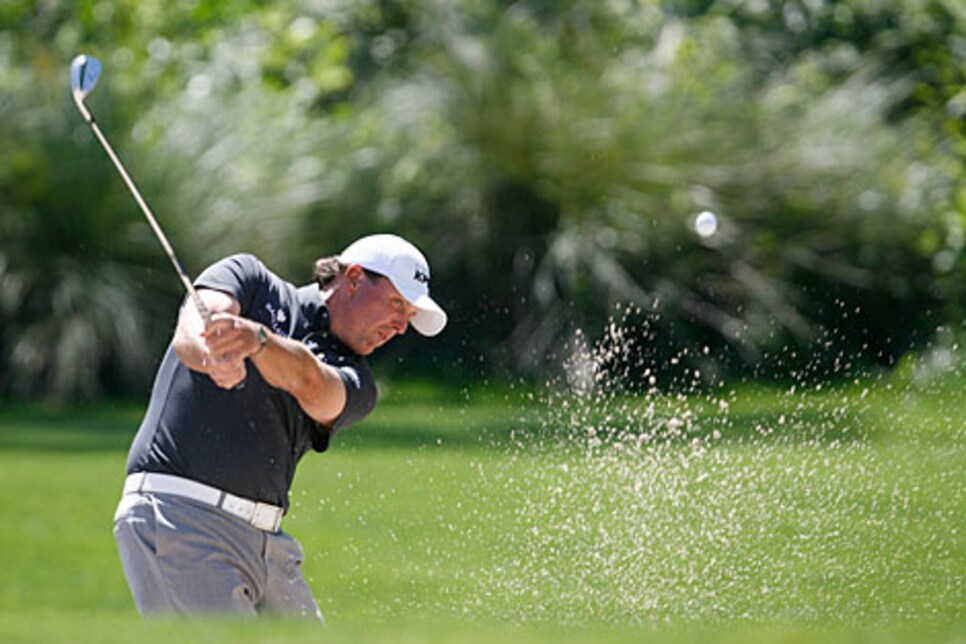 Not missing were Houston's angry winds. The forecast called for strong breezes Thursday, but no one expected the 45-mile-per-hour gusts that had balls moving on the slick greens without anyone striking them. Greg Norman saw a shot stop above the hole on the 18th green and while he was walking to the putting surface the ball rolled some 20 feet to the front fringe. Justin Leonard had an eight-foot downhill putt turn into a six-foot uphiller. Such shenanigans forced officials to suspend play at 12:50 p.m. and two hours later they called it for the day—the fourth time wind has delayed a PGA Tour event since 1999.
"I think there was a small-craft advisory,'' said Paul Goydos. "There were waves breaking on the lakes." Yet despite the quip, Goydos still knew it was a somewhat strange occurrence. "It makes us look pretty bad,'' he said. "It's a nice day to go to the park, but we can't play golf."
The next two days were spent trying to make up for lost time. "It's not ideal," said Geoff Ogilvy on Saturday night. "I've never had a week where there were no rain delays, and we're struggling to finish on Sunday. When you lose a whole day on Thursday, basically you're playing catch up and the players on tour don't play fast enough for us to catch up. But it looks like it's all going to work out."
It did, but it required some solid work on the weekend. By the end of play Saturday only six players had completed the third round, meaning the remaining 73 had to get up early to resume play at 7:30 Sunday morning.
The jumbled schedule made it hard to figure out who was leading the tournament. By the time things got back on track Sunday morning and everyone had completed 54 holes, there was a six-way logjam at the top comprised of Casey, Couples, Colt Knost, Ryan Moore, Ogilvy and Bo Van Pelt at 11 under par with another eight players within two shots. The group was the largest to lead a PGA Tour event after 54 holes since the tour started keeping track of such things in 1970.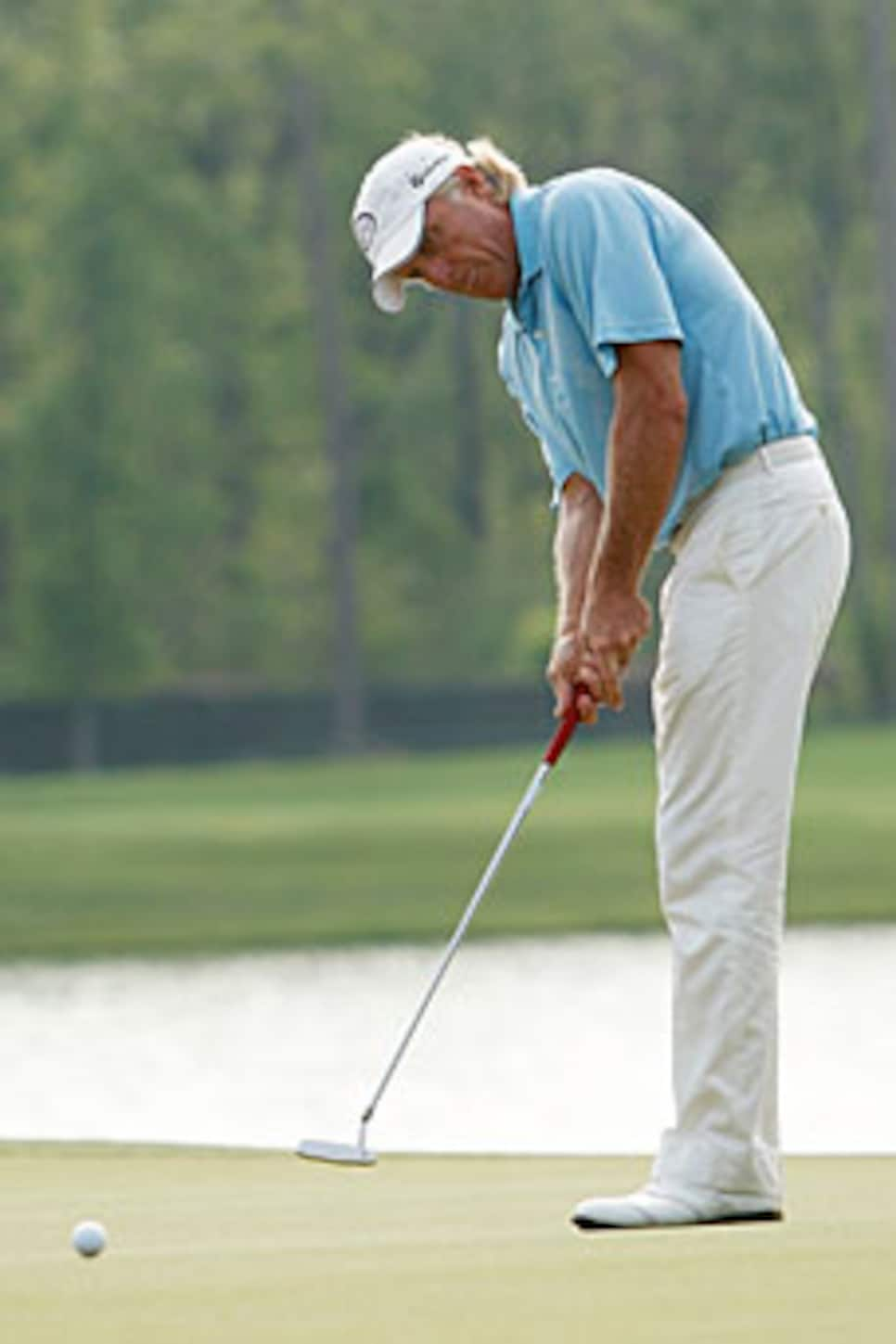 At 49, Couples was the crowd—and sentimental—favorite, but earlier in the week he didn't feel he could compete in such a strong field. "I can still play golf pretty well, but there's no reason to go out and play against [those guys]," said Couples, whose last PGA Tour win came at the 2003 SHO. "It's a waste of my time, to be quite honest. I'm learning at 49 that the times I do play well I really need to cherish and enjoy, but it doesn't happen nearly as much as I'd like."
Couples, however, fed off the energy of the fans and produced rounds of 68-69-68. Sunday the winds picked up again, making it a grueling day. Knost briefly tied for the lead with Couples at 12 under, then Holmes birdied 10, 11 and 12 to get to 11 under, tied with Casey and Couples after Knost made double on the fifth. Other players seemingly out of contention—Tommy Armour III (who suffered a quadruple bogey on 18 in the morning), Ogilvy (who made birdies in bunches but couldn't avoid disaster all week) and Lucas Glover (who was so far back that he started on the back nine)—were all within shouting distance, as was Hunter Mahan, who at one point got to 10 under after starting the round four under.
As with Augusta, however, Redstone's Tournament course comes armed with a number of holes that offer big-number trouble and most of those promising rounds went to heck in a headcover. Couples, though, held firm, re-taking the lead at 12 under after knocking it stiff from 108 yards on the 10th hole. Holmes—who reached the 608-yard 15th with a 296-yard shot from the rough for a two-putt birdie—got to the clubhouse at 11 under after weekend rounds of 68-69 while Casey, after a bad bogey on the 11th, stood 10 under.
Casey brushed off that bogey like lint from a jacket and bounced back with a birdie 3 from 10 feet on the 12th and then another at the par-5 13th. This tied him with Couples, who had four-plus hours of excellence marred by three holes of angst. A yippy stroke on a six-foot par putt on the 16th started the descent and, finally out of gas, continued with bogeys on 17 and 18 for a 74 that left him at nine under.
At 14 Casey made a crucial bunker save with a shot to 10 feet, 7 inches and, proving the work with Kostis was taking hold, a putt right in the heart to stay one up. Pars on the next three brought him to the home hole, where another par would have won outright. But like so many others before him—the 18th, played into the teeth of a brutish wind, produced a stroke average of more than 5 on the day—Casey, playing his 28th hole Sunday, made bogey. This left Casey knotted with Holmes at 11-under 277, resulting in the 20th playoff in Houston Open history.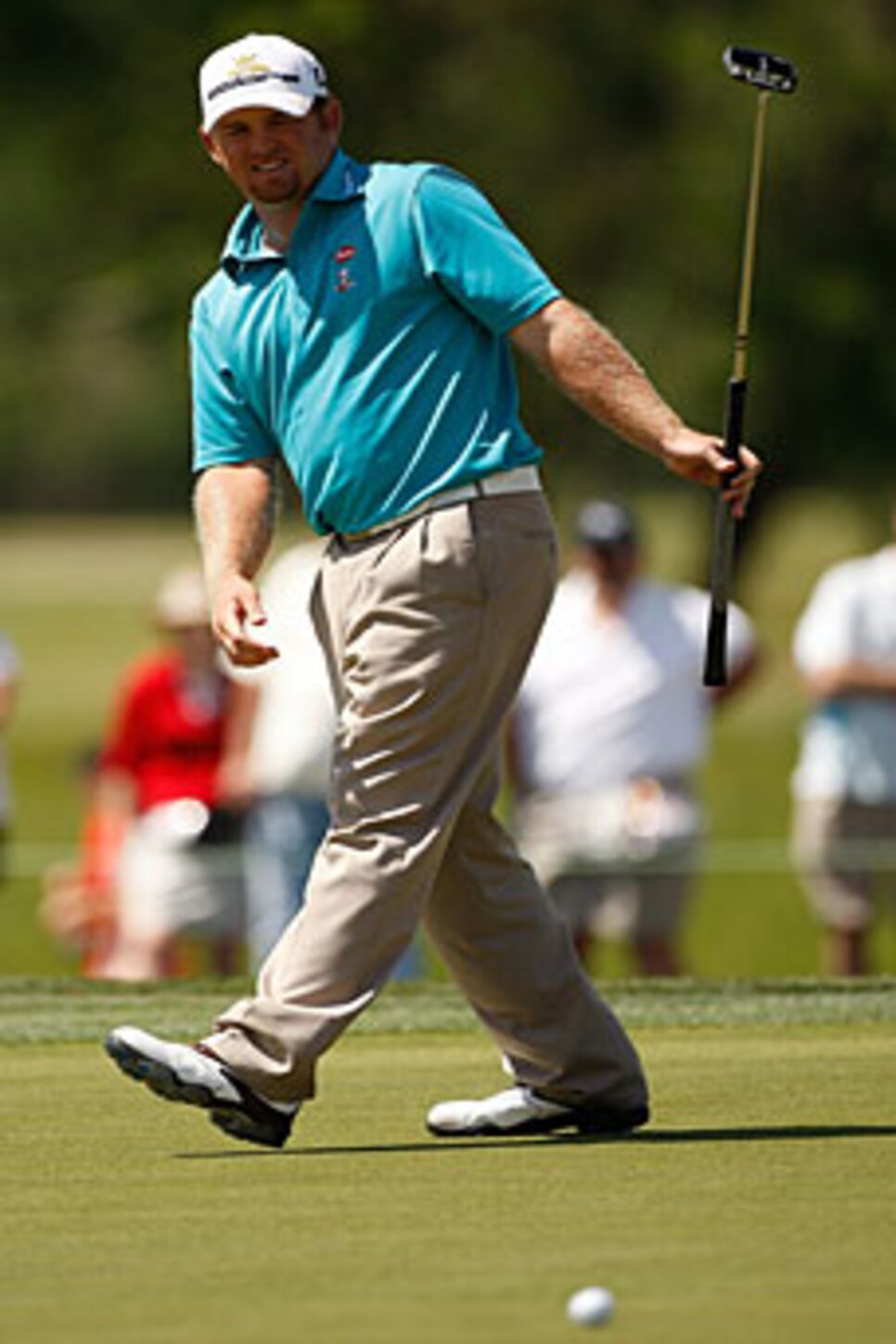 Back to the 18th tee. After waiting around for two hours and 40 minutes, Holmes hit first and hooked his tee shot into the water. Casey took advantage by playing the hole safely, and his
bogey 5 was good enough to win. Holmes, meanwhile, not only lost the tournament, but an invitation to the
Masters, a fact that did not sit well with the long-hitting Kentuckian.
"It's frustrating how I've missed [chances to qualify] about three or four times," said Holmes. "Just frustrating all around. It's my favorite major. That hurts a little bit. I've had my chances and just didn't pull them off."
Nor did Casey pull off his win the way he wanted it.
"Fairly anticlimactic, wasn't it?" said Casey. "I was sort of wanting a fist-pump or a jump in the air. Couldn't really do that with a tap-in."
No, he couldn't. But what he could do was hop on a private plane for the first time all year and head to Augusta, fully confident that he now belongs in the game's elite. All while giving those legs that helped him so dearly a well-deserved rest.