News
Masters' 40-30 Club Very Exclusive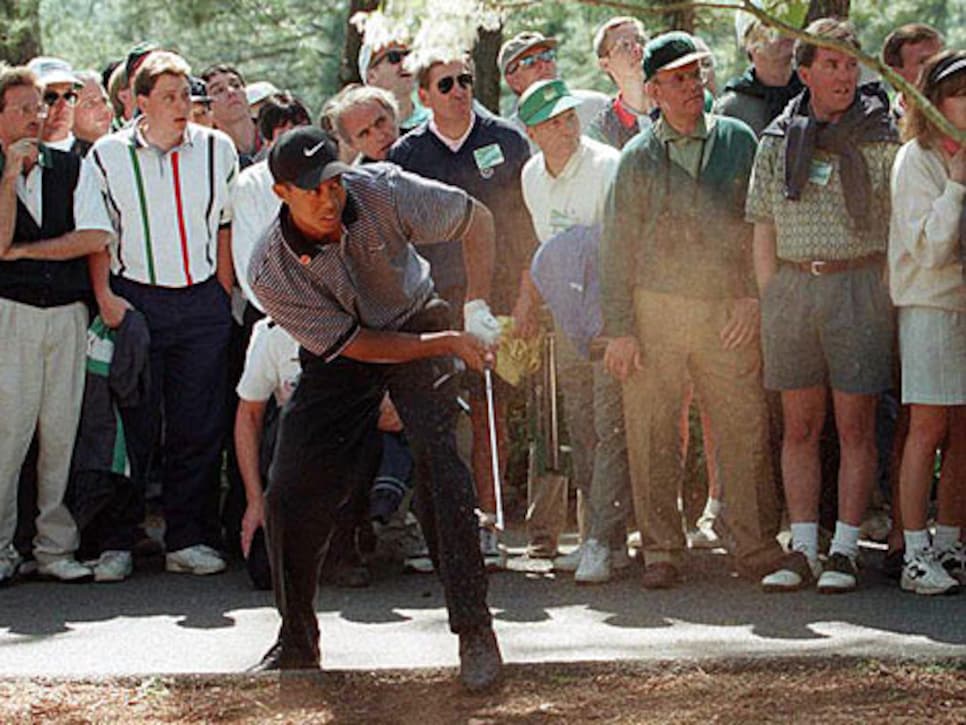 FAB FINISH: Woods' first-round 70 in 1997 not only pointed him toward a record-setting Masters victory, it also revealed his uncanny ability to adjust on the fly.
The numbers 40-30 sound like a weather forecast: "Tomorrow's high will be 40, with a low of 30." And in a way, those numbers were a forecast of what has made Tiger Woods who and what he is. When he went out in 40 and came back in 30 in the first round of his first Masters as a pro in 1997, nobody realized those back-to-back nines would produce a unique score, though largely ignored if not virtually unknown—the only 40-30—70 in Masters history.
Of the thousands of Masters rounds since 1934, more than 1,000 have resulted in a two-under-par 70, but Tiger's 40-30, a dazzling 10-stroke difference, displayed his precocious understanding at age 21 of what was wrong with his swing and his ability to fix it, as if it were a flat tire, mid-round. On his four-over-par front nine, four of his tee shots had hooked wildly into Augusta National's loblolly pines, notably on the then 535-yard eighth. With his shoes straddling a groundskeeper's cart path, he punched a 6-iron to the fairway. Another bogey.
"I was pretty hot going to the 10th tee. I couldn't keep the ball in the fairway. I couldn't attack the pin," he said after that round. "I knew what I was doing wrong. I was in such a bad position at the top of the backswing, I was coming off the ball. But after I realized that, it was just a matter of trusting the motion."
Trusting the motion. As simple as that, at least for him. He birdied the 10th with a 15-foot putt, chipped in for another at the 12th, birdied the 13th with two putts, eagled the 15th after a pitching wedge to four feet and birdied the 17th with a 12-foot putt. In an early peek into the determination that burns in his eyes, he needed that 30 to justify the hype surrounding his three victories in his first seven months on tour. Suddenly he was only three strokes off the lead. He went on to shoot 66 and 65 for a nine-stroke lead going into Sunday's final round, but one question persisted. Only a year after Greg Norman, shooting 78, had blown a six-stroke lead and lost the Masters by five to Nick Faldo's 67, was it possible something like that could happen again?
"All I have to say is one brief comment: There is no chance," Colin Montgomerie, who had played with Tiger that Saturday, said upon bursting into the media center's interview room. "There's no chance humanly possible that Tiger is going to lose this tournament. No way." Reminded of the 1996 turnaround, he snapped: "Have you just come in? Or have you been away? Have you been on holiday or something? Or have you just arrived? Sorry. This is very different. Faldo's not lying second, for a start, and Greg Norman is not Tiger Woods. I appreciated that he hit the ball long and straight, and I appreciated his iron shots were very accurate. I did not appreciate how he putted. When you add it all together, he's nine shots clear, and I'm sure that will be higher tomorrow."
It was. Tiger shot 69 for a record 270, winning by a record 12 strokes. Only three other Masters winners had a back-nine 30 the year they won: Jimmy Demaret in 1940, Gary Player in 1978 and Jack Nicklaus in 1986.
To appreciate the rarity of 40-30 in a major, consider that a search of the U.S. Open archives produced only one. Bob Charles of New Zealand, the 1963 British Open champion, shot it in the final round in 1971 at Merion.
At the British Open front-nine and back-nine breakdowns were not always kept. At the PGA Championship, the since-surpassed back-nine record 30 was set by Art Wall Jr., for a 67 in 1958 at Llanerch outside Philadelphia in its first medal-play event; Jim Colbert equaled it for a 66 in 1975 at Firestone in Akron, Ohio. The PGA Tour's ledgers don't always include nine-hole splits.
But of the thousands of Masters rounds, there has been only one 40-30. By the one and only himself.