News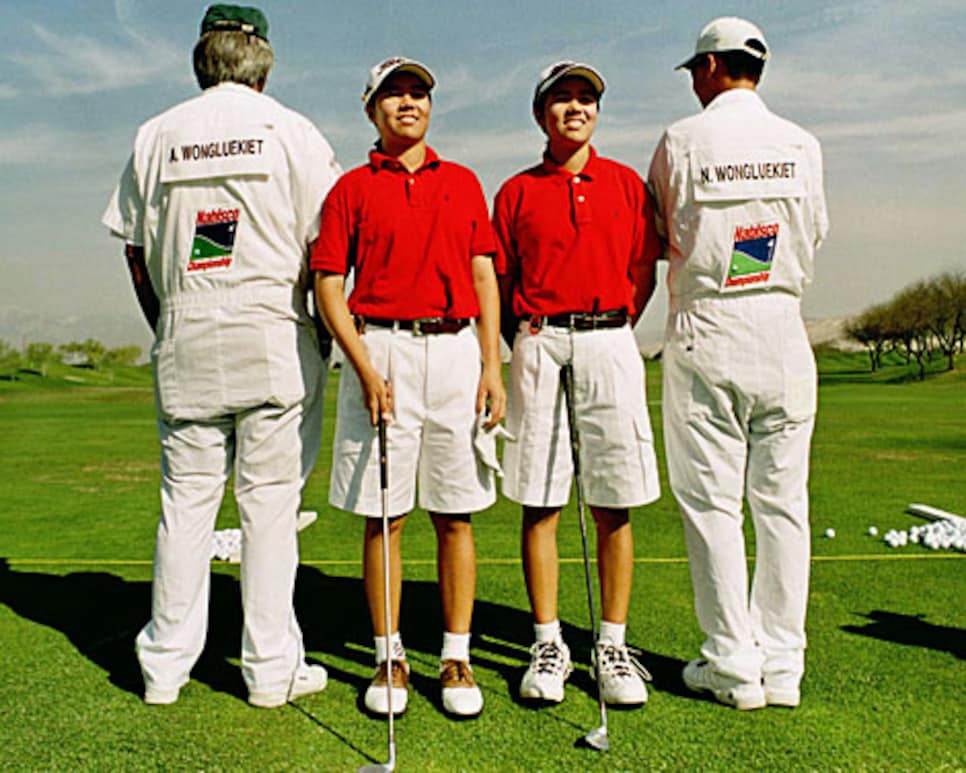 Double Vision Aree and Naree, who then used their mother's maiden name, turned heads at the 2000 Kraft Nabisco when they were only 13.
As children, not even teenagers, Aree (above, left) and Naree Song were swept away by an adventure in which their parents sold all they had in Thailand so the twins could study golf in Florida. The idea was exciting, and the girls were much too young to understand the risks let alone resist them. Once in America, the Song sisters blossomed instantly into can't-miss kids, winning junior tournaments by the handful and making their LPGA debut at age 13, with Aree finishing T-10 in the 2000 Kraft Nabisco Championship, one of the tour's four majors. Nine years later, the Songs have little to show for their early success except regrets, second thoughts and the dream of a second chance.
Perhaps they turned pro too young. Perhaps they were pushed too hard. Perhaps, in the pursuit of golf, they never developed a complete sense of self. But one thing they always had was each other, a confidante who understood the pressure. Together, the Song sisters have used their adversity to find a life off the golf course, and they now hope to resume one on it.
This much hasn't changed about the twins: They are remarkably identical, even though at 22 they no longer dress alike as they did as kids. Also apparent is their gentle way with each other and the joy in the laughter that often punctuates a sentence. Once under the meddlesome eye of their father, Injong Song, the sisters have shared a house in Orlando for two years, their parents moving even further away—to New Jersey—last year.
"It's better to have some distance," says Naree at an outdoor restaurant near the twins' home. "It was tough in the beginning [having Dad at tournaments], but you are so young you need someone with you." The sisters relish their independence but speak of their parents with affection, communicate with them frequently and helped their father with his English for this story.
Naree's pro career sputtered early. She has played just 17 LPGA events since joining the tour in 2005, plagued by chronic fatigue syndrome since 2006. Aree began LPGA life with more magic at the Kraft Nabisco, nearly winning in 2004 in her third start as a tour member. But a final-round flop at the Chick-fil-A Charity Championship five weeks later, a day after she turned 18, proved to be a significant speed bump. Last year Aree played only twice because of irritable bowel syndrome. Both irritable bowel and chronic fatigue are syndromes researchers say may be stress-related.
"Taking time off put a lot of things in perspective for me," says Aree, who took as many as 22 supplements a day for her digestive problems. "I think starting my career at such a young age, I never got to fully develop as a well-rounded person. I didn't really have too much balance in my life. I think I am at a better place now and know how to take care of myself better and not sacrifice too much for golf."
Golf came to the girls at such a young age they never knew anything else. "We left Thailand when we were 11," says Naree. "It was exciting. Our parents asked us, 'Do you want to go to America to be with your brother [Chan, at the David Leadbetter Golf Academy in Bradenton, Fla.]?' I said, 'Sure, why not? That sounds like fun.' We were just too young to comprehend what kind of decision that was."
Injong Song played golf when not working in his hotel in Chiang Mai, in northern Thailand. He started Chan, his oldest child, in the game and soon the girls followed. "They had a chance to pursue their dreams, and they took it," says Chan, who played at Georgia Tech, which he calls "the best four years ever, and I wouldn't trade [them] for anything." He now lives in Bangkok, Thailand, and is trying to make it on the Asian Tour. "It has been very difficult [for me] to see them not be able to perform their best on the golf course because of health issues."
For Injong, his daughters' early success was too good to resist. "They won tournaments in Thailand and represented the Thai team in national competitions," he says. "I was very proud. I try to train them to be No. 1 golfers in the world. The other thing is they are twins so if it works out, it will be good for golf."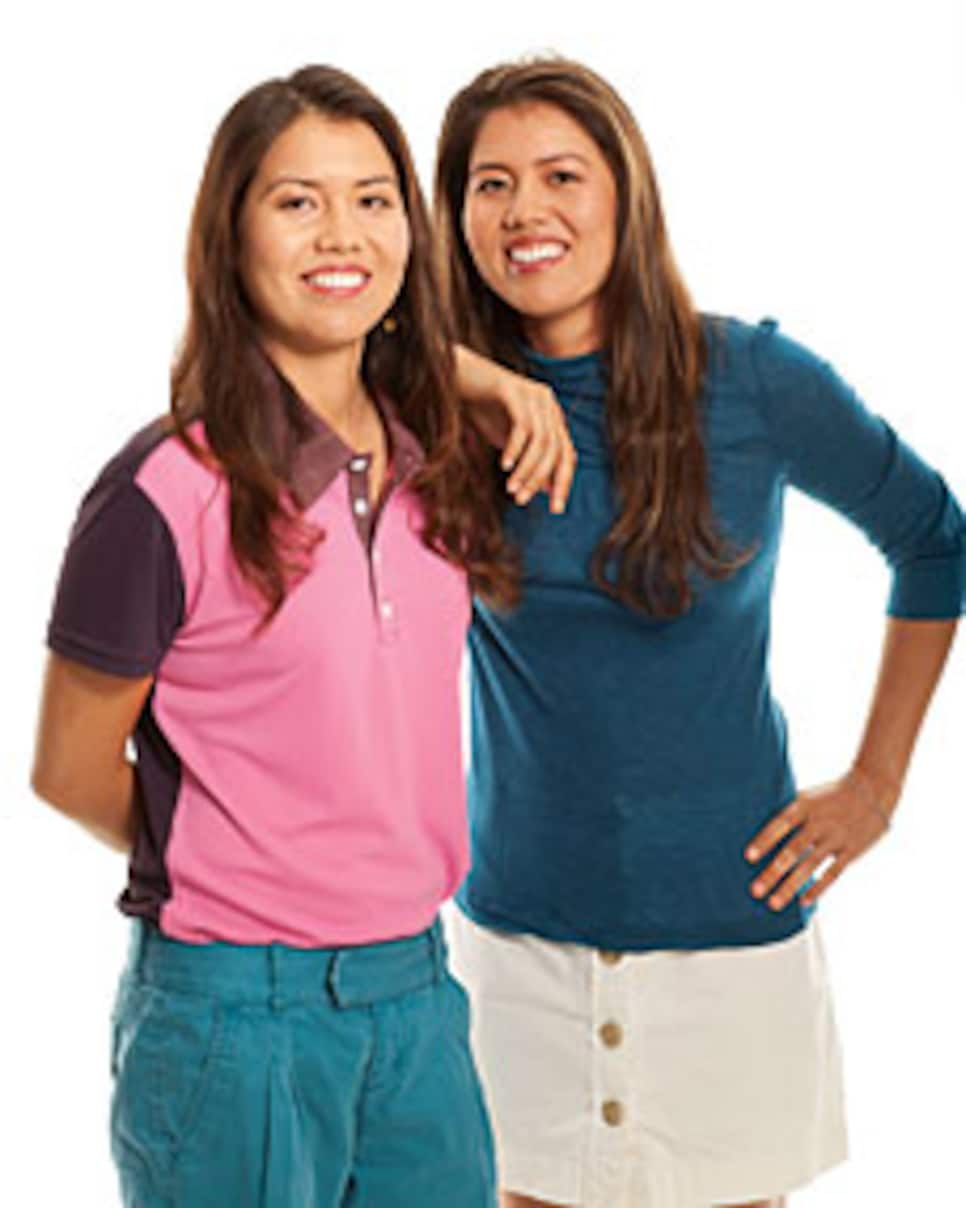 Success also would be financially beneficial for the Songs. Injong and his wife, Vanee Wongluekiet, whose name the children used until 2002, sold their hotel to finance the golf careers of the children. Aree won the 1999 U.S. Girls' Junior at 13, the youngest to do so, and 15 national junior events from 1999-2001, while Naree won eight and finished second nine times, frequently to her sister.
"They were phenomenal," recalls David Whelan, director of instruction at the Leadbetter Academy. "We get a lot of kids who swing the club well and hit the ball well, but these two could swing the club well, hit the ball well and play the game well. They were way ahead of the others their age."
The Kraft Nabisco invited them to play in 2000, despite complaints that 13 was too young to be granted exemptions into majors. Naree missed the cut, but Aree answered the critics by playing in the final group with eventual winner Karrie Webb and Dottie Pepper. Aree shot a 75 for a T-10 finish that beat Se Ri Pak and Annika Sorenstam.
"The first thing I noticed was the size of their hands and feet," says Pepper, now an analyst for NBC and Golf Channel. "I thought, 'Oh my, if they grow into those, they are going to be enormous.' But they never did." Both are a shade under 5-feet-5.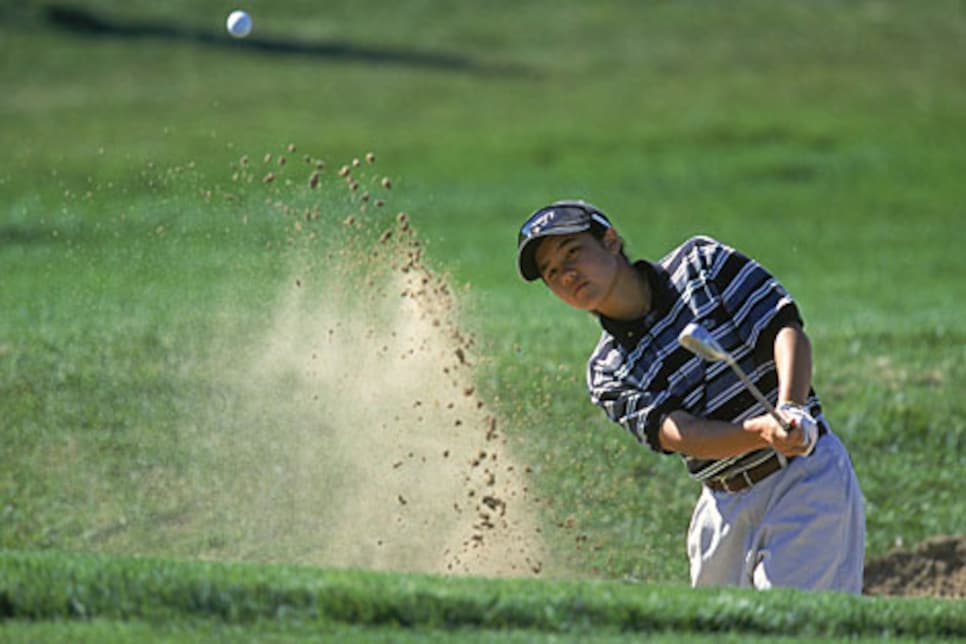 Pepper also noticed something else, something missing. "I said [to Aree], 'So, you live in Bradenton?' And she said, 'I'm not really sure where it is.' But she sure hit it great. They were just nice kids," says Pepper. "Aree always seemed more in love with the game."
Both sisters committed to the University of Florida, but Aree backed out after getting an exemption to the LPGA minimum-age rule of 18 and attended 2003 Q school, finishing T-5. Naree went to Florida for one semester, notching three top-10 finishes, then turned pro.
Aree was impressive immediately in 2004. She was T-5 in her LPGA debut, T-19 the next week and then laced a 7-wood from 210 yards over water to 30 feet on the final hole at the Kraft Nabisco and made the eagle putt, which forced Grace Park to hole a six-foot birdie to win.
"She had guts when she made Grace do what she had to do to win," says Pepper. Adam Hayes, Aree's caddie that day, remembers it clearly. "We never talked about laying up," he says. "Aree knew she had to make eagle to have a chance. She knew how to win, and she was only 17."
At the Chick-fil-A Charity Championship five weeks later, Aree was poised to become the youngest winner in LPGA history. After rounds of 69 and 66, she shot 70 Saturday, her birthday, wearing a shirt that read, "I'm 18 and excited," and took a one-stroke lead into the final round.
"She showed up that Sunday morning, and she was different than I had ever seen her," recalls Hayes, who now caddies for Jonathan Byrd. "She was almost distraught. I don't want to say anything bad about anyone, but there was pressure on her to show that she belonged, that she could win. I don't know if she got any sleep the night before."
A birdie on No. 4 stretched Song's lead to two strokes, but then her tempo, touch and concentration disappeared. Playing lift, clean and place because of wet conditions, Song was penalized on No. 13 when she absent-mindedly marked her ball and lifted it in the rough two yards off the green. She closed with a 78 to finish T-23.
"I'm lucky that I have a pretty short memory," Aree says when asked about that Chick-fil-A. Then, allowing herself to visit the past, she adds: "I had so much success as a young player, there are certain things I thought I would have accomplished by now, and I am a little disappointed that I haven't. But those things motivate me. It keeps me going, keeps me practicing, keeps me working hard."
The next week, at the Michelob Ultra Open, Injong confronted Hayes on the practice green, blaming the caddie for what happened in Atlanta. The exchange grew so heated, then-LPGA commissioner Ty Votaw had to intervene. Aree made the cut but shot 78 and 79 on the weekend to finish 72nd. Injong Song fired Hayes on Sunday.
"She went through a lot of caddies after that, and she never really recovered," says Hayes. "It's a shame. She's so talented and such a nice kid." Injong addresses those days in a general way. "If I look back, I think maybe I should [have] let them go to college first," he says. "But who knows what is the right time for you to do things in life?"
Aree finished 28th on the money list in 2004 but has had only five top-10 finishes in 73 starts since. Naree turned pro in March 2004 and won the New Innsbrook CC Futures Golf Classic on the Futures Tour two months later. It was her last victory. Symptoms of chronic fatigue first appeared at the LPGA Wendy's Championship for Children in August 2006. "I just got so dizzy I couldn't finish," she says.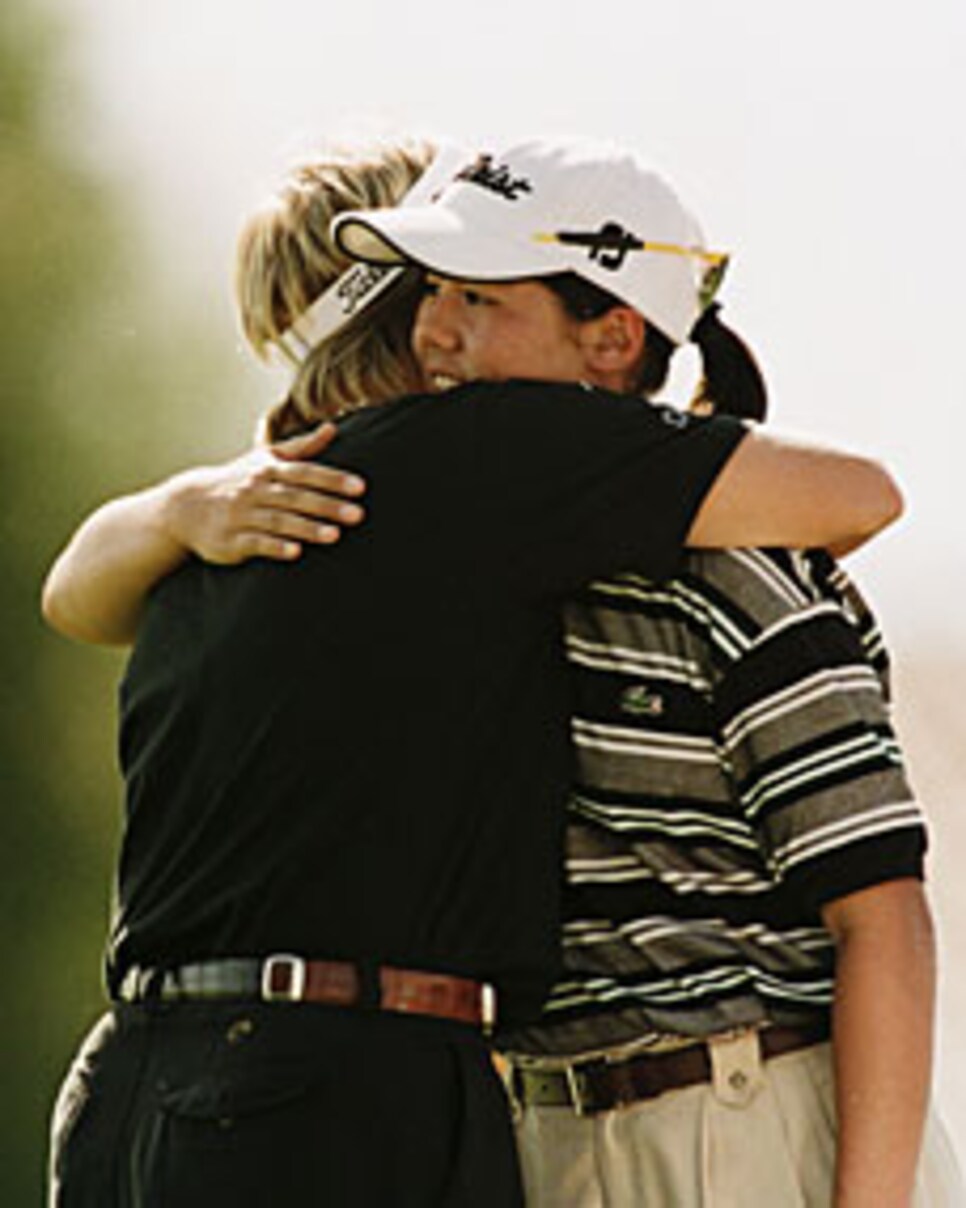 Last year, when both were sidelined by illness, the sisters grew even closer, and matured as people as they found other interests. Naree taught golf at the Leadbetter Academy. Aree discovered cooking. Both volunteered for the Boys and Girls Club of America, making golf a relay game. "I never expected it to be that much fun," says Aree. "Now we have so much we can do outside the golf course that we enjoy as well as on the course. Just being more well-rounded people I think has really helped us."
The sisters still want to compete. Naree will try the Futures Tour this year. Aree, who finished T-75 in the season-opening SBS Open with Naree as her caddie, will play a full LPGA schedule (she missed the cut at the recent MasterCard Classic). The decade-long trek from Thailand through domination, disappointment and illness has left the sisters with sage advice for young players.
"To get to this level you've got to work hard," says Aree. "There's no way around it, there are a lot of sacrifices. But you really have to enjoy the process. Take it slow. There is no rush. There will always be tours to play on and tournaments to play in. But a lot of these families, us included, didn't grow up with a lot of money. You have all that temptation and those figures thrown at you." Both say they regret not going to college.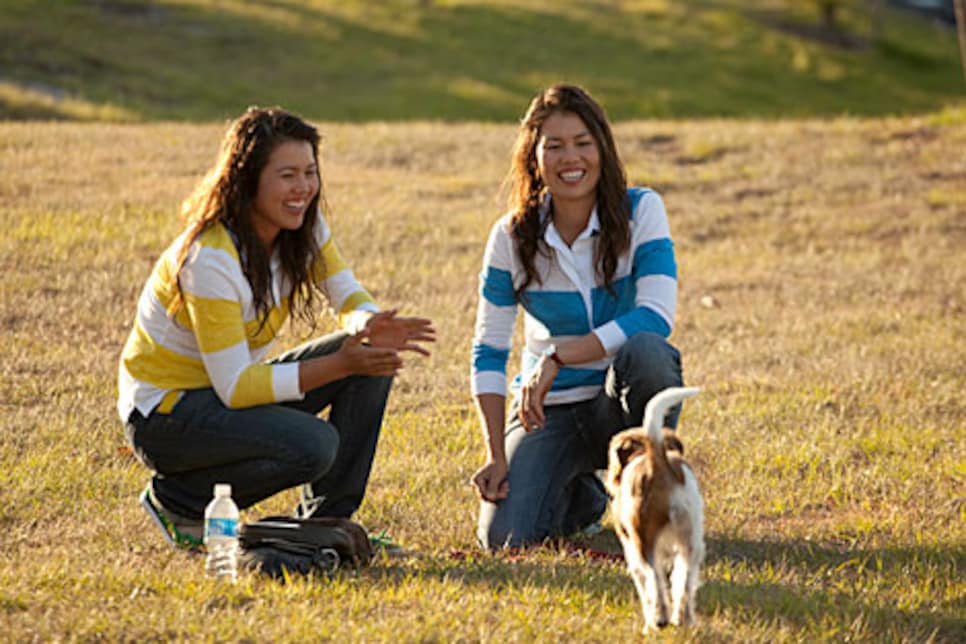 "I don't think there is a manual for parents," says Naree. "They do whatever they think is good and most of the time that is more of everything: More practice, more food, more training. And that leads to less rest, less fun for the kid. There are so many young players we have grown up with and now have just taken regular jobs. They've really grown burned out on the game."
' we have so much we can do outside the golf course that we enjoy as well as on the course.'
Those are haunting words that may apply to the Songs, two bright, talented young women who have another chance at living their dream. This time they have the advantage of experience, albeit packed in the emotional baggage of the past.
"I believe in my daughters, that they can be No. 1 in the world," says Injong. "But it will take time and hard work. When they get back to good health and can practice harder, and if they know what they need to do to be No. 1, someday soon they will be." The words indicate the father's thinking may not have evolved as much as his daughters'.
As they rise to leave the restaurant, Naree says: "When you run the picture of us [in the magazine] say, 'Two attractive girls searching for good-looking twin guys …' " unleashing more laughter. Life is good now, and its joys have to do with much more than the game of golf.