News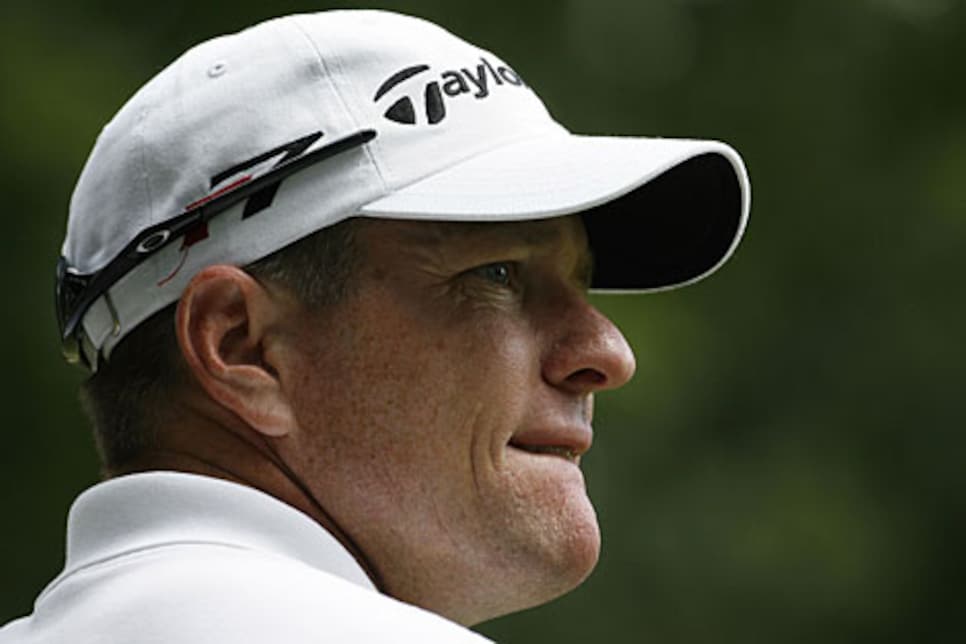 grinding away: Diabetes helped mold Verplank into a mentally tough golfer who won the 1984 U.S. Amateur trophy at Oak Tree (below).
"If you've done it once before, then you can do it again."
In the thousands of miles I traveled in the months I spent writing this book, in the dozens of people I talked with, one question continued to pop up: Have you talked to Scott Verplank?
Everybody slumps; it doesn't matter who you are, but very few have gone through what Verplank has. You'd need a motion-sickness pill to comfortably consider the arc of his career. The highs were extraordinary. The lows were unimaginable.
"It was horrific," says Bob Tway, one of Verplank's closest friends, who has known him since college. "A lot of times when you're going through a stretch like that, people don't want to sit with you in the lunchroom. They think it's contagious."
As a college player Scott Verplank was a star. He made All-America all four years at Oklahoma State, the last three on the first team. He won the 1984 U.S. Amateur, the oldest championship in American golf and arguably the most significant title in the amateur game. But scores of players throughout history have those types of credentials. In the past half century only one other player accomplished what Verplank did in the summer of 1985: He won a PGA Tour event, the Western Open, even though he was still an amateur.
Verplank had extraordinary talent, but he also had something else that proved a great and unlikely factor in his success. Something that—when he'd first discovered it 12 years before—he could have never imagined would have been anything but a burden.
Scott Verplank grew up a "normal" child of Dallas in the 1960s and 1970s, which is to say he rooted hard for the locals. "My dad had season tickets to the Cowboys," he says. "He played baseball at Texas, so we rooted for the Rangers, too, when they moved from Washington."
Verplank took to soccer, but when the team he played on started a vigorous national travel schedule in the summers, he chose to focus on the sport he'd spent time playing with his grandmother, Elizabeth Bybee, on visits to her home in Houston. "She played golf almost every day," he says, "so she'd take me with her."
Bybee didn't hit it very far, but she had an excellent short game and impressed its importance on her grandson. Every green he one-putted when they played together at River Oaks, she gave him a quarter. By age 12, he broke par back home in Dallas. He remembers the day: "We had a soccer game in the morning, and then I went and played golf in the afternoon." Just as Verplank recalls scoring "three or four" goals and shooting 70 in the afternoon that spring day in 1976, he also remembers the January morning 2½ years earlier when life got different in a hurry. He had been stuck at home for a few days with what the doctor had told his mother was the flu.
"I could barely get off the couch," he says.
When he didn't get any better after a few more days, his mother took him back to the doctor's office. "He looks at me and goes, 'Get to the hospital, now,' " recalls Verplank.
Verplank's mother loaded him in the car and rushed him to the same place where President John Kennedy was taken on Nov. 22, 1963: the emergency room at Parkland Hospital.
"I remember getting in the back seat of my mom's car, and I thought I was having a heart attack. My heart was beating like 200 beats a minute. I thought my heart was going to explode out of my chest. And that's the last thing I remember."
Verplank lapsed into a coma, which lasted more than a week. When he woke up, the doctors told him he had diabetes. Much of an elementary-school student's carefree existence was instantly stripped away. The nurses brought an orange to his bedside and stuck it with a hypodermic needle to demonstrate what Verplank would now need to do every day. And then he was told he'd had his last ice-cream cone.
"I remember saying, 'What? I can't have ice cream anymore? I'm a 9-year-old!' " says Verplank. "And they said, 'No, it'd probably be best if you didn't.' Obviously, my whole life changed."
Verplank became an introvert, the better to keep people away and discourage them from asking "messy" questions.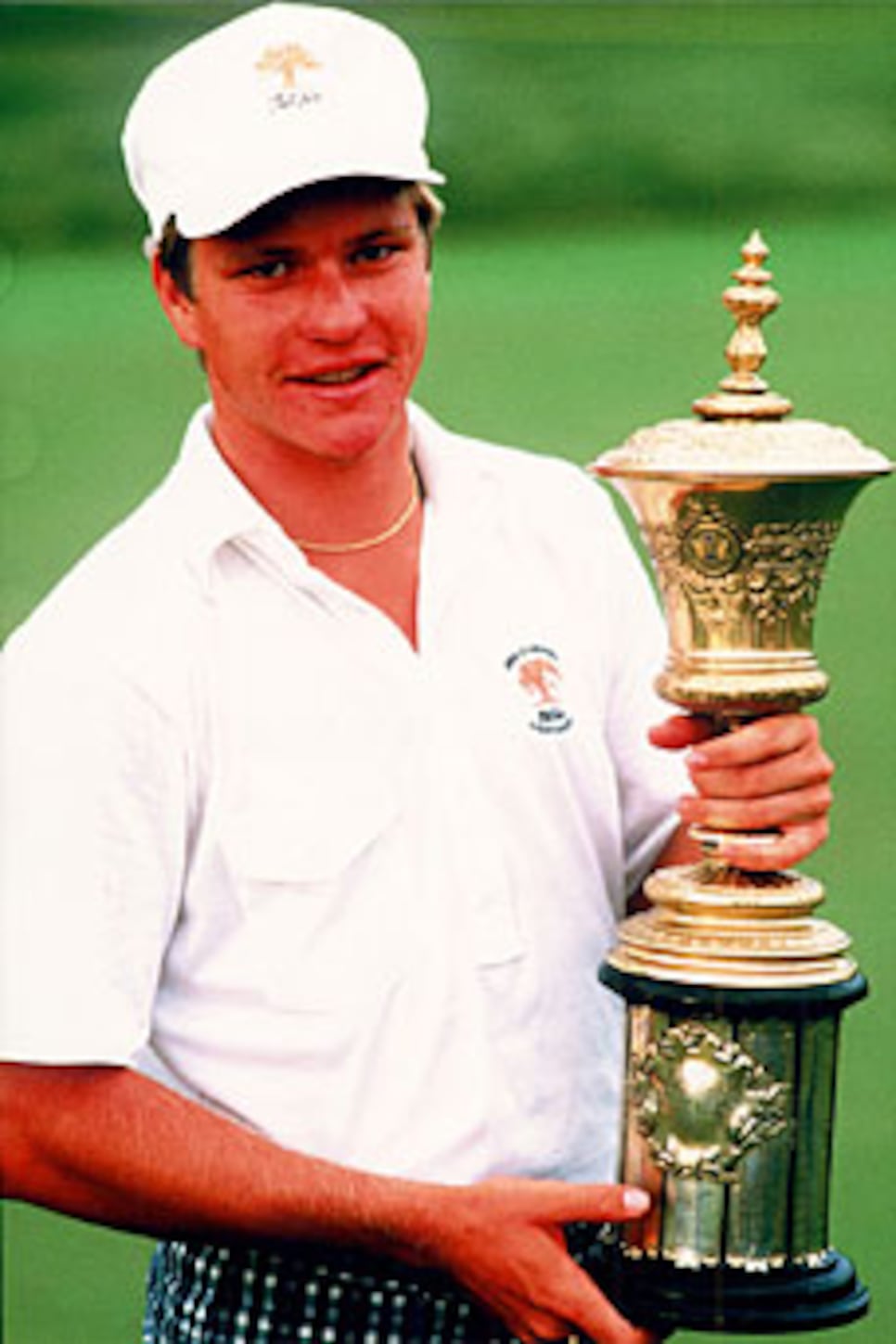 "I really didn't let anybody in or let anybody know much about me," he says. "I didn't want them to think I was some sort of freak because I had to take shots and do all that."
His reticence and aloof demeanor made the perfect suit of armor to keep him protected and immersed in his own little world. As challenging as it was, the diabetes served him well as a golfer. "It made me tougher mentally than almost everybody else that I was playing against," he says, "because I had to be."
After winning the Western Open, Verplank went back to Oklahoma State for his senior year. In the spring he graduated with a 3.5 grade average in business administration and started his life as a pro golfer. It was different. Most everybody was just as good and focused as he was. He didn't enjoy the same rabid success he had in the amateur game, but he set about establishing himself as a sturdy, dependable presence. In summer 1988 his first win as a pro came at the Buick Open in Michigan. He'd started dating the sister-in-law of fellow player Dillard Pruitt. He finished 31st on the money list. Life was good.
And then, toward the end of the 1990 season, an ominous and almost overlooked harbinger arrived: His right elbow started to ache just a little bit. Verplank dismissed it—"something always hurt," he says—but soon after he noticed he was becoming increasingly erratic from the tee and the fairway.
"And I'm like, 'That didn't feel like a bad swing. What happened there?' "
Something wasn't working the way it was supposed to. That dull ache in his right elbow was obviously becoming something more than just a "handful of Advil" problem. Still, Verplank pressed on because that was his way. He completed a decent season with four top-10 finishes, including a near miss in Boston, where he finished second to Morris Hatalsky by a single shot.
Golfers come and go on the PGA Tour. Bad seasons happen. But total cataclysmic disasters, like that which descended on Verplank the following year, don't usually befall players of his caliber. It was incomprehensible. He started in Tucson the second week of January 1991 and proceeded to miss 15 straight cuts. The last week of June, he withdrew from Memphis and then missed six more. By year's end the bottom line was ugly: 26 events, and only once—at Las Vegas in his next-to-last event of the season—did he play on the weekend.
"I learned to not really say a whole lot when he was done on Fridays," says his wife, Kim, who concedes it was probably a good thing they were young and lost in newlywed bliss. Although Scott handled it really well, she says, he understandably had his moments, like that Friday afternoon in Atlanta when he'd just missed his 12th straight cut.
"We were walking up a hill, and he kicked this trash can, and it flipped over—and I just kept walking. I'm going to act like I don't even know him. And I got to the top of the hill and I turned around and he was down there picking up all these ice-cream boxes and putting them back in the trash can, and I'm like, 'Oh, honey, it'll get better.' "
That season, Verplank earned the tour's ignominious triple crown: last in driving distance, last in driving accuracy and last in greens in regulation. "The problem was, I didn't know how to quit," Verplank says.
Diabetes, initially a burden that later gave him the interpersonal tools to withstand golf's pressure, had now turned and started to work against him again.
"I didn't know when to take a step back and say 'Listen, I got a real problem,' " admits Verplank. "My elbow kept hurting, kept losing strength, but I've overcome stuff my whole life. I've had to since I was 9 years old. So I'll be OK; I'll just overcome it."
Verplank estimates he'd lost perhaps 70 percent of the strength in that arm. The only way he realized he could finally "overcome" the problem was through surgery, which he had in November 1991.
"They scoped it [arthroscopy]," he says, "basically trying to take the easy way out. Just cut off some little spurs and see if that would relieve the pain and the weakness."
And for a little while, it did. Verplank returned to the tour in March. But 1992 quickly started to look sadly similar to 1991, and by October it was almost a mirror image. He played 13 events and made one cut. In August he even missed a cut on the Nationwide Tour.
"It was brutal, but I never felt embarrassed," he says. "Maybe I'm a jerk, but I don't really care that much about what other people think. I'm in my own little world. I remember being really angry and sad and confused."
By this point it was clear that whatever the arthroscopy had done, it hadn't done enough. So Verplank went to see Dr. Frank Jobe, the eminent surgeon and pioneer in orthopedic sports medicine, particularly surgery of the elbow. In 1974 Jobe, using a procedure he had developed, reconstructed the elbow of a 31-year-old Los Angeles Dodgers pitcher. "Tommy John surgery," as it came to be known, was a major medical breakthrough and eventually saved the careers of scores of major leaguers. But Jobe was not quite so optimistic when he first examined Verplank. "He had a thing called osteochondritis dissecans," says Jobe, "which is usually a career-ending disease. Very severe."
The cartilage in Verplank's right elbow had lost its blood supply, and the bone surrounding it was dead.
"My joint was basically falling apart," says Verplank. "It was getting soft and mushy."
So Jobe drilled a pair of holes in the bone to revascularize the area. Despite the severity of Verplank's condition, he actually felt comforted. There was a reason he had played so poorly.
"Physically, I was unfit to play like I'm used to playing," he says, "so that gave me the tiny bit of inspiration to hang on and fight it out and get through all the injury stuff and then learn how to play golf again."
It would not be easy. Verplank lost all of 1993 to rehab, but when he came back in 1994, the roller coaster started quickly chugging up the hill. He climbed from 309th on the money list to 97th. In 19 events he missed just five cuts and recorded his first top-10 in nearly four years. He was on his way.
But if Scott Verplank had learned one thing as his career moved along, it was to be wary of providence, at least when it came to his health. After improving his position again in 1995, the following year ended early and abruptly. He needed another arthroscopy—this time on his left elbow.
"That knocked me in the dirt more than the other deal [1992] did," he says. "I'd just fought my ass off for three years. I just came out of the hole. I just came out of the abyss, and then I just get my legs cut off."
The operation would fix his elbow, but at this point it almost wasn't about the physical issues anymore.
"You're so beat down," says his wife. "I don't know how he got through it other than he's the most stubborn, toughest person I've ever known. I would have probably given up a long time ago."
Verplank got up off the canvas yet again, and in late 1997 he went back to Q school, which he won by six strokes. Then he started what he calls his second career. "I'm always of the attitude," he says, "that if you've done it once before, then you can do it again. If you've played well before, there's only one thing keeping you from playing well again. You."
Starting in 1998, finally healthy, Verplank took up where he'd left off almost a decade before. He has won three more events, with an average annual finish of 33rd on the money list, since then, while becoming one of the most accurate ball-strikers in the game. "Forget about Comeback Player of the Year," says Paul Azinger. "He should get comeback player of the century."
It was Verplank's response to physical adversity as a 9-year-old that helped him develop the attitude that made him a great player. In the end, that same determination almost ruined him. In golf, as much as you should listen to your instructor, the most important voice is the voice of your body. "If your body hurts," he says, "your mind doesn't function very well, and that's just another hurdle to overcome."
*From the forthcoming book Breaking The Slump: how great players survived their darkest moments in golf and what you can learn from them by Jimmy Roberts. *
Copyright 2009 by Jimmy Roberts. To be published March 31, 2009 by Collins, an imprint of Harper Collins Publishers.