News
RISING TO THE OCCASION: Yang, who had dropped to 460th in the world, felt the pressure Sunday but scrambled effectively to win by one.
Not since Bernie Madoff has has anyone found Florida's Palm Beaches to be as happy a hunting ground as Y.E. "Olde" Yang did in the Honda Classic. Even better since Yang's profits were demonstrably real.
The 37-year-old ex-sergeant in the Korean Army, whose initials actually stand for Yong-Eun and who was previously best known for outlasting Tiger Woods in a 2006 Asian encounter, managed to survive Jack Nicklaus' Bear Trap to beat John Rollins by one shot at PGA National's Champion Course. The title makes Ye Olde, who, like his countryman K.J. Choi, uses the initials to make it easy on us: 1) a national hero in Korea; 2) the second Korean to win on the PGA Tour; 3) the proud bearer of a get out of Q-school free card; 4) a million bucks; 5) a rematch at Doral with the aforementioned Woods; and 6) a return trip to Augusta National. This is not bad for a guy who played the game for three years before someone told him folks can actually make a living at it.
Something funny happened to Yang on the way to becoming a teaching pro—he kept getting better himself. He won on the Japan Tour and the Asian Tour. Then he won the '06 HSBC, co-sponsored by the European Tour, where he beat Woods by two shots. Suddenly, he was in the top 40 in the World Ranking and a member of the European Tour. He went through the PGA Tour's qualifying school in '07 and disappeared.
His caddie, A.J. Montecinos, carried Yang's bag in the second stage of that '07 Q school. They went their separate ways afterward, but hooked back up when Yang returned to Q school last fall, again at second stage. The difference in Ye Olde golf swing between the two was dramatic. In the first incarnation Yang had a strong grip and hit a low hook. He knew he needed to change and began working with Brian Mogg at last year's Memorial Tournament. At first, they concentrated on putting but that accelerated quickly into a full swing makeover. Yang weakened his grip, worked on his swing plane and staying behind the ball into impact. If you don't believe sometimes you have to get worse to get better, consider that he dropped to 460th in the world.
At the Honda Sunday, Yang called Mogg about 30 minutes before his tee time just to hear a calming voice, and Mogg's advice was to do everything—walk, talk—at the same cadence. "His rhythm is impeccable, and his mind is second to none," said Montecinos.
Mogg is equally drawn to Yang's intangibles. "I also work with three [Korean] LPGA players and, collectively, I have been so impressed with the Korean mindset," Mogg said. Beyond the work ethic, Mogg was impressed by "the passion and desire to be the best and to get their games to be at a world-class level while also having to go through issues like language, food, travel."
The biggest issue Yang had to deal with at the Honda, however, was the Bear Trap, Nicklaus' three-hole gauntlet, comprised of two par 3s sandwiched around the 434-yard 16th, none of which should be particularly terrifying unless you have to play them in a howling wind, which is pretty much every day in March in South Florida. In a lot of wind, PGA National is a lot of golf course. Then again, if you have the nerve to stare down Tiger Woods, John Rollins must look like an after-dinner mint.
Yang took a one-shot lead into the final round and built it quickly with three consecutive birdies on the third through the fifth holes. By the time he finished the ninth he was 10 under par and his closest pursuers were Robert Allenby, Jeff Klauk and Rollins, all four back. After a couple of birdies at the 11th and 12th, Rollins just wanted to finish solo second while everyone else seemed to be obligingly falling apart.
"I honestly was playing for second place," said Rollins, whose finish got him into the WGC-CA Championship at Doral. "When I was four shots back, I was playing as hard as I could to make sure I didn't come back to the guys behind me."
That included an all-world par 3 at the 17th when he was between clubs and hit a touch-'em-all 3-iron into the upper deck of the stands behind the green. Rollins says he carries a "Jim Furyk" set: a weak 3-iron, a strong 5-iron and an extra wedge. In the absence of a 4-iron, he took it downtown.
It was up to Yang to either survive the Bear Trap or not. It was nearly not. Yang showed some frayed nerves when he drove it right on the 13th. Partially blocked by a tree, he recovered with a beautiful punch 8-iron. The next hole was the kind of break that defines "your" week. Yang's drive was headed O.B. left but hit a tree and kicked right, falling into the rough. From there he ripped a 4-iron pin high left of the green and got up and down for another miraculous par. At the 15th, the first leg of the Bear Trap, Yang pulled a 5-iron into the left bunker and bogeyed. He played the 16th flawlessly while, up ahead, Rollins got up and down on the 18th to finish eight under. At the 190-yard 17th Yang hit it into the back-left bunker, blasted to within nine feet but missed for another bogey. Now the lead was just one. But the tees were up on the 18th and one was plenty. Yang striped his drive on the shortened par 5, hit a perfect lay up, pulled his wedge roughly 50 feet left of the hole, lagged it to a foot, holed out for his winning score of nine-under 271 and let the emotions flow.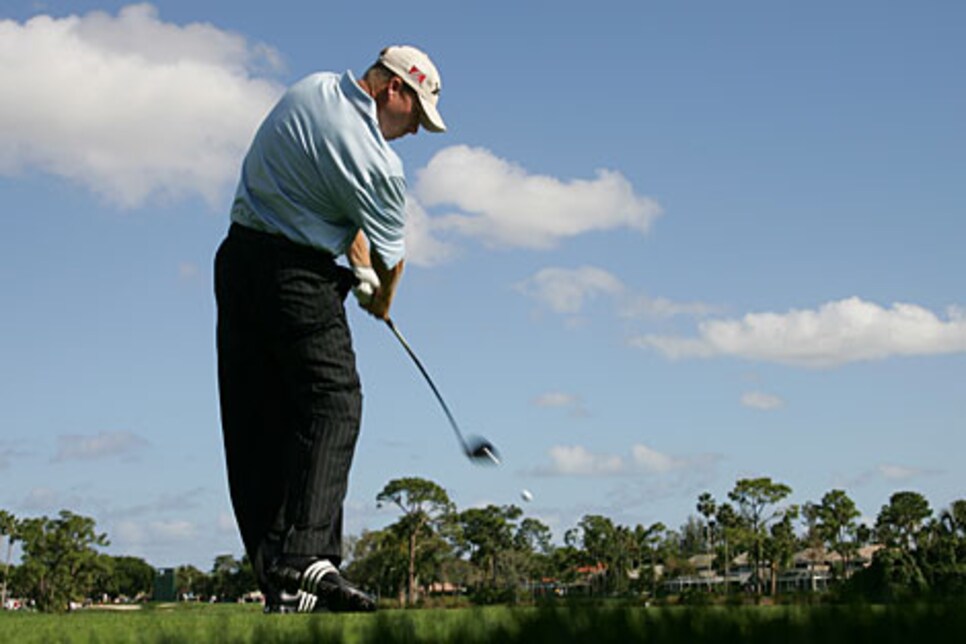 "I wasn't able to win for two years," said Yang through an interpreter. "Ever since I won the HSBC Champions, there were a lot of expectations, from people around me and even on myself. But winning today, I feel very relieved. All the pressure is off my shoulders."
Yang keeps a Masters poster in his home. "When I went to the Masters for the first time, I was just another player," he said. "I had a picture frame on my wall in my house with all of the past winners of the Masters, their faces, and at that point [2007], I was just a player looking at that picture frame every day, hoping that some day, my face would go on there." Now, it's not just dreamable, it's thinkable.
In yet another sign that the world has gone completely mad, it was actually somewhat refreshing to see a little old-fashioned red-blooded All-American commercialism at the Honda, even if it was from a Japanese car company. For the first time in weeks, the sponsor of a golf tournament was making no obvious attempt to camouflage its logo or hide its name in an undisclosed secure location. Honda really didn't seem to feel the need to apologize to either the United States Congress or Japan's National Diet for trying to do business. Who knew having this many dealers in South Florida could actually be a good thing? Just up the coast in Cape Canaveral, NASA launched the Kepler Spacecraft to search the galaxy for life-sustaining planets. Maybe while it's up there, it can find whoever's putting on the Charlotte tournament.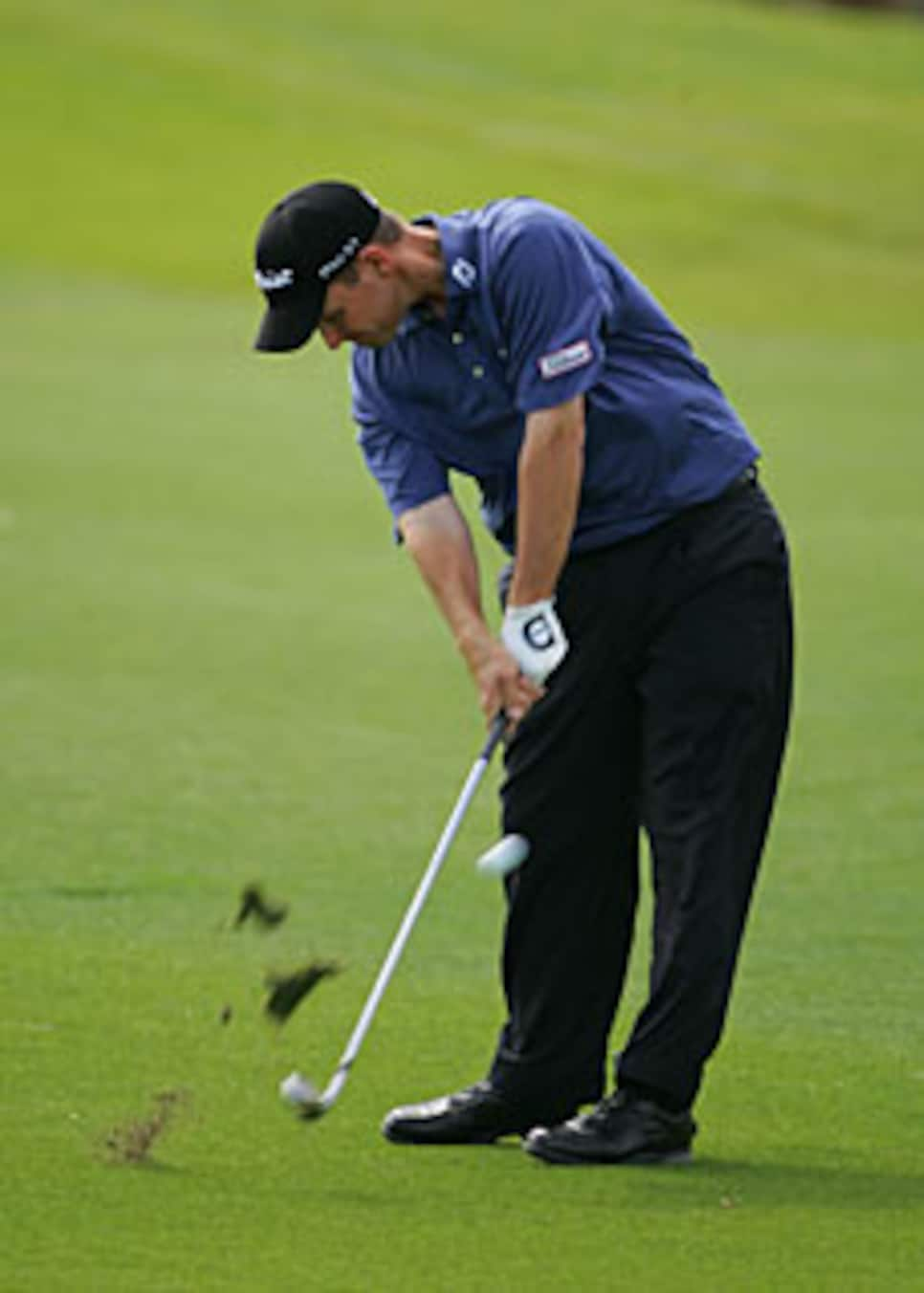 Only "Old Yeller" brought more tears to the eyes than the early rounds at PGA National. (For those too young to know the 1957 Disney classic, think of it as "Titanic" with a dog instead of a boat.) About all that was missing was Jason (The Bachelor) Mesnick's Apology Tour. To begin with, the opening-round leader with a four-under 66 was Australian Robert Allenby, who was playing in the very long shadow of the recent loss of his mother, Sylvia, to cancer. Sunday, he wore a pink shirt in her honor.
And, of course, there is the amazing case of Miami's Erik Compton who, almost exactly a year ago, walked into the locker room at Doral CC with his arm in a sling and a pacemaker next to a failing heart, waiting for either a second transplant or death. Compton got his new heart in May and, playing in the Honda on a sponsor's exemption, shot a one-under 69 in the opening round despite making a triple bogey on his second hole. He added another 69 in the second round to make the cut as one of just 26 players under par, five shots off Yang's lead. Compton, who elected to walk despite being granted the option of using a golf cart, was followed step-by-step Friday by 14-year-old John Paul George (the teen's father, Derek, carried the scoring standard), whose heart condition is so dire and has required so many procedures even Compton thought George's was the more amazing story. When John Paul said it was the greatest day of his life, there wasn't a dry eye in the Palm Beaches.
The weekend galleries seemed about evenly split between the once and future golfing dauphins, Sergio Garcia and 19-year-old Rory McIlroy. Yes, Rorymania made the trip across the pond, through the desert, all the way to South Florida. Mothers want to adopt him. Hairdressers want to coif him. He ho-hummed a T-13. One suspects, in a few weeks, the Rory Roars across the hills and valleys of Augusta will become as identifiable as any save for, of course, He Who Is Without Peer.
By the end of Saturday, the top two guys on the leader board were Yang and Klauk, the son of the former superintendent at TPC Sawgrass. Yang managed to keep the lead alone after an even-par 70 with Klauk one behind. As a final pairing Sunday, Klauk and Yang read like the sound-effect bubbles they used to flash during fight scenes in the old Batman TV series. Yang! Klauk! Holy Bear Trap, Batman!
On Sunday Klauk was tied with Jeff Overton, who is trying to become the most famous player to come out of Indiana since Fuzzy Zoeller, who was the most famous player since, well, Tecumseh. Charlie Wi and Mark Calcavecchia played their way into contention Saturday with wind-cheating five-under 65s, while Ben Crane had the day's wildest ride highlighted by a hole-in-one and a pair of matching double bogeys.
In the end, Ye Olde took on the Bear Trap Sunday with just enough shots in hand to get through it. Who can root against a Korean vet who calls a 3-wood a spoon?