News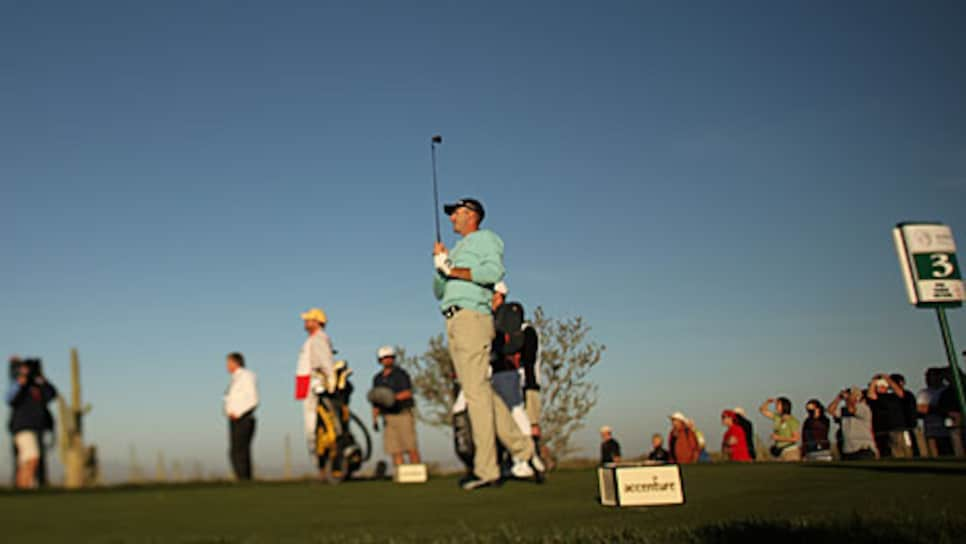 By Sunday lunch: Ogilvy had taken charge of the final against Casey, building a 3-up lead in the morning 18 en route to claiming his second Match Play victory in four years.
The new home looks a lot like the old home, which shouldn't be confused with the home before that. Same desert terrain, slightly higher elevation, although the mountains are no prettier up close than they were last year, when the WGC-Accenture Match Play Championship was held a few miles down the hill.
What this part of Arizona doesn't lack is high-end, high-altitude real estate, most of it residential, with an upscale hotel due to open in December. When the new economy behaves more like the old economy, some folks might even splurge on a room.
Ten years have passed since Jeff Maggert beat Andrew Magee in the inaugural playing of this event, which created immense excitement upon its inception but, like America's fiscal health, turned out to be a mirage. Credit Geoff Ogilvy for providing us with another weekend void of drama. By coasting bogey-free through his last 57 holes at the Ritz-Carlton GC at Dove Mountain and by shooting the equivalent of 12 under in a 4-and-3 triumph over Paul Casey, Ogilvy nullified any chance this poor tournament might enjoy even an hour of Sunday suspense.
To call it the finest finishing kick in Match Play history wouldn't be a stretch. "I beat some really good players and played really, really well the last three or four days," said the Aussie who rarely treats himself to such praise. "I played better and better in each round, made a really nice progression, which is something that doesn't happen very often in golf."
In claiming this title for the second time in four years and winning his third WGC event, Ogilvy happily will accept his new position as director of buzzkill, which takes us to another rare occurrence. Just two of the 11 championship matches have made it to the 36th hole. Both involved players with little name recognition: Maggert and Magee in 1999, Kevin Sutherland and Scott McCarron three years later.
You can't bust a journeyman's chops for beating five opponents and earning the right to compete for the biggest paycheck of his life, but a two-man Sunday show needs starpower to grow, and to that end, the law of averages has not been kind to the Match Play. The Tiger Woods-Davis Love III tilt in 2004 remains the lone title duel to feature No. 1 seeds. In fact, Love is the only top seed other than Woods to make an appearance in a final.
The list of bigshots who have never made it past the quarterfinals is awfully impressive: Phil Mickelson, Sergio Garcia and Vijay Singh head that cast. Ernie Els has advanced to the semis just once, and that was in 2001, when the Match Play ventured to Australia and more than half of those who qualified, many of them Americans, didn't make the trip.
If the closely contested Sundays have featured no-name players, the infrequent matchups of top-tier talent have produced blowouts. Of course, we're talking about a couple of problems that can't be solved, although the golf gods could see it in their hearts to grant this event a run of compelling homestretches—a couple of the game's marquee millionaires trading birdies all the way to the clubhouse.
It's kind of like our economy. You shouldn't hold your breath.
All of this serves as background, perhaps even a partial explanation, for why Tiger's return from knee surgery was the biggest deal in Match Play history, even if mainstream media interest doesn't count for much. Forget the first decade's lack of unforgettable moments, or that this WGC can't even make it to the office water cooler on Monday morning.
Woods' presence after eight months away amounted to golf's biggest comeback since Ben Hogan returned from an auto accident nearly 60 years ago. Sixty hours and 32 holes later, TW had been bounced from the bracket along with 15 other second-round losers, an inglorious end to a week when nobody knew what to expect, although few had him getting knocked out by a guy who remains winless in 177 career starts on the PGA Tour.
Tim Clark didn't just beat Woods. He won five of the last six holes, four of them with birdies, to turn a tight bout into a rout. That world-famous intimidation hadn't made it back from vacation. "I've played with Tiger a few times, and it's one of those things where you either let it get the best of you or you thrive on it," Clark said. "If you worry about it, it's certainly going to hurt you."
At least publicly, Woods had no problems with the way he played in either of his matches: a 3-and-2 victory over Australian Brendan Jones, which earned him the unhappy handshake on the 16th green with Clark. "I hit two bad shots in two days," Tiger assessed. "I just happened to catch Tim playing really well, and I didn't make enough birdies to match him."
While laying his personal touch on the definition of greatness, Woods never has been a big fan of elaborating on his ball-striking issues. He actually drove the ball quite well in Arizona, and for a guy who played his last competitive round last June, any appraisal of his comeback likely is victimized by the outrageously high standards that accompany him. He is, after all, Tiger Woods.
The healthy version, however, struggled a bit with his iron play last week, which is unusual.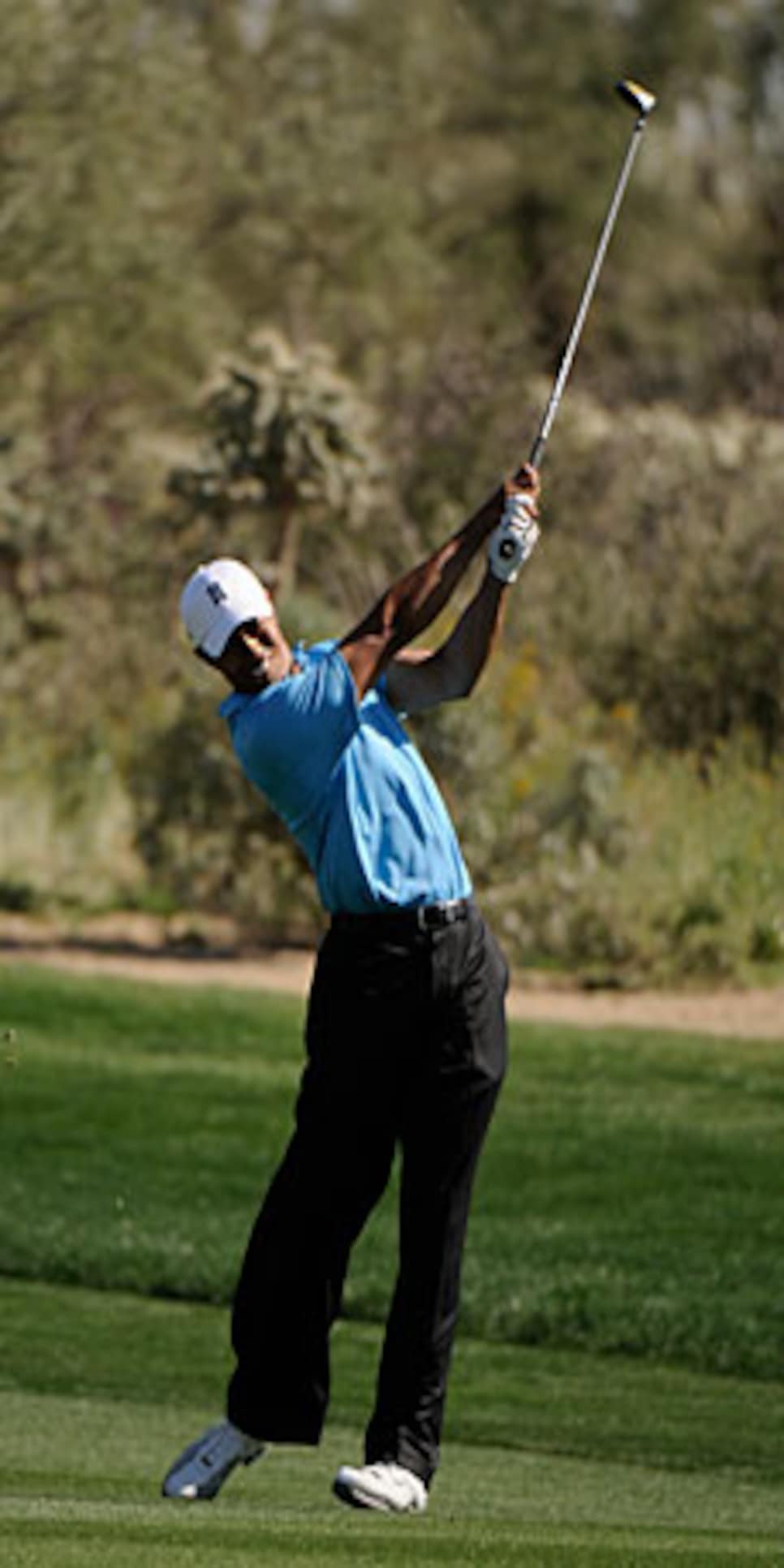 Tiger hit nine of 16 greens in each round, none closer than on the first two holes of the week. After a four-foot birdie putt to start and a three-footer for eagle that Jones conceded, one might have figured Woods had made plans to win every hole he played. As it turned out, those two holes were the highlight of his 2009 debut.
Asked after the loss where his future would be taking him, Tiger replied, "to the airport."
Everybody chuckled, and with the world's best golfer went about half of the media that had assembled in the Arizona desert to chronicle the big moment that really wasn't. You don't often see a mass evacuation at a tour event on a Thursday afternoon, nor is Camp Ponte Vedra crazy about releasing attendance figures unless they reveal a 25-percent increase, but the number of patrons fell from 14,120 with Woods to 11,130 without him.
At least, those are the numbers that were announced. That Friday figure must have included a head count in nearby Marana, which is the closest thing to a town in these parts. Among those to benefit the most from Woods' departure was Rory McIlroy (see page 36), the 19-year-old Irish sensation whose victory in Dubai last month served notice that the future is getting closer by the minute.
An unabashed Tiger fan since he was a wee lad, McIlroy birdied three of his last four holes in his second-round match against Hunter Mahan, securing a 1-up triumph and the right to play … Tim Clark? "I'll be the first to say that it's probably a good thing for me," the kid confessed. "If I stood on the first tee with Tiger, I would be intimidated. He has been a hero of mine for I don't know how many years."
So life went on without Sir Eldrick, and quite nicely for some. McIlroy's emerging brilliance was on full display against Clark, whom he throttled, 4 and 3 To see this young man strike a golf ball is an event unto itself—his downswing produces a lag as pronounced as that of a young Sergio, only McIlroy doesn't drop the club a foot below his shoulder at the top.
He putts ultra-aggressively and chips like a guy who lives in a tent next to a practice green. Alas, McIlroy's run ended Saturday morning with a loss to Ogilvy, who could not say enough good things about the Belfast teenager with a mop of curly hair and more talent than anybody has a right to claim as his own.
"Absolutely, he's the real deal," the champ-to-be marveled. "It's feasible that he's going to be one of the top two or three players in the world within a year. I mean, he's that good. He has the whole package, but there are other kids out there with the same tools physically. It's his demeanor that is so fantastic. He got better and better in our match—I had to play the best golf I've played all week just to stay level with him at the end."
The 2-and-1 triumph improved Ogilvy's Match Play record to a stunning 15-2, with two more wins to follow. After beating Stewart Cink that afternoon, he found himself in the final against Casey, his close friend and a fellow member at Whisper Rock GC, the tour-pro haven in North Scottsdale. Two Fridays earlier, Ogilvy and Casey had traveled to the tournament site together, albeit in separate cars, and spent the better part of the day adjusting to the culture shock better known as a Jack Nicklaus green complex.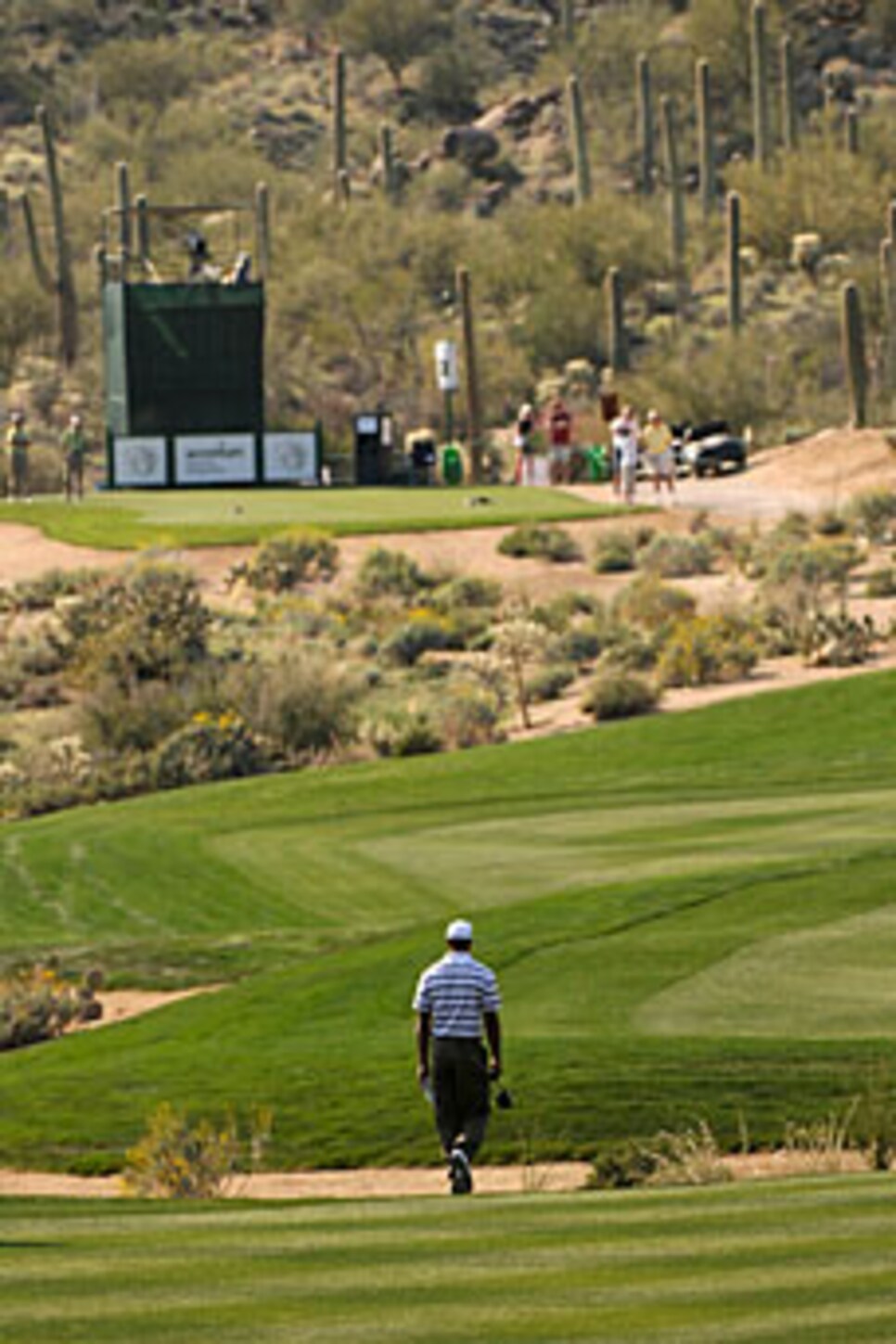 Although tour pros have been known to complain about anything that doesn't strike them as three levels better than perfect, their observations about this particular Nicklaus design were not without merit. At 7,800-plus yards, you would think the Golden Bear wouldn't succumb to the urge to torture players all the way to the hole, but then, this was a short 7,800-plus.
While Ogilvy was beating a strong list of foes, Casey was enjoying a much easier trip to the final. A sixth seed, he advanced against the 11th, 14th, 15th and 12th seeds in his own 16-man bracket, then caught another Englishman, Ross Fisher, a ninth seed, in the semifinals. The drive down to Marana on Friday the 13th couldn't have gone any smoother.
Given such a fortuitous path, Casey took full advantage. He hadn't trailed in a match all week until he missed a five-footer for birdie on the opening hole Sunday morning, an act of generosity to his buddy, who had holed out from six feet. Casey is an unfailingly polite guy and quick with a smile, one of the most likable dudes you'll meet in this league, which left one with the sense that playing against Ogilvy wouldn't be easy for him.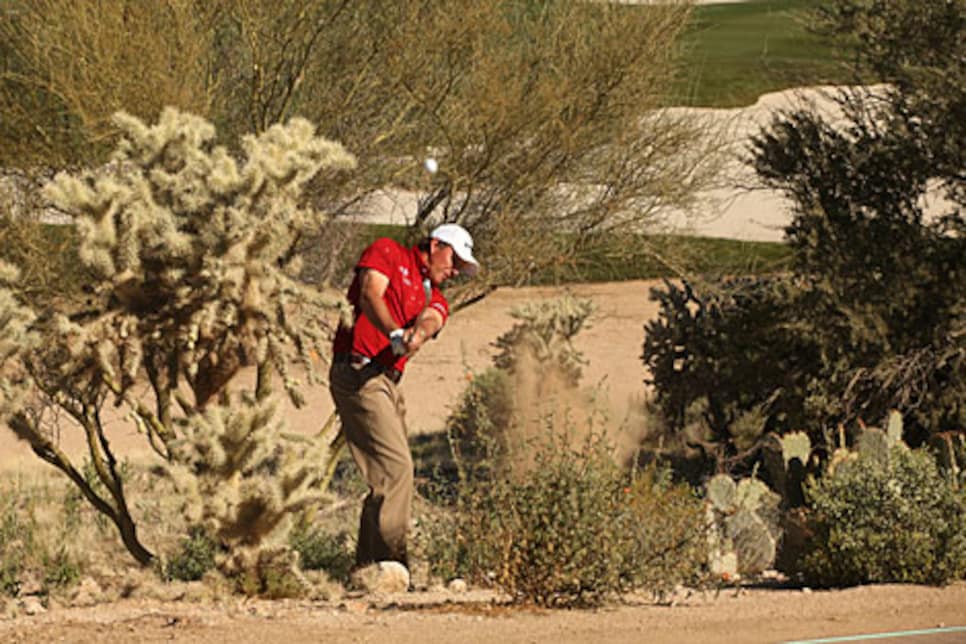 "I wouldn't say it's awkward, but we're playing for a lot," he admitted. "A lot of points, a lot of money, a lot of pride. You get into a match-play situation and it's pretty much like a fight—one guy against the other. If you get the opportunity, without being bawdy, you've got to step on the other guy's throat, and when it's a friend of yours, you can't say that. It would be very rude."
Still, it was a weak putter, not a code of etiquette, that kept Casey from staying with Ogilvy. The champ took a 3-up lead to lunch and was never threatened in the afternoon, especially after answering Casey's birdie bomb at the fourth with a 15-footer of his own. If the two men are very comparable players from tee to green, Ogilvy is clearly the better putter, and with each big victory, he seems to become more comfortable with the idea that he is one of the world's very best players.
In other words, success doesn't happen overnight. On matters involving the tournament he won again last Sunday, it will take longer than 10 years.