News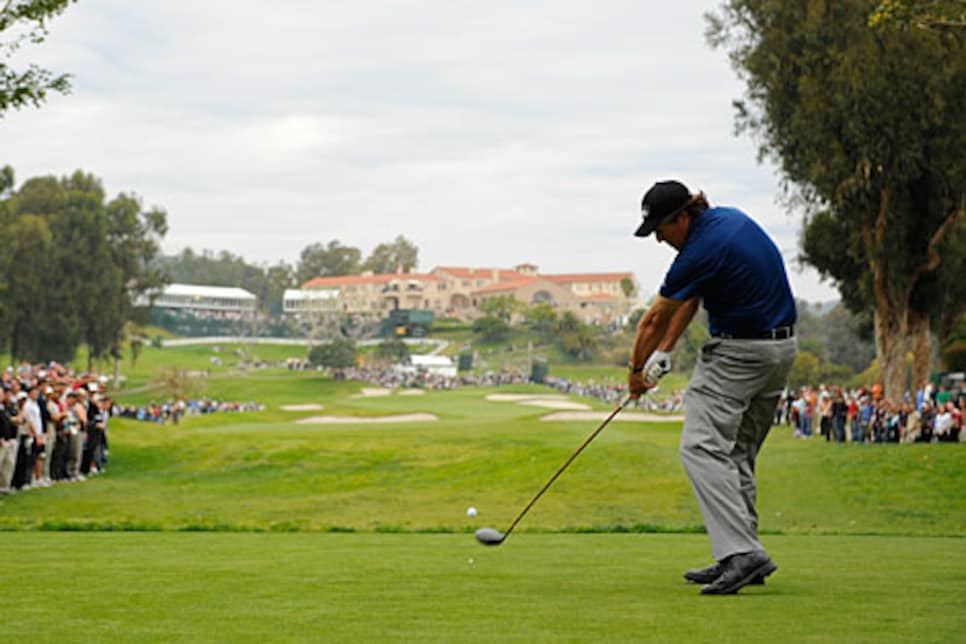 successful defense: A return to Riviera CC was a balm for Mickelson, who had endured an indifferent start to the '09 season.
It was A trip for Phil Mickelson last week, but he stuck the landing, and really, that's all that matters in the world of flight on which he has become so dependent of late. It's said, incidentally, that the modern game is played in the air, but at 30,000 feet?
The genesis of his second straight victory in the Northern Trust Open took flight the week before, when he was so disturbed with his ball-striking that he flew home from Pebble Beach Friday night to retrieve an old set of irons. Couldn't he have cashed in some FedEx Cup points and had them delivered instead?
Next up was the Northern Trust Open at Riviera CC in Pacific Palisades, Calif. For the past three years, Mickelson has commuted via jet, flying round trip from his home in San Diego to Santa Monica each day. Only in Mickelson's orbit is Los Angeles flyover country.
At Riviera he determined that his equipment wasn't the perpetrator, so he summoned his swing doctor, Butch Harmon, who caught a plane in Las Vegas and brought with him an Rx. Or at least an aspirin.
All of it contributed to the four-stroke lead on which Mickelson slept comfortably (in his own bed) Saturday night. The lead became five shots one hole into the final round, at which point he began to bounce around like a single-engine Cessna in a thunderstorm. Only birdies at 16 and 17 and a clutch par putt at 18 pulled him safely through it, allowing him to prevail over Steve Stricker by a single shot.
"It was not easy," Mickelson said, a statement that has come to define his fasten-your-seatbelt career. It was his 35th PGA Tour victory and one that for the moment answered the question proposed early last week by more than one media outlet: What's wrong with Phil Mickelson?
Is it even necessary to ask anymore? Shouldn't we have learned by now that his game comes and goes as it pleases, repelling monotony and keeping us gratefully transfixed?
So it was that Mickelson delivered another thrill ride, culminating in a victory to offset an indifferent start to the season that provided early-season fodder for his critics. The best he had to show from three previous starts was a tie for 42nd.
Riviera CC has become therapeutic in itself for Mickelson, who but for a 72nd-hole bogey two years ago might have been celebrating his third straight victory in an event he once eliminated from his schedule, his appreciation for the course notwithstanding. Once it occurred to him that his wherewithal allowed him the luxury of transforming this tournament into a home game, he returned it to his schedule, where it will remain indefinitely.
"Being able to stay at home the last three years has made a big difference for my performance," he said. "Just relaxing, not having to pack, not having to really travel, to be at home, to see my kids, to have dinner together a couple days. It just feels like I'm playing golf at home."
He cruised to an eight-under 63 in the first round, a bold statement that barely was heard above the din created an hour or so later by Tiger Woods' announcement that he was returning to competitive golf at the WGC-Accenture Match Play. Even from the sideline, Woods remains the dominant figure in golf.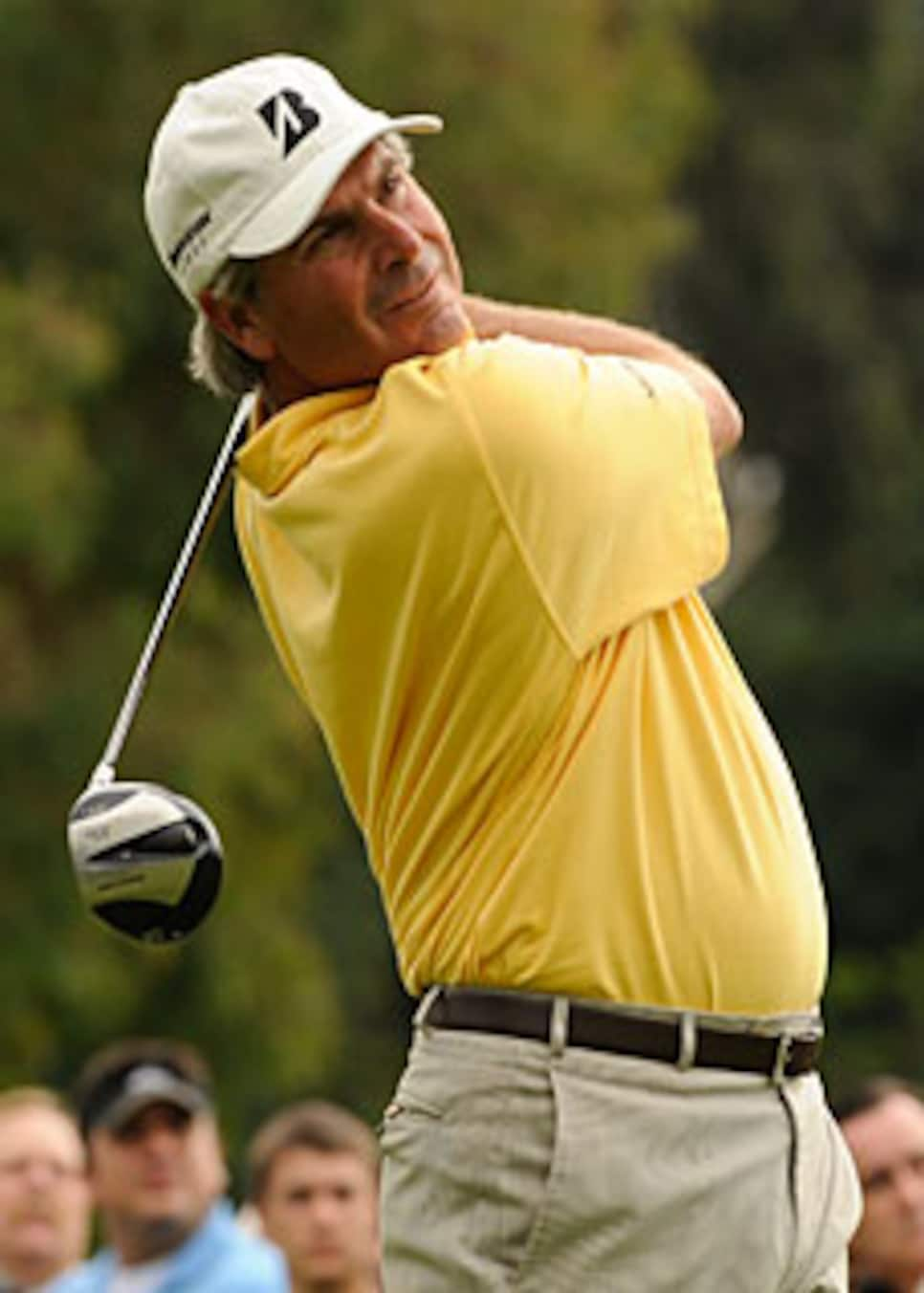 Mickelson's Thursday success likely deserved less-than-banner headlines anyway. It was only masking swing flaws that were exposed Friday, when he came back with a round of one-over 72 that had him calling Harmon before he even left the scorer's room. Harmon arrived Saturday morning and went to work on bringing stability to Mickelson's lower body. The results were immediate and apparent in a round of nine-under 62 that staked him to a four-stroke lead through 54 holes.
"I don't want to say that I'm back on track," Mickelson said Saturday afternoon, "but I have a direction of where I want to go. My iron play was much, much better because of it. I hit the ball well, the best I've hit it in a couple of months. I didn't have a lot of confidence heading into the round."
Mickelson doesn't travel with an entourage, but he can summon one should the need arise. Joining Harmon in answering Mickelson's plea for help last week were short-game guru Dave Pelz and former LPGA standout Amy Alcott, a Riviera member, who lent advice on the nuances of the greens. "My putting felt great," Mickelson said.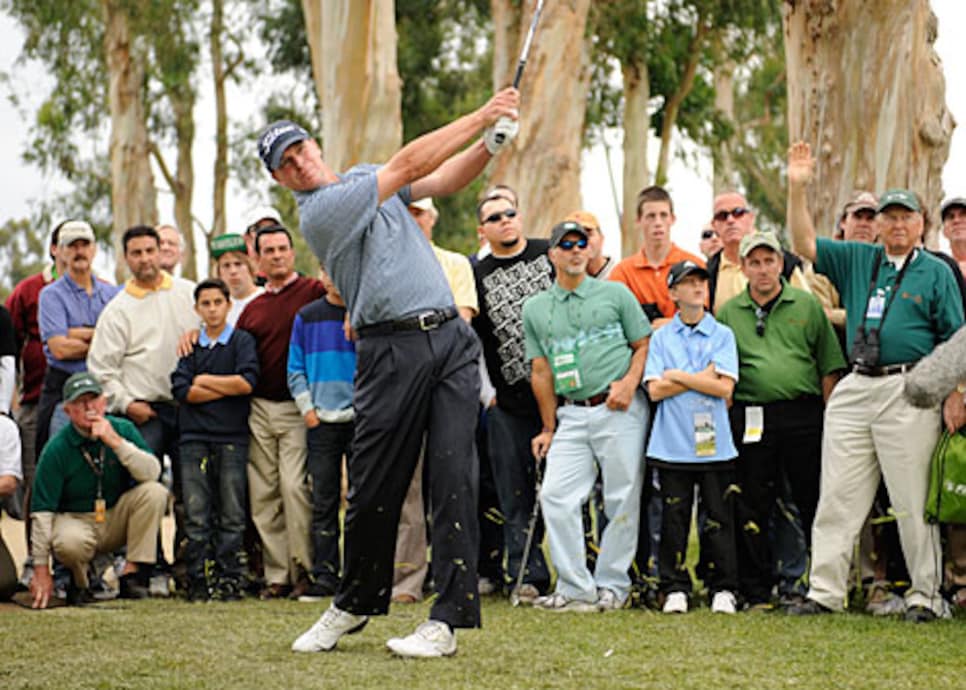 His work done, Harmon went home Saturday, and by late Sunday morning Mickelson was ready to send out an SOS for his return. The round began spectacularly enough—he eagled the first hole for the third straight day to extend his lead. Then the ugliness set in. He bogeyed three of the next six holes and two of the first five holes on the back nine to squander his advantage and fall to two shots behind Stricker (whom Mickelson had led by five shots when the round began). He was missing fairways right and left and finally abandoned the driver temporarily in favor of a 3-wood that gave him a better chance at finding a fairway.
Stricker, meanwhile, bogeyed the 18th hole to give one back. Mickelson got even by stiffing a 9-iron at 16 for an easy birdie. "That was a key shot for me," he said. "Eighteen is a very tough birdie hole, so I knew had to birdie 16 and 17." He followed with two prodigious and accurate wood shots at the par-5 17, leading to a two-putt birdie that gave him a one-stroke lead.
At 18, he demonstrated his marketing acumen by saving par from just off the green a day before the introduction of his new instructional video, "Phil Mickelson: Secrets of the Short Game," subtitled, "From Golf's Greatest Short Game Player."
He holed a tricky six-footer to secure a victory that came despite a final-round 72. Of the top 29 players on the leader board, he was the only one to score over par.
"I'm pleased to be sitting here as the champion," he said, though relieved would seem more appropriate. "I need to become a better front-runner when I get a lead. The good thing was that I was able to fight through the round, when I didn't have my best stuff. I'll take a lot out of this, being able to heart it out. It gives me confidence and something to build on. But I certainly have some work to do. At least I'm on the right path. I'll work with Butch on Tuesday and see if I can continue to build on this and carry some momentum to Augusta [and the Masters]."
Mickelson's victory was a popular one at Riviera, but it came at the expense of Fred Couples, who perennially is a crowd favorite at a course on which he has won twice. Couples, 49 and eagerly awaiting the comfort of the Champions Tour, was in a position to win until the 72nd hole, where a birdie would have forced a playoff. Instead, from the right side of the fairway, he attempted to skirt a row of eucalyptus trees and pushed his second shot into them, leading to a bogey that dropped him into a third-place tie.
"It was a perfect 7-iron," he said. "I was trying to hit right around the tree, and I hit right in the tree. There was so much commotion. I'm hitting over cameramen because of the angle, and I think I just got a little loose. I hit a bad shot and just didn't give myself a chance."
Mickelson, meanwhile, proved too formidable an obstacle, even with his scattershot approach Sunday. "He was never going to lose the tournament," Couples said. "He was always going to have a shot at winning. He's a true competitor. When he plays bad, he still gets it."
It has become part of the left-hander's biography that he often trades punches with himself, occasionally even scoring a knockout. This time, he absorbed the blows and prevailed, then caught the Mickelson Shuttle home.