News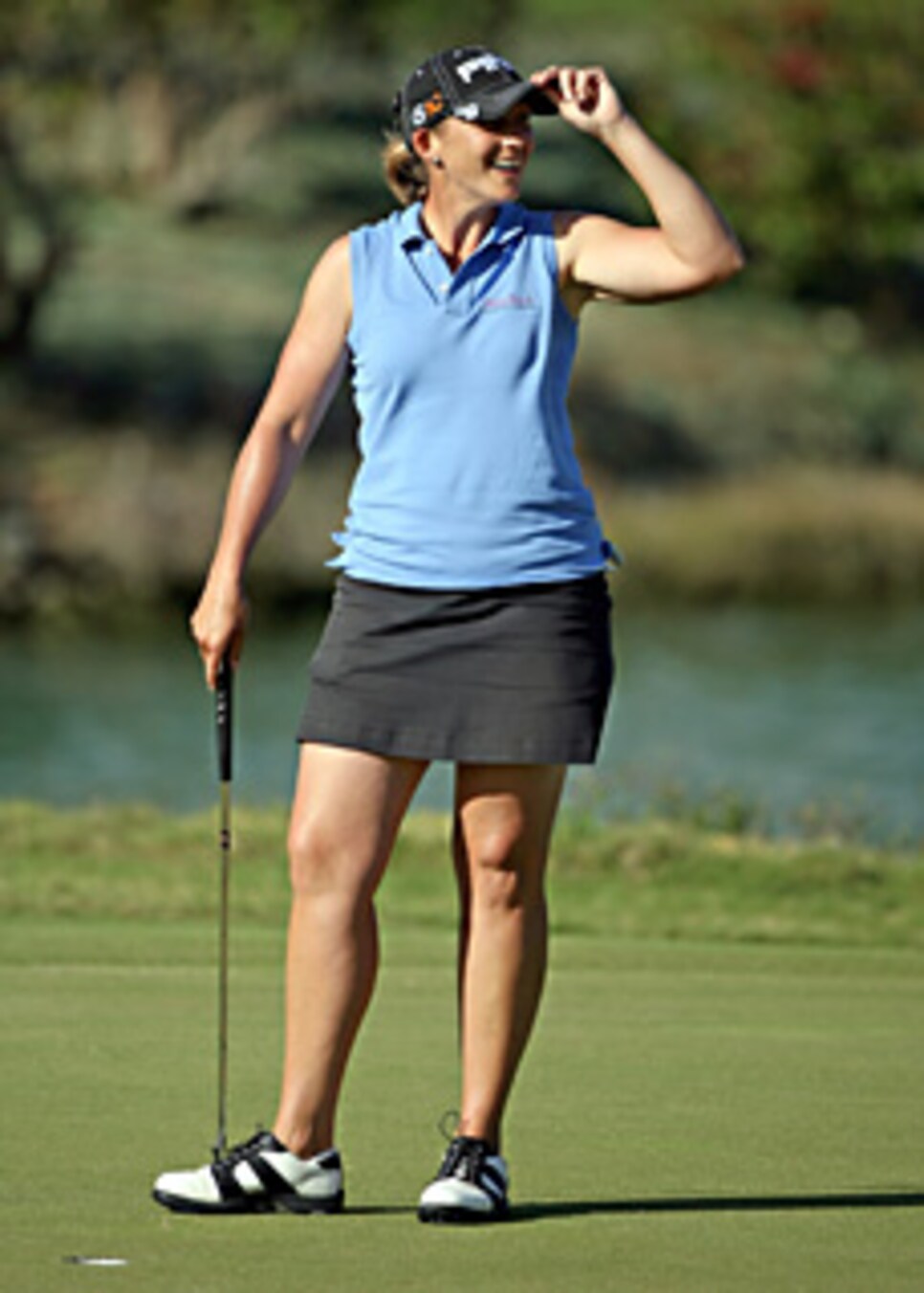 Open-door policy: By making a costly double bogey on No. 11 and missing a four-foot birdie putt on No. 16, Wie gave hope to the fast-finishing Stanford (above).
Nothing about this was easy. Not the playing conditions, not the burden of hometown expectations for an auspicious beginning and certainly not the competition. Yes, there were some familiar foibles under final-round pressure, most notably two loose swings off the tee and a crucial miss with the putter from short range. But the reason Michelle Wie, the 19-year-old Stanford student making her debut as an LPGA member seven years after her first tour event, finished second at the SBS Open was because she was schooled on how to close out a tournament by another Stanford, this one named Angela, who, with her third victory in seven starts, continues her emergence from mediocrity to the hottest player on tour.
While others struggled in the persistent wind with distance control, finding a target and even settling their feet on the greens, Wie was rock solid through 46 holes of the 54-hole tournament at the Turtle Bay Resort, an hour from her home in Honolulu. If there is anyone on tour who knows how to handle Hawaii's trade winds, which bent shots in 30 mile-per-hour bursts all three days, it is Wie, who grew up playing in these breezes and has the power to penetrate them.
Unfortunately for her, her final-round challenger was a Texan who also knows from wind, is swinging the club with great confidence and making every putt she looks at.
Wie is a rookie only in LPGA bookkeeping. The SBS Open was her 49th LPGA start and 25th since turning pro in 2005. Her runner-up finish -- three strokes behind Stanford's 10-under-par 206 -- was the ninth time Wie has been second or third in a tour event. And if there was a familiar feeling about the way things ended Saturday, it might be because the last time Wie played in the final group of an LPGA event, the 2006 Evian Masters, she lost a two-stroke lead with seven holes to play when Karrie Webb passed her with three birdies.
It was déjà vu at Turtle Bay as Stanford made three consecutive birdies beginning at No. 13 to turn a three-stroke deficit with eight holes to play into victory. "I'm just having so much fun," Stanford said, a Hawaiian lei draped around her neck. "I'm just starting to understand how to hit the golf ball and, you know, why it does what it does and how do I make it do this, and how do I make it do that. I just feel like a kid again, hitting the ball and having fun. I don't know, it's been quite a ride."
One that began with a victory in the Bell Micro LPGA Classic in September and continued with another triumph at the Lorena Ochoa Invitational in November. Stanford closed out 2008 with six consecutive top-six finishes and now, is No. 6 in the Rolex Rankings. Not bad for someone whose only previous LPGA victory came in 2003.
For Wie, it was a new beginning with an old result in what was the last SBS Open, Seoul Broadcasting System having lost its Korean TV rights to LPGA events (see page 16). With a tour card in hand by way of a T-7 finish at Q school in December, Wie came into the SBS with a new calm that likely results, at least in part, from the fact she no longer has to listen to complaints about being given undeserved sponsor's exemptions. She earned her way here.
"I felt like I played pretty solid, just had one bad hole that I just, you know, kind of was disappointed about," she said, sounding a lot like the college sophomore she is. "I guess there are a lot of positive things I can take from this week. I shot pretty solidly in the wind in tough conditions. It's not what I wanted, the outcome today, but it's just the beginning. And I think there's a lot more good stuff to come."
Stanford grabbed the first-round lead with a 65, one shot better than Wie. The latter's very impressive second-round 70 Friday, in the worst of the wind, left her tied with Stanford at eight under going to the final round. Angela Park was one shot behind, but after she missed short par-saving putts on Nos. 6 and 8, the tournament became a two-player duel. And standing on the 11th tee, it hardly seemed that competitive. Bogeys by Stanford on the eighth and 10th, sandwiched around a birdie by Wie at the ninth -- gave the younger player a three-shot advantage.
"On No. 10, I thought, 'I don't know if I can make up three shots in this wind,' " Stanford recalled. "She was going to need to make a mistake."
And so Wie obliged, hitting a 3-wood off the 11th tee that ballooned in the wind and landed in the hazard on the right side of the fairway, leading to a double bogey. Both players parred the 12th, and then Stanford -- who plays out of Shady Oaks CC in Fort Worth -- channeled her inner Hogan. She hit a 5-iron to 15 feet on No. 13, a lob wedge to four feet on the 14th and a 6-iron to 10 feet on No. 15 and converted all three birdie putts. In five holes, she had gone from three down to two ahead.
Asked how important experience was on the back nine, the 31-year-old Stanford said: "After what happened on 11, huge. That front nine, she didn't make a mistake. She was doing everything she needed to do to win. And when she made the mistake on 11, she didn't rebound like I thought maybe [she would]. You could just see her youth in that."
On No. 16, Wie had a chance to cut the deficit to one stroke, but she quick-stroked a four-foot birdie try, missing left. "I didn't pull it or anything," she said. "It just didn't choose to go in the hole. I didn't mis-hit it. It was just weird." Wie then knocked her tee shot on No. 17 -- again with the 3-wood -- into a fairway bunker. She went on to make another bogey, giving Stanford a three-stroke lead. School was out.
"The more good players I play with, the more game experience I get," Wie said about Stanford's impressive closing drive. "I can learn different stuff from different players. And I learned a lot from Angela today."
Here are the positives Wie takes away from Turtle Bay: She is swinging better than she has in more than two years. Her putting (despite the short miss at 16 in the final round) looked solid all week. She earned 30 Solheim Cup points. And the $108,332 she won virtually guarantees she will qualify for the Kraft Nabisco Championship, the first major of the year.
"She's got all the shots," Stanford said. "Once she figures things out, she is going to be just fine." Natalie Gulbis, who finished T-10, agreed. "She's getting on-the-job training," Gulbis said. "She'll win, and soon."
While that sounds like a familiar refrain sung repeatedly the last half-dozen years, even the players with the deepest resentments over how Wie shunned the tour to play against the men want that victory to come soon. There are an abundance of great young players on the LPGA -- players 20 or younger have won four of the last eight majors -- but none move the needle like Wie.
All that's needed to set it in motion is a victory.