News
Emphatically Unpredictable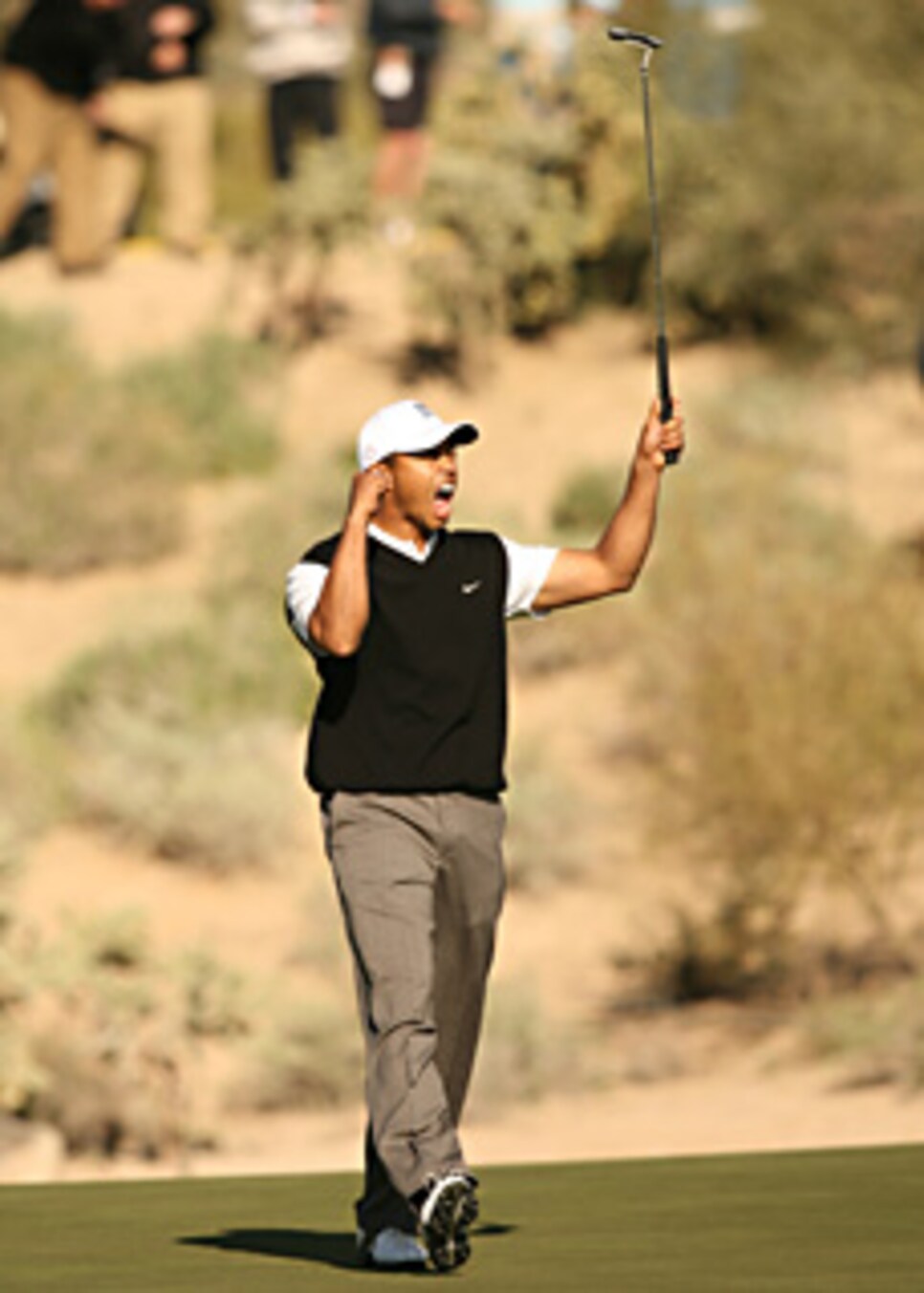 The best don't always win, but Woods, the '08 champ, is usually difficult to match.
"The race is not always to the swift or the battle to the strong," the late sportswriting legend Damon Runyon once reasoned in considering the pointed warning of Ecclesiastes, "but that's the way to bet."
Pity that strengths are not so easily quantifiable when it comes to golf, particularly in match play, when the game's vicissitudes seem all the more subversive to the notions of predictability, if not common sense. If it's certainty you seek, the Arizona desert in late February is a poor destination.
The renewal next week of the WGC-Accenture Match Play Championship represents an annual deposit toward maintaining a minimum balance in golf's account of competitive formats. Match play was abandoned in the PGA Championship in 1958 in favor of medal play; its tenuous payoff (top draws advancing into the final rounds) contributed to its demise.
More than likely, when the game's best players convene at The Ritz-Carlton GC at Dove Mountain in Marana, Ariz. -- the top 64 players on the World Ranking after of the AT&T Pebble Beach National Pro-Am qualified (see page 52) -- the central conundrum of match play will blossom anew. Everyone loves an underdog, but nobody likes a herd mentality, especially not those who write the checks or are in the business of beaming nifty high-definition TV signals. Match play seems just a bit too egalitarian.
This is no surprise to two men who recently received a smack from opposite ends of the same mermaid, if you will. U.S. captain Paul Azinger was caressed with a kiss of good fortune at last fall's Ryder Cup while his counterpart, Nick Faldo, took a tailfin to the teeth. The chalk had America, sans Tiger Woods, getting impaled, but it was Europe's outline on the parking lot at Valhalla GC by week's end.
Ergo, handicapping the upcoming Accenture field is a futile exercise, even for the two major champions, who, incidentally, will appear on the same marquee for Golf Channel coverage of the $8.5 million event. Azinger might have been able to implement an organizational "pod system" to group his players based on personality traits for the Ryder Cup, but that exercise was undertaken for the purpose of optimal team pairings. In the wilderness of singles, predators lurk everywhere. Advantage is an apparition, and trends are so much trope.
"When it comes to this format, I think the only thing we know is that whatever makes the best match-play players can't be quantified," Azinger said. "There's no personality mode, there's no particular style of play, there's no real solid trend to follow."
"Favorites cannot be put into categories," said Faldo. "Then again, over 18 holes, there probably isn't a clear favorite in any match. But that's part of what makes match play such an amazingly good game."
The two men agreed that a sharp short game was paramount to sustained success. Otherwise, they were more apt to point out the characteristics they would not want to see in an opponent, rather than try to enumerate those of a quintessential match-play competitor.
A player can start packing his bags for the Florida Swing if he notices any of the following characteristics in a foe. In no particular order:
The sly scraper. The legendary Bobby Jones lamented facing a player of this ilk. "When a man misses his drive, and misses his second shot and wins the hole with a birdie, it gets my goat," Jones said.
Azinger could not agree more. "The guy who absolutely terrifies you the most is the one scraping it around and making pars," he says. "You know he isn't going to struggle forever, and if you can't get some separation before he finds his game, you're in trouble."
The incarnation of Ben Crenshaw. "The hot putter will wear you out. What a marvelous weapon," Faldo said. "But that goes [along] with a great short game, which I think wins more matches than anything."
The dude with the serious dog-with-a-bone complex. "Some guys simply show an unwillingness to lose a hole," Azinger said. "They won't go away. It's intestinal fortitude, whatever, but it's almost not skill getting the ball in the hole for them. It's guts, whatever you want to call it."
The topper. "You're in close and he holes a putt or you hole a putt and he follows you in," Faldo said. "It takes a different kind of nerve at that point, and when a guy's got it, you're miserable."
The bomb-and-gouger who doesn't have to gouge. Said Azinger, "If you have someone like J.B. Holmes 50-80 yards in front of you all day and he's in the fairway, the numbers don't look good for you."
The pure S.O.B. "A guy with a fair amount of hate, for lack of a better word, is a tough one," Faldo says. "How much does he hate to lose? Guys can be chummy playing in a stroke-play event … but match play, you can't just go in, even against a friend, and be nice about it. You have to ask yourself, 'Do I want to win?' You can't let the golfing gods decide."
A guy who looks like Tiger Woods. If the three-time winner and defending champion makes this his return from reconstructive knee surgery, does anyone really want a piece of that? Other than Nick O'Hern, that is, who twice has eliminated the world's No. 1-ranked player.
Yes, such turns of event merely reassert the notion that the battle in match-play golf doesn't always go to the best. Doubtful Mr. Runyon would even say it's the way to bet.