News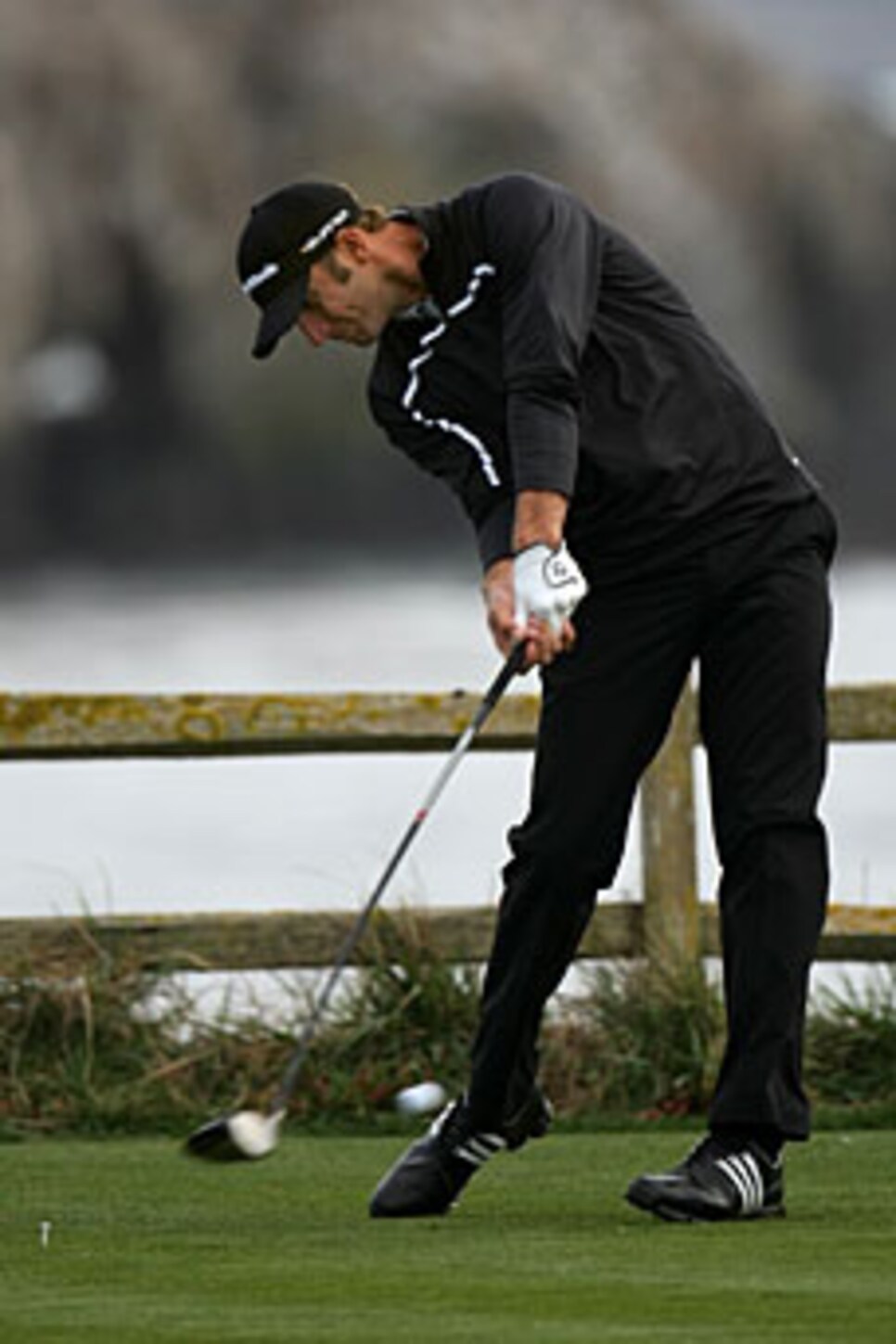 One and done: Thanks to the weather, Johnson's only tour of Pebble Beach GL was in the first round when he shot a 65 to share the lead.
Main entry: Crosby Weather, archaic or poetic.
Usage: often attributive.
Etymology: Crooning English, from the Old Der Bingle; Latin crosbus wickedus, Greek cheimon ridiculai, Sanskrit indra viagra.
1: marked by standing water, bone-chilling cold, sideways rain and wind so hard it'll blow the handlebar out of Gary McCord's mustache.
2: a bad day for the Outer Hebrides; even Scottish shepherds wouldn't whack stones on a day like this.
After dodging ominous forecasts all week, the ATT Pebble Beach National Pro-Am was slammed with a direct hit by a Crosby Category 4 storm Sunday. Hard to believe, but it can actually get worse. In your typical Crosby Cat 5, the Magnum Force of the storm can drive Clint Eastwood's Oscar through a telephone pole.
The buckets of rain and 40-plus mile-an-hour winds that visited the Monterey Peninsula for the final round of the ATT toppled a couple of ShotLink towers on Pebble Beach's sixth and 17th holes; blew away a tent here and there; felled a 40-foot Monterey pine on Pebble's third; and chased all the amateurs right out of the field for the first time. (Not counting '98 when the pros had to come back in August to finish up all by themselves.) The only weather props missing Sunday were an official starter from the Weather Channel and a quaint little cottage from Carmel falling on top of Billy (Red Shoes) Murray whose colorful footwear Saturday the 14th was supposed to be in honor of Valentine's Day, not the Wicked Witch of the East. Oh, and it pushed the scheduled completion into Monday where it was duly greeted by a solid, if less blustery, facsimile of Sunday, thus shortening the event to 54 holes and making Dustin Johnson the champion golfer of the worst weather this side of Carnasty with a 15-under-par 201.
The onslaught of the Crosby Weather gave the 24-year-old second-year pro his second PGA Tour title, making Johnson and Anthony Kim the only players younger than 25 to have recorded multiple tour victories. More importantly, it gave Johnson the green light into Augusta's green heaven in two months' time, something his victory—also in the wind, rain and cold—at the Turning Stone Resort Championship during last year's Fall Series failed to do.
Bolstered by a four-shot lead over Mike Weir and five over a resurgent Retief Goosen (page 45), Johnson could afford to wait patiently for the round that never came. Going into Saturday's third round, everyone knew it could well be the week's last. "Bleak"would be painting much too kind a picture of the dire expectations for the weather on Sunday and Monday. While Goosen held the 36-hole lead by two shots over Johnson on the strength of an eight-under-par 64 at Pebble, it was Johnson who put the hammer down when it was crucial to post a number.
It's no secret the former All-American from Coastal Carolina University has had some challenges in his life (Recovery Act, Feb. 2) but fear on the golf course isn't one of them. Help from his college coach, Allen Terrell, and his grandmother, Carole Jones, who died suddenly last May, pulled him through his darkest adolescent troubles. Help on the tricky greens of Pebble Beach, on the other hand, came courtesy of his caddie, Bobby Brown, who grew up in Southern California but spent seven years looping on the Monterey Peninsula, a fact that could well earn him the crown of first "local" caddie to win the event since the days of Porky Oliver, though caddie records are, by definition, highly suspect and dubious on their face.
Johnson secured the lead, and the title, at Poppy Hills Saturday when he birdied all five of the par-5 holes en route to a five-under 67, tied for the day's low round on any of the three courses—Pebble, Poppy or Spyglass. Goosen, on the other hand, only could manage a disappointing two-over-par 74 at Spyglass to fall into third behind Weir, who finished the day with a 69 at Spyglass. "Off the tee has been a big problem today," said Goosen, who at 40 is striving to return to the game's elite. "It was a terrible round of golf."
If the final round was to ever materialize, Weir knew what he was up against in Johnson, who was fourth in driving distance on the tour last season and first at the ATT through the first three rounds, a huge advantage in the slop and sludge.
"I'm not the kind of player that has a second gear where I can say, 'I'm going to bomb this one out there,' " said Weir. "My game is just down the middle, playing smart golf, trying to make a lot of putts and wedge it great. Sometimes it's good enough, sometimes it's not."
Johnson only has one gear, too—warp nine. He's one of that subset of bombers who fall into the atom-smasher category. There are just a handful of them, led by Bubba Watson, but they're the guys other players on the range recognize by sound. An example of Johnson's best exploded off the clubface on the 516-yard 10th hole at Poppy. "I hit one way down there on 10," he said. "I had 9-iron into 10, so it helps." Uh, yeah.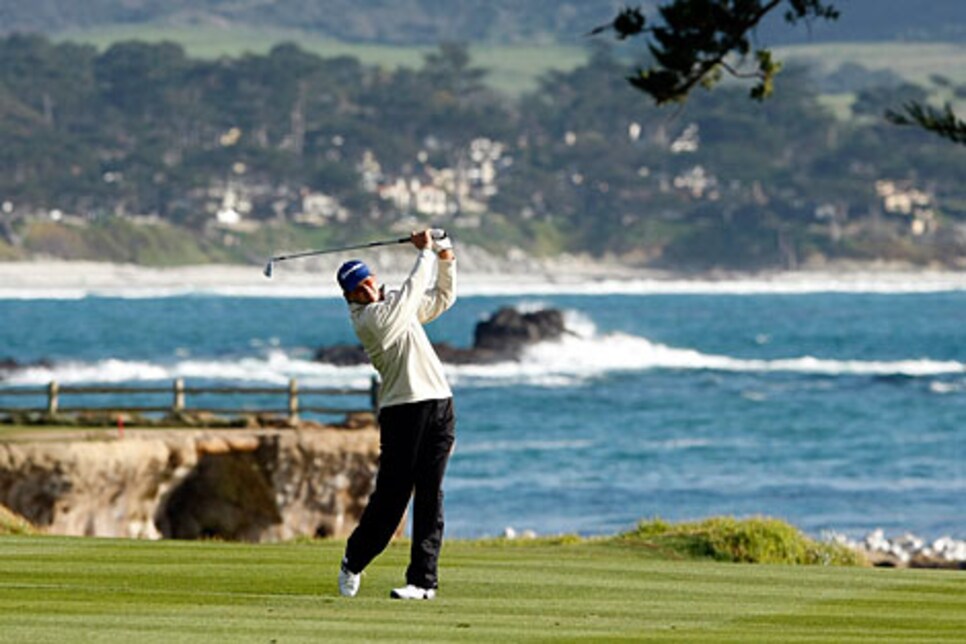 Cool weather and overnight rains the first three days gave the locals an opportunity to sport their designer wellies and country squire deer hunting coats. All week the Dow Jones had a better forecast than the Monterey Peninsula. Whether it was the effects of the former or the latter, the crowds and the celebrities seemed more subdued than usual. Andy Garcia still looked like a silent movie director, if a chilly one. Chris Berman looked like he lost 40 yards on NutriSystem. George Lopez, who flung bagels on the first tee, wasn't too edgy for Northern California, and Murray began the week wearing some kind of alternate-universe Madame Butterfly kimono and finished it with a heart-shaped swizzle stick stuck in the brim of his black hat, serenading Kelly Slater, who was in the group behind him, with "Surfin' Safari," to which Slater responded disgustedly, "There's one guy on every hole."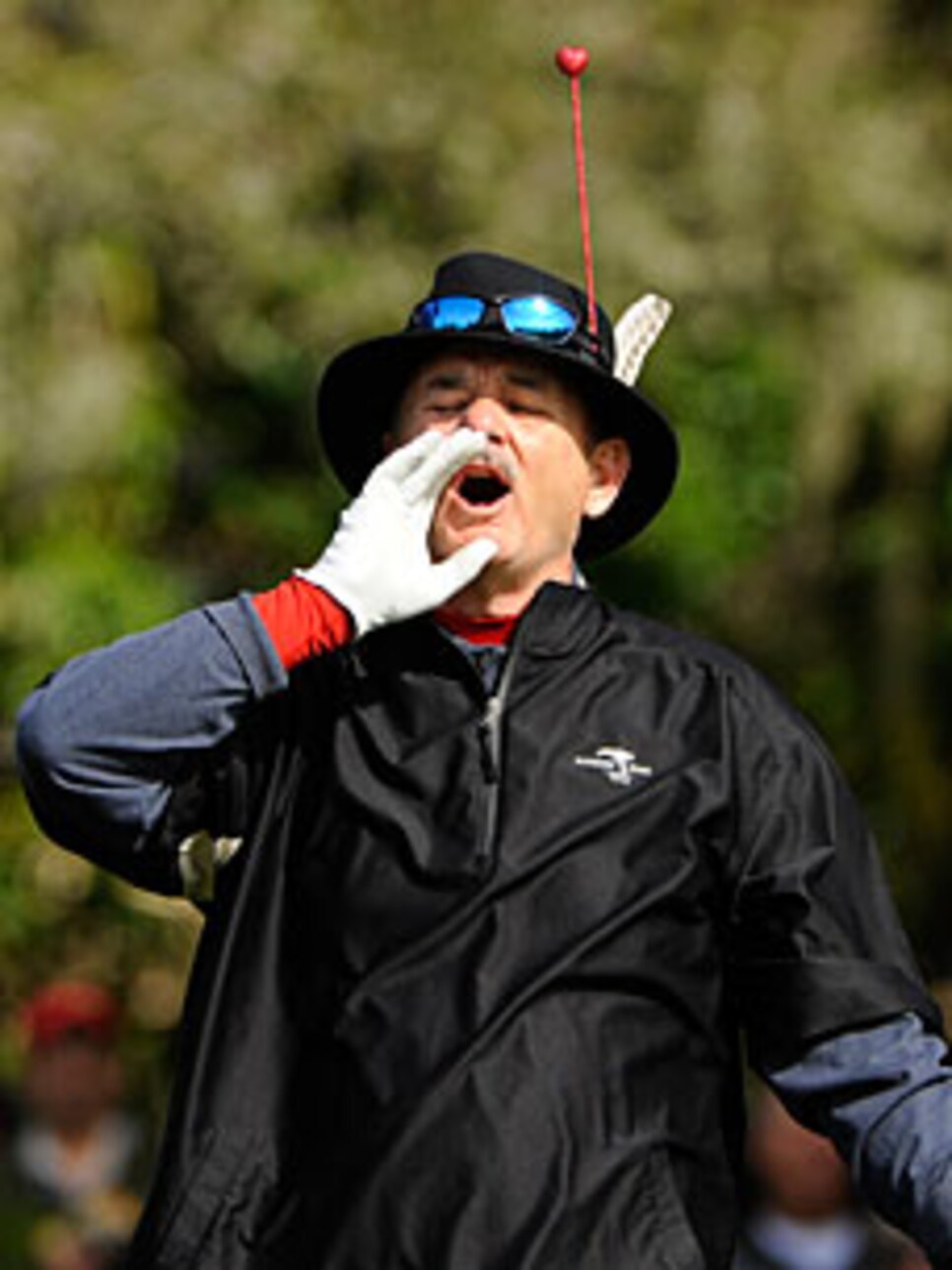 Back on the playing fields, Phil Mickelson—who, if you believe most published reports, can barely break 80 anymore—prepped for his Northern Trust Open defense at Riviera CC by birdieing Pebble's 18th to make the cut on the number (minus MDFs) at two under while his pro-am score, with partner Charles Schwab, was 17 under, thus raising the question of whether or not it's possible for a 71-year-old financier's handicap to be some kind of diabolical Ponzi scheme.
Johnson shared the opening-round lead with another atom-smasher, Robert Garrigus. They took advantage of the sloppy conditions and lack of roll at Pebble and Spyglass, respectively, to tie with 65s. Garrigus, who only came to golf after throwing out his pitching arm, probably wanted to call the bullpen after a third-round 77 at Pebble.
When it was all said and done, and the tournament bowed to the will of Mother Nature, the big crystal jelly bean jar was delivered into the hands of the kid who traveled one of the longest roads ever to get to 17 Mile Drive.