News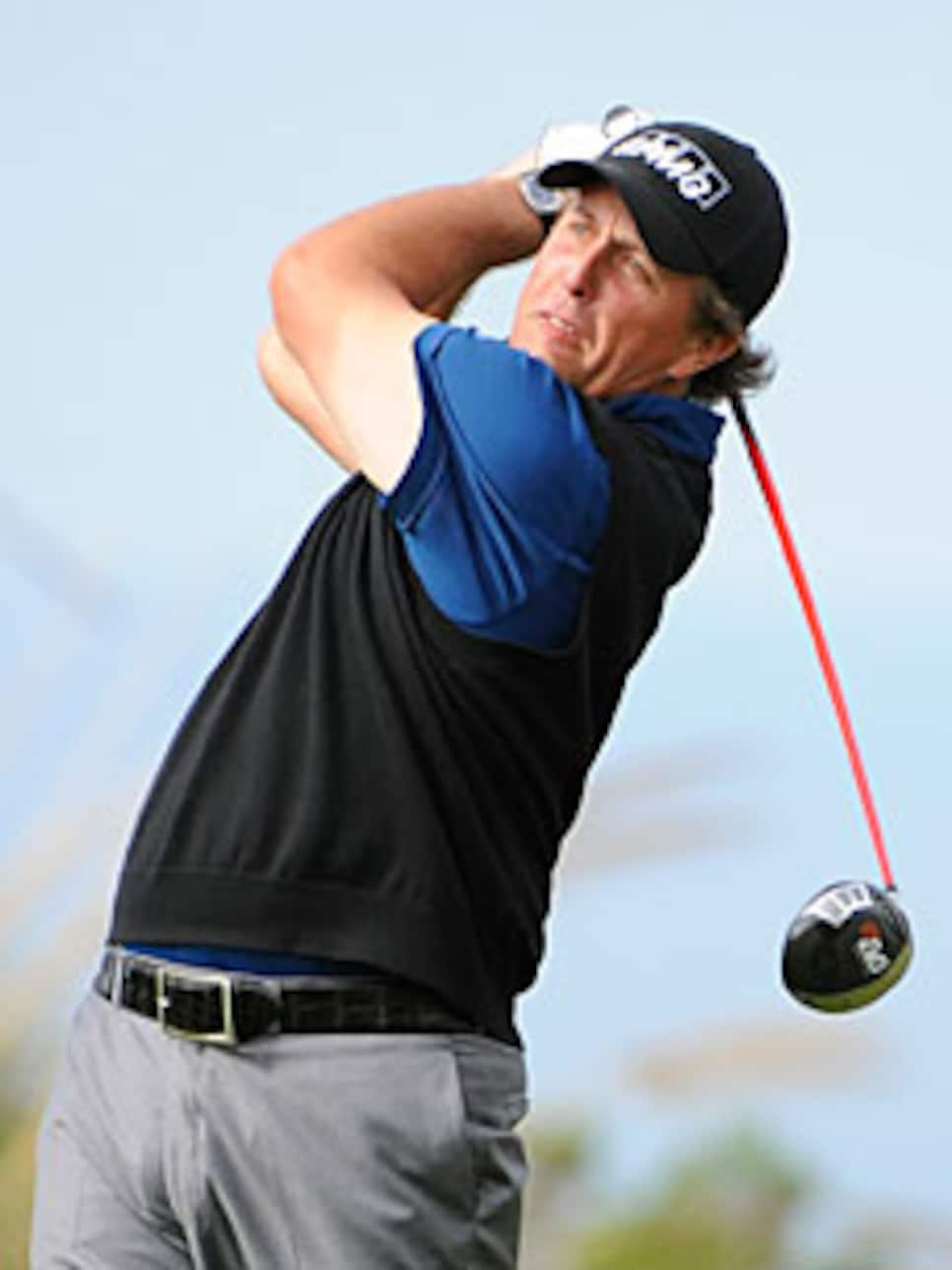 Mickelson made a major change in driver strategy from last June.
Nearly eight months after hosting the U.S. Open, Torrey Pines went back to its business of holding the PGA Tour's Buick Invitational. Some players had trouble recognizing the place.
"When I played the Open, I didn't even realize the North Course was where it was," said Padraig Harrington. "You just didn't see it. When I teed off on the South Course, there was no tent off the first tee of the North Course, and I really was thinking, 'What golf course is that?' "
Some players may have been thinking the same thing about the South Course. Unlike the firm, fast conditions players encountered last June during the national championship, last week brought wetter, lusher fairways to Torrey Pines. Players noticed other differences, too.
"The rough isn't quite as thick, the fairways are a little bit wider, and although the greens are firm and fast, they're not quite to the same degree," said Phil Mickelson.
As such, some of the 49 players who played last week and in the U.S. Open took note of the altered conditions and adjusted their sets accordingly.
Most notable among the changes were the dozen players who added loft to their drivers from the last time they tackled Torrey. Four of them—Hunter Mahan, Rod Pampling, Jeff Quinney and Camilo Villegas—upped their driver loft by 1.5 degrees, an almost unheard-of boost for a tour player. Still, there was solid thinking behind the move.
On softer fairways you need to carry the ball as far as possible to get the maximum distance (which is why some players bumped up their driver loft). Last June players could get some run on the ball. That wasn't the case last week.
Which also may explain the drop in 2-iron usage, too. About 25 percent fewer players carried the deuce last week (16, down from 21) than at the U.S. Open, when rigid fairways provided an opportunity to use the 2-iron to keep the ball in the short grass while not sacrificing too much distance. Conversely, hybrids received a boost, with 130 such clubs used last week compared to 112 last June.
One area where players clearly felt a need to stay put, however, was high- lofted wedges. At last year's championship 11 players had wedges with lofts greater than 60 degrees. Last week an even dozen wielded such clubs.
The biggest change of the week, however, belonged to Mickelson, who actually dropped down in loft on his driving club—a lot.
That's because, you may recall, Lefty started last year's Open sans driver, using a 13-degree 3-wood bent to 11.5 degrees as his driving club. Last week, Mickelson had a new big stick, a 7.5-degree Callaway FT-9 that featured a hosel (Callaway's standard woods do not have hosels). According to Mickelson, the hosel makes the club appear open at address, but reduces the risk of the big fade that has plagued him at times.
"This one will allow me to get the ball to move softly and cut but not go hard left for me," said Mickelson. "It just barely moves. ... I'm able to keep it in control."
As Lefty himself admitted, that also would be different from last year.
Sometimes tour players need help executing certain shots. That includes Camilo Villegas, who had Titleist's Bob Vokey bend a 60-degree wedge to 63 degrees. "I love it," said Villegas. "There were some shots I couldn't hit before [but] this one I can really nip it. With the greens and rough we've been playing on tour, it's obviously a good tool." Still, Villegas needed to make room in the bag for the club. "I took out the 4-iron and made the 3-iron 1 degree weaker," he said. "Then I got my 5-iron 1 degree stronger and just tried to close that gap a little bit."
Strong enough for a man, but made for a woman: Daniel Chopra wanted to add a 30-degree 9-wood to his bag last week, but Ping's G10 line of fairway woods only goes up to 24.5 degrees. Enter the company's women's Rhapsody model, which offers a 30-degree 9-wood. Chopra used the club (painted black instead of its standard purple color) at last week's Buick Invitational. ... Retief Goosen still uses a Yes! Golf Tracy putter, but now the two-time U.S. Open champion is putting with a belly version of the club. Goosen also made a couple of other equipment changes last week, putting TaylorMade's R9 driver and Tour Preferred irons in the bag.