News
Mickelson looks to regain top form in 2009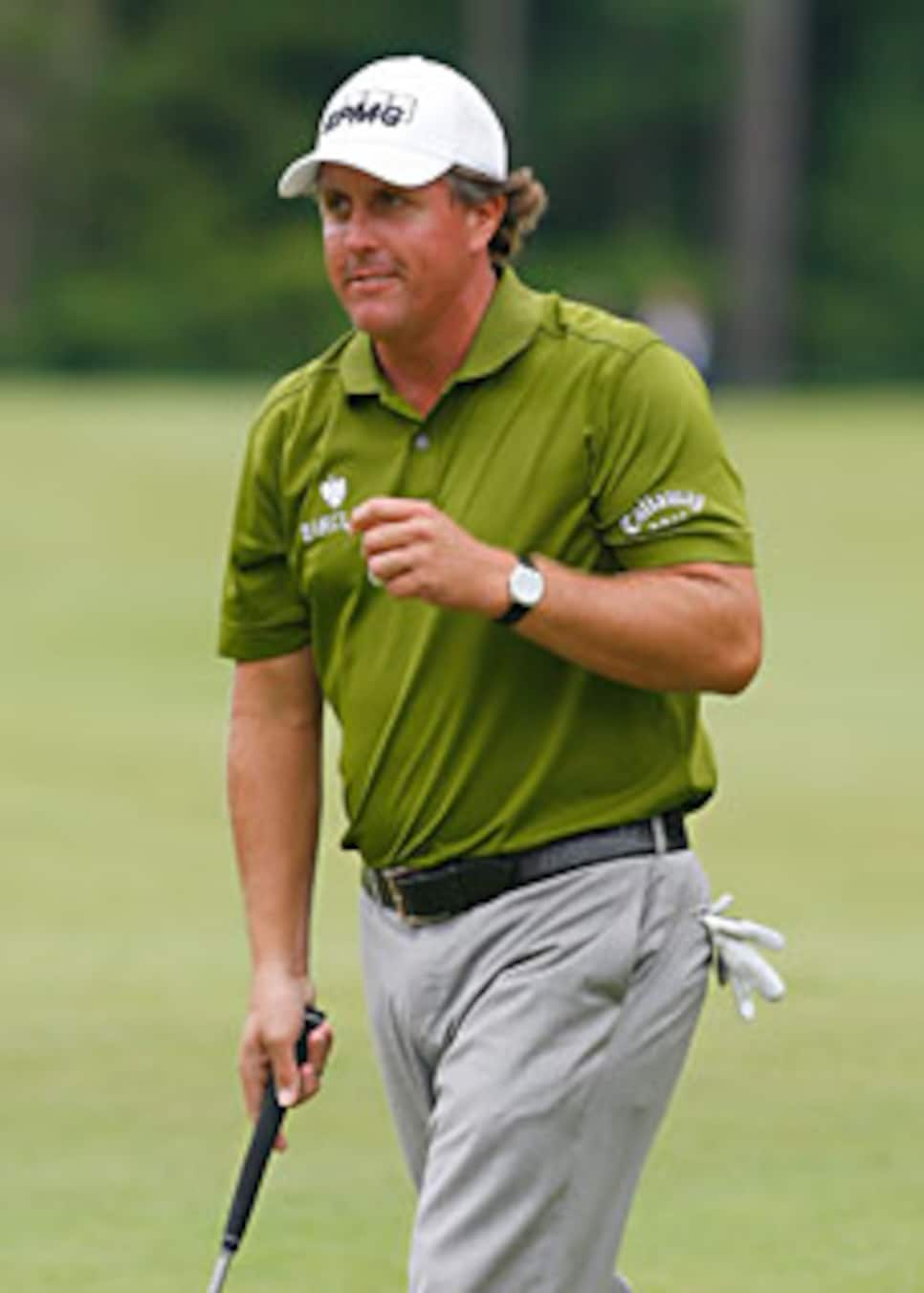 While the focus has been on golf, Phil's been busier than ever this off-season.
With the San Diego chargers idle, Phil Mickelson was scheduled to begin his 2009 PGA Tour season at the FBR Open, the final round of which coincided with Super Sunday XLIII. Had his beloved Chargers qualified for the big game in Tampa, Mickelson might have been torn and perhaps his schedule shredded. But he'll never know. "I grew up loving that team," said the left-hander who lost his voice for a spell after exhorting San Diego to a stirring overtime post-season victory over the visiting Indianapolis Colts. A week later, alas, the Chargers were eliminated in Pittsburgh. Mickelson has gotten over it and professes to be "very excited" about playing golf again.
Even before his brief bout of laryngitis, Mickelson was having a fairly quiet winter. Steve Williams, Tiger Woods' caddie, called Mickelson a slang word for a male body part and volunteered that they—Williams and Mickelson—share a mutual disrespect. But Mickelson's return volley was a brief, non-confrontational statement praising his sidekick, Jim Mackay. Mickelson says he has talked to Woods and Williams since, and it is over. So, hopes Mickelson, are the putting woes that vexed him through much of 2008, when he won twice, finished in the top 25 in 19 of 21 starts, but left wishing for better, especially in the majors. "Finally," he said, "I used some laser devices with Dave Pelz and found that my blade was open one degree, at address and impact. That might not hurt from three feet in, but from four or five and beyond, it makes a big difference. I didn't make many 12- to 20-footers, and that's the key to scoring." Mickelson identified the problem before the Ryder Cup. A week after that, he finished a stroke out of a playoff at the Tour Championship.
Mickelson looks robust. A year ago he appeared visibly stronger in the chest and arms. Lately, he says he has been working on his lower body. He recently visited Butch Harmon in Las Vegas for a refresher course and believes results of Harmon's continued teachings will become increasingly evident. Mickelson also has no problems being replaced at No. 2 in the World Ranking by Sergio Garcia. "[Garcia has] certainly played better than I have lately, but I intend to do something about that," said No. 4 Mickelson, whose start at the FBR was the first of five in a row. He can sleep in his own bed for two of them—San Diego and Los Angeles—and that is significant now that his children are growing. "Amanda is 9, which means she's halfway out the door to college," Mickelson said. "Last year was stressful that way because the kids are doing more around home and wanting to stay there more. That means seeing less of them if I travel without them or [wife] Amy. I'm trying to find a better balance this year. We weren't together as much as we need to be."
"My blade was open one degree. ... I didn't make many 12- to 20-footers, and that's the key to scoring." —Phil Mickelson
That is part of the reason Mickelson hasn't committed to dabbling in the European Tour, at least not yet. "It just didn't fit now," he said. "Trying to add tournaments overseas at this time just didn't make much sense." Portions of Mickelson's '09 agenda are established, but there are variables. The Memorial is not among the latter. "I have decided I definitely won't play there," he said. "I just didn't like the setup there last year. They had 1½-foot rough behind the 11th green." Mickelson recalls a sequence when he reached that picturesque par 5 in two with a 3-wood, only to watch as the ball released beyond and into the aforementioned vegetation. Upon hacking out, he was unable to hold his third shot on the green. "On the other hand," Mickelson went on, "Memphis is the week before the U.S. Open. So that's a possibility. I'll wind up with 20 or 21 tournaments, like I usually do."
Mickelson soon will announce plans for a combined tournament/concert to be staged with Justin Timberlake this winter, probably at TPC Scottsdale, that will involve pros and celebrities. The three-day event will benefit PGA Tour charities designated to assist America's military service personnel. Mickelson is deeply involved in two of them, the Special Operations Warrior Foundation and Homes for Our Troops.
During his winter break, Mickelson and his family took a trip to the snow and another to Hawaii. Lefty also hung out at home over the holidays, partaking in, among other things, daughter Amanda's fourth-grade science project. "She's doing it on the difference between a golf ball with dimples and a golf ball without," he said. "We went to the Callaway test center, and it was fascinating. The ball without dimples has no lift and goes all over, diving in all different directions, but not far. I hit wedges, 6-irons and drivers, and they all went about the same distance. From about 103 to 113 yards. Imagine that. Take a full swing with a driver, and the ball goes only maybe 110 yards. Isn't that amazing?"
Not really. Some of us have been using that ball for years.