News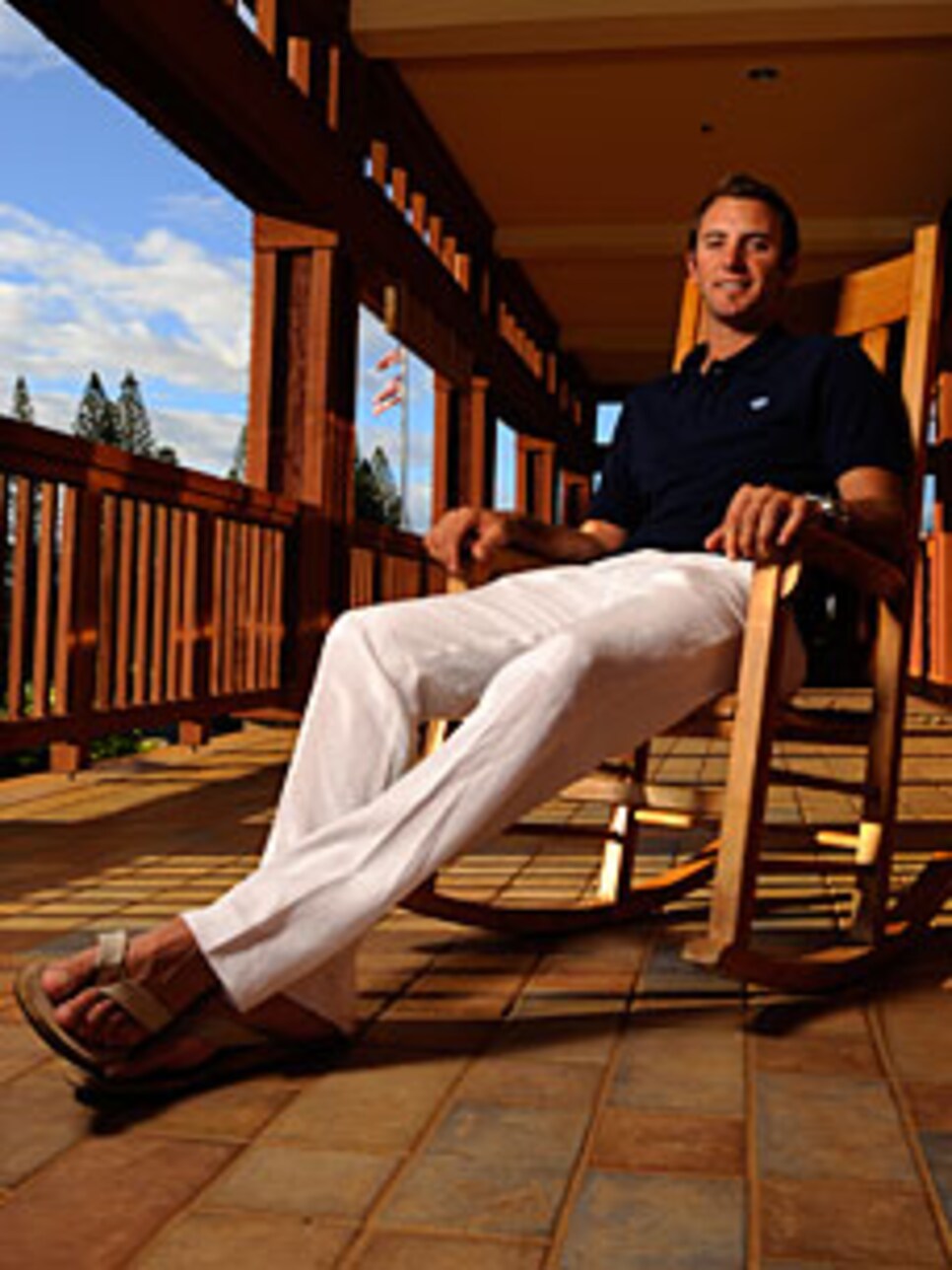 the natural: Johnson has a powerful, home-brewed swing to go with his easy demeanor, but he didn't blossom at golf until overcoming a rocky period when he was a teenager.
Editor's note: On Wednesday morning, January 28th, the Probation, Pardon and Parole Services Board of South Carolina granted Dustin Johnson a full pardon relating to his guilty plea on a charge of second degree burglary stemming from an incident when he was barely 16 years old and, in the process, restoring all his civil rights. Johnson had petitioned the board over a year ago.
"I'm a retired circuit judge," says Johnson's lawyer, John Breeden, "and for 11 and a half years, I put people on probation (or) sent them to the penitentiary and each time you put somebody on probation you tell them it's an opportunity for you to turn your life around. I (told the Board) of all those people that I've sentenced, I think he's a shining example of what can be done. Honestly, this is a great story, how he's turned his life around.
It was during the Porter Cup, and since boys will be boys, a few of them were racing up and down the Niagara River on borrowed jet skis. As they waited to return the toys to the boathouse, their attention turned to a nearby basketball goal. The old man of the bunch, Trip Kuehne, took the measure of 6-foot-4 Dustin Johnson and dared him to dunk the ball, wet trunks, bare feet and all. "I'll be damned if he didn't. Right there under the basket, jumped up and slammed it home," recalls Kuehne.
While at the moment there appears to be no shortage of twentysomething golfers with great promise, one who draws perhaps the least attention, might have the greatest upside and who probably traveled the most troubled road is the 24-year-old Johnson.
His raw talent is as undisputed as his ability to elevate. Other than Anthony Kim, Johnson was the youngest player to win on the PGA Tour last year when he birdied the 72nd hole to beat Robert Allenby in the Turning Stone Resort Championship, a victory that turned more stones than heads since it came after the Tour Championship. Johnson, though, might just be the best pure athlete on tour.
It's in the gene pool. His grandfather on his mother's side, Art Whisnant, was an All-American basketball player, a member of the University of South Carolina Athletic Hall of Fame and was drafted by the Los Angeles Lakers. Dustin's father, Scott Johnson, was a South Carolina All-State wide receiver for tiny Chapin High School, outside Columbia, S.C. His younger brother, Austin, plays guard at Charleston Southern. "Dustin can run like a deer and jump like a kangaroo," says Whisnant of his eldest grandson. Dustin played on his varsity golf team when he was in seventh grade and can hit a golf ball almost as far left-handed as he can right-handed.
Johnson's swing is also more a product of nature than nurture. Largely self-taught, it was cobbled together watching others at the Weed Hill Driving Range in Columbia, S.C. Like many tall players with exceptional coordination, there is faint echo of Byron Nelson when Johnson goes down after the ball at impact. He plays with a shut clubface and generates a massive amount of power. His swing instructor is Allen Terrell, the golf coach at Coastal Carolina, where Johnson played. As a freshman, most of his swing issues were posture and set-up. "He had a lot of up and down in his swing," says Terrell, "a big power source for him but also a big directional issue." At first they worked on almost nothing but balance. "We more or less had to do it in a way that he wouldn't feel like he was changing something," says Terrell. "If you asked him what we worked on, he probably wouldn't even know." Terrell filmed Johnson's swing but didn't show it to him until he was a senior.
While ranked a dismal 191st in driving accuracy as a tour rookie, Johnson was fourth in driving distance though, for much of the season, he struggled with new equipment. Think of his misses more along the lines of, say, Vijay Singh than John Daly. "He reminded me so much of my brother [Hank], build, attitude, kind of golf game," says Kuehne. "I was drawn very close to him. I'm a sucker for a guy who hits the ball long and straight off the tee and is very athletic. I think he's got an opportunity, if he keeps progressing with his golf game and stays injury free, to be a superstar."
But the path was not always so evident. The average junior golfer has six degrees of separation between himself and personal tragedy. In his high school days Johnson managed to trim that to one. In the late 1990s his life turned inside out. His mother, Kandee, and his father, Scott, divorced. Scott, who was the head professional at Mid Carolina Club, lost his job in a dispute neither side will discuss and hasn't worked in golf since. He currently has a business putting decals on the sides of delivery trucks. Kandee works for the state of South Carolina. By all accounts, Dustin is close to both of them, but his parents haven't spoken to each other in 10 years. The fabric of the family was torn. Dustin and his sister, Laurie, chose to live with their father.
Dustin began skipping classes his sophomore and junior years. He figured he could learn more playing for pocket money at the club than from Shakespeare. Keeping a bowling score passed for advanced math. He wasn't a misguided youth, he was an unguided one. "I struggled a little bit in high school with my grades," admits Dustin. "Well, it wasn't really my grades, but I had trouble attending school." He was suspended from the golf team and for two years played little. But the talent never diminished. "Literally, he could take six months off and come out there and look like he practiced every day," says Steven Hartwig, a former teammate of Johnson's at Dutch Fork High School, the second of the two schools Johnson attended.
One of Dustin's close friends, Clint Gillian, had an older brother, Steve, who chose a darker path. "I'm telling you it was like a Manson kind of thing, [the] kids were scared of him," says Scott Johnson. "He would take them and get them to do stuff for him. It was really weird. I know people always blame it on somebody else, but they were so scared of him. There were five or six kids that all got in trouble and every one of them said the same thing—they were all so scared they didn't want to tell their parents because they were scared he would kill them."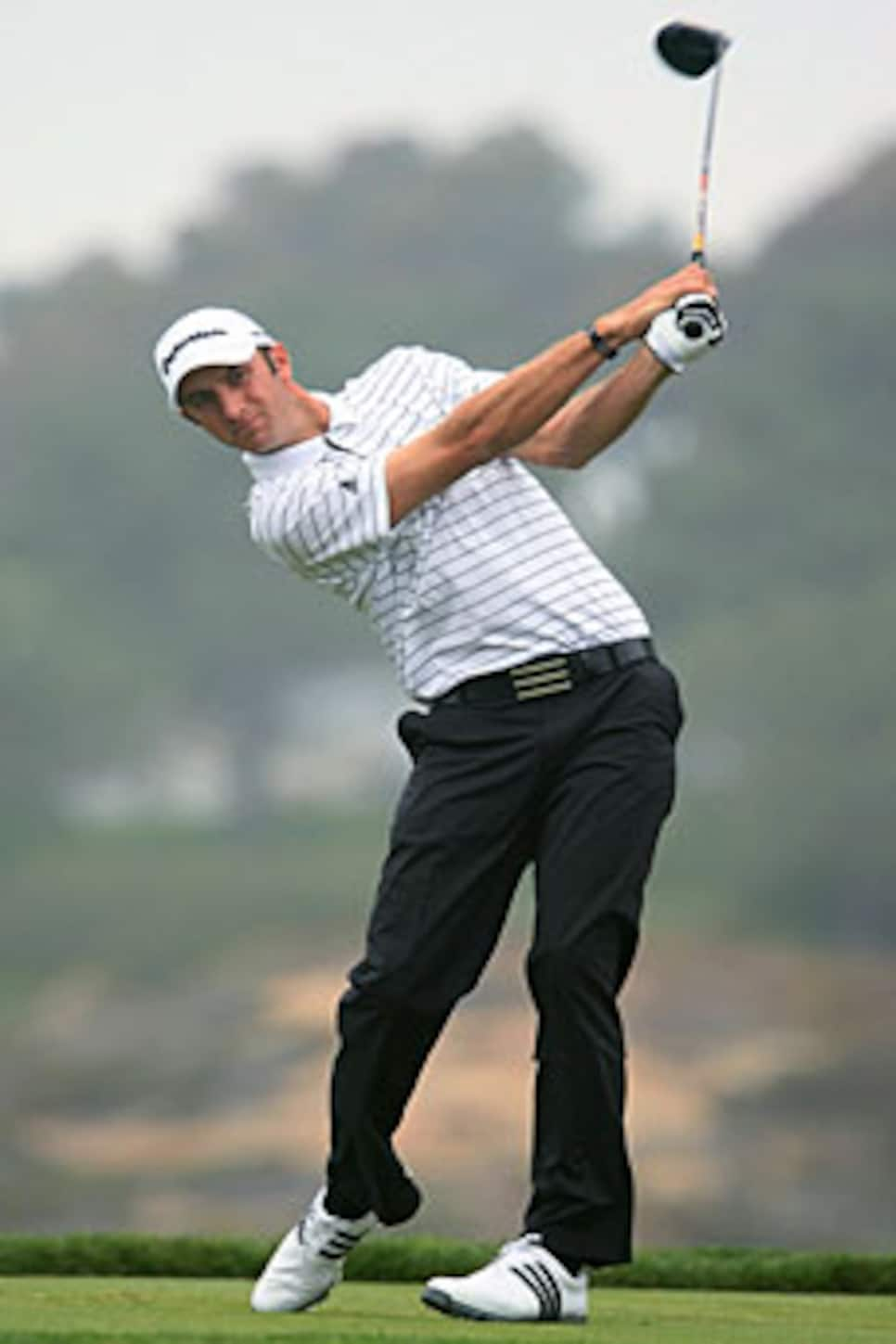 In January 2001, Johnson was one of five younger boys recruited by Steve Gillian to break into a house. Little of value was taken, except for a .38 caliber handgun. According to appellate court documents, the next day Johnson, who had on another occasion pawned 12 stolen watches at Gillian's request, was persuaded, reluctantly, to purchase bullets for the gun. Both he and Gillian were captured on store video. "Obviously not under any pretense that anything bad was going to happen," says Johnson. Then, on Jan. 28, 2001, after an argument at a party, Steve Gillian lured Jason Ward out behind the same shopping center where the watches had been stolen and shot him multiple times in the head. Because Johnson's connection was tangential, his punishment was to pay restitution for the theft and to testify, if need be, at Gillian's murder trial. Gillian is currently serving a life sentence without possibility of parole.
"I never stepped foot in the house," says Johnson of his involvement in the break-in. "There [were] five people, but I never got out of the car. You know, most of the stuff that happened, I was forced into doing. I know I made some serious mistakes and errors of judgment, and I regret them, too. If I could go back, I would definitely do some things differently, but I can't. I was in the wrong place at the wrong time." There's nothing like peering into the abyss of the legal system to let you know you might not be doing all the right things in life. Johnson got the message. "Getting in trouble actually kind of helped me realize that I needed to get my [act] together," he says. "That was when I started playing golf all over again."
The turnaround didn't happen quickly or without plenty of help. First, his high school buddies talked him into coming back out for the golf team his senior year. "Surrounding ourselves around him kind of changed his attitude, I think," says Hartwig. "We did know that, one day, if he decided to take it seriously, that he could be something." With Johnson as their No. 1 player, they won the state championship.
Though his grades as a senior were excellent, Johnson didn't have enough credits to get into college so he took a year off, went to Midlands Technical College in Columbia and made up a math and a Spanish class. Through it all, his paternal grandmother, Carole Jones, was his rock. Dustin called her "Momma Carole." She owned a condo in Myrtle Beach, knew Dustin wanted to play college golf and phoned Terrell. "His grandmother called me one day, and she told me the real situation," says Terrell. "So I went to our president and talked to him about Dustin and got him in the school."
"He had a lot of up and down in his swing, a big power source for him but also a big directional issue."—Allen Terrell
It wasn't the smoothest transition. "Dustin didn't have to answer to anyone and then all of a sudden, he's got a guy telling him he needs to get up and work out in the morning and be at practice at a certain time and he's got to study. He fought it like hell," says Terrell. "I don't know if Dustin ever 100 percent trusts someone. It took him a while to realize I only cared about his success. I think he realized how much I believed in him."
Momma Carole did, too. She retired to Myrtle Beach, and every Wednesday night she and Dustin ate dinner at the Sea Merchants restaurant. She gave him money for school before he qualified for a scholarship. She got him a car, slipped him folding money when he didn't have any and watched every round she could.
By the time he was a senior, Johnson was one of the best amateurs in the country. He played on the Walker Cup team, paired with his close friend, Colt Knost, in alternate shot. Walking to the first tee, Johnson was so nervous he couldn't spit. "I was nervous too, but I could tell he was feeling it," says Knost with a laugh. "So, I was just trying to jab at him a little bit and get him relaxed. On the first tee they said, 'Now representing the United States, Dustin … thwack … Johnson.' I mean he hit it before his name was even finished being called. But he hit it about 410."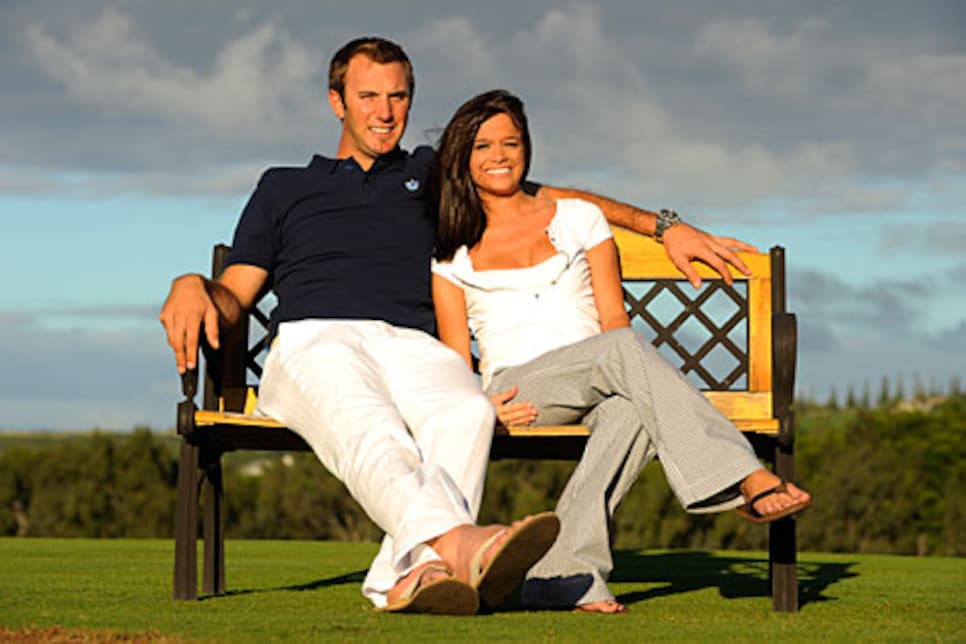 With his long arms, huge hands, agile stride and easy demeanor, Johnson can appear as if he is on cruise control. "I guess a lot of people don't know what he's really like. He loves to have a good time, but he's a really hard worker," says Knost. "He's going to kill me for saying it, but he's a guy that looks kind of clueless but he's got more talent than most guys out here. He's just very, very gifted."
Never one to do things the easy way, Johnson earned his place on tour last year after pulling off the rare feat of advancing through all three stages of qualifying school in 2007. Then, in the middle of the year, he lost both his swing and his rock. Barely past her 70th birthday, Momma Carole died at Duke University Hospital in May from complications after elective surgery for scoliosis.
Kevin Britt, who now runs his own golf academy, was one of Dustin's early influences at Weed Hill. "Dustin's a good kid. I think there were a lot of positive influences in his life because he had a lot of negative things going on. He had a lot of challenges," says Britt. "He could easily have been in trouble. I think it's pretty neat the strides he's made. He could have gone the wrong way, that's for sure."
Instead of the wrong way, Johnson's path led him three weeks ago to what used to be a tournament of champions in Hawaii. He was with his girlfriend, Amanda Caulder, who graduated last year from Coastal Carolina. Golf is full of big, strong kids who hit it off the edge of the world. A lot of them have to scramble back out of the woods, but not many have to scramble back into life. One senses Johnson, having learned to honor his gifts by not wasting them, is just beginning to learn the game, too. It could grow into a formidable combination.