News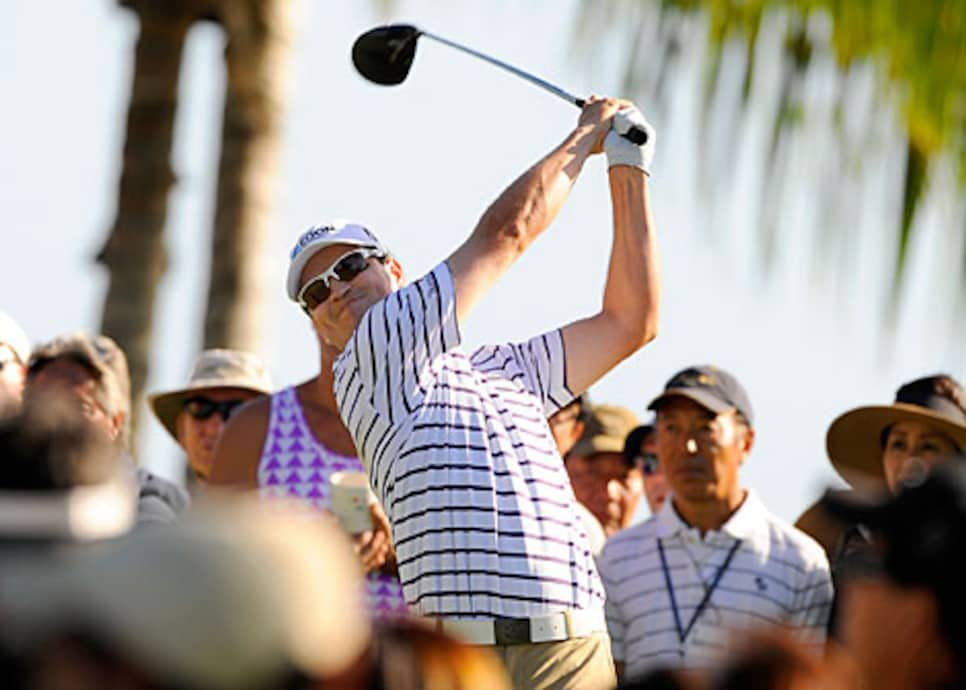 striping it: Johnson birdied five of his final 11 holes Sunday, breaking out of a logjam to win his second event in the last four months.
Seldom is a winner on the PGA Tour bumped from the headlines in a tournament story, but it seems to happen regularly at the Sony Open in Hawaii. Zach Johnson captured the first full-field event of the season. Tadd Fujikawa was the undisputed champion of the newsmaker flight.
The Lilliputian-like teen from Moanalua High School in Honolulu had designs last week on conquering golf's attending Gullivers at Waialae CC. An eye-popping eight-under 62 in the third round—low for the tournament—set him up for a bid to supplant Johnny McDermott, two months shy of 20 when he won the 1911 U.S. Open, as the youngest winner on the PGA Tour. Momentum, however, waned for Fujikawa, while Johnson rolled to a two-stroke victory and his fifth tour title.
Though he claimed the podium finish, Johnson had to share the spotlight. He didn't mind. "What he [Fujikawa] did this week should be inspiring, not only to himself, but to other kids," the 2007 Masters champion said.
These shenanigans are becoming commonplace at the seaside course 10 miles from Waikiki Beach. Two years ago as an amateur, Fujikawa not only made the cut, but also went on to finish T-20, one year after becoming the youngest competitor in U.S. Open history at Winged Foot. In 2004 Michelle Wie, then 14, astounded aficionados with rounds of 72-68 and missed the cut by one stroke.
With five birdies in his last 11 holes, Johnson emerged from an overnight logjam that featured 30 within six shots. All eyes were on Fujikawa, however, until bogeys on two par 3s deflated his lofty aspirations. The second came following a prolonged delay at No. 7 while his caddie, Shakil Ahmed, retrieved Fujikawa's 6-iron that Ahmed had left in a fairway bunker at the sixth. And so it went. Fujikawa's 73 left him at five-under 275 and tied for 32nd. His first tour cut as a pro was worth $29,237, not bad given he had only made about $20,000 to date.
Johnson won $972,000 with his 15-under 265, a fine encore to a 15-under weekend performance at the Mercedes-Benz Championship. He held off two seasoned challengers in Adam Scott and David Toms, both shaking off injury-marred '08 campaigns. Toms carded a 66, and Scott, despite an achy right kneecap, fired a Sunday-low 64 that lifted the Aussie to his first top-10 finish since the Wachovia Championship last May.
"It's been a long time since I've been in the hunt in anything," Scott said before catching a plane to Qatar. "It was nice to get on the back nine and have a chance and get the competitive nerves going again."
Johnson, 32, has had the nerve to win twice, the Sony and the Valero Texas Open, since a team meeting last fall with his coaches in Sea Island, Ga., where he recently moved (see page 40). Four top-10s in six events have ensued since he had a chance to "revamp, retool and re-polish." Impressive, and yet his hometown, Cedar Rapids, Iowa, wasn't even going to give him exclusive billing. Arizona Cardinals quarterback Kurt Warner, who attended the same high school, earlier in the day led his team to its first Super Bowl appearance.
"I think Cedar Rapids is happy right now," said Johnson, who couldn't be more pleased himself. "This game is confidence. This game is momentum. I'm just riding that wave, I guess. That's really corny, isn't it? But we'll go with it."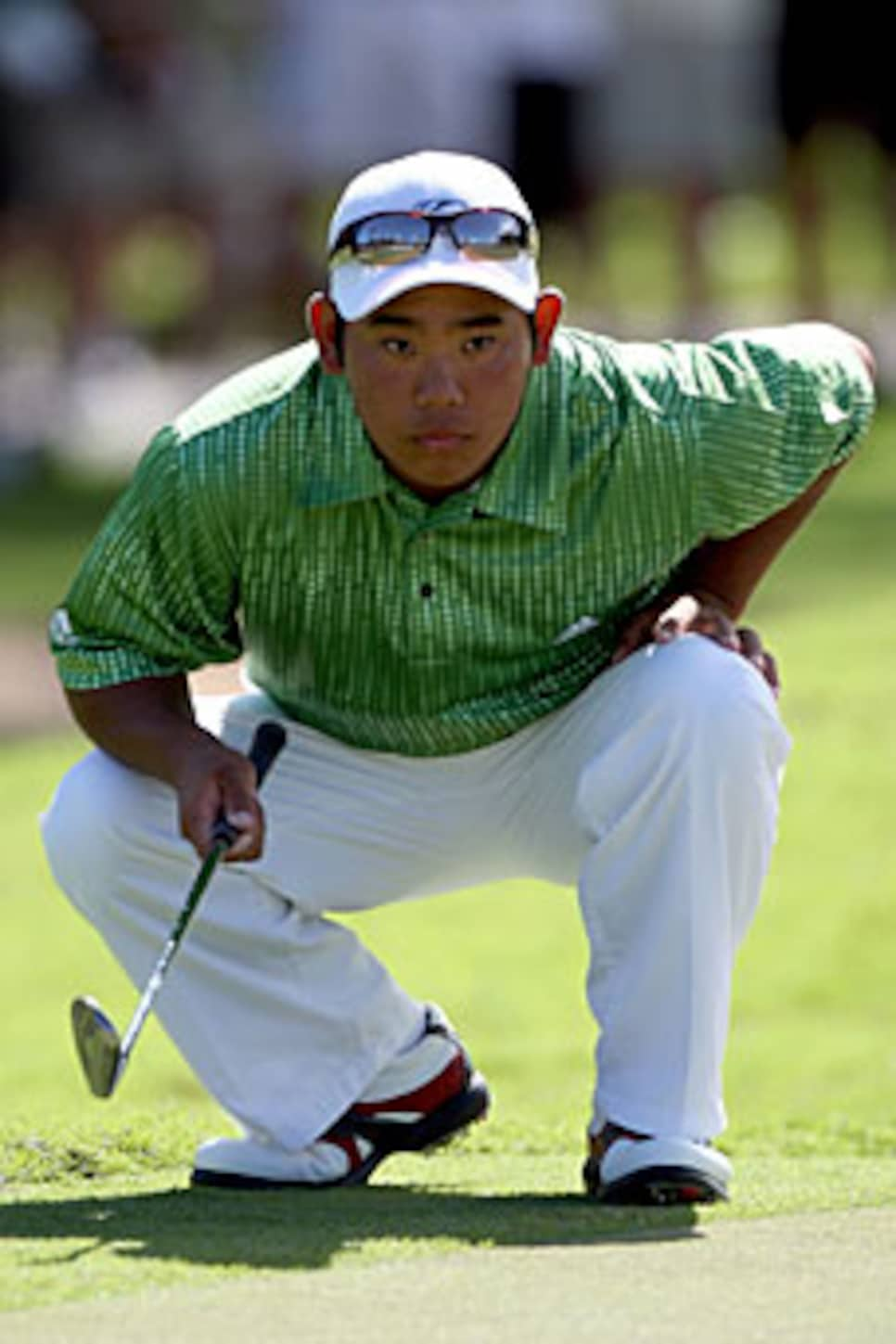 Just like the shifting winds that turned Waialae into a blustery bivouac for two days, an ill wind continues to buffet the Hawaiian golf scene. Sony Corp., not immune to the economic downturn, has discovered that its once deep pockets are full of lint and seeks to trim $1 billion from its operating budget. Remarked one observer: "If you're Sony, do you spend $10 million on golfers or on Peyton Manning and The Chicken?"
Ask tournament director Ray Stosik, and he'll say he is "confident" Sony will remain title sponsor beyond 2010, citing a letter of intent the company signed last November to advance the renewal process, crucial as much for the tour as for the islands. The Sony Open, said Stosik, annually generates an estimated $25 million for the Oahu economy and $1 million for charity, the state's largest source.
"The players love coming here," PGA Tour commissioner Tim Finchem said in defense of the Aloha Swing. "It's the best place in America to come practice right now. Just look at the weather map in the lower 48."
Oops, mulligan. Friday the forecast was so threatening—rain and wind gusts up to 55 mph—that all schools on Oahu were closed. The severe weather never materialized, but other oddities came to light.
Japan's Azuma Yano was two over par before hitting a shot, having arrived late for his tee time. Not the most prudent way to utilize a commissioner's exemption. At least he got to the tee, though. Chad Campbell intended to compete but realized in the middle of his flight to Hawaii that he had forgotten to enter and returned to Texas the following day.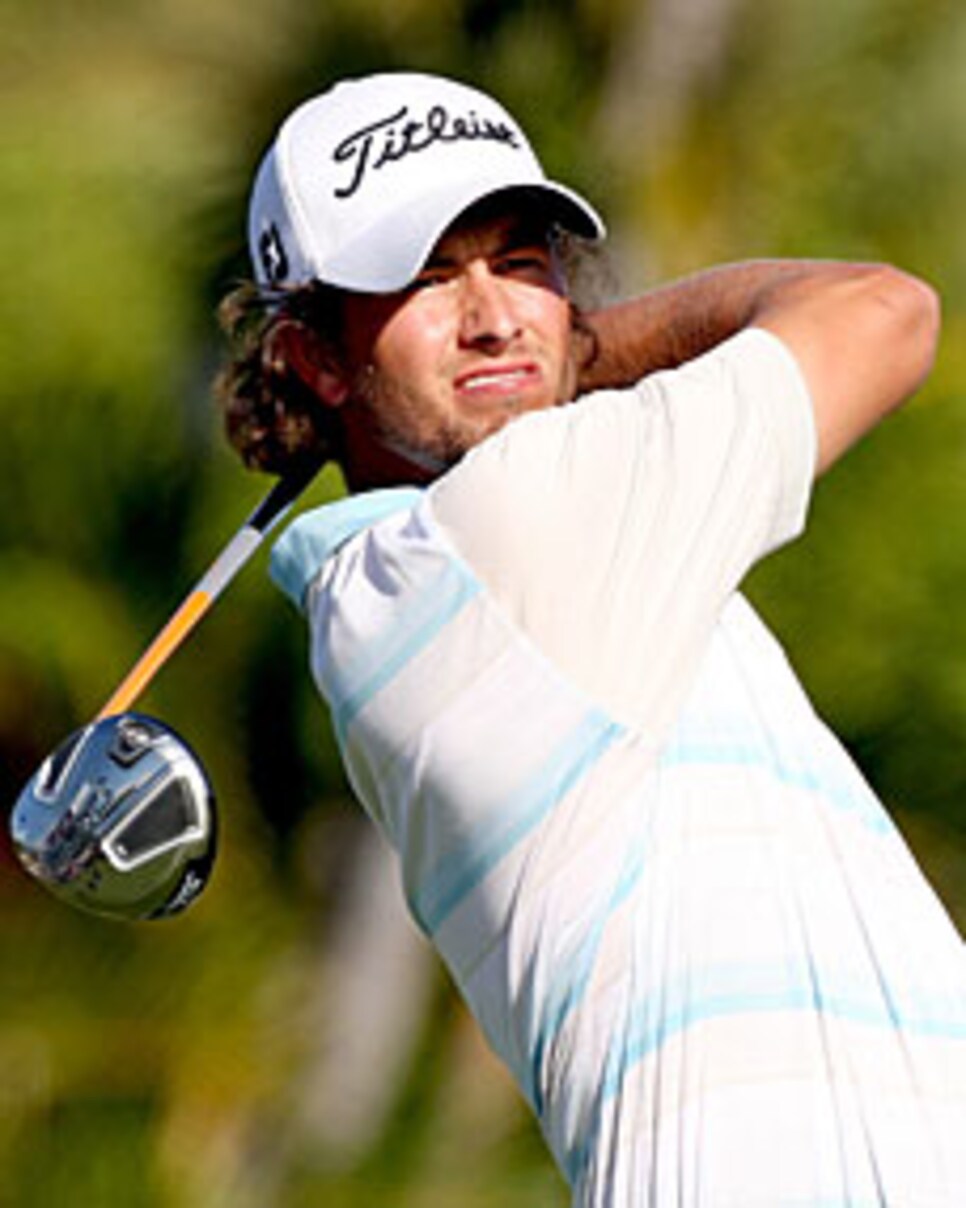 New Ryder Cup captain Corey Pavin, 49, encountered a wholly unsavory first day, struggling to a 75 and then being escorted to the drug-testing facilities. Champions Tour player Jeff Sluman, 5-foot-7, preceded the 5-foot-9 Pavin into drug testing, thereby prompting theories about a protocol determined by height. Chez Reavie, also 5-foot-9, might wonder; he was summoned for a repeat at the Mercedes-Benz Championship after being, um, tapped at the PGA Championship last August at Oakland Hills.
"Some guys haven't had to do it once yet," Reavie said, half fuming and half mocking himself. "Do I look like I need to be checked again?"
One only knows how Fujikawa, all of 5-feet-1, was overlooked, especially after he shot that scintillating 62. The kid never seems to go home (he was still loitering on the practice putting green Saturday four hours after signing his card), which partly explains how he waylaid Waialae for nine birdies. He reached both par 5s in two and set up seven birdie tries inside 17 feet.
"I just like hanging out here," he said sheepishly. "It gives me good feelings about where I want to go and what I want to do. It's inspiration to me."
On the inspiration front, Fujikawa reciprocated ably. Standard bearers and marshals incessantly inquired about his progress. Joe Durant, in the group ahead, kept tabs. "The excitement in the air, the excitement Tadd was showing … it was cool," Durant said. The gallery kept swelling. Barely a seat was vacant around the 18th green when Fujikawa arrived at 12:50 p.m. HST, nearly an hour before the leaders would tee off. His two-putt birdie gave him a share of first place at eight under.
In the midst of his PGA Tour debut, Matthew Borchert, Fujikawa's 31-year-old third-round playing partner, was a Tadd overwhelmed by the throngs, but despite a jittery 73 he handled the hoopla admirably. He knew what he was in for. "I figured I'd get what I saw—a lot of birdies and a lot of upbeat people. What a player … nothing but good things about that guy."
That Fujikawa had to survive a pre-qualifier and then the Monday four-spot outing—tying for medalist with a 67—rankled the locals. But the high school senior took greater satisfaction from what he had earned with a gritty Friday 69 amid churning squalls. "The respect that I get from the other players, and, I guess, the people, it's a little different when you Monday qualify to earn your way in," Fujikawa said. "That's the vibe I've gotten. It's an awesome feeling."
As for what the tournament earned, in addition to national attention, there was a 45-percent spike in ticket sales over Round 3 a year ago, from 8,900 to 12,900. Impressive, and yet those crowds paled in comparison to the enormous Sunday contingent, with people lining the fairways tee to green.
"The people of Hawaii … they stick together," Stosik said. "We call it the Aloha Spirit. When there is a Hawaii resident doing something special, we come together, give tremendous support, whoever it is."
No surprise then that Fujikawa's move up the leader board couldn't muster top billing in Sunday's two local newspapers. The exploits of another Honolulu product, one set to become the 44th leader in the nation's largest clubhouse, trumped the tour's 44th visit to Waialae. Many folks are hoping he's an ace.
Now on the tee, Hawaii's own Barack Obama.