News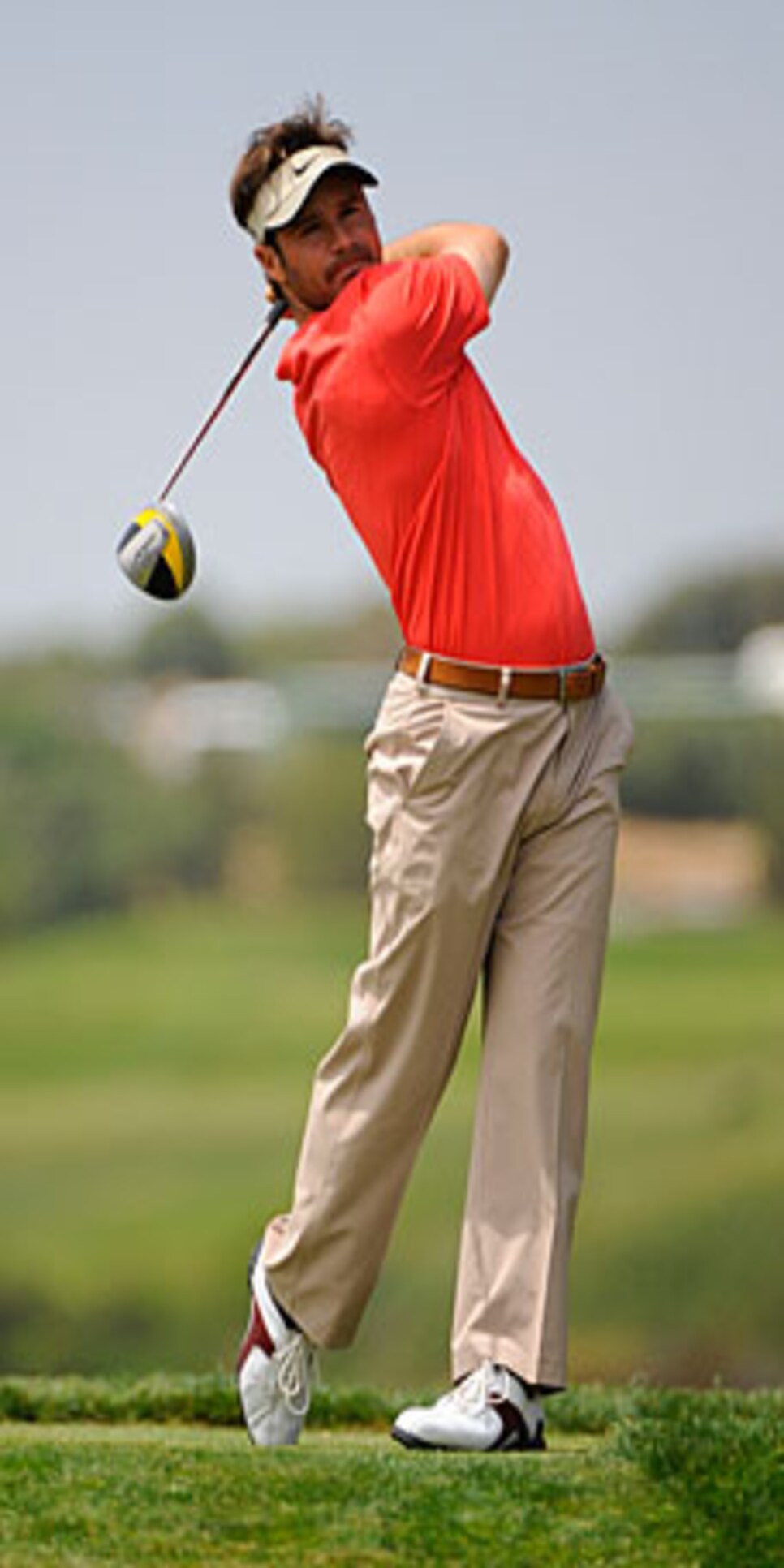 Pros such as Immelman speed the fitting process with adjustability.
It was apparent at last year's Masters that Trevor Immelman used a Nike driver. What wasn't as noticeable was that he used a driver with the company's STR8-FIT technology--allowing the club to be adjusted anywhere from 2 degrees closed to 2 degrees open, as well as 2 degrees flat to 2 degrees upright, with the turn of a specially designed wrench.
Using such a club makes sense for everyday players wishing to combat a hook or slice or seeking a different trajectory, but for tour players with access to club builders on a weekly basis, it seems a curious choice. Immelman, however, spoke about why adjustability works for those who play for pay.
"I was looking to try some drivers, and there weren't any heads in the van that fit my specs," he said. "So we used the adjustable club and put it in several positions until we got it to match the specs and look I prefer."
For Immelman, the look he prefers is a driver with a lot of loft (10.5 degrees) and the face bent somewhere between 1½ to 2 degrees open. The impetus for his switch, however, came from having his eye on Augusta. "I wanted to keep the ball down and move it more right-to-left, so we took the driver and set it at 1 degree open instead of 2 degrees," said Immelman. "That helped not to have to work so hard to draw the ball."
Nike is not the only company debuting such a club this year. TaylorMade's yet-to-be-released R9 driver boasts an adjustable hosel to alter face and lie angle, as well as three movable weights. All told, the directional difference between the most extreme fade setting and most extreme draw position is said to be as much as 70 yards.
That's a help for everyday players, but for tour pros the benefit comes in the fitting process. Instead of bending drivers to get the face angle correct (an inexact science during which the club might break, thus requiring that the process start over), the adjustable hosel is used as a more accurate way of bending a club, and the movable weights become the modern equivalent of applying lead tape.
Another boon for the pros is such clubs come with an interchangeable shaft system, too. "I have changed the settings during practice to see how differently the ball will react," said Immelman. "But the beauty of this is that if I want to try a different shaft, I can do so using the same head instead of a completely different club. As a tour player that's a huge benefit because once we get used to the look of something and how it feels and how it performs, we don't want to part with it."
Jerry Kelly had a new putter at the Sony Open--a Cleveland Classic 3 model that he bought for $70 before Christmas at a Nevada Bob's in Madison, Wis. "It looks like a replica of a [Ping] Zing 2 that I used back in the day," said Kelly. "I've actually bought a few putters lately that haven't worked out, so I wanted to make another switch and see if this helped. I thought it was really good, so I just bought it."
Yonex has had some stars play its clubs in the past, including Phil Mickelson and Colin Montgomerie. Last week the company received a boost in exposure from__Tadd Fujikawa__. The personable Hawaiian used the company's Cyberstar TX driver, a pair of Cyberstar hybrids (16 and 19 degrees) and Cyberstar Forged irons in finishing T-32. ... Fast start: David Toms' return to Cleveland equipment yielded an impressive first week. Using the company's CG Red irons as well as Cleveland's Launcher driver, Toms finished T-2 at the Sony Open. Said Toms of his Cleveland reunion, "I have a certain comfort level with their equipment. The irons I'm using have a similar look to the ones I used to play, so it has been an easy transition back." ... With no equipment deal, Paul Azinger played the Sony out of a Nike stand bag he bought at Sports Authority. It contained six brands of golf clubs, including the Mizuno T-Zoid irons he used to win the 2000 Sony Open. "Every club is a favorite," said Azinger. "I'm not making any compromises."