News
The words "survivor" and "grinder" and "gritty" come to mind when people think about Corey Pavin, and he doesn't mind the characterizations. Pavin even welcomes them because he knows they represent the truth. The newly appointed U.S. captain for the 2010 Ryder Cup in Wales has been through plenty as a player and relishes the role of point man for a competition he loves, and one in which he has compiled an 8-5 record in three appearances. Pavin was on the 1993 U.S. team, the last to win on foreign soil. He means to win again in Europe.
"The object is to win, absolutely," Pavin says one evening from the home in Los Angeles that he shares with his second wife, Lisa, and their daughter, Alexis. "It's a friendly competition, but it's also heated, and you can have both."
It's three days before Christmas and four days before the Pavins will celebrate Alexis' first birthday. The family's Christmas card shows Alexis wrapped in an American flag. The card reads, "What a year we've had … and [we're] looking forward to all the years to come."
The photo shoot for the card occurred on Thanksgiving, but the Pavins couldn't send it out until after Dec. 11, when the PGA of America announced Pavin's captaincy in New York City. That was also when Lisa could sign off e-mails with a Ryder Cup message. Clearly, one reason the Pavins are looking forward to all the "years" to come—with the word in italics on their Christmas card—is because the Ryder Cup means so much to them. "I think if you cut my arm open, Ryder Cup would bleed out," says Pavin, who turned 49 in November.
No wonder, then, that Lisa has been bothered by stories suggesting her husband is the wrong choice for captain, and that he might not make an effective leader. "The press wants to believe he's the old Corey, not the new one," she says. "One article said that the Ryder Cup will be a snooze with Corey as captain. I find it funny when I see articles like that. You'll miss out if you think that's Corey now."
Pavin acknowledges that he walled himself in during the years following his 1995 U.S. Open win, when his career went south and he went north, as in cold to many people. His marriage to his first wife, Shannon, the mother of their two sons Ryan and Austin, was failing. He had been turning away even from members of his own family. When Pavin's father died suddenly in 1997, he took it hard because he realized he hadn't spent enough time with him.
"That was a very hard time in my life," Pavin says. "Nobody wants to go through a divorce. It's no fun."
Pavin won the MasterCard Colonial in 1996, but he finished 169th on the money list in 1997 and 155th in 1998. The next year, when he finished 70th, was better, but Pavin wasn't fooled. He knew he was in trouble, as his swing and his personal life deteriorated. He had grown apart from his older brothers Matt and Fletcher, both of whom work for Titleist. His mother, Barbara, couldn't count on him and Shannon to join them when she invited them for dinner. The walls were closing in. Pavin was in retreat. He was disappointing the people closest to him and in danger of losing his game.
Pavin filed for divorce in November 2000, when Ryan was 14 and Austin was 7. A sensitive and questioning person who had converted from Judaism to Christianity in 1991, Pavin was a lost soul. Who was he? He didn't know.
Earlier that fateful year of 2000, before Pavin filed for divorce, he and Shannon were looking for somebody to help them out in their daily lives. Through his then caddie and conditioning coach Chris Noss, they were told about Lisa Nguyen, a young woman who was looking to start her own business as a personal assistant. Noss was helping her meet some golfers. The meeting didn't lead to a job then, but Pavin did hire her as his personal assistant after his divorce. A romance started three months later; they became engaged in January 2002 and were married a year later. Lisa started to help Pavin find himself.
"Corey had no confidence in himself," Lisa says of the man she met. "He was a wounded bird. It was heartbreaking."
Pavin refers to an "emptiness" about him when he and Lisa met. "Lisa helped me a lot with opening up to other people and getting some friendships going that were right there for me. Meeting Lisa helped me a lot. It was just the way she reacted with people. I learned by being with her and watching her."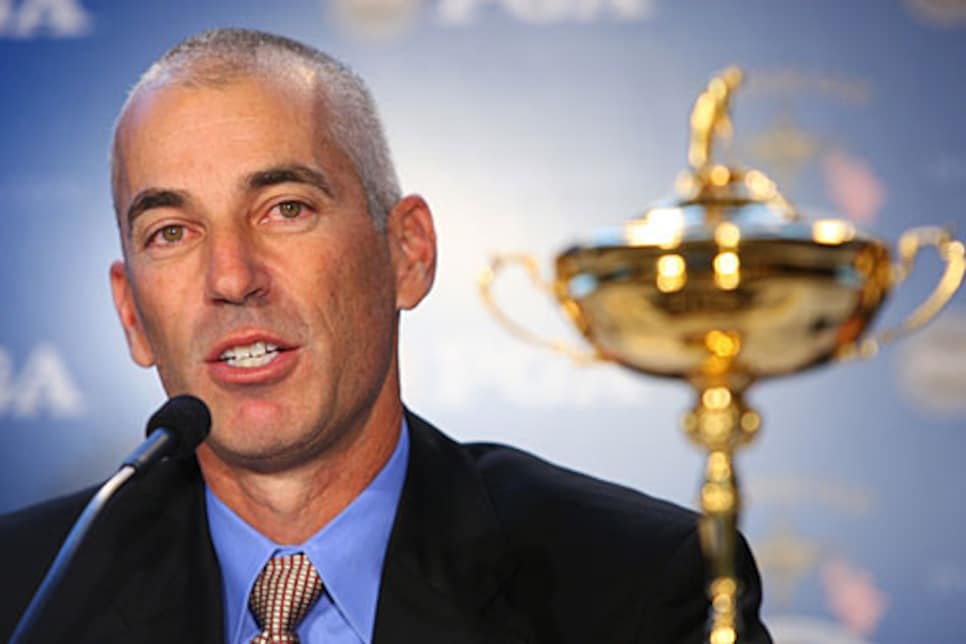 Lisa recalled a night when Pavin was in tears, something she said is unlike him. "That night he said he hoped one day he would find someone who would love him," she says.
That someone turned out to be Lisa. Born in South Vietnam, she and her parents moved to Des Moines when she was 10 months old. Her mother died when she was 11, and she always has been close with her family. "By watching me, Corey has seen something that was missing in his own family. 'You're so successful, and you didn't ask your parents to come to a tournament?' I wondered about that."
Things began to change for Pavin as he opened up. He spends more time with family and friends. There does remain a hurtful part of his life, in that he is estranged from his sons, Ryan, 22, a senior at Point Loma Nazarene, a Christian university in San Diego, and Austin, 15, a high school freshman in Rancho Santa Fe, where he lives with his mother. Pavin tries to make himself available to his children, though, and during the 2005 U.S. Open at Pinehurst he flew cross-country to attend Ryan's high school graduation.
Then there is Pavin's golf. He thought of leaving the game as his play deteriorated. He did some television commentary, enjoyed it and started to think of it as a potential career. But he wanted to grind it out and emerge from his slump. As he gained confidence personally, he started to believe again that what some might see as weaknesses were indeed strengths: His ability to control the flight of the ball even though he was always one of the game's shortest hitters, his ability to think his way around the course and hit a variety of shots, his impressive short game and putting.
Pavin did understand, though, that he needed to make some changes. His ball flight was too low, and he couldn't hit a draw with his driver. Pavin started to work with Butch Harmon in August 2003 and then his associate Greg LaBelle.
"He picked the club up and took it outside," LaBelle says, "and he got too steep. Now he's more shallow and flatter, and he can get the ball up in the air."
Meanwhile, Pavin never relinquished that grinder mentality so central to his nature. He always has been the smallest player and the shortest hitter. That was how it was when he was winning high school and college events in Southern California. "Corey is hard-nosed and doesn't give an inch to anybody," says old friend Tom Lehman. "The way he plays—in that he expects a lot out of himself—will translate to his captaincy." Pavin's bulldog nature was evident when he hit his memorable 4-wood into the 18th at Shinnecock Hills to win the '95 Open, and when he won the 2006 U.S. Bank Championship, his first win in 10 years. Pavin's play has continued to hold up in this bomb-and-gouge era. He tied for third, one shot out of a playoff, at the ATT Pebble Beach National Pro-Am, and finished 112th on the '08 money list despite ranking last of 197 players on tour in five key driving statistics.
Dr. Richard Coop, Pavin's friend and long-time mental coach, was watching as Pavin demonstrated his tenacity and creativity by making the cut in the 2008 PGA Championship at brutally tough Oakland Hills CC. "It's boring to watch other players, but not Corey," says Coop. "He's the last of the Mohicans. I tell people who have kids who want to play that they should watch Corey. The kids don't learn to play at the golf academies. They learn to hit high 5-irons. Corey knows how to play."
Eric Schwarz has caddied for Pavin for many years, except in 1999 and 2000 when Noss worked for him. He worked for Pavin in the 1993 and 1995 Ryder Cups. "Corey knows what it takes to win matches, and he'll be able to convey that to his players," Schwarz said. "He thinks so well around the course, and he's not a guy who likes to lose. I love his heart and grit. He's got no quit."
Tim Smith, Pavin's new agent, has long admired Pavin's shotmaking and resolve. He happened to be watching the 1995 Ryder Cup at Oak Hill in Rochester when Pavin chipped in to win the last four-ball match on Saturday afternoon for him and his partner Loren Roberts against Nick Faldo and Bernhard Langer. Smith liked his style so much that he wanted to name his son after him.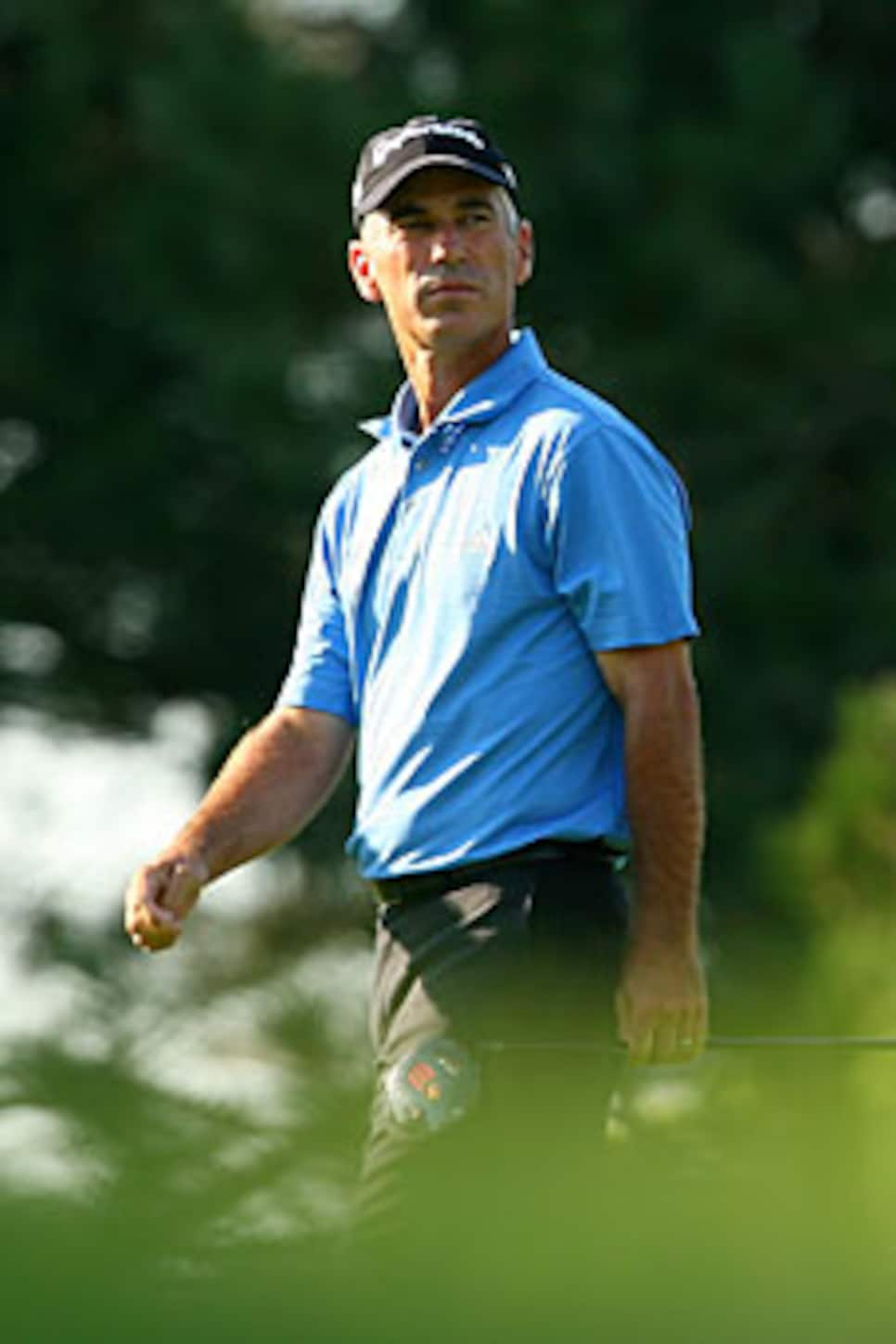 "I suggested that to my wife, and she said she didn't like the name Corey Smith," he recalls. "I told her I wasn't thinking of the first name Corey, but Pavin." They named him Pavin Smith. Thirteen years later, Tim Smith, after working for Gary Player for eight years, became Pavin's agent. "Corey is such a gritty competitor, and he has a ton of heart," Smith says. "Just for him to be able to compete today shows you that he's loaded with talent."
Those who know Pavin well believe his talent should translate into a successful captaincy. "He will get guys to believe in themselves no matter who they're playing," says Phil Mickelson, who has partnered with Pavin in the Ryder Cup and Presidents Cup and hasn't forgotten how Pavin settled him down with his example during a Ryder Cup four-ball match in 1995. "You think about him, guys were always bigger and stronger and hit it farther, yet he's come out on top against the best players. I think he'll be a great leader."
During the run-up to the Ryder Cup, Pavin will surely put something to practice that he and his wife use. "We have three 'Ps' in our life," Lisa says, "patience, perseverance and perspective. We apply that to all parts of our life—marriage, family, golf. It got Corey here, and it will get him through anything. Even today, when we were rushing around to get things done, I texted him with the three Ps."
There's a fourth P, of course, Pavin himself. That's the Pavin, who, now 49, is thrilled to take on the challenge of leading the U.S. to a second straight win in the Ryder Cup. That's the Pavin who has a vision for the 2010 Ryder Cup's playing and its conclusion.
"I'd like to be able to say that it was a great competition and that everybody played well and enjoyed themselves, not just from smiling and having fun, but from competing and going at it 100 percent," he says. "That's fun. I'd like to be able to say that the players and the European fans and the Americans who came over behaved well, that it was a great competition for both teams, and that I'm the one at the end with my arms around the trophy."
Should that happen, it's not too difficult to imagine what the Pavin family's 2010 Christmas card will look like.
[Ljava.lang.String;@44134fa0