News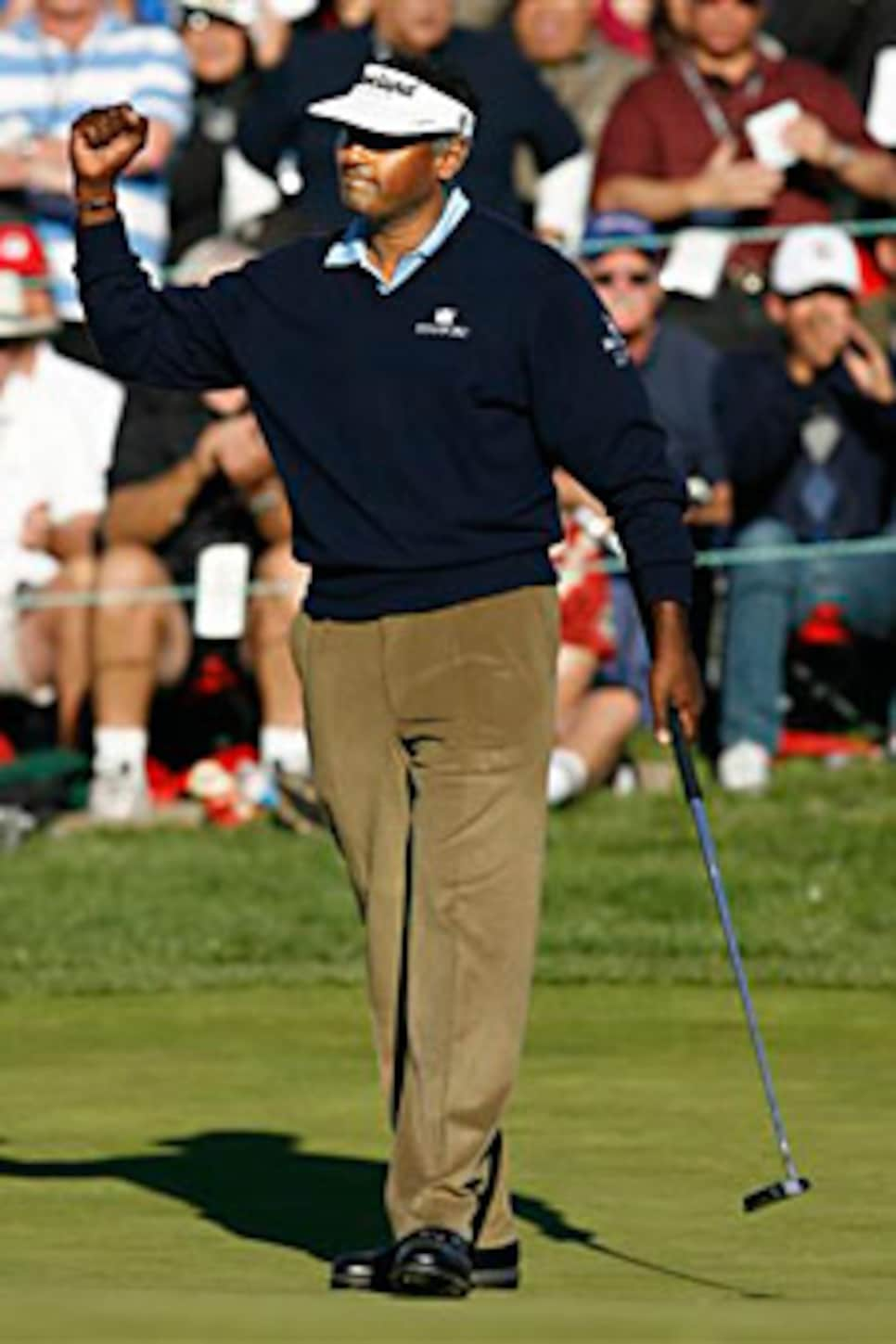 Singh shrugged off a sore right knee to close with consecutive 67s and win by one stroke.
Walking gingerly but carrying a big stick, Vijay Singh last Sunday again reminded this precocious now generation that older guys still like trophies too. Even older guys who hurt. The 45-year-old Fijian marvel, despite favoring an injured leg on a soggy Sherwood CC, shot 67 to win the Chevron World Challenge. This elite conclusion to the season, marking its 10th anniversary and absent ailing host Tiger Woods, was hailed as yet another opportunity for young aspirants to that throne to send the world's No. 1 player a message.
But Singh, who won the FedEx Cup playoff while battling tendinitis in his left elbow, would have none of that mushy storyline stuff. Although somewhat off the radar as late as the turn Saturday -- when he was merely one-under-par total -- Singh surged with a 31 on the back nine for 67, then matched it in the final round to finish with an aggregate 11-under 277, one better than playing partner Steve Stricker and four better than a couple of those aforementioned child prodigies, Anthony Kim and Hunter Mahan.
"Very unexpected," said Singh, who took an uncommonly long break after the Tour Championship to rest his arm, only to take a misstep into a hole during his next start, the Father-Son. His swollen right knee is angry, and he was to undergo an MRI back home in Florida Monday after leaving California. If all goes well, he will participate in the first two tournaments in Hawaii, then take a few weeks off. No Dubai. Singh and son Qass plan to play at the AT&T Pebble Beach National Pro-Am.
"Things ache that didn't use to ache," said Singh, with a certain air of resignation. "But you still have to try to keep your body fit and healthy, and sometimes that means working out harder than you ever did. The kids out here, they're strong and they're getting better every year. For me to keep up with them, I just need to be physically fit. I think my golf game is good enough to hold out. If I just keep strong and keep fit, I think I can still hold up against them."
At the 16-man Chevron, bending was such an ordeal that Singh relied on his expert caddie, Chad Reynolds, to read more putts than usual. A spate of them went in off that longfellow, including a 10-footer on the last to clinch a gaudy $1.35 million prize. Singh has secured 22 PGA Tour triumphs since his 40th birthday. This one isn't official, but it was the first in as many appearances for Singh's new trainer, Junior Tuyo, who is based in Hawaii where Vijay also has a 52-acre macadamia nut farm/residence. Singh's previous fitness guru, Jeff Fronk, returned to private practice.
Asked whether he will be home on the range Christmas Day, Singh said with a laugh, "It's the best time to hit balls ... there's nobody on the golf course." He won't require much work on par 5s; there are five at Sherwood, and he feasted upon them in 12 under while overtaking Kim, who led by a stroke after 54 holes, and Jim Furyk, who led by two after his third straight birdie at No. 5 Sunday. But wayward efforts caught up with both men in the final pairing. Kim had 37 on the back nine; Furyk dropped five shots on the last five holes.
Although he won the Grand Slam of Golf, Furyk went winless in 26 regular starts for 2008, which is below his high standards. "Too much golf and a poorly paced schedule," said Furyk, who intends to shed perhaps five tournaments from his 2009 itinerary that will commence at Pebble Beach. Despite the final two hours or so Sunday, Kim authored an excellent season. Still, speaking for this twentysomething, Kim said, "The only message I want to send Tiger is to get better so we can come out here and play against the best."
The Chevron World Challenge next year will receive World Ranking points, meaning sponsor exemptions must come from the top 50. PGA Tour commissioner Tim Finchem said a date earlier in December, not so close to the holidays, is being discussed. Whether that would mean drier weather is out of anybody's control, not unlike the ball during the entire tournament, especially the first two rounds. Camilo Villegas, who finished T-5 with Furyk, wondered Thursday whatever happened to lift, clean and place after three days of rain and his opinion did not change Friday, when he shot 67.
"There's mud and a little bit more mud and then when you get to the ball, there's more mud," he said. "I don't really understand why we're playing the ball down. I don't really get what we're trying to prove here. I mean, it's 16 guys, the end of the year, it's a fun tournament. You've got a field out there, you're trying to show some good shots, and sometimes they don't understand when we hit it 50, 60 yards off target, and it's just because of the mud. Again, I don't really understand what we're trying to prove."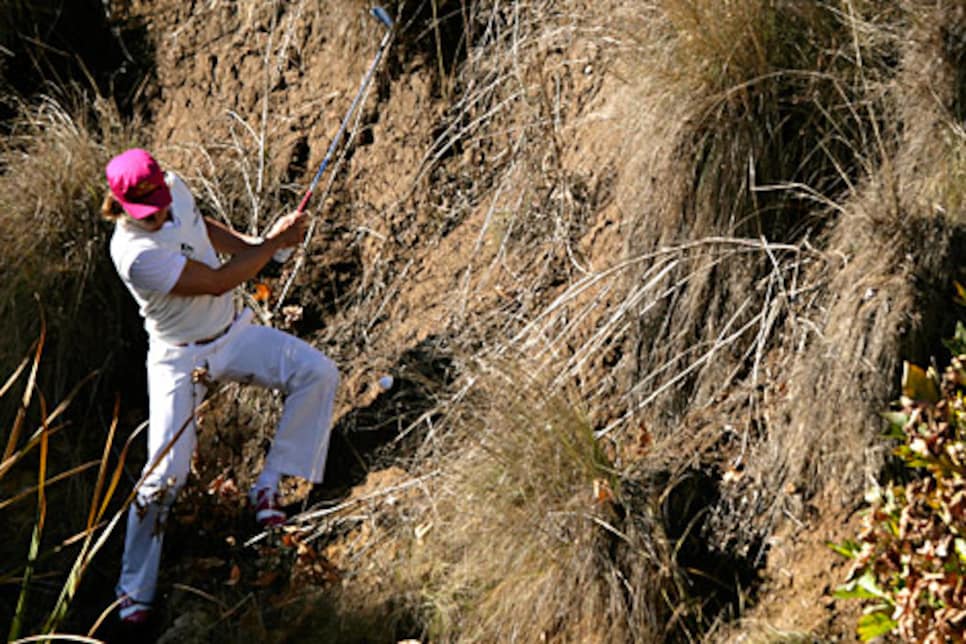 Woods held his first press conference since his U.S. Open victory in June. One of the first questions concerned caddie Steve Williams, who was quoted widely by publications back home a couple of weeks ago in New Zealand. Williams, pleading that he was at a charity engagement just trying to "have a bit of fun," responded after a speech to a question by mentioning he didn't think Phil Mickelson was a great player and referred to him with a slang term for a male body part. "I don't particularly like the guy," Williams went on. "He pays me no respect at all and hence I don't pay him any respect. It's no secret we don't get along either." Mickelson returned the volley, saying, "After seeing Steve Williams' comments, all I could think of was how lucky I am to have a class act like Bones [Jim Mackay] on my bag and representing me."
Woods immediately issued a statement expressing disappointment with Williams. Then, last Wednesday, when prompted, Woods repeated the theme. "I communicated with Phil, and we have discussed it," he said. "I talked to Stevie about it, and he feels bad, what happened. It's something that none of us really wanted to have happen, but it's over and done with and we put it to bed." Woods said that Williams, his sidekick since 1999, would remain on the bag when it's time to play competitive golf again, date and place to be named later. Some players at the Chevron joked that, for show, Woods could "suspend" Williams until March. Only one other question remains pertaining to the entire taffy pull: How many people in sports use the word "hence?"
In other developments during a busy, pre-Christmas week:
• Boo Weekley declared that his upcoming book will fall short of being a gossipy tell-all: "I ain't gonna rip nobody, including you, whoever you are."
• Finchem dropped by to characterize 2008 as a "great year" despite the economy, adding that he could write a script for a theatrical 2009 with Tiger returning to meet the baby-faced challengers. Finchem also confirmed sending a video to players encouraging them to rub elbows with sponsors during this mad, mad, Madoff world. Also, the commish suggested players enter a couple extra tournaments in 2009 that they might not normally visit.
• Fred Couples submitted to a drug test after Thursday's round. Well after. Turns out Couples had visited the bathroom on the 14th hole and therefore required two hours to produce a urine sample. Couples is 49, prompting Furyk to quip, "I thought at that age, it wasn't an issue."
• Kenny Perry completed a banner season that included winning a Ryder Cup in his native Kentucky and walking daughter Lesslye down the aisle three weeks ago. Perry was criticized for crafting his schedule to collect Ryder Cup points but got the last laugh. "I saw somewhere that I played Milwaukee instead of the British Open because I'm afraid to fly," he said. "I just went to South Africa. Well, I didn't drive there, and I didn't take a boat."