News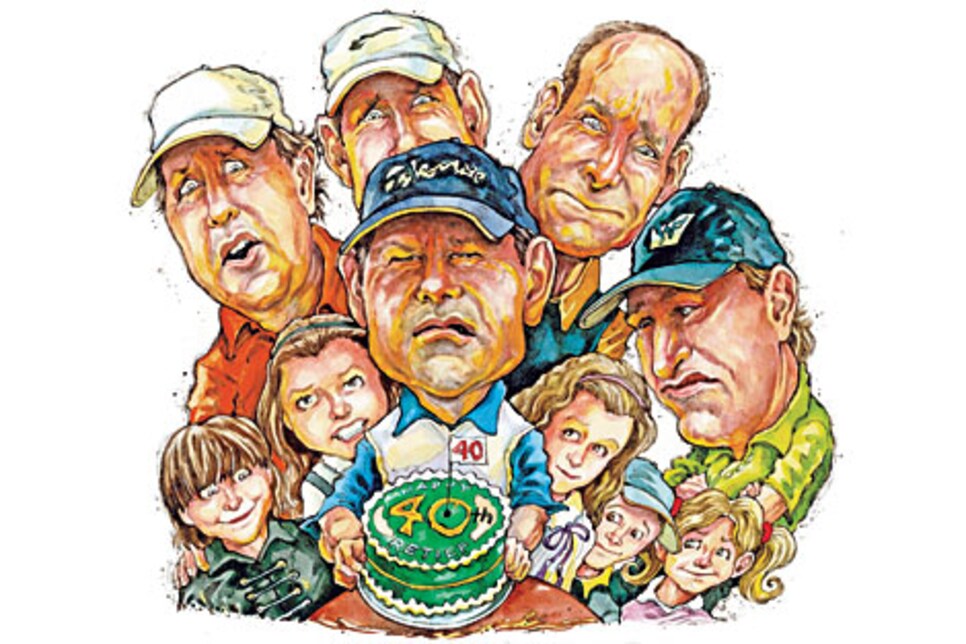 Almost 12 years after the moment of impact, Tiger Woods' 12-stroke victory at the 1997 Masters is recognized widely as the earthquake that changed the landscape. Beyond its historical reverberations, Woods' performance heralded the arrival of pro golf's first dominant player since the early 1980s, when Tom Watson ruled the fairways and Jack Nicklaus lugged plenty of game past his 40th birthday.
A decade and a half of top-tier parity would follow, along with the common perception that Tiger wiped it out in a single week, which really wasn't the case. It took Woods 2½ years to win his next major. He won just one tournament of any size in 1998 while remodeling his swing with coach Butch Harmon, and just three times in 44 starts from May '97 to May '99.
Several prominent players made serious hay in those two years. Ernie Els claimed his second U.S. Open title with some clutch golf down the stretch at Congressional. Justin Leonard won a British Open and a Players Championship. And let's not forget David Duval, who piled up 11 victories during Tiger's fallow period and unseated Woods atop the World Ranking in the spring of '99, just a few weeks after Young Eldrick fired caddie Mike (Fluff) Cowan for becoming too much of a sideshow.
Seems like a long time ago, doesn't it?
Els turns 40 in October -- eight months after fellow South African Retief Goosen, eight months before Phil Mickelson, with whom he shares numerous career parallels. Mickelson and Jim Furyk were born 35 days apart in the spring of 1970. The baby-faced Leonard is now 36, his three kids all 5 or younger, a familiar familial trend among five major champions who are healthy, wealthy and wise enough to identify one of the game's most notorious sucker pins: middle age.
Maybe it isn't life's toughest foe, but it has its moments. "The same things that made them such good players are what will motivate them in their 40s," says Billy Andrade, 44, a four-time PGA Tour winner who probably deserves some type of lifetime achievement award for maximizing his abilities for as long as he has. "You get older and move into other things, your kids grow up, or maybe you go through a bad stretch personally -- there's motivation everywhere. You play poorly, and you want to get it back. You play well, and you want to keep it going."
There were veterans aplenty at the Merrill Lynch Shootout earlier this month, two of whom in particular (Kenny Perry and Woody Austin) have played better on the back nine of their careers than on the front. If Vijay Singh is Exhibit A in terms of defining success on the tour after 40, Perry isn't too shabby as Exhibit B, a true homebody who would rather mess around under the hood of a 1969 Camaro than play 18 holes.
"Justin, Ernie, Phil, Jim and Goose all have young children," Perry says. "It tears your heart out to leave home when they're little kids, and that makes it hard to create a balance. Once they grow up and are out of the house, like mine are, you're able to refocus and rededicate yourself."
But enough on the second-graders. Every traveling dad into his third night at a Hampton Inn feels an emotional tug from absent offspring. What Goosen, Els, Furyk, Mickelson and Leonard must really cope with is a jolt of statistical reality: Singh is the only player in the last 10 years to win a major championship after his 40th birthday, having defeated Leonard (and Chris DiMarco) in a playoff at the 2004 PGA.
By any measure, Singh is a freak. His 22 post-40 victories make him the winningest such player of all-time -- nobody else comes close in the modern era. The accomplishment is even more astounding when you consider he did it during the Woods Dynasty, when there simply haven't been as many trophies available, all while hitting balls the way elephants eat peanuts. If the human body only has so many golf swings, Singh was given the allotment of a half-filled movie theater.
Just one of those 22 was a major, however, which takes us to the archives. Since the Nicklaus Miracle at the '86 Masters and Raymond Floyd's triumph at the U.S. Open two months later, there have been 90 majors played. Just seven have been won by guys older than 40. That Nicklaus and Floyd did it consecutively is amazing, and the six who have done it since -- Hale Irwin (1990 U.S. Open), Tom Kite (1992 U.S. Open), Ben Crenshaw (1995 Masters), Mark O'Meara (1998 Masters and British Open), Payne Stewart (1999 U.S. Open) and Singh (2004 PGA) -- all have at least 10 career victories.
So there are no flukes. "I feel like I'm ready to compete again in the majors," says Leonard, who has climbed more than 100 spots in the World Ranking (to 23rd) since hitting a competitive rock-bottom in spring 2007. "I'm not saying I'm going to win all four, but I can win any of the four, and that's not something I could say five years ago."
Whereas Goosen, Els, Furyk and Mickelson were born 16 months apart, Leonard is two years younger, the shortest hitter of the bunch and, in relative terms, the only one entering 2009 with his career on an upswing. He finished eighth in the '08 FedEx Cup standings, missing just one cut in 25 starts, had eight top-10s and picked up his 12th career victory in Memphis.
Playing in his first Ryder Cup since 1999, Leonard holed more big putts than anyone and partnered with Hunter Mahan to earn 2½ points in three team matches. "If you did a case study on players who had [multiple] children in a short ­period of time, I think the evidence would show that it definitely throws a wrench into your golf game," Andrade says.
For Leonard it was more like an entire toolbox. Two months into 2007 he ended his six-year relationship with Harmon and returned to longtime swing coach Randy Smith, which isn't to say Butch was the problem. "Trying to find time for three kids and still put the necessary work into my game is something that took me a while to figure out," says Leonard, who credits another resurgent veteran for assisting his own Texas-size comeback. "What Steve Stricker has done the last couple of years, to see him get back to being a world-class player again, is something that really inspired me."
Goosen, meanwhile, has been unable to regain the form that made him a two-time U.S. Open champ and one of the world's steadiest players in the first half of the decade. Ranked fourth at the end of '05, the Goose has flown due south since -- he managed just two top-10s in 18 starts this past season and will begin '09 ranked 45th in the world. His contemporaries may not be coming off career years, but Mickelson, Els and Leonard all won tournaments in '08, while Furyk wound up fifth in the final FedEx Cup tally.
Even as an elite player, Goosen carried himself like a man burdened by the grind. The same could be said of Els, but from a very different perspective. "He has never really come back from the [torn] ACL," Perry says of the 2005 knee surgery that altered the South African's ultra-fluid motion. "He's had to change his swing. Golf was easy for him. Now he's had to work at it."
Els has done just that, perhaps to an extreme, while trying to reclaim his standing as one of the few men on earth with the game and the gumption to challenge Woods on a regular basis. A lot has happened in the 3½ years since, however, perhaps the most significant occurrence being that Els returned to competitive golf just five months after having the ligament repaired -- far too quickly in the eyes of at least one tour pro who suffered the same injury.
Look at it this way: Woods struck a ball for the first time since mid-June earlier this month, a few weeks ahead of schedule but still about six months after the same surgery. Even if Tiger returns to action at the Buick Invitational in late January, which remains an absolute best-case scenario, the layoff will add up to at least 7½ months and probably a lot closer to nine. By hastening his own return, Els may not have caused any irreparable physical damage, but as Perry pointed out, his swing clearly isn't the same as when he won three major titles and contended at a dozen or so others.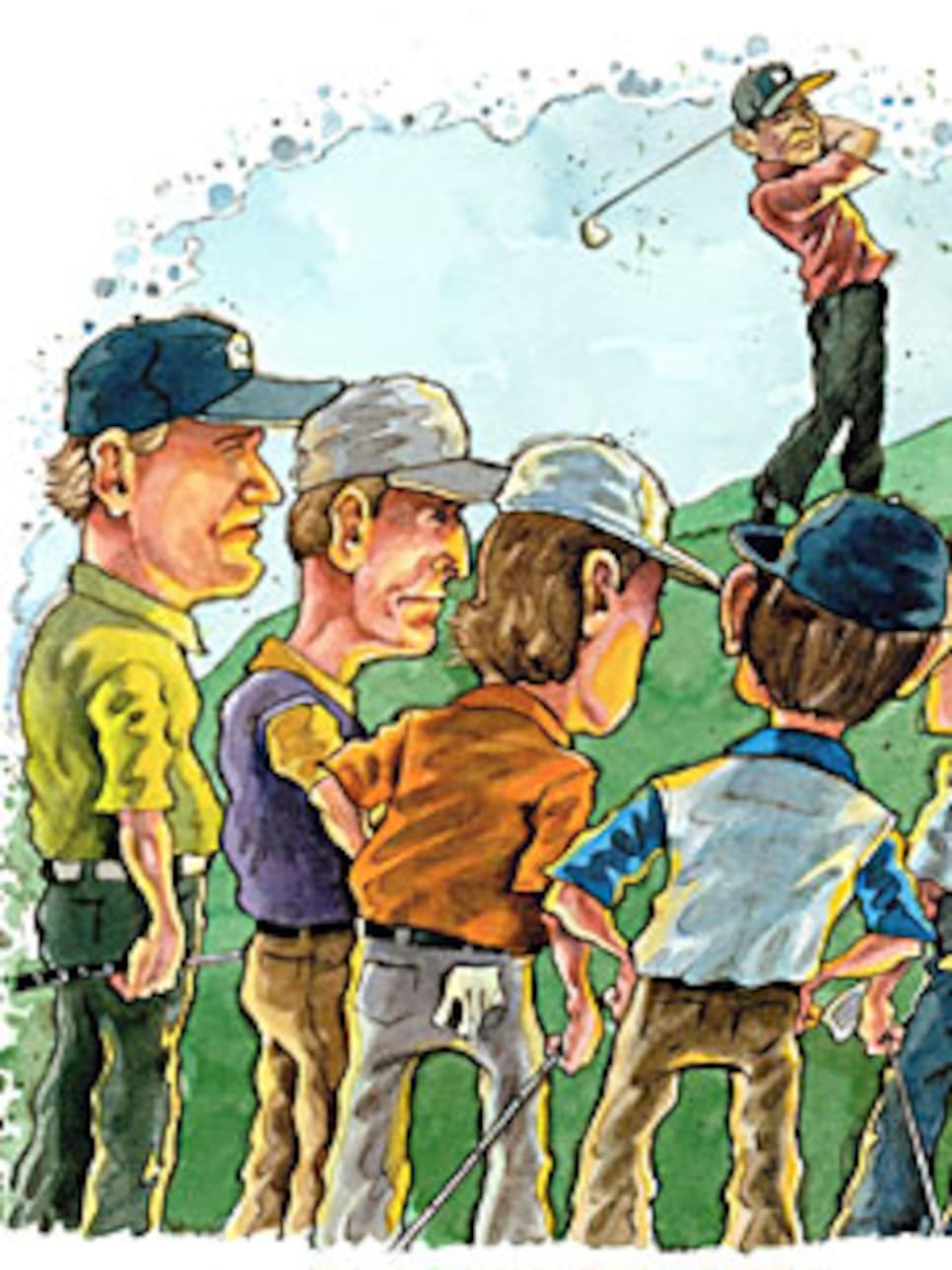 By winning the Honda Classic last March, Els ended a stretch of almost four years without a victory in the U.S. There's no such thing as a bad win on the PGA Tour, but some mean more than others, and in conquering a field much weaker than those at premium events, Els did nothing to change the fact he still has a lot to prove. "He has got a lot going on," one fellow tour pro says. "All those years of [heavy international] travel, then he announces his son [6-year-old Ben] is autistic. He's had to deal with a lot of shocks to his system."
Furyk goes about his business very differently, playing little golf overseas and maintaining a much smaller off-course portfolio. Despite piling up nine top-seven finishes and almost $3.5 million, there was an element of frustration to his season. He failed to win for the first time since 1997, a stretch that doesn't include 2004, when he missed five months because of an injured wrist.
If winning is tough, it doesn't get any easier when you rank in the bottom 25 percent in driving distance, as Furyk does on an annual basis. He was in perfect position with 27 holes to play at last year's British Open but started missing left, a rarity for him, on the back nine Saturday, stumbling home with a 77 that removed him from the hunt. There will be more chances. Opportunity never stops knocking on Furyk's door.
Last, and by no means least, there is Mickelson. Although Singh and Els have produced comparable careers, neither is held to the same outrageously high standard or scrutinized as closely as Philly Mick, whose two-win, no-major '08 adds up to a down year. "The thing I love about Phil, the thing that impresses me the most, is that he never stops looking for ways to improve," Andrade says. "The guy works a lot harder than anyone will ever know."
And despite the middle-aged physique, which he has been working on for years, Lefty has sustained fewer injuries than any top-tier player. Other than mangling his wrist in Oakmont's crazy rough while preparing for the 2007 U.S. Open, Mickelson's only debilitating ailment has been the broken heart he suffered at Winged Foot a year earlier.
He has not contended in the 10 majors since, a 180-degree reversal from the eight- or nine-year stretch when Mickelson forged an identity as the greatest loser of his generation, then won three majors in three years. Those in Camp Lefty laugh at the suggestion that the 72nd-hole meltdown at Winged Foot left scars, but after 2½ years of evidence, there comes a time when it isn't appropriate to even smile.
That said, no one seems more capable of winning majors in his 40s. Mickelson already has the body, and emotionally, no one is more bulletproof. His thirst for action has gotten him in hot water at times over the years, but when it comes to the competitive adrenaline rush, no one basks more comfortably in the buzz. If Goosen and Leonard have struggled to maintain the fire, if Els has been burned by the flame, Philly Mick shows up with a can of lighter fluid and a bag of marshmallows.
Chasing Tiger may be futile, inexorable and eternal, but it also pays well, and it definitely beats laying bricks for a living. "What else are we going to do?" Paul Azinger wonders. "Seriously, you continue to do what you're good at, and those five guys are among the best in the world at what they do. I guess you could spend the rest of your life walking around on the beach. I know I'm not good at anything else."