News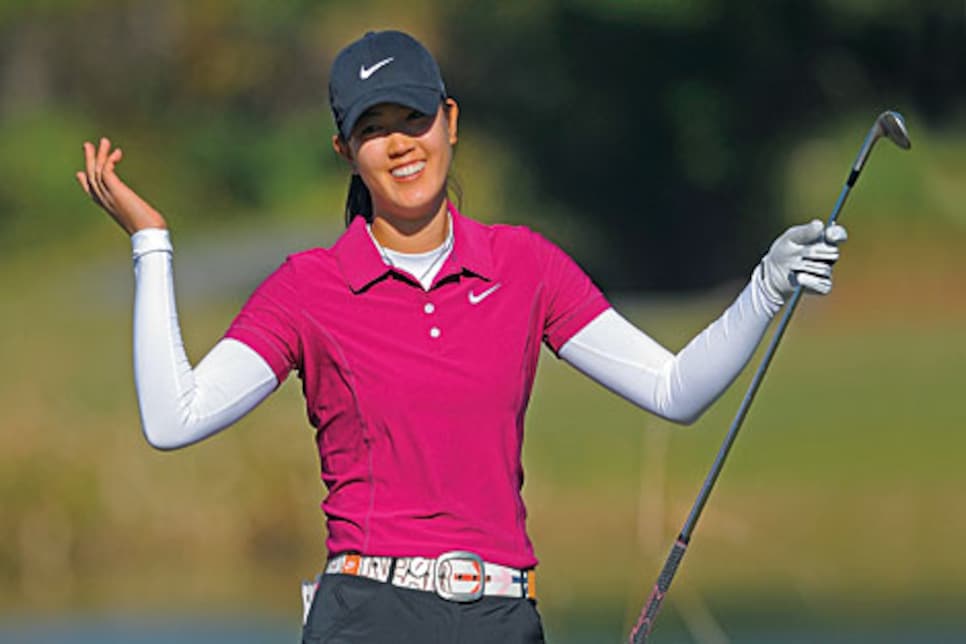 Safe and sound: Healthy again, Wie was T-7 to earn her 2009 card comfortably.
For seven years, Michelle Wie and the LPGA have been locked in an odd dance, moving to different rhythms, neither side totally embracing the other. First, Wie held the tour at arm's length, saying her future was competing against the men and declining to apply for LPGA membership in 2006 when she won enough money to earn a tour card. Then the LPGA, frustrated as Wie exploited her non-member status and ignored rules members must obey, defiantly stood with arms folded as if to say it could survive—indeed thrive—without her. Now, after injury and erratic play turned the spigot of invitations to men's events to a trickle, and with the LPGA facing harsh economic realities, the teen and the tour have reached the same (yet unspoken) conclusion: They need each other.
The Wies—and any discussion involving Michelle's decisions must include her ever-present parents, father B.J. and mother Bo—made the first conciliatory move by entering Q school, where Michelle earned her 2009 card with a T-7 at LPGA International in Daytona Beach, Fla., Dec. 7. The tour responded by touting Wie through blogs from her rounds and by providing real-time scores for the first time from Q school. Still, there were signs that while some was forgiven, not all was forgotten.
After securing her card Wie was asked if she looked forward to the two-day rookie orientation. "The politically correct answer is yes—I am very excited with a smile on my face," she said, then added: "Don't ask me the politically incorrect answer." Not exactly a let's-win-one-for-the-Gipper, team-player attitude.
For her part, commissioner Carolyn Bivens made certain not to place the world's best-known 19-year-old golfer above anyone else. "The 21-player 2009 LPGA Tour rookie class includes a wonderful mix of promising young talent," Bivens said. "With rookies like Ricoh Women's British Open champion Ji-Yai Shin, fan-favorite Michelle Wie, Duramed Futures Tour player of the year Vicky Hurst and U.S. Women's Open top-three finisher Stacy Lewis among others, the strength of the LPGA product just got a little bit stronger."
That is true, but it is also true that only one of those 21 is a household name outside of her own household or among die-hard fans of women's golf. In the post-Annika Sorenstam world in which Lorena Ochoa has not yet been fully appreciated by U.S. fans, Wie offers the hope of a star who can move the PR needle.
For the LPGA, 2009 will be a challenging year, as it is for everyone trying to navigate economic waters that are at best uncertain. There are three fewer tournaments and $5 million less in prize money, which, given the economic conditions, seems to be a victory of sorts. The TV contracts with ESPN and Golf Channel also expire in 2009. And with contracts up for renewal for about one-third of the domestic events, the tour has taken a hard look at even more venues outside the United States to join its already far-flung schedule.
India was considered but ruled out for a variety of reasons (player security and health among them). Abu Dhabi has been discussed, and Brazil may be a last-minute addition to the '09 schedule. More LPGA events overseas, especially in Asia, enhance Wie's value to the tour. Born in Hawaii of Korean parents, Wie provides a double-edged marketing sword: She is both Asian and American, not unlike Tiger Woods. Wie can help keep American fans focused on the tour as it travels to Thailand, Singapore, China, Japan, Korea, Britain, France, Canada and Mexico (three times).
The LPGA's international business model has many marketing advantages. The tour's largest single revenue stream is Korean TV money. And broadening the market base expands revenue opportunities in much the same way the men's European Tour has fattened its coffers by spanning the globe.
But that global marketing strategy is an easier sell for the LPGA if an American emerges who can challenge Ochoa and a rapidily improving crop of Asian players as best in the world. The last American to be player of the year was Beth Daniel in 1994, and the last Yank to win the money title was Betsy King in 1993. Before that, Ayako Okamoto of Japan in 1987 was the only non-American to be the LPGA player of the year or to earn the tour's money title.
In 2007 nine Americans won LPGA events, including marketable stars such as Paula Creamer, Morgan Pressel, Natalie Gulbis and Cristie Kerr. Creamer won four times in 2008 and is currently the only American who is a clear contender to be No. 1 in the Rolex Rankings. But Angela Stanford (twice), Kerr, Pressel and Leta Lindley were the only other Americans to hoist a trophy in '08.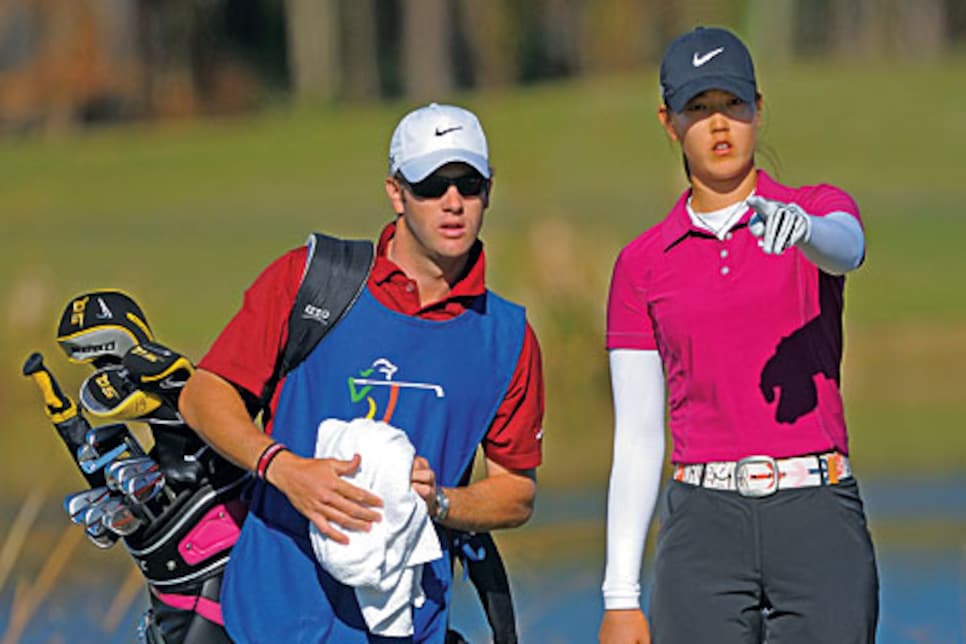 All four majors this year were won by non-Americans, and Ochoa—26 when she won the Kraft Nabisco Championship—was the oldest, joining Yani Tseng (19), Inbee Park (19) and Ji-Yai Shin (20). While those four are exceptional talents and promise to be consistent winners for years to come, Wie brings with her seven years of hype. As they say in politics, she has the name-recognition factor.
Wie reaches beyond the core golf fan to the casual observer, many of whom are unaware that other players her age have achieved more. Pressel, Tseng and Park not only defeated Wie in USGA amateur match-play tournaments, but also won LPGA majors in their teens. Still, Wie is the biggest name of that group, even though her last victory was at the 2003 U.S. Women's Amateur Public Links at age 13.
There was a time when LPGA insiders feared Wie would never join the tour, playing instead a mix of men's events, accepting seven-figure overseas appearance fees and competing in a handful of LPGA tournaments on sponsor's exemptions. But things began to sour for Wie when she withdrew because of heat exhaustion in the second round of the PGA Tour's John Deere Classic in 2006 after a first-round 77.
In three more events against the men in '06, she had rounds in the 80s three times and was never below 77. After a 68 in the final round of the Evian Masters, an LPGA event in France, Wie went a year before she broke par again.
The 2007 season began with a missed cut by 14 strokes at the Sony Open, then Wie was out of tournament play for four months with a left wrist injured when she fell while running. The year was a series of missed cuts and withdrawals. The low point was "88-Gate" at the Ginn Tribute near Charleston, S.C., in May, when she withdrew with two holes to play in the first round, saying her wrist hurt, then showed up at Bulle Rock, site of the McDonald's LPGA Championship, two days later to practice, prompting Sorenstam to say she lacked class and encouraging other players to doubt the severity of her injury.
' really earned it, I legitimately went through Q school, went through the first stage, went through the second stage, and I really got it. It feels good to get that card. It's like high school graduation, I guess.'—Michelle Wie
LPGA members can't play a venue the week before an event, and Bivens heard from angry players. Responding to the discord, she had rules officials kick Wie's parents and agent off the practice range, enforcing the rule that only the caddie and one coach are allowed with the player. B.J. Wie confronted Bivens in the players' dining area, saying his daughter did not have to follow the rules since she is not an LPGA member. Bivens, now angry, said essentially, "You play my tournament, you play by my rules."
If not for another bit of controversy in which the LPGA again showed it was no longer willing to give Wie preferential treatment, she could have avoided going to Q school. Wie's plan was to earn a 2009 tour card by finishing in the top 80 on the '08 money list. But she had made little money with the first four of her six sponsor's exemptions and needed a high finish at the State Farm Classic in July. That seemed likely after rounds of 67, 65 and 67, but on Saturday she was disqualified for not signing her card before leaving the scoring area on Friday.
"If I would have signed that card, I really wouldn't have been here anyway," Wie said at LPGA International after Q school. "Things happen for a reason, and I have learned my lesson."
Wie was impressive at Q school, swinging nearly as well as she did before she hurt her wrists. "After the injury, she didn't have the strength to hold on through impact," explained her instructor, David Leadbetter. The wrist would release too early, resulting in a low hook or high slice. She also displayed greater maturity in her course management and seems to have learned to dial it down with the driver, not hitting every shot full bore.
She finished at 12-under-par 348, six strokes behind winner Stacy Lewis, at the 90-hole Q school. If there was reason for concern, it was the final-round 74 during which she missed the first five greens and bogeyed the first three holes. "Just a little bit of the jitters after being away from the final group on Sunday for so long," Leadbetter said. Others would say she still has to learn how to close out a tournament.
"I really earned it," said Wie. "I legitimately went through Q school, went through the first stage, went through the second stage, and I really got it. It feels good to get that card. It's like high school graduation, I guess."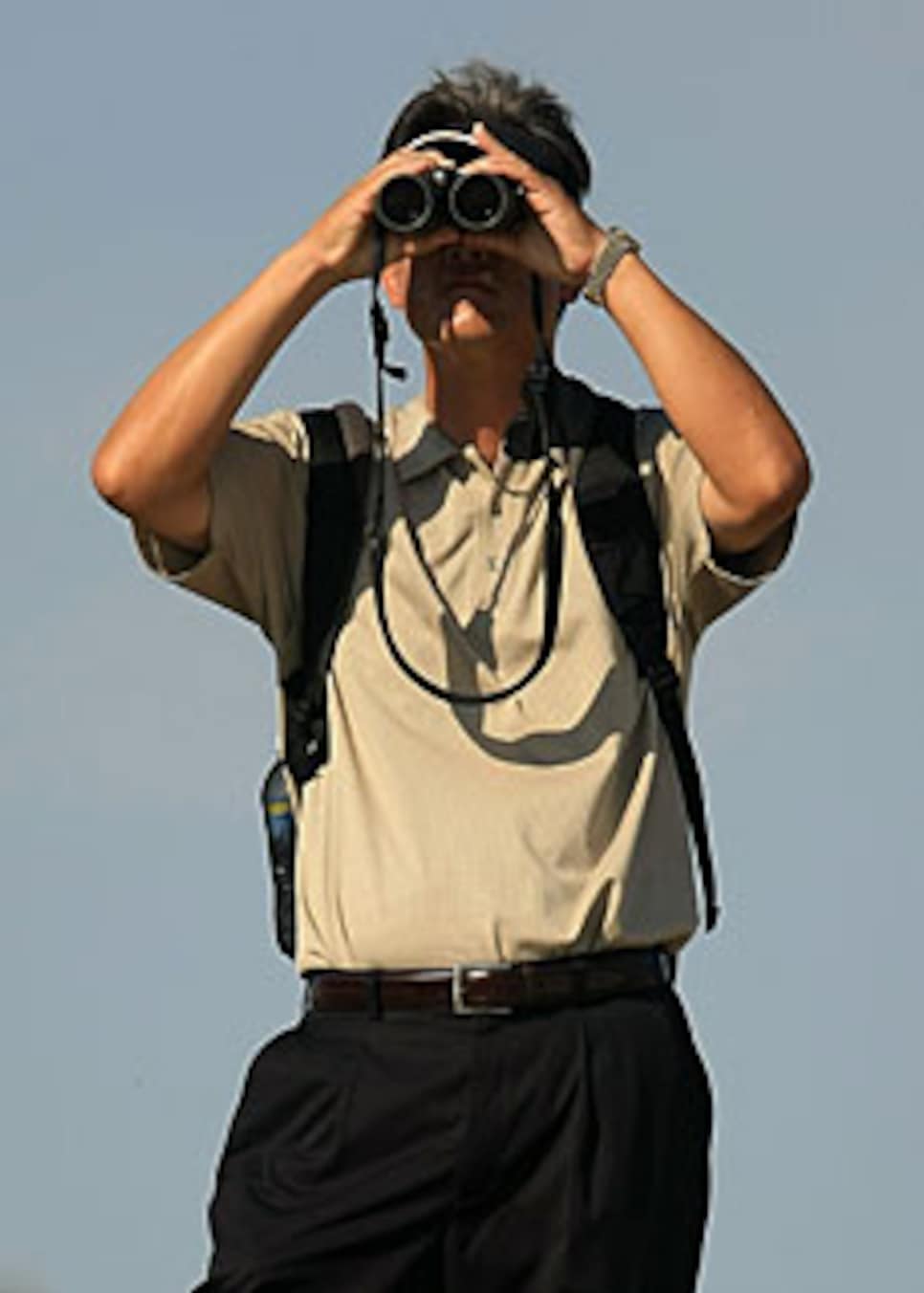 Certainly, the LPGA is hoping for a Wie victory sooner rather than later. They also had to be happy when she said about her 2009 playing schedule, which likely will start in February at the SBS Open in Hawaii, "I want to play a lot."
Although Wie, who will attend Stanford until late March and then skip the spring quarter, has an LPGA card, she still has other aspirations that may conflict with the LPGA down the road. "I still definitely want to pursue that," she said about playing against the men. "I have always wanted to do it, ever since I have played golf, so I want to do it. It's as simple as that."
For now, Wie has the LPGA and the LPGA has Wie—and the timing could not be better for either. The tour gives Wie the platform on which she can justify the millions she is paid by Nike, Sony and Omega. Wie gives the tour the star power that will attract attention in a difficult economic climate.
For now, at least, the teen and the tour are hearing the same music. Let the dance begin, and enjoy it while it lasts.
Birdie Run Secures Top Spot For Lewis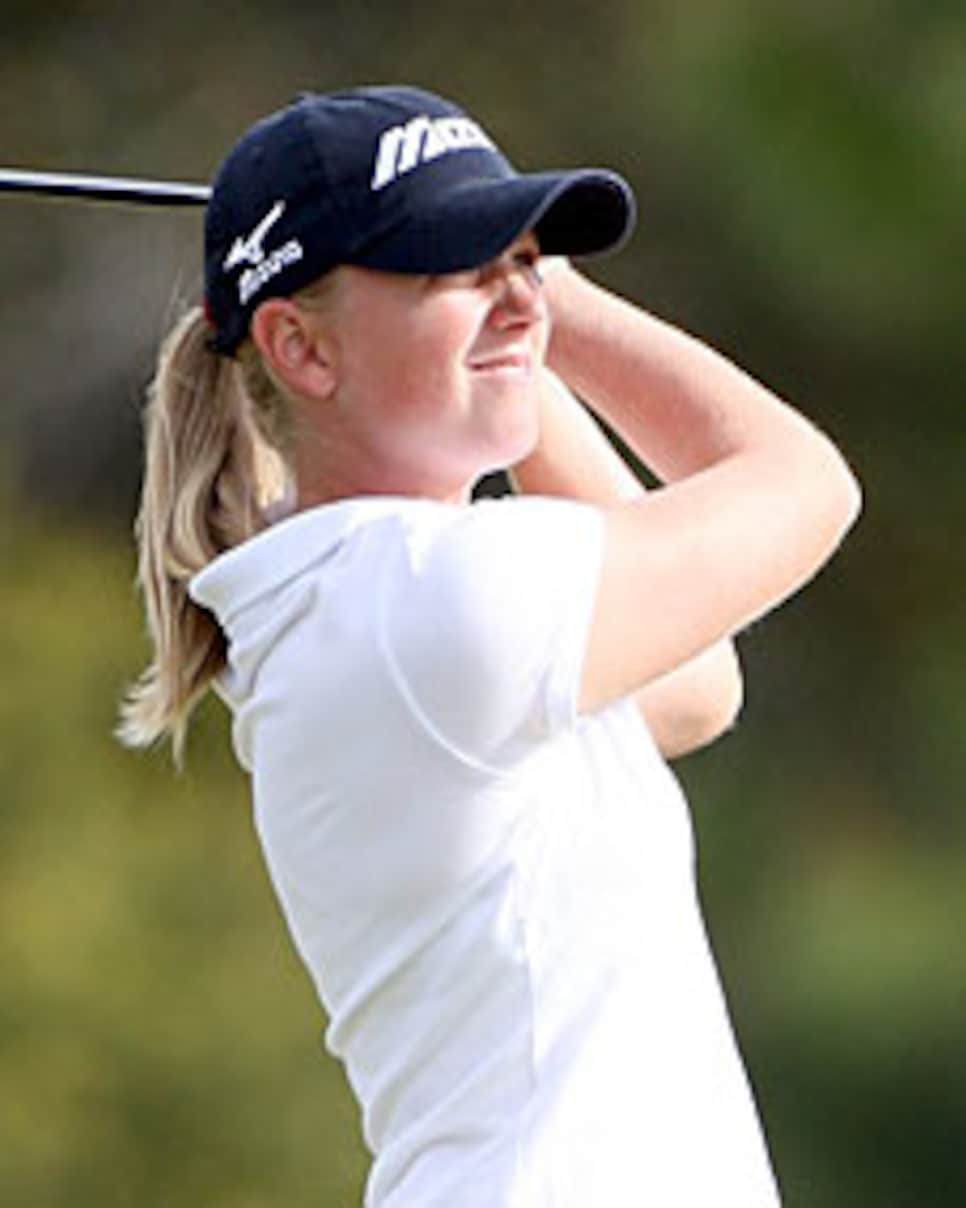 While the world was watching Michelle Wie get her tour card with a T-7 finish at LPGA Q school, Stacy Lewis (right) was making a statement of her own: If Wie wants to be rookie of the year in 2009, she will have to get past Lewis first. The 23-year-old Texan closed with a 69 at LPGA International in Daytona Beach, Fla., dusting Wie by five strokes in a final-round pairing, to win Q school at 18-under 342, three strokes better than Amy Yang. Wie finished six back at 348.
"I felt confident coming here, so it wasn't like I was scared or anything to come," Lewis said when asked about the challenge of playing with Wie and facing the pressure of the 90-hole Q-school ordeal. Lewis put the tournament away when she ran off three birdies in a row beginning on No. 7—all from inside eight feet—and then closed like a champ with birdies on the final two holes of the day.
"I hit it close a few times," said Lewis, who also won the 2007 NCAA title at LPGA International. "Then the last one was just icing," she said about the 25-foot snake on No. 18.
Yang, 19, won the 2006 ANZ Ladies Masters, a Ladies European Tour event in Australia, at the age of 16 years and nine months, making her the youngest-ever LET winner. The South Korean also won an LET event in Germany this year.
Anna Grzebien, 23, who was the 2005 NCAA individual champion while at Duke, was third at 346. Her Sunday 65 was the best round of the day by three strokes.
Twenty fully exempt cards were at stake and exactly that number finished at four-under 356 or better, avoiding a playoff for the final spot. No. 21 through 40 of the 70 players who made the 72-hole cut and played on Sunday earned non-exempt status for next year.