News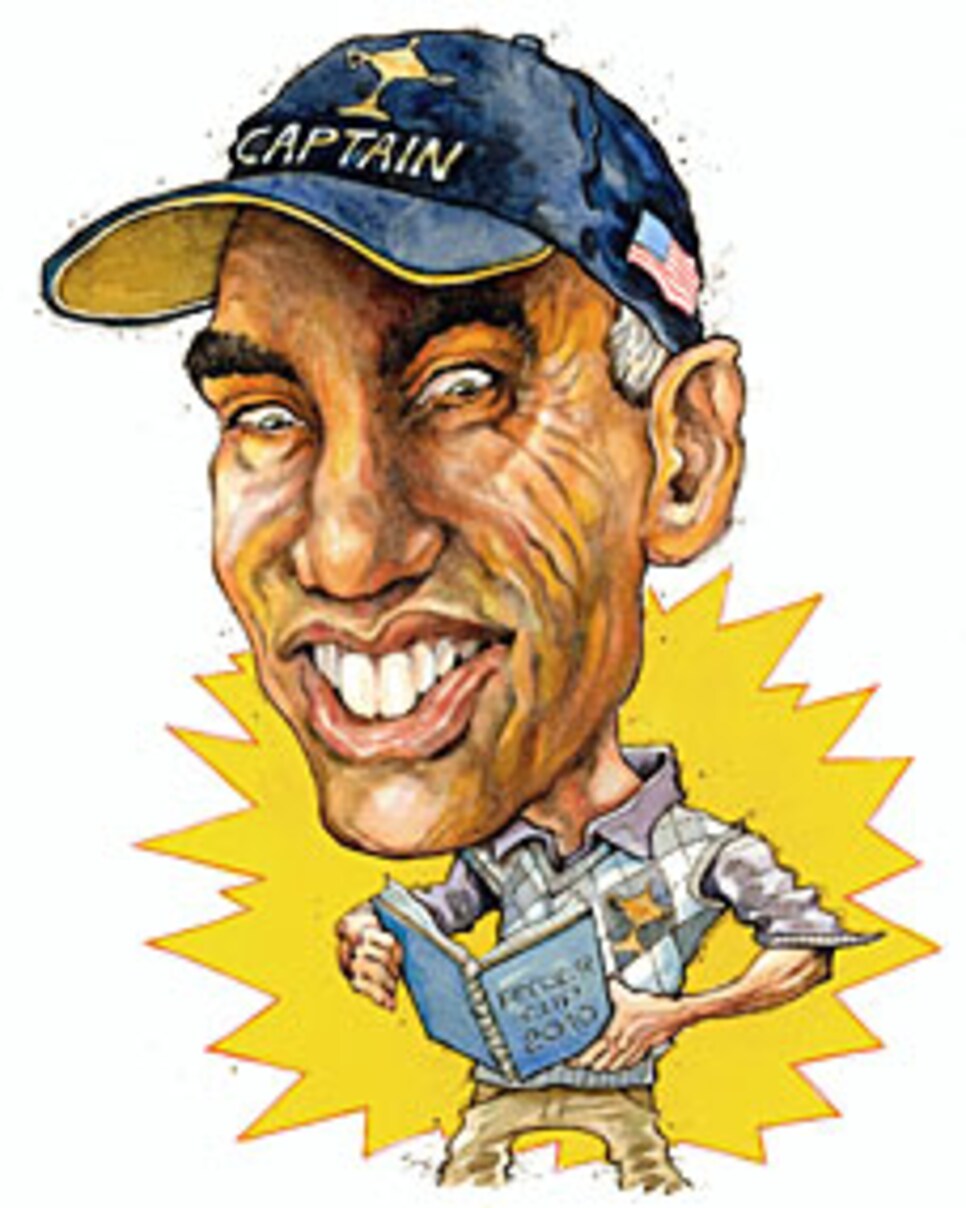 The dreary weather in New York City Dec. 11—rain, wind, 40 degrees—couldn't dampen Corey Pavin's spirit as he was announced the United States captain for the 2010 Ryder Cup at Celtic Manor in Wales. His smile was at least as wide as the ones on the foursome of Rockettes from Radio City Music Hall who were brought to Tavern on the Green for a photo op. After all, Pavin, who compiled an 8-5-0 record in three Ryder Cup appearances as a player, had kept the secret since Nov. 24, when he got a call from the PGA of America, which decided to impose term limits on Paul Azinger, Captain America, and award the honor to the Gritty Little Bruin.
There had been some sentiment among the American players Azinger led to a 16½-11½ victory over Europe at Valhalla GC in September—its first win since 1999, a drought that included routs in the last two matches—as well as within the game's chattering class, for Azinger to reprise his role in 2010. In the end, the PGA of America decided against making Azinger the first American since Ben Hogan in 1947-49 to captain two consecutive teams. Jack Nicklaus (1983 and '87) is the last to get two chances at the helm. Europe, yet to name its 2010 skipper, hasn't had a repeat captain since Bernard Gallacher (1991, '93, '95).
"We have so many great players who have earned that right to be a Ryder Cup captain that we want to make sure that we support them and hopefully not leave any great player behind," said PGA of America president Jim Remy. There isn't a long line of American champions the optimum age (closing in on 50) to be captain, but the example of three-time major champion and World Golf Hall of Fame member Larry Nelson, who never received his shot, comes to mind.
"Corey is a logical choice," Azinger told Golfdigest.com. "If it was offered to me, I would have done it, but it wasn't, so it's time to move on and try to keep the Cup. We'll have a huge disadvantage going over there—the weather, the course, the time change and the crowd. We'll be underdogs with or without Tiger [who missed the 2008 matches because of injury]."
Pavin, a member of the 1993 U.S. team (the last to win in Europe) and an assistant captain on the 2006 side that lost at the K Club, is one of golf's all-time little big men, standing just 5-foot-9 and living up to his media-guide 155 pounds perhaps only after a week of milkshakes and fettucine alfredo. Assessing his golf skills with a launch monitor is like judging Barack Obama's oratory by having him read a train schedule. Pavin puts an artistic twist on blue-collar golf by shaping shots, saving pars and surviving in these bomb-and-gouge times that were supposed to make his ilk extinct. At 49, he will be playing his 26th full season on the PGA Tour in 2009, a career that includes 15 wins highlighted by his 1995 U.S. Open triumph.
"My whole career I feel I've been looked at as the underdog, the 'David,' so to speak," said Pavin, who relishes the challenge of leading the U.S. abroad. At Valhalla, Azinger made a point of stoking the pro-American gallery, but Pavin will have a different goal in Wales. "One of the things captain Tom Watson told us [in 1993] was, 'Listen for the silence. Silence is good.' "
Expect Pavin to try to figure out what makes his players tick, as Azinger did. A longtime student of golf mental coach Richard Coop, Pavin plans to do his homework. "What I want to do is look at what [Azinger] did, what all the other captains have done," Pavin said. "I have my own ideas. It's a different set of rules when you go overseas, a very different situation."