News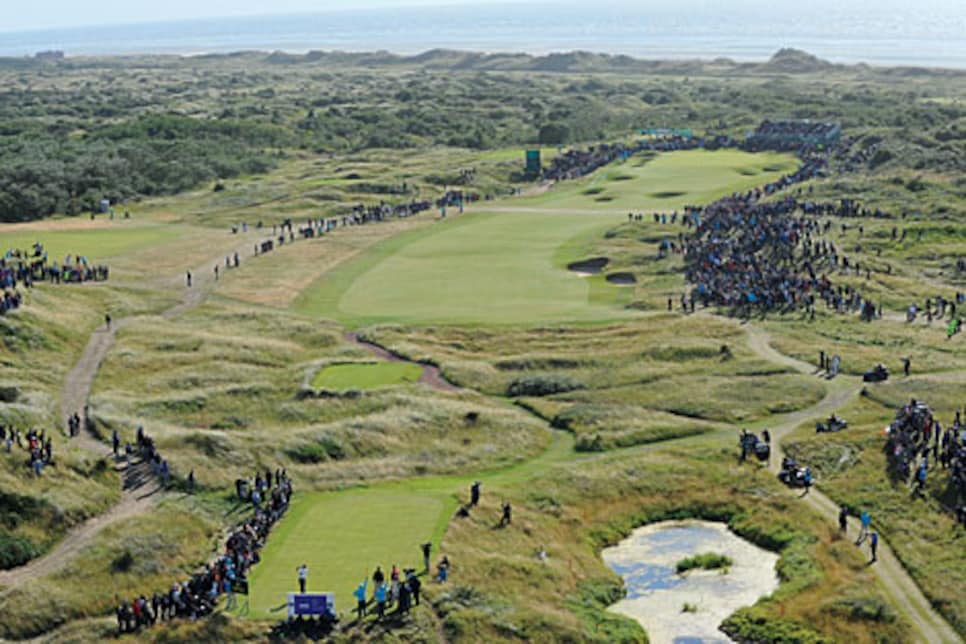 Taming the beast: Harrington, teeing off at the 16th Sunday, had Royal Birkdale's number.
On the eve of the 137th British Open, those peripatetic oddsmakers at betting emporiums around the United Kingdom were trying to make sense of the field that would attack, or be attacked, by storied Royal Birkdale.
Sergio Garcia was installed at 8-1 to triumph by one agency, 10-1 at another. Ernie Els went off at 9-1 and 12-1, while Retief Goosen, Geoff Ogilvy, Vijay Singh, Adam Scott and Jim Furyk were at 25-1, give or take a farthing.
Mind you, it seemed entirely possible that the ultimate winner might be William Hill or Ladbrokes, because this Open figured to be more open than any major in a decade: For the first time since the 1996 PGA Championship, the roster of competitors at a major would not include Tiger Woods. He was home on wounded knee, thus precipitating forecasts that even this most venerable summer ritual might be remembered more for who wasn't there than who was.
However, in a rare fit of largesse, the golf gods giveth, and what ensued was magnificent theater over four days of survival on a splendid course hard by the Irish Sea. With flagsticks bent at the waist as if to gain a closer look, Padraig Harrington, the plucky Irishman, successfully and masterfully defended his title, winning the claret jug by four shots over native son Ian Poulter, he of the pink pants.
But you had to be there to see and hear for yourself the tale of a surprise guest, Greg Norman. Of all people, the 53-year-old Australian, a self-professed ceremonial participant on an extended honeymoon with his new bride, former tennis star Chris Evert, became The Great White Shark again. After visits to Egypt and Africa, the Normans decided to stop at Royal Birkdale en route to Royal Troon for the Senior British Open. He nurtured "no expectations," and he was not alone, for the numerologists put him on the board at 1,000-1.
Yet when Norman strode off the ninth green Sunday—"He's still got that walk, you know," noted Chrissie—he owned a one-stroke lead and, with nine holes between him and history, this British Open that Norman had labeled as a "tuneup" for a week among fellow golden oldies seemed within his grasp. Thousands of spectators, bundled up to cover all but their eyes, followed the final twosome, daring not to miss a shot and rooting for Harrington and Norman to do likewise. Howling winds muted roars from the galleries, but not the energy of the occasion.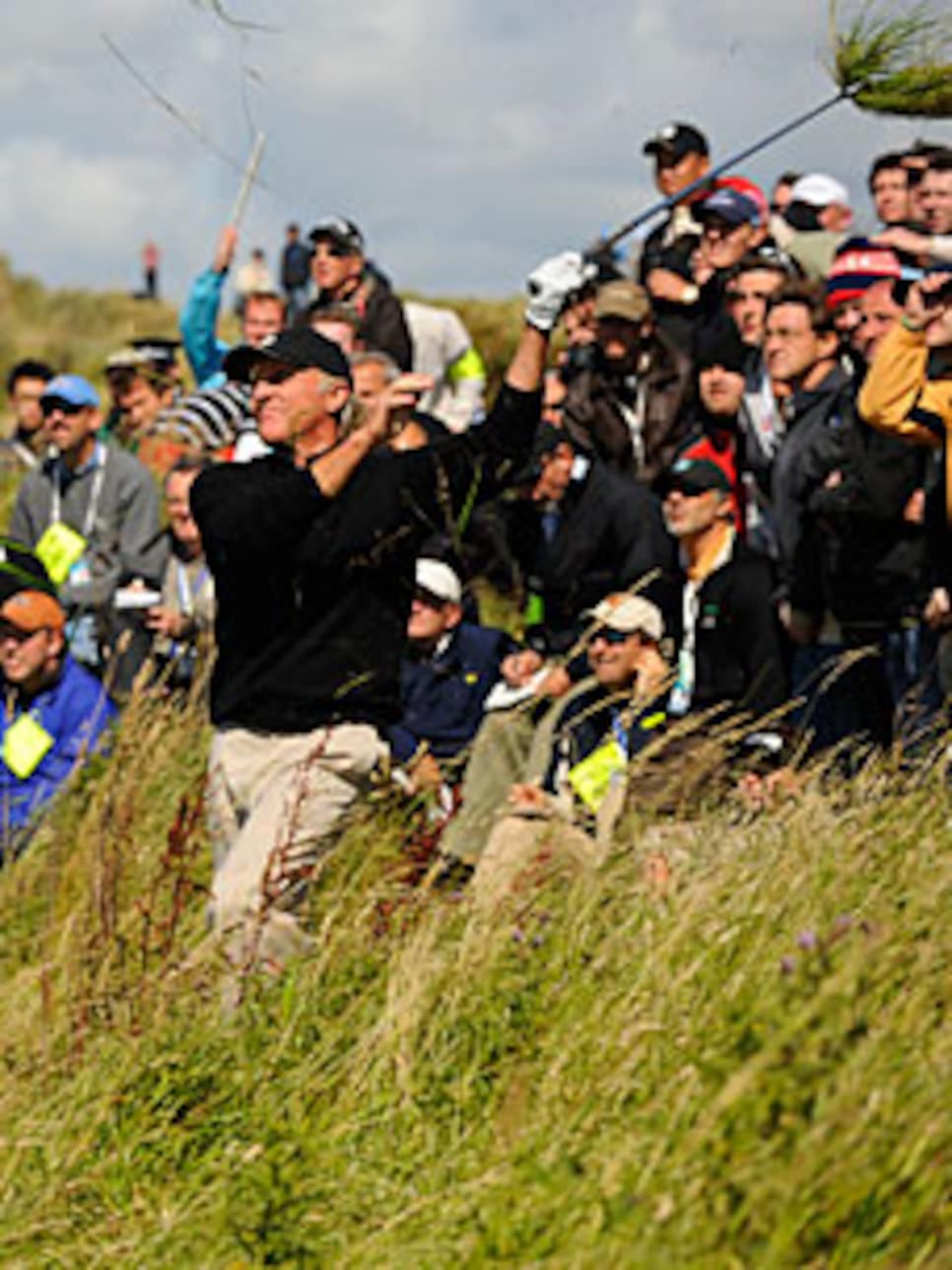 Alas, Norman made four bogeys coming in for 77, not that a T-3 with Henrik Stenson diffused the explosive ovation accorded the Shark as he marched square-shouldered to the final green. En route, the gracious Harrington remarked, "I'm sorry it isn't your story that is being told this evening." But with order restored, hats removed and hands shaken, the best man clearly had won. Harrington signed for a brilliant 69, with a weatherproof 32 on the back, for an aggregate 283, three over par. "I never put down last year as an isolated event," said Harrington, who defeated Garcia at Carnoustie to secure his first major in 2007. "I felt I was going to win another one, but it's come around quicker than I thought."
And to think the smiling Dubliner, who almost became an accountant, almost didn't participate. During the preambles at Birkdale, Harrington practiced, but somewhat cautiously. He had injured his right wrist the previous week while swinging away at an impact bag and was unsure whether he could start, let alone finish. (Talk about creating chaos among bookies.)
As champions tend to do, though, the 36-year-old Harrington, in concert with his American sport psychologist, Dr. Bob Rotella, decided to convert potential pain to eventual gain. By being less than 100 percent healthy, Harrington would just go play and remember to forget the pressure of attempting to become the first European to repeat as Open champion since James Braid in 1906. With his mind cleared, Harrington felt at ease. Also, the wrist cooperated. "It never really hurt," he said.
Harrington opened with a 74, leaving him five wide of Rocco Mediate, Graeme McDowell and Robert Allenby, all of whom teed it up in the afternoon, when the weather, such as it was, improved. Harrington drew a morning time in horrific conditions. He completed his first round bogey-bogey, but expressed overall optimism that was validated during Friday's second round: eagle at No. 17, birdie at the last for 68, three shy of K.J. Choi. At the 11th, Harrington had to carve his ball from heavy rough. He let go of the club. "It dug into the ground and gave me a fright," said Harrington. "There was a good bit of jarring, but the wrist came through it."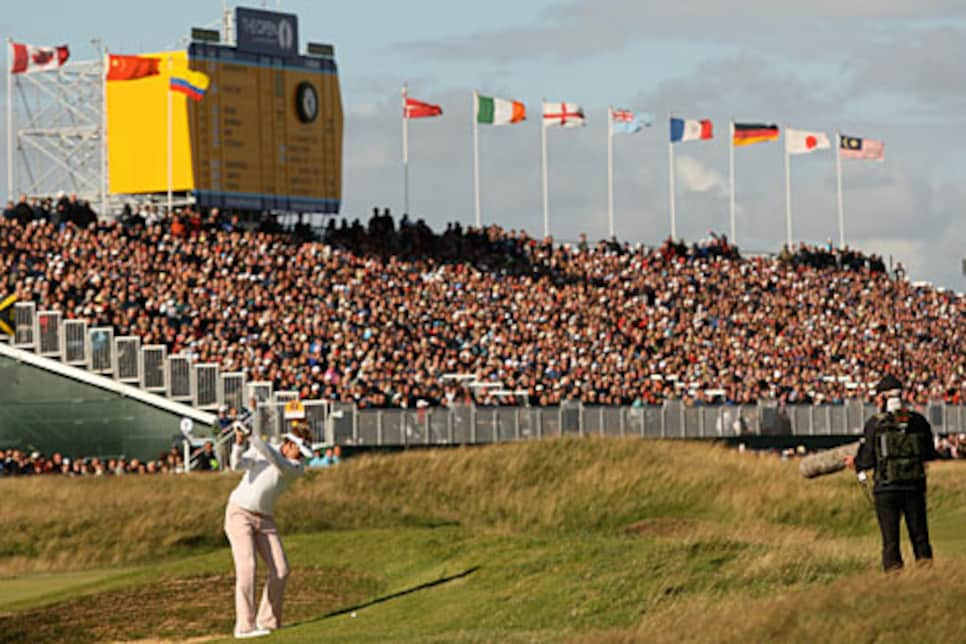 Saturday, with gales of up to 50 miles per hour, officials briefly contemplated suspending play. With the scoring average 75.8, Norman crafted a 72, as did Harrington, who would join Choi at 214, two off the Shark's pace.
Sunday, an ideal day to wake up indoors and stay there, Harrington defied the elements, in more than one way. Even Norman, the physical-fitness advocate, was dressed appropriately. But Harrington quickly shed his protective gear and conducted his clinic in short sleeves. "I wasn't trying to prove I was the toughest guy out there," he said later. "My jumper was too short, too small. It kept riding up on me. So I just took it off."
Harrington sank a treacherous four-footer to save par on No. 10, where Norman bogeyed, then birdied the par-4 13th with a 15-footer, as Norman sagged to his third bogey in four holes. Poulter, up ahead in those pink pants, was creating a stir, but Harrington, with eyes like headlights—he doesn't blink often—launched a 5-wood off the tee on the par-5 17th. It was perfect, almost as perfect as his next swing. Poulter stood two shots back in the clubhouse, Norman three back beside Harrington, who reasoned, "I was worried if I laid up there, Greg could pull to within one with an eagle."
Harrington had 250 yards to the pin, and his path there, even in still air, was best described as a corridor. Caddie Ronan Flood broached the subject of laying up, but Harrington pulled that 5-wood again. Against a left-to-right wind, he couldn't have dropped his ball much closer than its resting place, three feet from the hole. Eagle. Game over. Just for emphasis, he almost holed his 5-iron approach on the 18th. Wrist? What wrist? It held up just fine, holding up that claret jug. Again.
"There's a different satisfaction this year … I feel more accomplished," said Harrington. Indeed, the previous July, in an unwitting ode to Jean Van de Velde, he double-dipped in the Barry Burn at the 72nd hole. Harrington mused afterward that, had he not prevailed in overtime, golf might have become his hobby instead of his job. A year later, through dedication and perpsective—"Those twin imposters, success and failure, are but a hair's breath away," he concluded—Harrington entered the world's fraternal order of certifiably elite golfers by beating all except You Know Who.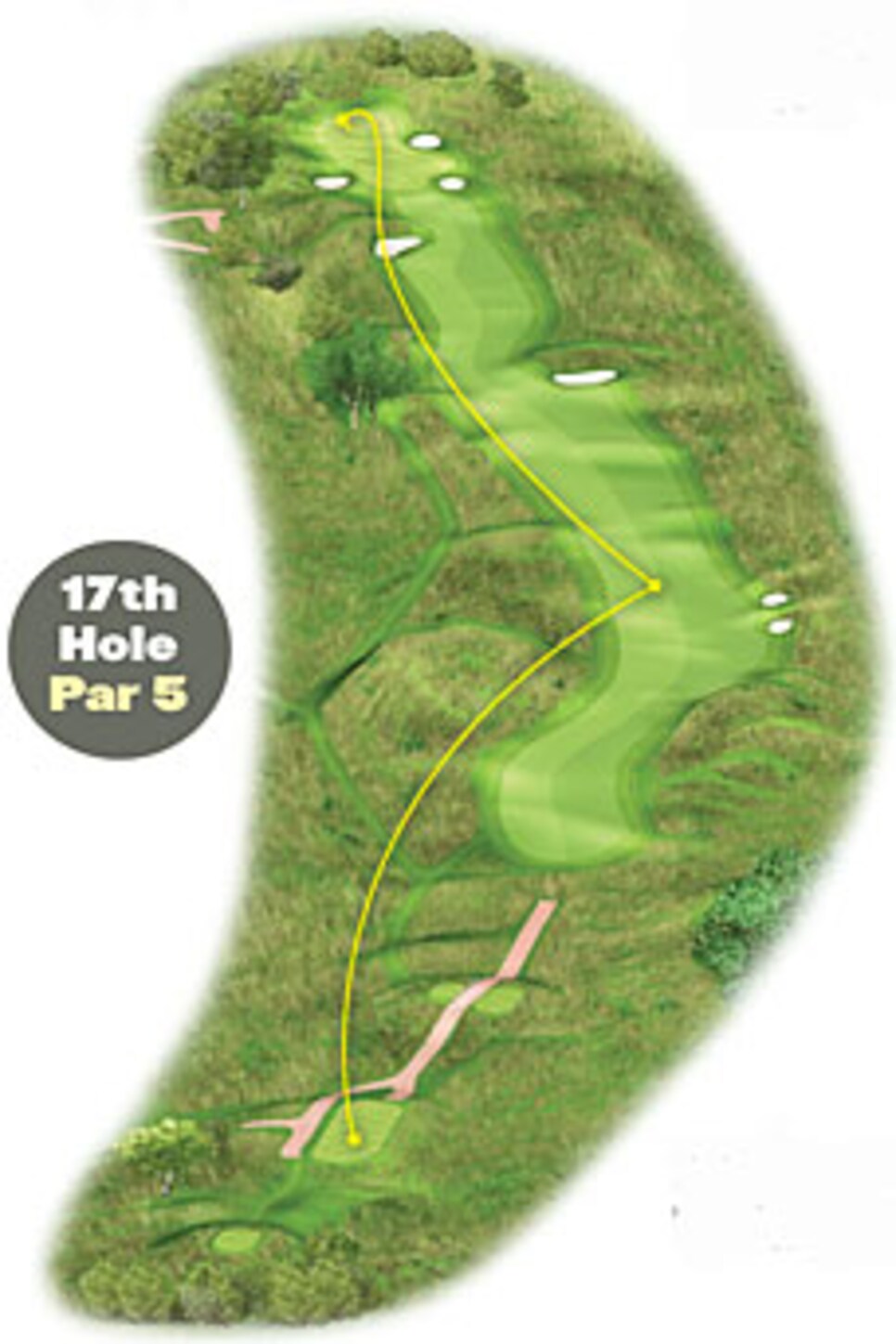 The 137th British Open, upon which some observers sought to attach an asterisk, instead deserved an exclamation point.
Playing into a 28-mile-per-hour, left-to-right wind, Padraig Harrington hit 5-wood off the tee, but his second-shot approach over the cross bunker was the shot of the tournament. With his ball on a down slope, 250 yards from the hole, Harrington again reached for his 5-wood and hit a shot that cleared the hazard and rolled onto the green, where it curled around the back of the pin and nestled three feet from the hole. The downhill putt for eagle would turn his two-shot lead over Ian Poulter into a four-shot advantage with one hole to play.
__ "There's a different satisfaction this year. Last year was a thrilling win, and it was exciting and I was on top of the world when I won. This year is more satisfying. I feel more accomplished this year. I feel this will probably give me more confidence."__
__ Padraig Harrington__, comparing his 2008 British Open victory with his first major title at Carnoustie a year earlier.
"Probably not as high as some of the other ones."
Greg Norman, when asked where losing the British Open at age 53 ranks with other memorable major disappointments in his storied career.
"Are you at that golf thingy?"
Abi Wood, in a text message to her brother, Chris Wood, after the second round. Wood, a 20-year-old amateur would finish T-5 in the Open.
"I just hope they've taught the engraver how to put an asterisk on the trophy."
Geoff Ogilvy, on the first major in more than 10 years to be played without Tiger Woods.
"I'm usually answering questions about the ball going too far. This is the first one I've had in a while about the ball not going far enough."
Peter Dawson, chief executive of the R&A, after cold, wind and rain caused a scoring average of 75.98 in the first round and saw many players struggling to reach the 16th fairway, which was 210 yards from the tee.