News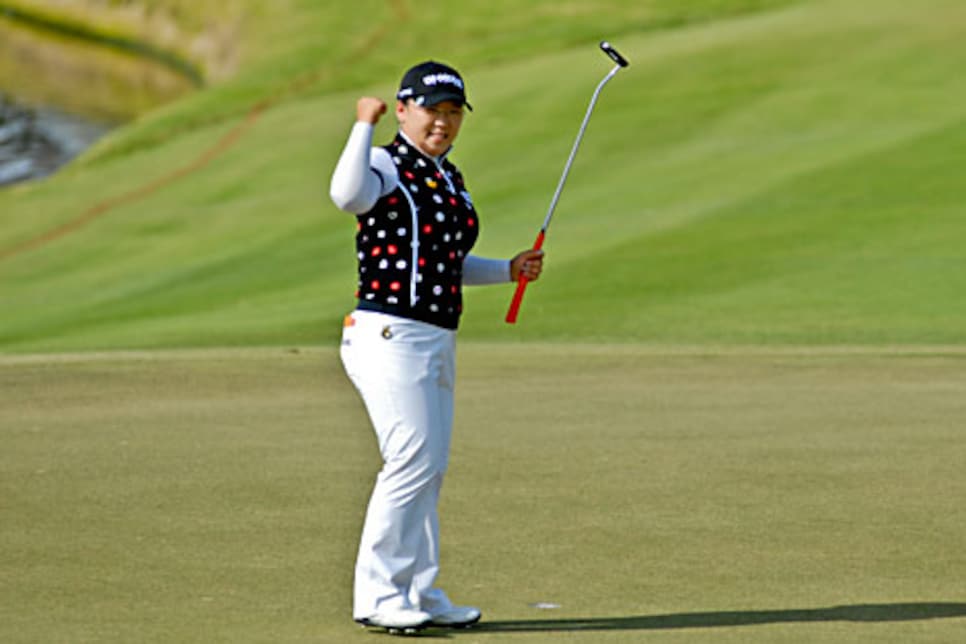 Shin's 70 Sunday earned her the biggest check in women's golf.
As swan songs go, the final ADT Championship resembled a Gilbert and Sullivan operatic farce more than an elegant ballet. It was laced with the dramatic, the absurd, the comical and the confused. The choreography at times was hopelessly out of synch. But when all was sorted out, a superb Trump International GC teamed with the delightful multiple-cut format and its eight-player shootout for a $1 million first prize -- $900,000 more than second place -- in identifying Ji-Yai Shin as a deserving winner.
With 26 career victories at the age of 20, Shin stands as a serious contender to fill the spikes of Annika Sorenstam, who made her last LPGA appearance at the ADT. Shin, now No. 6 in the Rolex Rankings, will join the LPGA Tour in 2009, and maybe they should just start engraving the Rookie of the Year trophy now (despite her impressive accomplishments so far, Shin has made just 10 career LPGA starts and won't become an official member of the tour until the start of next season). In fact, she could join Nancy Lopez in 1978 as the only players to win Rookie of the Year and Player of the Year honors simultaneously.
Shin's two-under-par 70 Sunday to take home the biggest check in women's golf was well planned, calmly executed and good enough to hold off Hall of Famer Karrie Webb in a head-to-head twosome by a single stroke. The Aussie vet forced Shin to two-putt from 20 feet on the final hole after making a 30-foot birdie putt she said "was rolling at about a 14." Shin now has won 11 times this year, including the Ricoh Women's British Open, an LPGA major, and the Mizuno Classic, an LPGA minor, seven times on the Korean LPGA and once on the Japan LPGA.
"Before this year I had won only in Korea," Shin said, speaking confidently without an interpreter. She also is fluent in Japanese. "Now I have won in Japan and on the LPGA. Last year, I was only watching the LPGA on TV. I start next year on the LPGA Tour. I'm ready for LPGA tournaments."
No one who saw her tame Sunningdale in the Women's British or Trump International with $1 million on the line would dispute that evaluation. Shin says she was visited by Sorenstam in a dream the night before the final round and told the Swede, "I want to play you." Instead, she played like her. "I just tried to make no mistakes," Shin said about handling the pressure. "I'm thinking 'just save par.' " That's a game plan of which Sorenstam would approve.
Which brings us back to Act One of this musical. Friday, Sorenstam missed the cut in her last LPGA round -- which was bad enough -- but while sharing a bittersweet moment with family and friends, she was told she had to go for drug testing. "I would have been fine if they had done it yesterday, not tell me when I was walking off the 18th green of my last tournament and trying to enjoy the moment with my family," Sorenstam told Golf World. What would they have done if she failed? Suspend her from retirement? Sometimes common sense needs to reign.
Also exiting last week was the ADT Championship itself. The format will return in 2010, but on a different course, at the beginning of the season and without ADT as a sponsor, a relationship sources familiar with the situation say could have been saved if financial demands hadn't been increased by the LPGA and if its season-ending spot on the schedule hadn't been taken away.
As tournament host Donald Trump so eloquently put it Tuesday night at the pro-am party in his elegant Mar-a-Lago mansion/hotel, where many players bunk during the tournament: "Just think, next year at this time you'll be staying in a freaking Holiday Inn outside Orlando."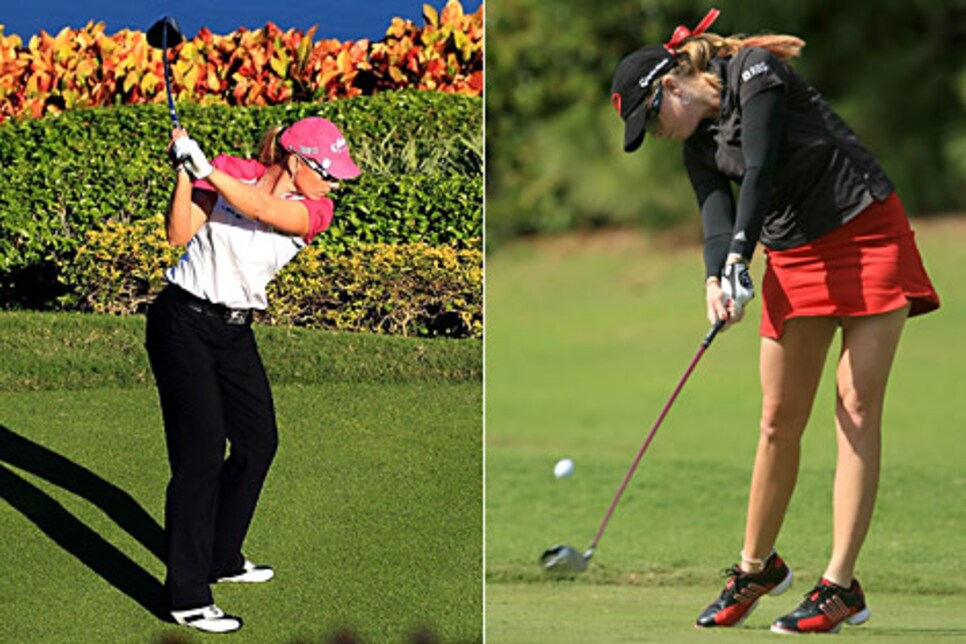 Actually, next year at this time the players will be staying in a Holiday Inn outside Houston, as the season concludes with the Stanford Financial Tour Championship, a 120-player event. The switch baffles many players. Beginning the 2010 season with a $1 million first prize means someone starts the year with a $900,000 lead on the money list, an advantage difficult to overcome given the size of LPGA purses.
And then there is the matter of having a 120-player Tour Championship when only the top 80 on the money list have fully-exempt status for the following season. That means some competitors in the 2009 finale will be non-exempt for 2010. But given the economy, the 2009 schedule released Wednesday was probably a victory of sorts for the LPGA in that it lost only three tournaments -- falling from 34 to 31 -- and $5 million in prize money.
As for drama, the Great Pink Hope of American golf, Paula Creamer -- who with the $1 million first prize would have been the first U.S. player to top the LPGA money list since Betsy King in 1993 -- spent the night before the final round in a hospital with flu-like symptoms. After little sleep and multiple tests that pointed toward peritonitis, Creamer gutted out -- literally -- a 74 Sunday and tied with Seon Hwa Lee for third, four strokes behind Shin.
And then there was the comical occurrence of the penalty that wasn't counted because of "committee error." Helen Alfredsson came to the 18th hole Saturday needing a bogey to finish at even par and join a likely playoff to advance to Sunday's eight-person final round where scores are reset and everyone has an equal shot at the big prize.
But Alfredsson's second shot found the pond next to the green. After a penalty drop, she chunked her chip and as the ball trickled back down the slope Alfredsson asked rules official Jane Reynolds if she could stop the ball from rolling into the water. The Swede said she detected a nod from Reynolds and stopped a moving ball in play. Reynolds said she never heard the question. Senior rules official Doug Brecht ruled that a two-stroke penalty not be imposed because of the confusion. Still, Alfredsson made a triple-bogey 7 and missed the playoff by two.
Speaking of playoffs, that dramatic twist to this event was sadly missing this year. Friday, when the field was cut from 32 to 16, there was no need for extra holes, which made losing Sorenstam, Lorena Ochoa, Morgan Pressel, Cristie Kerr and Yani Tseng (ranked No. 3 in the world) before the weekend even more painful. Saturday the three-for-two playoff with Webb, Sun-Young Yoo and Eun-Hee Ji was over almost before it began when Yoo three-putted the first extra hole.
All things considered, the final eight on Sunday was pretty impressive, with all in the top 20 of the Rolex Rankings and five in the top 10, led by No. 4 Creamer. Webb (10) and Shin (6), playing together in the third group out, got off fast and were two under par through five holes, two strokes ahead of Lee (11), Angela Stanford (9) and Ji (19). Creamer was one over par. Suzann Pettersen (5) and Jeong Jang (12) were never factors.
Shin made a key save on No. 6 when her drive on the 302-yard par 4 hit the bank and rolled back into the water. She took a penalty drop, pitched to nine feet and rolled in the putt. Webb, meanwhile, three-putted from 35 feet to fall a stroke back. But when Shin bogeyed No. 7 and Webb birdied No. 8, the Australian carried a one-stroke lead to the back nine.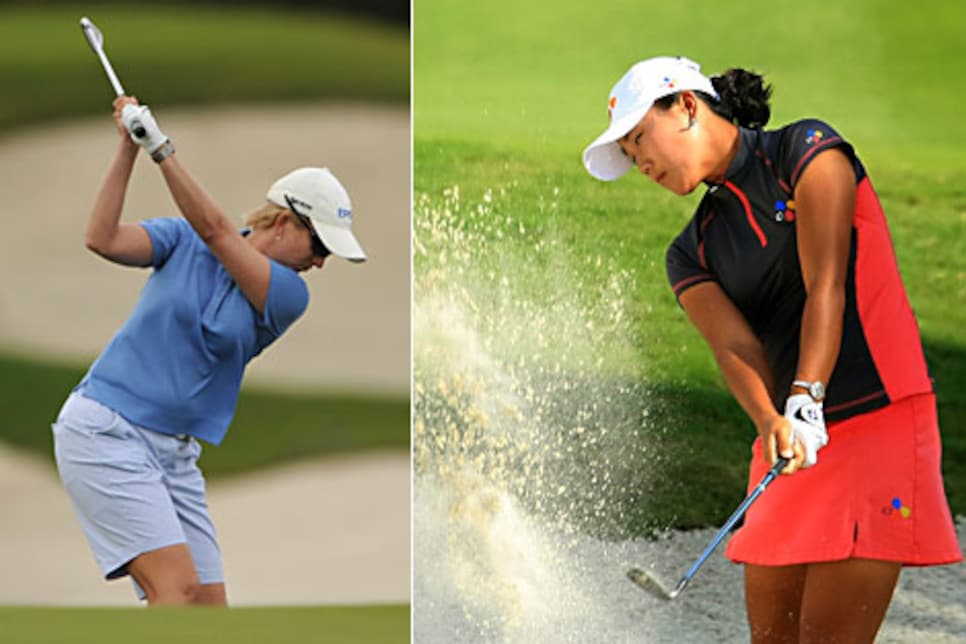 Webb missed a five-foot par putt on No. 11 that triggered three bogeys in a row, but fought back with a birdie on No. 15 and then holed the long birdie on No. 18. Lee hung close until she double-bogeyed the par-3 17th hole after an unplayable lie penalty -- she was one under at the time -- and Creamer lost her chance when she bogeyed the 15th hole to fall to two over par.
Perhaps the only person happier than Shin on Sunday was her caddie, Rick Kropf, known as "Rick the Nerd" by his fellow loopers. Shin's regular caddie, Dean Herden, didn't travel from Asia because he didn't think it would be worth it financially unless she won. So the 10 percent winner's share went to Rick the Nerd.
Here's a tip to Herden: Don't ever let that bag out of your sight again. Shin is going to win a lot of golf tournaments -- and a lot of money. But you're starting the new year $100,000 down, dude. As Gilbert and Sullivan would say: Let the punishment fit the crime.