News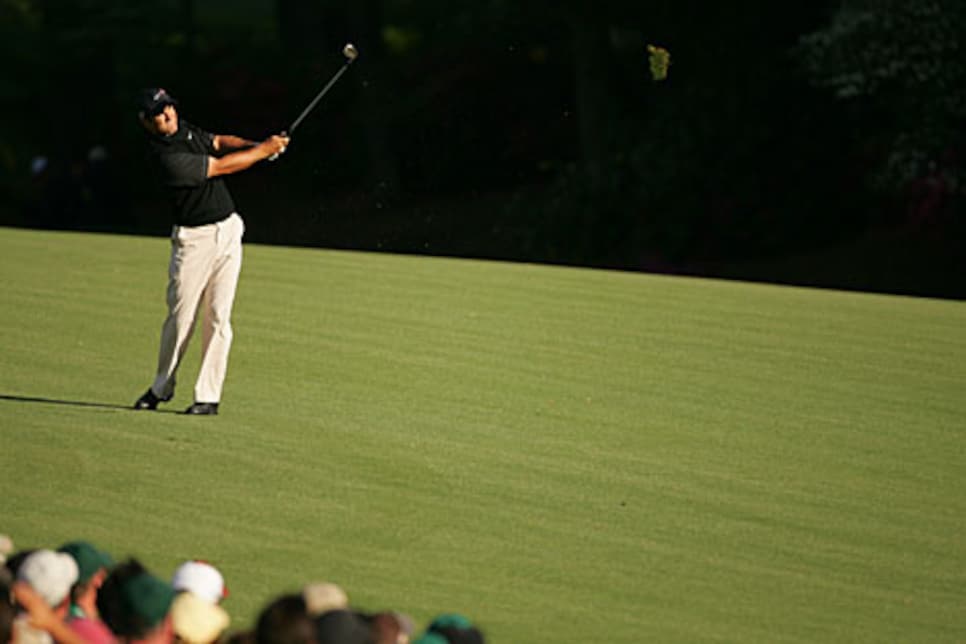 Indicative of the tough going, Immelman's 75 matched the highest final round by a winner.
First there was the Jones Slam, when Bobby won the U.S. and British Opens and Amateurs in 1930, and then there was the Tiger Slam, when Woods gobbled up four consecutive majors over the 2000-01 seasons. But never has anyone captured all four modern Grand Slam events in the same year. Never had anyone discussed the possibility of such a feat as matter-of-factly as Tiger Woods did coming into the 2008 Masters. And perhaps never has anyone entered a major seeming to be such a prohibitive favorite.
Even before he played his first tournament of the year, the Buick Invitational in January, Woods said on his website that 2008 could be the year he runs the table in the majors. And that attitude hadn't mellowed by the time he reached Augusta National GC in quest of his fifth green jacket and 14th professional major title as he pursued Jack Nicklaus' record of 18. Because it was Woods and because of all he had achieved in his remarkable career, the speculation seemed more than plausible: It seemed inevitable.
"You have to understand why I said that," Woods explained two days before the first round at Augusta National. "I've done it before. I've won all four in a row [a reference to when he won the last three majors of 2000 and then the 2001 Masters]. I think this is my 12th or 13th season out here, and nine of those years I've won five or more tournaments, so [I've] just got to win the right four. That's what it boils down to."
There were many reasons to take Woods seriously. He liked the four venues for the majors—Torrey Pines, Royal Birkdale and Oakland Hills, in addition to Augusta National. He was playing perhaps the best golf of his career, having won nine of his previous 11 tournaments, including two World Golf Championship events, two FedEx Cup Playoff events, the PGA Championship, the Buick Invitational at Torrey Pines, the Dubai Desert Classic, the Arnold Palmer Invitational and his own Target World Challenge.
And then there was probably the most compelling argument of all: He is Tiger Woods, a man who seems to have the ability to will things to happen. If he believed he was capable of winning the 2008 Grand Slam, who were we to doubt him? The problem was that Trevor Immelman didn't get that memo, and neither did Tiger's putter.
As often happens, the unanticipated story ended up being more compelling than the expected one. While there was a certain level of disappointment in having Woods lose his Grand Slam bid in the year's first major, he made an inspiring and entertaining effort before finishing second, three strokes behind the eight-under-par 280 Immelman posted on a raw day when wind gusts hit 20 miles per hour.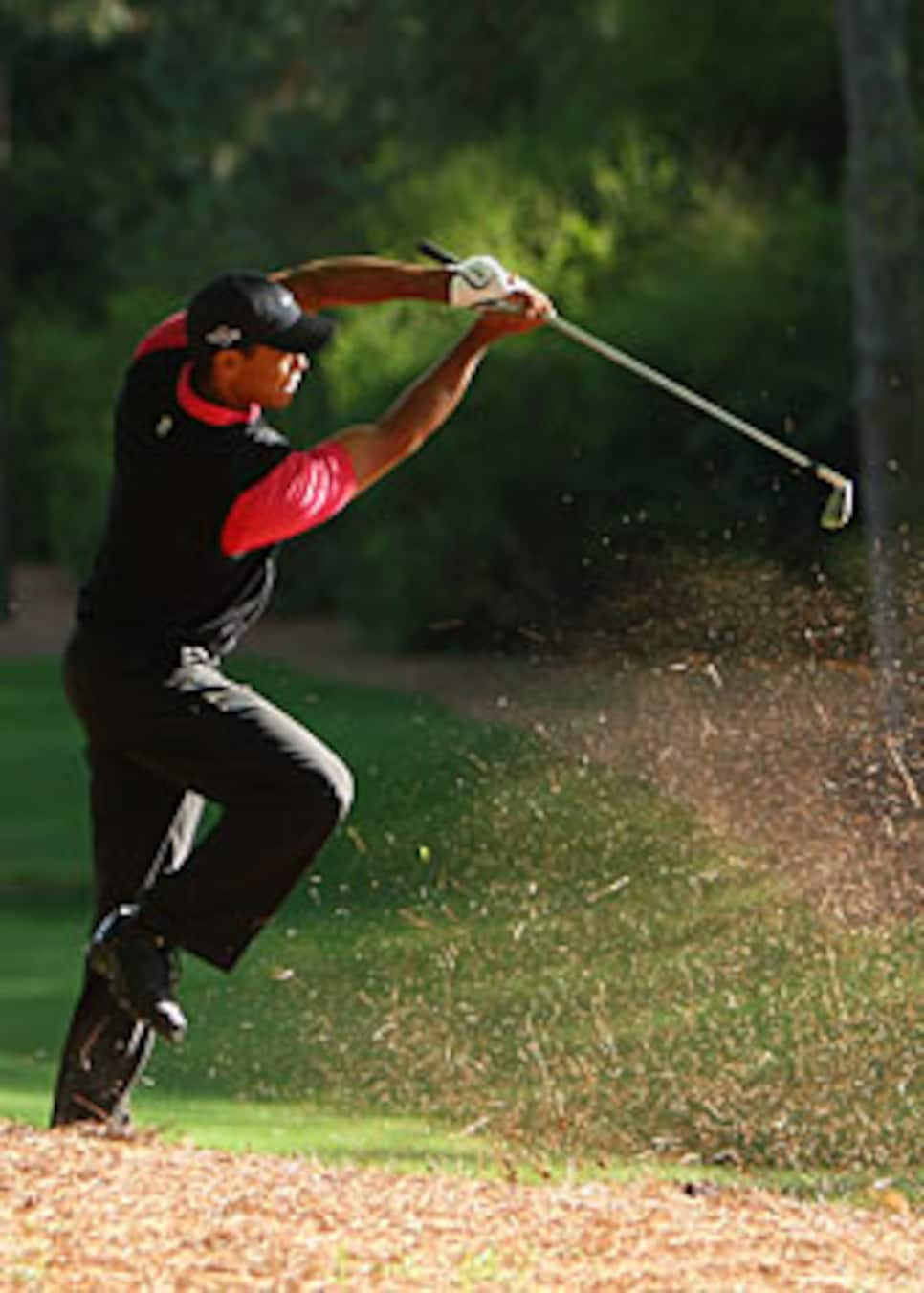 Brandt Snedeker, the 27-year-old mop of dirty blond hair playing just his second year on tour, briefly tied for the lead Sunday before collapsing into a tearful, final-round 77 but not before winning the hearts of most of the gallery. Just as dramatically, Steve Flesch (78) and Paul Casey (79) unraveled down the stretch after being within striking distance through 54 holes.
But the best story of the week happened to be the guy who played the best all week. Immelman, a 28-year-old South African, awoke Sunday morning to find a voice message from countryman Gary Player, a nine-time major winner, who called to wish Trevor luck—and offer some unsolicited advice about keeping his head still while putting.
A grueling 75 strokes later—tying Arnold Palmer (1962) for the highest final-round score by a Masters champion—Immelman had his first major title. The green jacket was a long way indeed from the hospital gown he wore just four months earlier when a benign tumor was removed from his diaphragm, a seven-inch scar on his lower back bearing witness to the surgery.
"This has probably been the ultimate roller-coaster ride, and I hate roller coasters," Immelman said after the victory was secured. "It's really kind of weird."
That might be an understatement. Immelman ended 2007 by winning the Nedbank Challenge in South Africa only to find himself on an operating table a week later. An agonizing two days in which he waited for the biopsy results followed the surgery. "I get the right result there, and I make a pretty fast recovery [and] here I am, after missing the cut last week, Masters champion," said Immelman. "It's the craziest thing I have ever heard of."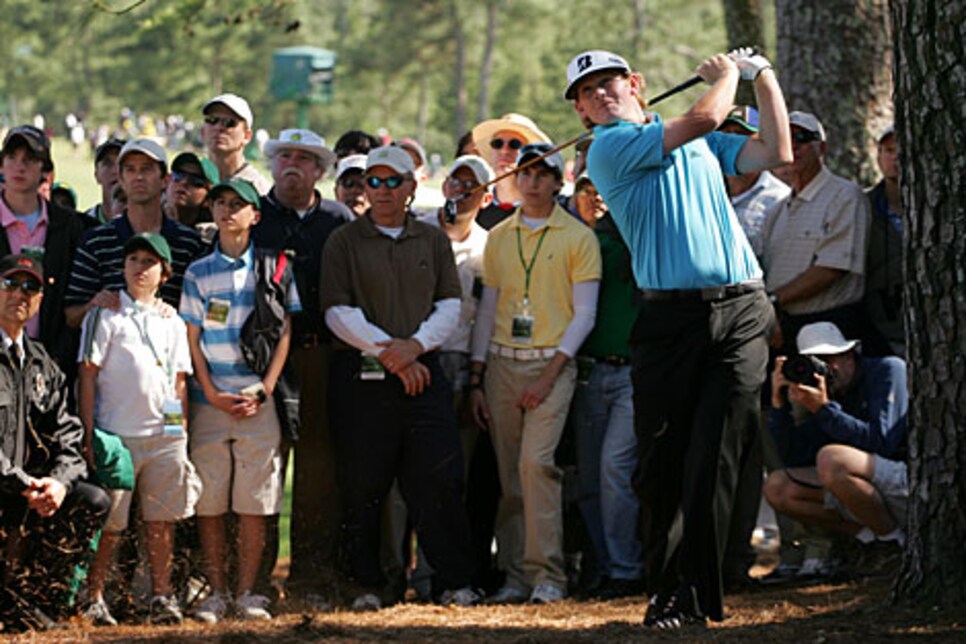 With all the chatter about Woods and the Grand Slam and then the speculation on the usual gang of suspected contenders—Phil Mickelson, Sergio Garcia, Adam Scott, Padraig Harrington and two higher profile South Africans, Retief Goosen and Ernie Els—it was likely no one uttered the sentence, "You know, I kind of like Trevor Immelman's chances this week."
But Immelman thrust himself into the mix from the start. After Palmer kicked off the tournament by striking the ceremonial first tee shot out of sight into a curtain of fog that obscured the first fairway, the South African fired a 68 to tie Justin Rose for the opening-round lead, one stroke better than Snedeker, Brian Bateman and Lee Westwood. Woods was four strokes off the pace at 72.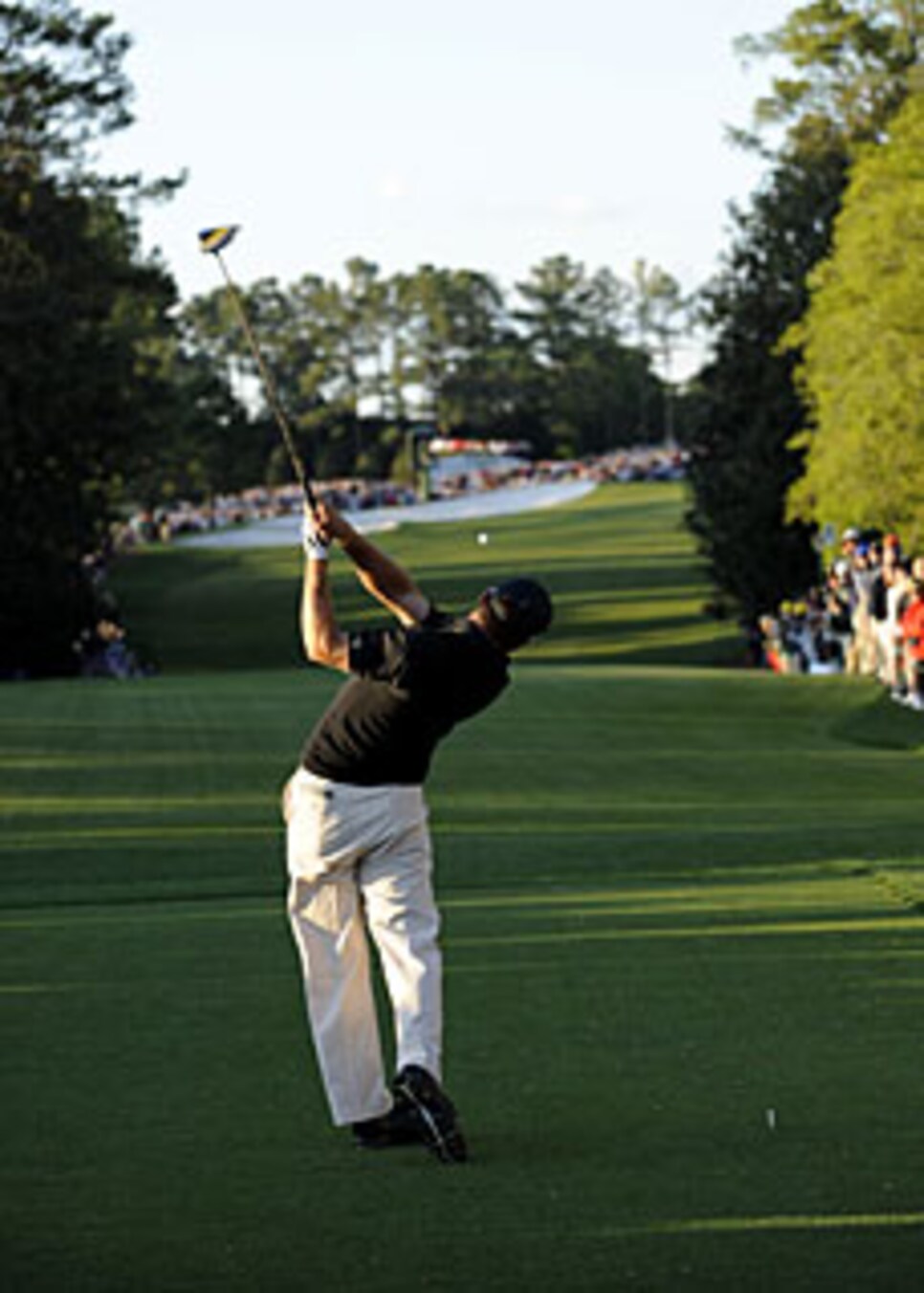 A second 68 gave Immelman a one-stroke lead over Snedeker after 36 holes. Woods was seven back at 143. Immelman doubled his lead with a 69 Saturday that sent him into the final round at 11-under-par 205, followed by Snedeker (207), Flesch (208), Casey (209) and Woods (211).
"When I woke up this morning and I peeked outside and saw the trees moving around, I knew it was going to be tough out there for us, and I knew I had to go out there and just stick to my game and play one shot at a time," Immelman said. That's where the advice Player left on his cell phone came in handy.
"He told me to be strong through adversity, because he said that adversity would come today and I just had to deal with it," Immelman related, adding that the sound of Player's voice gave him goose bumps.
Adversity showed up early in the final round. Immelman bogeyed the first hole, and when Snedeker eagled No. 2 they were tied for the lead. But while Snedeker, Casey and Flesch all fell into reverse—Snedeker made eight bogeys and two birdies over the final 16 holes—Immelman battled the cold, windy conditions and stretched his lead to as many as six strokes before hitting his tee shot into the water on the par-3 16th and making a double bogey that gave Woods a momentary flicker of hope. But not even Woods could pull off such an audacious recovery.
"I learned my lesson there with the press," Woods said about being so vocal about his quest to pull off the Grand Slam. "I'm not going to say anything [in the future]."
What happened? "I just didn't make the putts I needed to make this entire week," Woods said. In fact, the world No. 1 used eight more strokes on the greens than Immelman, and Sunday, when he could have applied some pressure early in the round, missing a birdie try from eight feet on the third and a par putt from three feet on the fourth. Later, in a last gasp to put some heat on Immelman, Tiger failed to convert from six feet on No. 13. "I had the speed right," said Woods. "I just didn't quite get the line right."
Immelman, meanwhile, did just about everything right. He led the field in fairways hit, was T-2 in greens in regulation, fourth in driving distance and T-4 in putts. In both manner and efficiency he was reminiscent of the steady play of Goosen and Els, mates who have both won multiple majors with Woods in the field.
"I don't think it is ever easy to win a major in any era," Immelman said. "But you know, I'm playing in the Tiger Woods era. The guy boggles my mind. I'm an avid sports watcher, and I study top sportsmen. This guy is frightening in what he gets done and how he gets it done and the ease with which he gets it done."
The Woods aura was further enhanced two days after the Masters when he had surgery on his left knee to clean out damaged cartilage. The Masters was Woods' last tournament until the U.S. Open in June.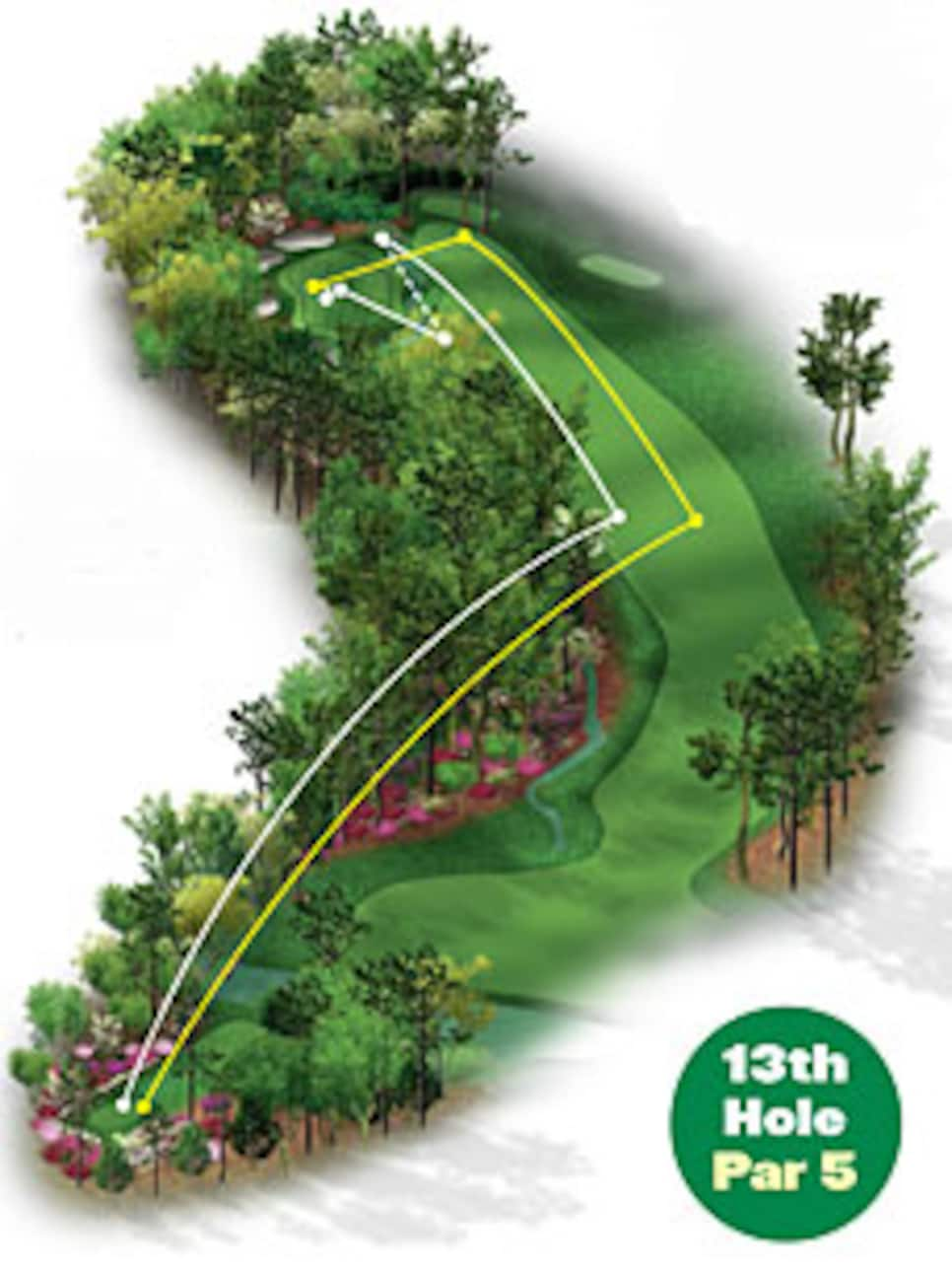 Likely, there were times during that stretch between Augusta and Torrey when the words Immelman spoke after winning the Masters echoed in Tiger's ears: "If you don't enjoy every step of the way," the South African said about the lessons he learned from his surgical reminder of mortality, "you might regret it, and that would be sad, to regret a talent that you were given."
Trevor Immelman held a three-shot lead over Brandt Snedeker when they hit their second shots from the 13th fairway Sunday. Immelman laid up short of the creek, hitting a baby wedge off the back slope of the green. The ball trickled down to the pin, two feet from the hole for a kick-in birdie. Snedeker, meanwhile, went for the green in two, but bounced his ball into the creek. After dropping he hit a stellar pitch to three feet putting him in position to save par, but he misread the putt and made bogey. Immelman's lead grew to five strokes, and the green jacket was all but secured.
"It used to be a lot of fun to play. It's not fun anymore, but it definitely got a lot more difficult. I don't think we have [heard roars] for the last few years. It's obviously a decision [tournament officials] made. It's their event, a different golf course, and there's a different way to approach it now."
Jim Furyk, on the effect of several changes made to Augusta National GC in recent years.
__"I don't know. I've never had the lead in a major going into the final round, so I have no clue how to answer your question." __
Trevor Immelman, when asked if holding the final-round lead in the Masters was different than holding the Sunday lead in any other tournament.
__"He played incredible golf today. His swing is absolutely the closest that I have seen to Ben Hogan, and I've always thought that Ben Hogan was the best striker of the ball from tee to green that I ever saw." __
Gary Player, on Masters champ and fellow South African Trevor Immelman.
__"I'd love to be the first to win them both, but I just have not ever had a chance to win the Par 3. My caddie gave me some terrible reads last year. Of course, she was only 5." __
Phil Mickelson, whose daughter, Sophia, caddied for him at the Par-3 Contest, on trying to win that and the Masters in the same year.