News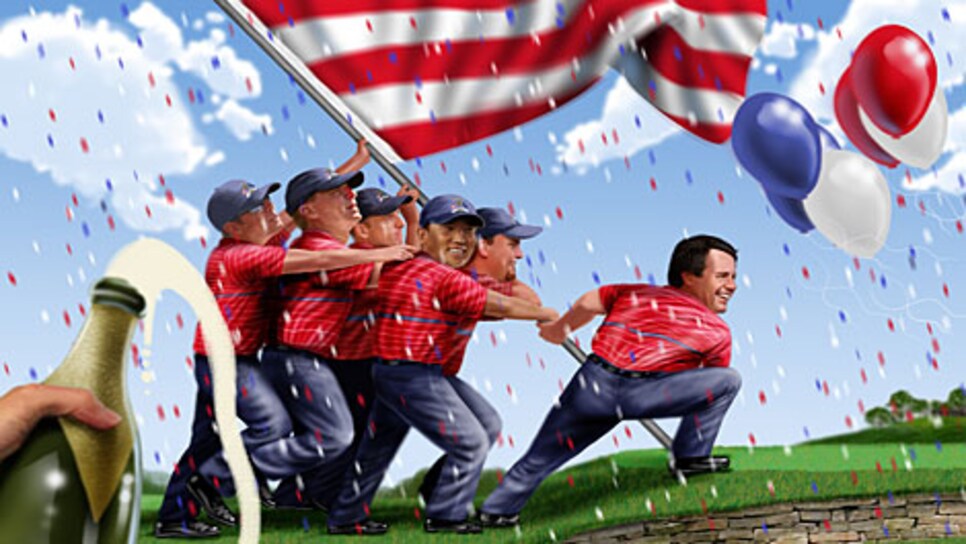 It's the end of the year, and I'm wondering: Has the PGA of America finished carving Paul Azinger's face onto Mount Valhalla?
The poor, pitiful Americans, beaten senseless twice in a row and deprived of the services of He Who Is Without Peer, rallied 'round the rednecks in Louisville to win the Ryder Cup for the first time since the last time, which was that time the Americans went running like a pack of puppies onto that green in Boston when they shouldn't have.
This time the only running was done by 23-year-old Anthony Kim, who went bounding off to the next tee even after he already had beaten Sergio Garcia, 5 and 4, in Sunday's opening singles match. As top point man and fellow Ryder Cup rookie Hunter Mahan was quick to explain, Kim just wanted to win 6 and 3.
As is the case in all Ryder Cups, the winning captain, Azinger, has been discovered to be one of the great geniuses of our age, sort of a cross between Nelson Mandela and whoever that fella was who mapped the human genome. The losing captain, Azinger's old television buddy Nick Faldo, has been revealed by the European cognoscenti to have an intelligence quotient that approaches the common garden slug. It is hard to look like a brilliant strategist when your three best players—Garcia, Lee Westwood and Padraig Harrington—all spit the bit. At least Harrington had a good excuse. Having won two major championships in a four-week stretch, he was in need of a nap.
Sure, the Yanks out-putted 'em but, even more impressively, they out- personality-ed 'em. Uncle Sam's squad gave away T-shirts by night and played to the gallery by day. They had two local boys, Kenny Perry and J.B. Holmes, who could speak fluent Kentuckian. And, most importantly, they had Boo Weekley, who rode his driver off the first tee like Big Brown and could tell the boys what happened that time he got punched out by a primate. The sum total of the parts was U.S. 16½, Euros 11½. Yee haw.