News
#1 The Woods-Mediate Playoff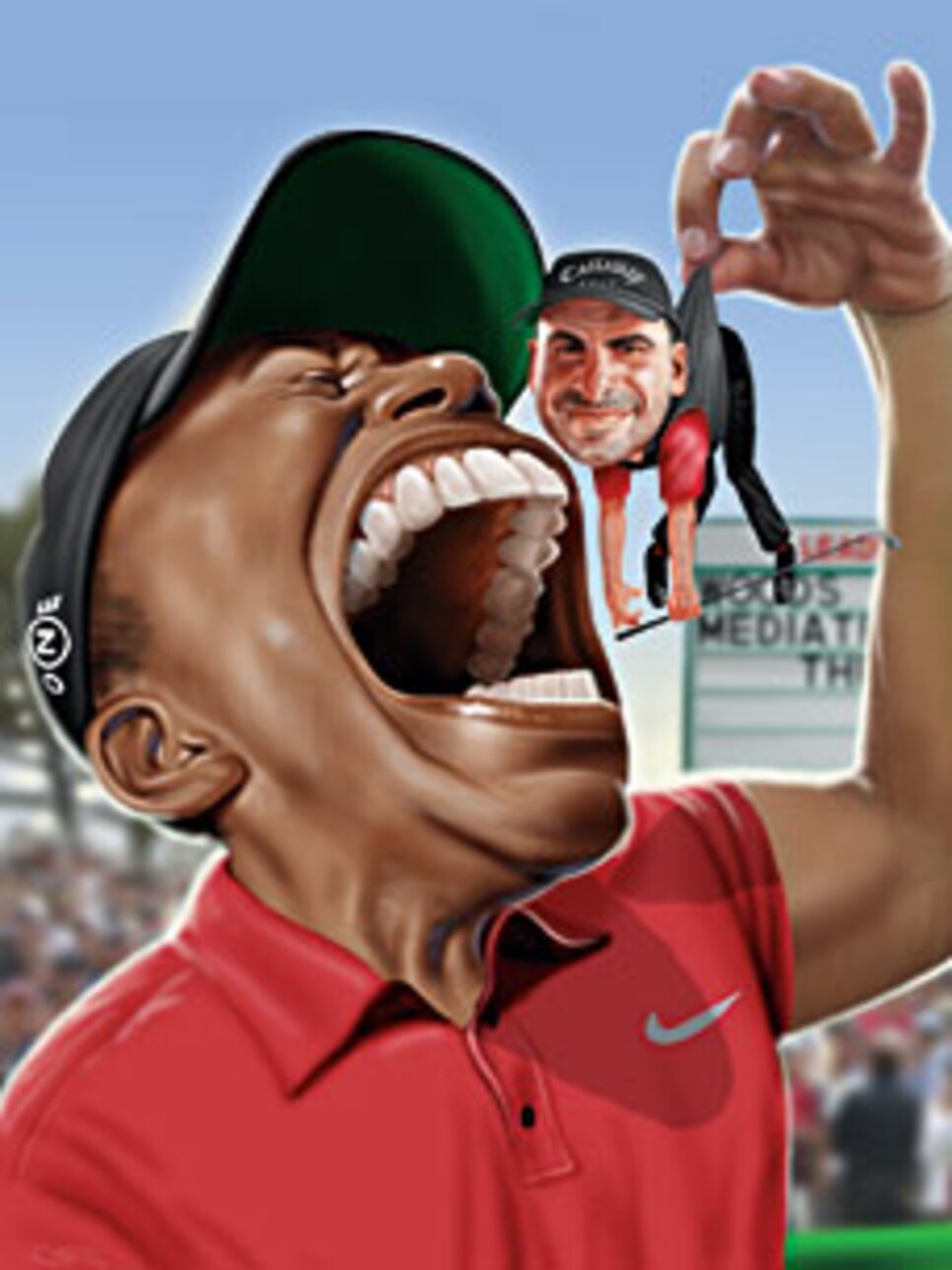 A butterscotch sun had the sky all to itself on the morning of June 16, rising over the coastal hills north of San Diego without a cloud in its presence. From a stretch of North Torrey Pines Road that runs along the Pacific Ocean, one could see the early light striking the water on a flat trajectory, topping the giant sea in a sublime orange sheen. It was a Monday with the perfect beginning, and for golf, the perfect end.
Modern history has not been polite to the 18-hole playoff, a tiebreaker format discontinued by three of the four major championships between 1967 and 1985. Rare is the dinosaur that grows old and even more unpopular. "We've had some real stinkers," says USGA executive director David Fay. "Competitively, it's valid, and it's fair to call it unique, which may be the most overused word in the English language."
Sometimes, things really are different. "Take two other players and put them out there," Fay adds. "We would have been lucky to get 2,500 people."
Instead, the atmosphere dials were turned up by 8 a.m. as thousands passed through security, the drum roll of anticipation heard throughout the Big Ballpark by the Pacific. Torrey Pines hadn't been on anybody's short list of potential sites when it was chosen to host the 2008 U.S. Open. In the six years since, the South course had been lengthened and redesigned by Rees Jones, but from an agronomic standpoint, it remained problematic, certainly not up to USGA specifications and far from the conditions presented at Oakmont or Shinnecock Hills.
You want unique? Southern California's first national championship in 60 years would be held on a public course with soft fairways and greens recently converted from bent grass to Poa annua. There wasn't much the PGA Tour could do about the squishy grounds when it played the Buick Invitational at Torrey Pines in mid-winter, but in the final week of spring, especially in a push-button climate, there could be no excuses.
"For months leading in, [the mentality] was, let's forget about trying to make it perfect and just try not to embarrass ourselves," admits Mike Davis, who was overseeing his third U.S. Open as senior director of rules and competitions.
It's funny how things work out. For all the times this tournament has been contested on premium layouts in pristine shape, few, if any, have produced the wall-to-wall drama or more unforgettable moments than the mutt. A lot of that had to do with the One-Legged Wonder, the human memory machine, but Tiger Woods had won 13 major titles before Torrey Pines, only one of which could rightly compare itself to the 108th U.S. Open.
That 2000 PGA was awfully good, but Woods didn't show up with a torn knee ligament, microfractures in the same leg and two months of competitive rust after surgery on the knee in April. "He had the MRI [May 31], and afterward, the doctor's explaining it all, but Tiger's not really paying attention," says swing coach Hank Haney. "He wasn't even looking at him, did not want to hear what he had to say, so the doctor starts talking to me. I'm like, 'Hey, Doc, it's not my knee.' "
Woods was advised to spend four weeks on crutches, then remain inactive for two weeks before beginning rehab. "Right after the doctor tells us this, that's when Tiger looked up," Haney adds. "He looks the guy straight in the eye and says, 'I'm playing in the U.S. Open, and I'm gonna win.' He bends over to put on his shoes, turns to me and says, 'Let's go, Hank. Let's go practice.' We knew people would be shocked when they found out what was wrong with him."
That 2000 PGA also had an oversize underdog, a guy who took Woods deep into a playoff before losing, a defeat that instantly would define his career in a positive sense. Bob May was every bit as tough at Valhalla as Rocco Mediate was at Torrey Pines, but May couldn't match Rocco's charisma or parlay a seize-the-moment mentality into a legitimate asset.
Mediate's willingness to connect with people during his rounds went a long way toward defining his popularity at Torrey Pines and beyond. In post-round interviews he birdied the Tiger Factor, speaking of Woods in glowing terms without compromising his chances of beating him. By week's end that opportunity had presented itself. The lunch-pail longshot was more than just glib, self-deprecating or direct. Rocco was bulletproof.
"If anybody else loses the U.S. Open that way, they get hung on a spit and have to deal with it for the rest of their lives," says one longtime observer. "Rocco does it and he ends up on Jay Leno."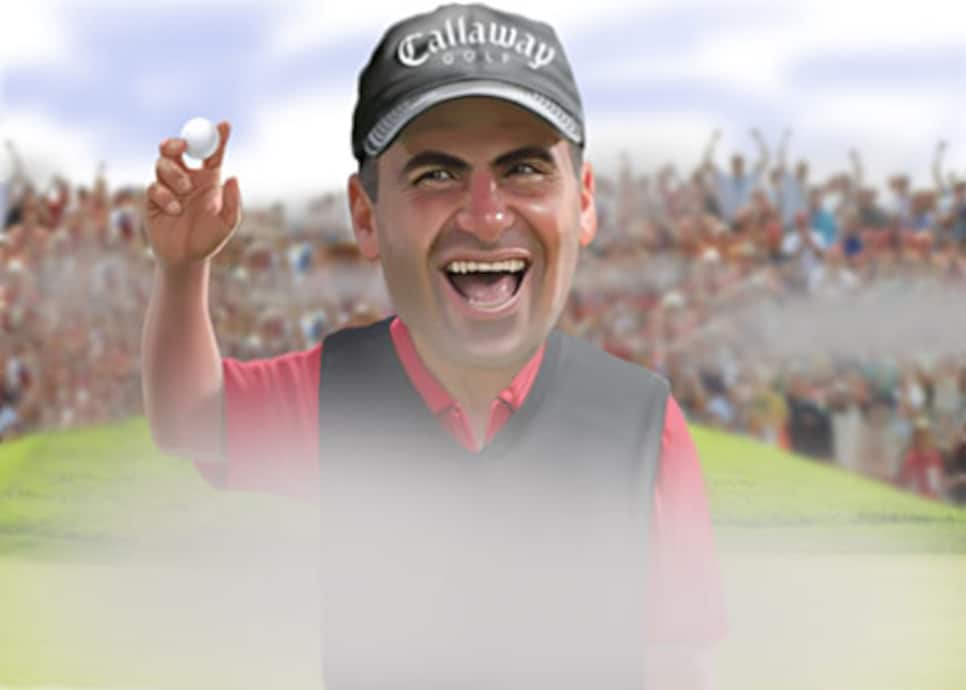 So the people came back en masse Monday morning, hoping for more memories, maybe even some history, as Woods had never lost a major after holding at least a share of the 54-hole lead. If for no other reason, they returned because Woods-Mediate was a sexy matchup with a bountiful storyline, so captivating because it was, uh, unique.
The Wounded Warrior vs. the Everyman, someone for everyone to like, with Tiger's injuries remaining the great unknown in more ways than one. Woods always showed older players a little more respect, and at 45, Mediate certainly qualified, but he was also chatty and antsy, and this wasn't exactly Tiger's idea of a social environment. On the road to immortality and Mount Nicklaus, he had covered a lot of ground with his head down and his mouth shut.
A fellow veteran fondly referred to Mediate as the shortest-hitting good player on the tour, meaning the dude with the five-o'clock shadow couldn't hit it out of his shadow. Woods, meanwhile, could seemingly do anything but grow a decent beard. This wasn't Ali-Frazier or the Nadal-Federer dream duel that would occur at Wimbledon three weeks later, but then, Tiger's toughest wins were in battles against guys with nothing to lose.
"A classic David vs. Goliath scenario, except in our game, Goliath is the smart one with the slingshot," says the ever-quotable Paul Goydos. "I watched most of it, didn't really root for anyone, but the compelling story was Rocco trying to stop the steamroller. Just a cool deal, great for golf."
That 2000 PGA was pretty compelling, too, but there are times when a three- or four-hole playoff doesn't feel like enough, and that was one of them. You wanted Woods and May to keep playing, not just for the entertainment value, but to satisfy the competitive element. The longer the overtime session, the more credible the champion becomes.
In a large part because it stuck to the 18-hole format, Torrey Pines became the USGA's finest hour, a slam-dunk triumph with a twist of irony for an organization criticized for its old-world mentality. Woods-Mediate was an extended-play encore with everything on the line, a fifth round that turned a superb tournament into one for the ages.
"Having done this for 20 years, I can say that it was my favorite broadcasting day," says NBC on-course analyst Mark Rolfing. "I've done a lot of good ones, but that day was special. The playoff had everything. It was unlike anything I've ever experienced." The sharp turns in momentum gave it character and amplified the crescendo effect.
Trailing Woods by three strokes with eight holes to play, Rocco's stunning rally was the haymaker that launched a flurry of action into sudden death. In cameo roles, fate and luck would ultimately figure in the outcome, although sheer skill was the biggest reason Tiger claimed his third U.S. Open crown.
"Honestly, I'm still having a hard time believing he won that tournament," Woods' caddie, Steve Williams, says five months later. "Mainly because the guy who wins a major championship isn't the guy who hits the most good shots -- it's the guy who hits the least number of bad ones. Tiger hit a lot of great shots that week. He also hit far more terrible ones than usual."
A lot of them occurred on the first hole, where Woods made a double-bogey 6 in three of the four rounds of regulation. His forays into the left trees were somewhat comical because he looked so inept, like a 15-handicap trying to escape trouble, but on Monday it was Mediate who flubbed a chip and walked away with a bogey.
"Tiger set a positive tone in the playoff with his very first shot," Rees Jones says. "Right down the middle off the tee, which obviously was pretty important given how he had played the hole."
Haney had planned to walk with the twosome but turned around at the first green and headed to a hospitality tent to watch it on TV. The swing coach didn't have inside-the-ropes access, and outside the ropes, the turnout was utterly staggering. At least 10,000 people were herding along from the outset. "I could not believe how many people there were," Rolfing says. "We're standing on the third tee box, and the crowd ran all the way back to the sixth fairway."
Mediate got his stroke back at the third, a downhill par 3 with a green abutting the edge of an oceanside cliff. Club selection can be difficult, but Rocco had no problems with that. Reaching into his pocket for a short tee, he pulled out a handful. Five or six of them were black, the other one white.
"He's very superstitious about his tees," Rolfing says. "He looks at the white one and says to it, 'What are you doing in there?' He walked right over and threw it in the trash can."
Good move. Mediate almost holed the shot, then tapped in to jump one ahead of Woods, who bogeyed. Tiger's speed on the greens had been slightly off a day earlier, although it didn't prevent him from making the bumpy, 12-foot curler at the 18th to force the playoff. That putt was pure heart and soul, however, and Woods was still having trouble getting his ball to the cup.
He did birdie the sixth and seventh, and when Mediate made a sloppy bogey at the par-5 ninth, Tiger's lead was two. As the telecast switched from ESPN to NBC, Fay, who had driven his wife to the San Diego Airport several hours earlier, settled in atop the 18th tower with anchor Dan Hicks and lead analyst Johnny Miller.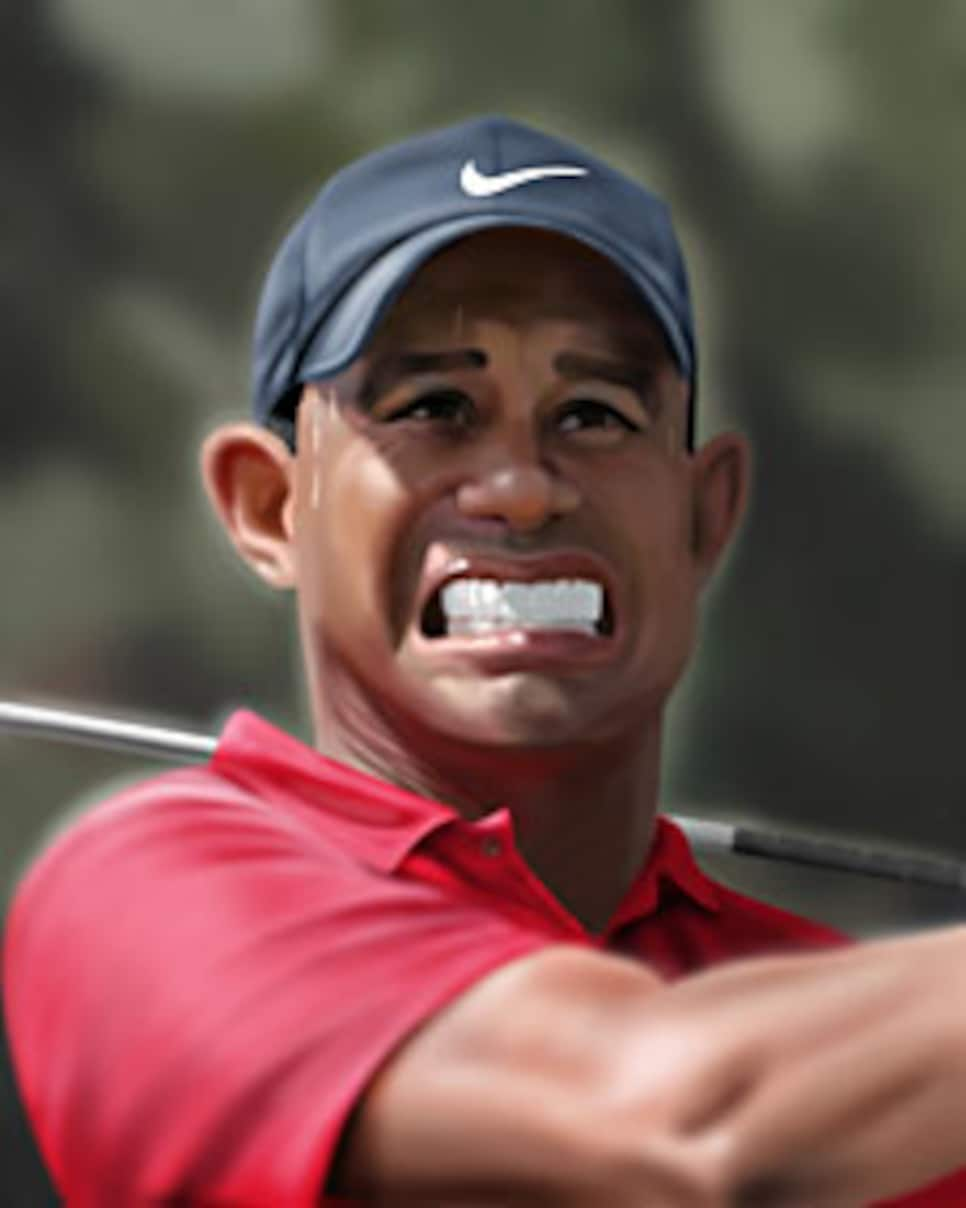 On the way to her departure gate, Joan Fay ran into a bunch of NBC employees also flying back to New York but on a different airline. "They asked why she wasn't on their flight," David says. "Joan tells them, 'I'm on JetBlue, and they've got TVs in every seat.' All at once, the NBC people jump up and make a mad dash for the JetBlue ticket counter. Her flight went from almost empty to absolutely booked."
The PGA Tour arranged for a charter from San Diego to Hartford, site of the Travelers Championship that week. About 30 players were on the flight, plus their wives, kids and a few caddies. "We all had TVs, and the timing was pretty much perfect," says Lee Janzen. "We took off around 8:30, and a half-hour later, the playoff started. It seemed like everybody on the plane was pulling for Rocco."
It wasn't helping. Another bogey at the 10th left Mediate three behind with the brawniest stretch of the course coming up. The perilous, par-3 11th, one of the toughest holes on the grounds. The monstrous, par-4 12th, which was only playing 504 yards, uphill. And the par-5 13th, a two-shot hole for Tiger, a third-shot wedge for Rocco.
"Torrey Pines has an ebb and flow to it," Jones says. "Some birdie holes, some places where you just have to survive." The mood on the tour charter didn't grow somber, but it got quieter, as if the carriage had turned back into a pumpkin. Tiger bogeyed the 11th, however, and Mediate hit his best shot of the day at the 12th: a 5-wood approach from 243 yards to 15 feet. He missed the birdie attempt, but another Woods bogey, this one from the fairway bunker, reduced the margin to one.
"I knew it wasn't over," Haney says. "The guy was playing for a fifth straight day on a broken leg. I just had a feeling it would go down to the wire and didn't know how much the guy had left."
It was 2:30 p.m. on the East Coast, 11:30 a.m. local time, and the entire country, or so it seemed, had stopped to watch a golf tournament. The USGA offered live streaming video of the playoff on its website -- the full-day audience of 2.3 million viewers and 615,000 concurrent streams are by far the largest numbers ever generated by a sporting event on the Internet.
"The fact that it was a Monday and people had to work obviously helped," Davis says. "We were told it actually slowed down Internet service worldwide in terms of [available] bandwidth."
ESPN's two hours of coverage produced a rating of 4.2, which was 35 percent higher than the previous record for a golf tournament shown on cable. NBC, meanwhile, generated a whopping 7.6/20 share with its telecast of the back nine, a 90-percent increase over the 2001 U.S. Open playoff between Retief Goosen and Mark Brooks. Ratings had been high all week with Woods and his bum leg creating interest from people he didn't often reach when healthy.
Monday was off the charts. "My 9-year-old son [Griffin] and I watched it together, and we were literally jumping off the couch," says four-time tour winner Steve Flesch, who was home in Kentucky. "To see my son getting into it got me into it even more. He's just starting to understand what his dad does for a living. It was a very cool experience."
Mediate's birdie at the shortened par-4 14th pulled him even, and when Woods drove it right of the tree line at No. 15, it appeared for the first time that Tiger had serious problems. His ball had settled in a fairway bunker on the ninth hole with no clear path to the green. Rocco strolled up the left side of the fairway, chatting with Rolfing. The gallery commotion made it hard for the two men to hear each other.
"Rocco, we still love you!" someone yelled when the noise subsided.
"Without missing a beat," Rolfing recalls, "he turns to the guy and says, 'Why would you ever stop?' It was like that all day."
If those who rarely watch golf tournaments watched the next 10 minutes, they saw the best this game has to offer. Mediate hit a nice approach into the 15th, but his 16-footer was going to be ultra-fast and move hard from right to left. Woods proceeded to hit a ridiculous shot from the sand, whipping a low hook around the clutter. Not only did it hop onto the green, it stopped five feet inside Rocco's ball and on the same line.
"With each year, it seems like the guys with an opportunity to beat Tiger have been playing their best, as opposed to how it used to be," Williams says. It is a point Haney has been driving home all year, and with one swing of his putter, Mediate validated it. Williams thinks Rocco's birdie attempt would have rolled off the front edge of the green if it hadn't dived into the hole. Not that it matters.
It was his third consecutive birdie, by far the most unlikely of the three, and the crowd around 15 went berserk. Rocco responded with a sheepish shrug. Rolfing couldn't hear anyone in his headset, which doesn't happen every week, and the funny thing was, Mediate really hadn't given Tiger a read because he had struck his putt too hard.
Woods missed. Rocco led by one with three to play. "I caught a glimpse of Tiger's face going to the 16th, and he was not a happy person," Jones says. "You could see he knew he was running out of time."
Just as the two men reached the 18th tee with Mediate still ahead by a stroke, the tour charter touched ground in Connecticut. The pilot actually sat on the runway so everyone could watch, and when one of the flight attendants came on the P.A. system, which cuts out the TV picture, there was nearly a riot.
Woods gathered himself and unleashed a mighty fade, knowing that shot hurt his leg more than any other. Needing a birdie to have any realistic chance at forcing sudden death, his 4-iron into the par-5 closer didn't clear the pond by much, but it did stay dry. Tiger doesn't hit golf balls into the water with a game on the line. He just walks on it.
We took off around 8:30, and a half-hour later, the playoff started. It seemed like everybody on the plane was pulling for Rocco'
With the tee up about 20 yards, Mediate might have been able to reach the green in two, but his drive found the left bunker. He made his par shortly after Woods rolled a 40-footer for eagle four feet past the hole. "There might have been 150 people on that plane, and there wasn't a single person who would have bet against him making that comebacker," Brett Quigley says.
There are stupider things to do with your money, like investing in the stock market, but that's about it. Tiger knocked in his birdie putt, and the plane pulled up to the gate in Hartford, leaving 30 tour pros to drag their wives and kids into Bradley International Airport on a desperate search for a television. "We basically sacrificed seeing their drives [on the first hole of sudden-death] to get inside," Janzen says.
It seemed like a high-percentage play at the time. When checking in that morning, Williams noted that any continuation of play beyond the 18th would begin at the seventh. Late in regulation, he pulled out the sheet again to make sure. "A bit of good fortune," he admits. "I was certainly surprised, thinking we would just go back and forth between the first and 18th."
A robust par 4 measuring 461 yards, the seventh isn't so much a dogleg-right as it is banana-shaped. It can be one of the hardest holes on the course, but more significantly, it greatly favors a player with a left-to-right ball flight. After Woods unloaded a 305-yard bomb down the right side of the fairway, Mediate, who relies almost exclusively on a draw, dumped his drive in the left bunker.
"You wouldn't believe the calls I got," Davis says. "Really nasty stuff from Rocco fans or people who don't like Tiger, saying we sabotaged the outcome of the tournament." Months before play began, Davis selected the seventh, eighth and 18th for the sudden-death rota. A par 4, a par 3 and a par 5, the three holes formed a tight loop close to the clubhouse, making it easy for spectators to follow along.
There were 24,971 of them, a remarkable total for a remarkable day that went from dramatic to anticlimactic quicker than any of the previous shifts in momentum. Mediate hit an awful second shot from that bunker. Woods tapped in for a routine par. The men shook hands. "Not just the event of the year," Jones calls it, "but probably the event of the decade."
Or of all time, at least as national championships go. If a lasting impact on the memory has any say in determining the best U.S. Opens ever played, the 108th version will only become more epic in time. It is human nature to glorify the past, although Woods' 91-hole triumph over Mediate does not require the cushion of retrospection to stand atop the list.
"It was one of those instances where you wonder if you're really seeing something historic or you're just getting caught up in the moment," Fay says. In this case, they are one and the same.