News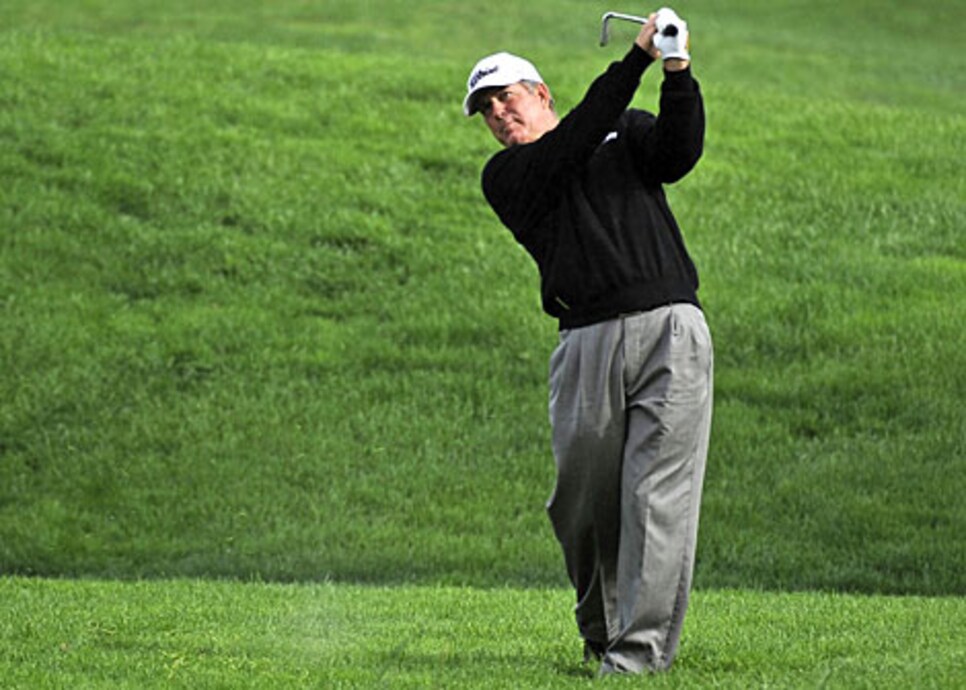 Haas prevailed after none of his foes put up a stiff challenge.
It may have seemed otherwise, but there was drama at the Charles Schwab Cup Championship Sunday, provided one knew where to look for it—skyward, as it were. At least the race against darkness and a Monday finish went down to the wire.
Heavy rain last week made a mess of Sonoma GC, in California wine country, though Andy Bean came through with the whitewash, a nine-stroke victory, the tour's largest winning margin this year.
As for the five players who still had a chance at winning the season-long Charles Schwab Cup points race, they were so far off the tournament lead even a pack of bloodhounds couldn't detect them. But that wasn't the point. It is more rewarding to play well over the course of a long year than a long week, evidence of which was the $1 million annuity Jay Haas earned for winning the Schwab Cup for the second time in three years, while Bean took home $442,000.
None of the five players still in contention for the Cup—Haas, Fred Funk, Bernhard Langer, Eduardo Romero and John Cook—finished in the top 10 in the tournament (points are awarded only for top-10 finishes), enabling Haas to win by the same 12 points by which he led entering the tournament.
"I was real fortunate nobody right behind me did what they had to do," said Haas, who tied for 16th in the tournament. "If you were handicapping it at the start of the week, you wouldn't have expected no points to be had by those top five guys. But when all is said and done and you look back on it, it's like NASCAR, when the guy holding the big major trophy at the end maybe doesn't win the last race. That's a pretty cool thing."
So it was not a dramatic Sunday finish, but it was a Sunday finish, and that was something, at least. It rained every day of the 72-hole season finale, a deluge suspending third-round play at 10:15 a.m. Saturday, pushing most of the round to Sunday and threatening to send the event to Monday, when more rain was predicted.
Haas' own forecast is considerably sunnier. A month shy of 55, Haas has had three stellar seasons in a row, winning the money title in 2006 and 2007 and the Schwab Cup this year, when he played the probable rookie of the year Langer to a virtual draw.
Langer managed only to derail Haas' bid at winning a record third straight money title; Langer finished with $2,035,073, $43,347 ahead of Haas.
"Leading the money list is a nice benchmark," Haas said. "I certainly would have liked to have done that. I knew I had to get at least a mid-top 10 to get Bernhard. I played a pretty nice round of golf this afternoon, the last 14 holes or so, and gave myself a lot of chances. I just didn't convert. But I was kind of in a four corners there for awhile."
The Schwab Cup was so void of drama that the outcome actually came down to a shot hit the week before, a troublesome chip at the last hole at the ATT Championship that enabled Haas to save par and tie for third, giving him enough points to pull ahead of Langer.
"As it turns out, that was the shot of the year," Haas said.