News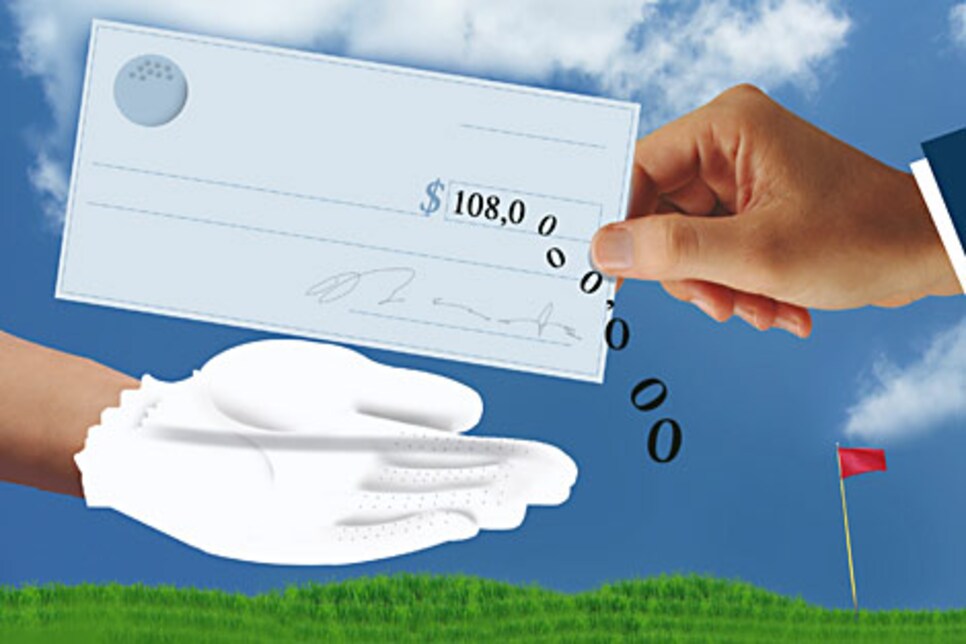 The Conservatory at Hammock Beach, site of last week's Ginn sur Mer Classic, is a visually stunning Tom Watson design that winds over humps and hollows, around numerous bodies of water and through a rather impressive piece of property near the Atlantic Ocean in Palm Coast, Fla. In every direction the line of sight is not intruded upon by man-made structures (except for the clubhouse), leaving only nature to please the eye. But that's not the way it was meant to be. In 2005, 337 lots at The Conservatory were sold at prices starting at $330,000, but virtually none of them are built upon, a silently shouted statement about the broader economic challenges whose shadows fall across the PGA Tour.
While veteran players at last week's tour stop admitted to the same economic jitters everyone is feeling, owned up to dismayed peeks at their Wall Street-battered deferred-income plans, and expressed concern about future endorsement deals, they also voiced confidence in their product and praised the way the PGA Tour prepared for tough times. With most tournaments under long-term contracts and a well-funded war chest in reserve if a sponsor or two goes belly-up, they believe the tour is reasonably well positioned in extremely unsettled times.
"Obviously, we have some concerns," said Brad Faxon, a former member of the tour policy board who has seen the tour grow from a purse of $21.3 million in his rookie year of 1984 to nearly $280 million this year. "We have a lot of corporate partners who are in financial services, cars, real estate, and those are tough businesses right now. We are not going to go unscathed."
In fact, the PGA Tour has a dozen title sponsors in the banking/financial services areas and another half-dozen from the auto industry. But except for three "opposite" events held the same week as more prominent tournaments next year, all current tour sponsor agreements run through 2010, more than half through 2012, several through 2014 and one through 2016.
"We are well positioned," says Faxon. "We have contracts, and we have a strong product." The tour also has another secret weapon -- cash in reserve for potential emergencies. "We are constructed to weather a crisis," said Davis Love III, another former policy-board member. "[Commissioner Tim Finchem] always said we had to have a war chest for disasters. If one or two events run into trouble, we have the money. I think Tim has been underappreciated. We will ride out the storm. If we don't take a pay cut in the next year or two, it will be a miracle -- and I don't think we will."
For years Finchem argued that not every dollar should go into purses. "Tim's done a fantastic job," said Chris DiMarco. "We don't have to play for $8 million every week." For the tour, the area of greatest vulnerability next year is the sale of corporate hospitality tents and pro-am spots. Players, on the other hand, will feel the pinch in endorsement contracts and -- at least in the short term -- in their deferred income plans.
Rocky Hambric, an agent whose clients include 1997 British Open champ Justin Leonard, says some equipment companies are cutting back as much as 25 percent in deals involving non-superstars, but predicts the big names will still draw top dollar.
"In the corporate world [beyond golf manufacturers] we have seen some reluctance, but not as much as I expected," said Hambric. "The companies who have been long-term supporters of deals with individuals don't seem to be abandoning that philosophy."
In addition to the title sponsors and television money -- CBS and NBC are signed through 2012 and Golf Channel through 2021 -- significant revenue streams are generated through corporate hospitality. That revenue is far from guaranteed.
At the Honda Classic, for example, a 1,410-square-foot chalet on the 18th hole sells for $45,500 and a 940-square-foot one fetches $34,500. A foursome in the Wednesday pro-am goes for $28,000 -- $7,000 per player. Some of these deals are locked in for next year, but some are not.
"Many of our sponsorship agreements were multiyear and [run] through the 2009 event," said Greg McLaughlin, tournament director of the AT&T National at Congressional CC, which has the advantage of having Tiger Woods as its host.
"The agreements up for renewal have been mixed," said McLaughlin. "Several corporations have committed to 2009, and others have requested to wait until after the new year to let us know. It's too early to say how the charitable contributions will be impacted, but we anticipate a similar donation to charity in 2009 [as in '08]."
Like anyone with a 401(k) retirement plan, PGA Tour players -- who have lucrative deferred-income packages -- have gotten hurt. "It's the talk of what's going on," explained Faxon. "Some guys have lost 30 to 40 percent, depending on how aggressively they invested."
Many players have adopted a don't-ask, don't-tell policy about their retirement plans. "I just don't look at them now," said Lee Janzen. "My plan is to live long enough to collect it." Added Love: "I tell my wife, 'Just don't look at it. It will only make you angry.' "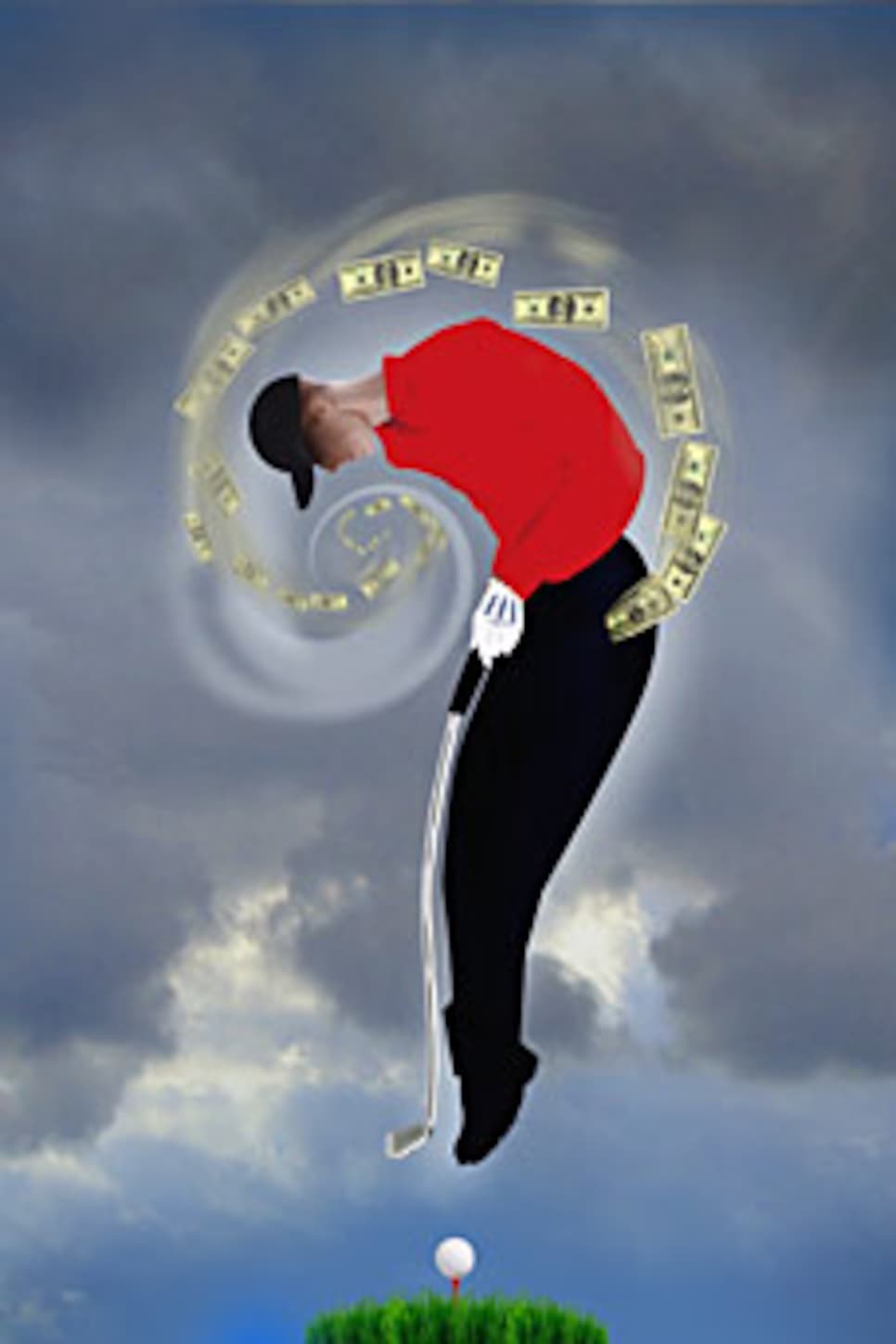 As for the Ginn sur Mer Classic, its fate is very much up in the air, even though its contract runs through 2011. Ginn has four real estate projects in Florida, and the real estate industry everywhere -- particularly Florida -- is struggling.
"The [Ginn] Championship [on the Champions Tour next March] and the [LPGA] Ginn Open [in April] are happening," said Ginn spokesman Ryan Julison. "After we get past the Ginn Open, we don't know what the future holds."
The past performance of the tour -- it renewed 21 title sponsors in the 20 months after the September 11, 2001, terrorist attacks and signed 18 new ones -- are reasons for optimism. "The PGA Tour has come through other recessions and tough times in as good a shape, if not better, than before," said Ty Votaw, the tour's executive vice president for international affairs and communications. "The best companies know that, especially in bad times, they always have to market, sell and entertain customers."
"No one is going to go out and look for another job," said Janzen. "We play golf because we love it. It's not like someone is going to give it up and become a real estate agent." Then, with a wry smile that betrayed the dark humor many are using to get through troubled times, he added: "I guess that's a bad example right now."
2010 Could Be The Key Year For LPGA
All indications are the LPGA will be down at least two tournaments in 2009, but with about one-third of its sponsor contracts (along with its TV deals with ESPN and Golf Channel) expiring after next season, and its sanctioning fees increasing as much as tenfold, insiders believe the real challenge for the women's tour will be the 2010 schedule.
The Fields Open in Hawaii and the Ginn Tribute in South Carolina are gone for 2009. Safeway is out as the sponsor of the Phoenix tournament, choosing to focus on its event in Portland, Ore., instead, but sources say the LPGA will fund a Phoenix tournament. And the ADT Championship -- the 32-player season-ending event with a $1 million first prize -- won't be played in 2009.
Tournament officials are pointing to a 2010 return, ideally as a February event to kick off the season, but so far lack a sponsor (ADT bows out after this year). The Stanford International Pro-Am will move from the Miami area to Houston (where Stanford is based) and become the new season-ending tournament, beginning next year. Neither scheduling proposal is sitting well with a significant faction of players, who feel starting the year with a $1 million first prize will skew the chase for the money title and that ending the season with a tournament with a 120-player field is odd since only the top 80 on the money list retain cards for the next year (in other words, non-exempt players for 2010 will be in the 2009 field).
"The best-case and worst-case scenarios are that we will be plus or minus two or three events next year," LPGA commissioner Carolyn Bivens told Golf World. "The next [few weeks are] a critical time." Bivens said she expects the tour's 2009 schedule will be released at this year's ADT Championship, which begins Nov. 20. She warned, however, that "in this economy, until you have a signed contract, nothing is buttoned up."
And in this economy, it is difficult to see adding tournaments. One addition for 2009 is a return of the stop in Thailand. But that means that as many as 11 of the LPGA's 31 tournaments next year could be played outside the U.S. And that is a whole separate discussion.