News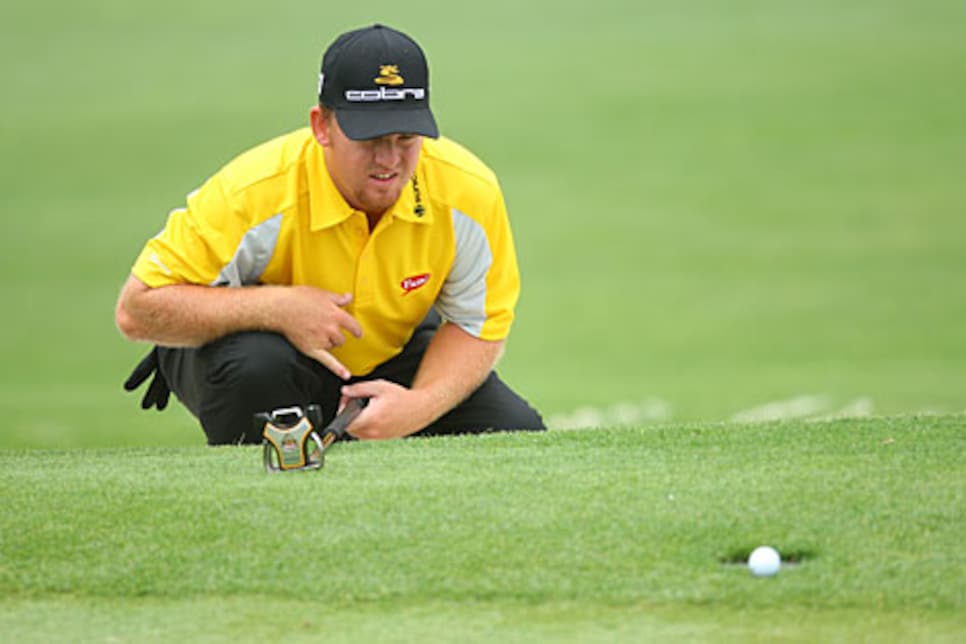 J.B. Holmes is among several tour pros using a large mallet putter.
When it comes to center of gravity in putters, designers are engaged in an almost limbo-like contest. They wonder: How low can we go?
It's an interesting question. A low and deep center of gravity in an iron or driver certainly makes sense. It helps get the ball airborne and promotes a higher launch angle. But isn't the idea of a putter to get the ball rolling forward as soon as possible and to reduce backspin and skid? And wouldn't a higher center of gravity better achieve that?
Not exactly, especially with many of today's larger mallet-style putt-ers. When a putterhead twists at impact, it produces unwanted spin. The larger mallets, for the most part, produce a higher moment of inertia that helps reduce twisting on off-center hits. This means a putt likely will have a truer roll, resulting in less skidding. Additionally, because of the large putterhead, the center of gravity needs to be placed farther back. To do otherwise might result in a putt that is driven into the ground, resulting in a lengthier hop and skid.
A large putterhead means puttermakers can design a deeper c.g., resulting in a higher moment of inertia. What that effectively does is produce a wider sweet spot on the putter.
That might help explain why some tour pros use large mallets such as the Odyssey 2-Ball and TaylorMade's Rossa Monza Spider. Even some blade-style putters, such as Ping's iWi Anser, use material such as tungsten inserts in the bottom of the club to get the c.g. low and back.
And with that comes putter manufacturers continuing to move the center of gravity back and low—something that wasn't always possible. Putters used to be one piece. Now it's a little more complex. Designers are attempting to move a lot more weight around than they used to. Part of the ability to do that comes from using lighter materials for inserts and, more often than not, that weight is moved back and down to enhance performance. In short, manufacturers are pushing the limits of perimeter weighting and center of gravity location, and it is a part of putter design that is not likely to stop soon.
Martin Brouillette, professor of mechanical engineering at the Universite de Sherbrooke in Quebec, Canada, said there is good reason to see this trend continue. "A two-degree loft with high MOI and low CG is a great recipe for a putter," said Brouillette. "You want a positive launch angle to get the ball out of the depression it sits in on the green and a low c.g. achieves that."
How low can engineers go? When it comes to putters, the question has not yet been answered fully.
How do you make a TaylorMade Rossa putter not look like a Rossa? That was the challenge Sergio Garcia gave TaylorMade. After changing to a blade-style Scotty Cameron by Titleist putter earlier this year, Garcia took a Rossa Daytona blade and personally ground and shaped the top line, toe and face to the look he wanted. That putter was shipped to the company for it to duplicate. The biggest challenge was to make the putter with the silver-colored finish Garcia prefers. Upon receiving the putter Garcia finished second at the Tour Championship and won the Castello Masters on the European Tour.
Whether or not Padraig Harrington saw the Aug. 29 issue of Golf World, fact is the Irishman has re-signed with Wilson, inking a three-year pact. The deal is the third contract Harrington has signed with Wilson, the first being in 1998.