News
Final-hole birdie gives Palmer the Ginn title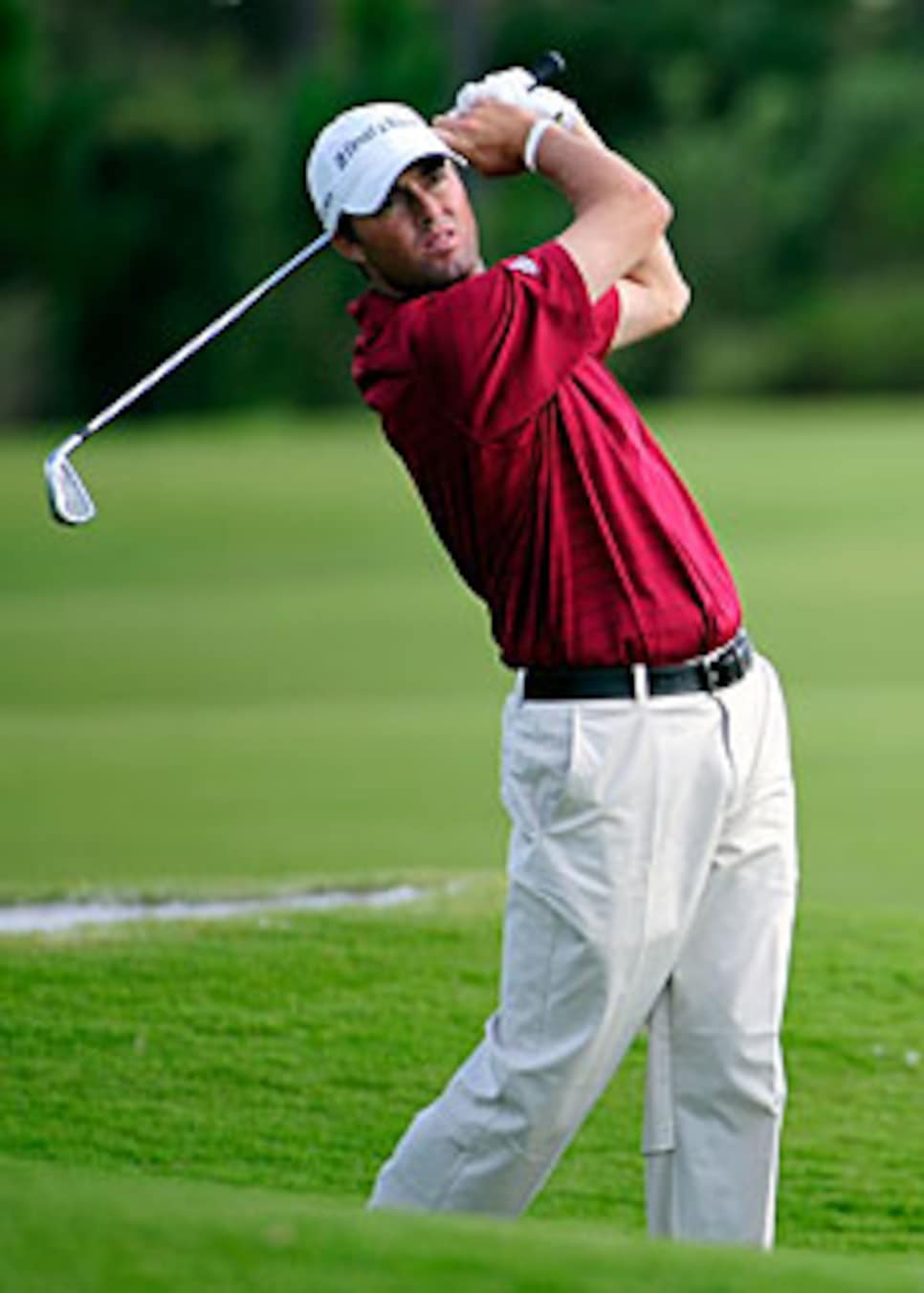 A season of hard work paid off for Palmer, who hadn't won since 2004.
Come hell (he was forced to call a penalty on himself on the 10th hole Sunday) or high water (wind and rain forced two final-round weather delays), Ryan Palmer persevered at the Ginn sur Mer Classic, eventually winning the tournament by a stroke with a birdie on the final hole. But perseverance is a trait the 32-year-old Texan knows something about.
Winless on the PGA Tour since the 2004 Disney event, Palmer was 144th on the 2007 money list and entered last week ranked 143rd after finishing in the top 100 in earnings from 2004-2006.
But sometimes there are reasons for a dropoff that are hidden from the outside world. In 2007 Palmer's wife, Jennifer, had a son, Mason. After the birth, doctors found a mass in Jennifer's colon. It proved non-cancerous, but part of her colon and her appendix were removed. Naturally, Palmer struggled while she recovered, and aside from a T-3 at the Canadian Open, he didn't have another top-30 finish all year.
He lost his tour status but hooked up with swing coach Randy Smith, a fellow Texan, in hopes of becoming a more consistent ball-striker. Smith changed Palmer's posture and has him hitting the ball solidly, but Palmer could never get into a groove on tour because of his limited status. The Ginn was his 21st event, but he only played five of the tour's first 20 weeks in 2008.
"I worked harder this year than I ever have in my career," said Palmer, who climbed to 73rd in earnings and qualified for the 2009 Mercedes-Benz Championship at Kapalua. "I told myself it was going to pay off one day. I'm tired of not seeing the results."
Palmer leads the tour in birdies per round and is second in putts per GIR, but as often happens, the numbers were misleading. "The stats show I should be making a couple million dollars," he said. "One guy said, 'You should be at the Tour Championship with those stats.' It's frustrating when you don't get the results when you know you're playing well."
At the Ginn in Palm Coast, Fla., Palmer birdied the last hole at the Conservatory Course to finish at seven under, one stroke better than Ken Duke, Vaughn Taylor, George McNeill, Michael Letzig and Nicholas Thompson.
But Palmer almost threw away the title with a mid-round hiccup. With a two-stroke lead on the 10th hole, he addressed his ball on the green, but the wind moved it as he brought his ­putt­er back. Palmer called the one-stroke penalty on himself and made bogey, and followed that by hitting his tee ball into the water on No. 11 en route to a double bogey.
Palmer birdied 13 to join the logjam at six under. But when none of the other contenders could get to seven under—Taylor came the closest, missing a 12-foot putt on 18 by inches—Palmer made a 10-foot birdie putt on 18 to secure the victory. "Halfway through that putt, it bounced and still stayed in the center right part of the cup," Palmer said. "What a way to win a golf tournament."
Sometimes, as Palmer would agree, if you persevere, you get the breaks you've ­earned.
Last-chance Success Stories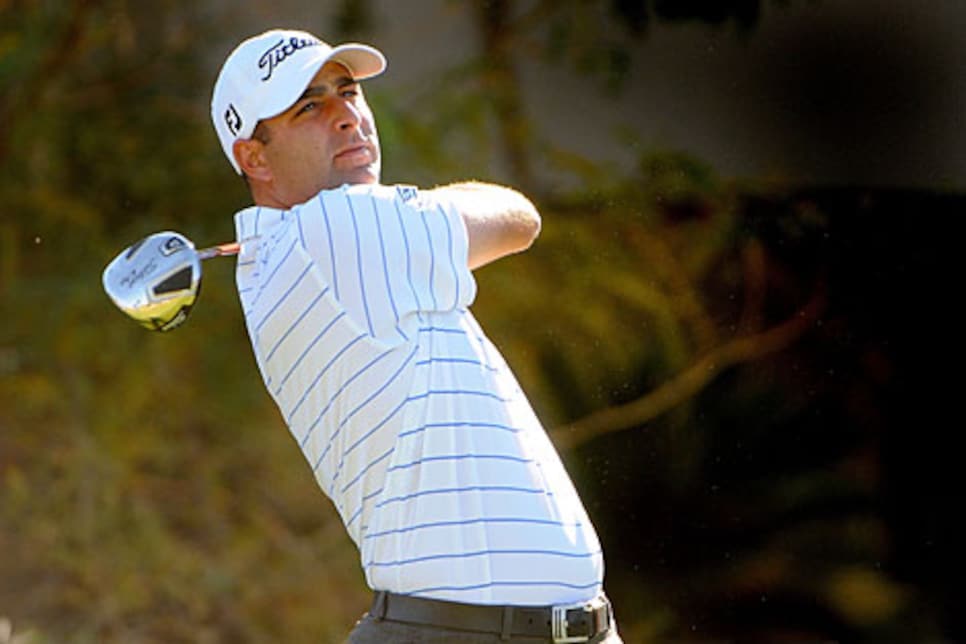 The fall has become a proving ground for those trying to keep their cards
Photo By Marc Feldman/Getty Images
At the Bay Hill Club Lodge Sunday morning, Arnold Palmer and wife Kit pulled up a chair at his favorite table and commented on the latest stage of the Fall Series. "I picked up the paper yesterday morning, saw the name 'Palmer' and wondered if I was leading the tournament," Palmer joked, referring to Ryan Palmer's place on the leader board at the Ginn sur Mer Classic.
This time of year, it's easy to get lost in the rank and file. Come Sunday evening, "Palmer, Ryan" joined a list of post-FedEx Cup winners who were successful in their fight to keep their tour cards. Of the six fall winners, only 2007 Masters champ Zach Johnson already had his card for 2009. Post-playoff victories by Will MacKenzie, Dustin Johnson, Marc Turnesa, Cameron Beckman and Palmer all earned them the privilege of two more years on the PGA Tour. The list of 2008 Fall Series champions is what it is: a half step above the Nationwide Tour in star power, with talented and resilient performers from the back pages of the PGA Tour media guide.
Among those in the mix with Palmer (see page 38) at The Conservatory in Palm Coast, Fla., were Michael Letzig, a rookie with a black mop of hair sticking out of his visor; bearded Englishman Kenneth Ferrie, who was last seen as Phil Mickelson's playing partner in the final round of the 2006 U.S. Open at Winged Foot; and journeyman John Huston, looking for his first win since 2003.
With this collection of grinders leading the way, it's no wonder PGA Tour commissioner Tim Finchem didn't want to "go up against football." On a windswept Tom Watson golf course that measured nearly 7,700 yards, the Ginn was about survival—as it has been all fall. "It doesn't matter if you're 200th on the money list," Letzig pointed out after an opening-round 65. "Everybody out here can play."
To be fair, the seven events tacked on the end of the regular season were not created for TV ratings, but as a payback for those being left behind in the FedEx Cup playoffs. Davis Love III called them an opportunity "to pull a Justin Leonard." In 2007 Leonard won the Valero Texas Open and used the momentum and confidence boost to make the 2008 Ryder Cup team.
This fall Love has come close a few times, with a T-3 at the Turning Stone Resort Championship and a T-6 at the Justin Timberlake Shriners Hospitals For Children Open. The latter event was claimed by Turnesa, who lost the Viking Classic, the first Fall Finish event held the week of the Ryder Cup, when he dunked a shot in the water on the 71st hole, opening the door for MacKenzie to win in a playoff.
The more famous Johnson, Zach, got halfway to matching Leonard's double of a fall win and a Cup berth when he won the Valero Texas Open. He had only one top-10 for the year and hadn't played in six weeks when he teed it up in San Antonio. Closing with rounds of 62-64, the Iowan put a different spin on his year with career victory No. 4. It wasn't the same as slipping on the green jacket at Augusta, but it didn't feel much different than winning the regular-season BellSouth/ATT Classics in 2004 and 2007. "If you have a good year, you really don't need to play [fall events]," Johnson said. "If you have a mediocre year … it's a great opportunity to turn things around."
Johnson has an exemption through 2012 for winning the Masters, but Beckman, who came into the Frys.com Open ranked 175th on the money list, did not. As he pointed out, just as important to the tour player as avoiding the dreaded trip to PGA Tour Qualifying School is being able to control where to play, and when. "There's no substitute for being exempt," said Beckman, who won the Frys in a playoff over Kevin Sutherland after a back-nine 30 at Grayhawk GC in Scottsdale. "You lose control of your schedule."
The best example of what Beckman was talking about was Palmer, who finished 144th on the 2007 money list but was playing his 21st event at Hammock Beach. The problem was that Palmer was not fully exempt on tour and only played three events the first three months of the season and had to fill in his schedule with Nationwide events. The stop-start nature means players not fitting their schedules around their games.
And it has become tougher to get a spot in the Fall Finish. With fields reduced to 132 players because of shorter fall days, and players such as Hunter Mahan, Ken Duke, Robert Allenby and Ryuji Imada not wanting to end their seasons after the Tour Championship, veterans such as Billy Andrade, Bob Tway and Olin Browne got squeezed out.
Andrade and Tway, both past champions and long-time supporters of the tournament in Las Vegas, did not make the Timberlake field. Browne received a sponsor's exemption from tournament director John Subers in Palm Coast, and paid the tournament back by doing a QA during the pro-am draw party—as Andrade did to get into the Fry's.com.
"The Fall Series is showing that a lot of guys want to play golf, so when the FedEx Cup Playoffs are over, you've got a group of guys who are hungry," said Andrade, a 22-year veteran who was 191st on the money list entering Ginn. "It's a different landscape, but you want to keep playing to keep your status … maybe even catch a miracle."
To that point there may be no miracles—or Children's Miracle Network for Andrade this year. As of Monday, he was not in the field for this week's final PGA Tour event.