News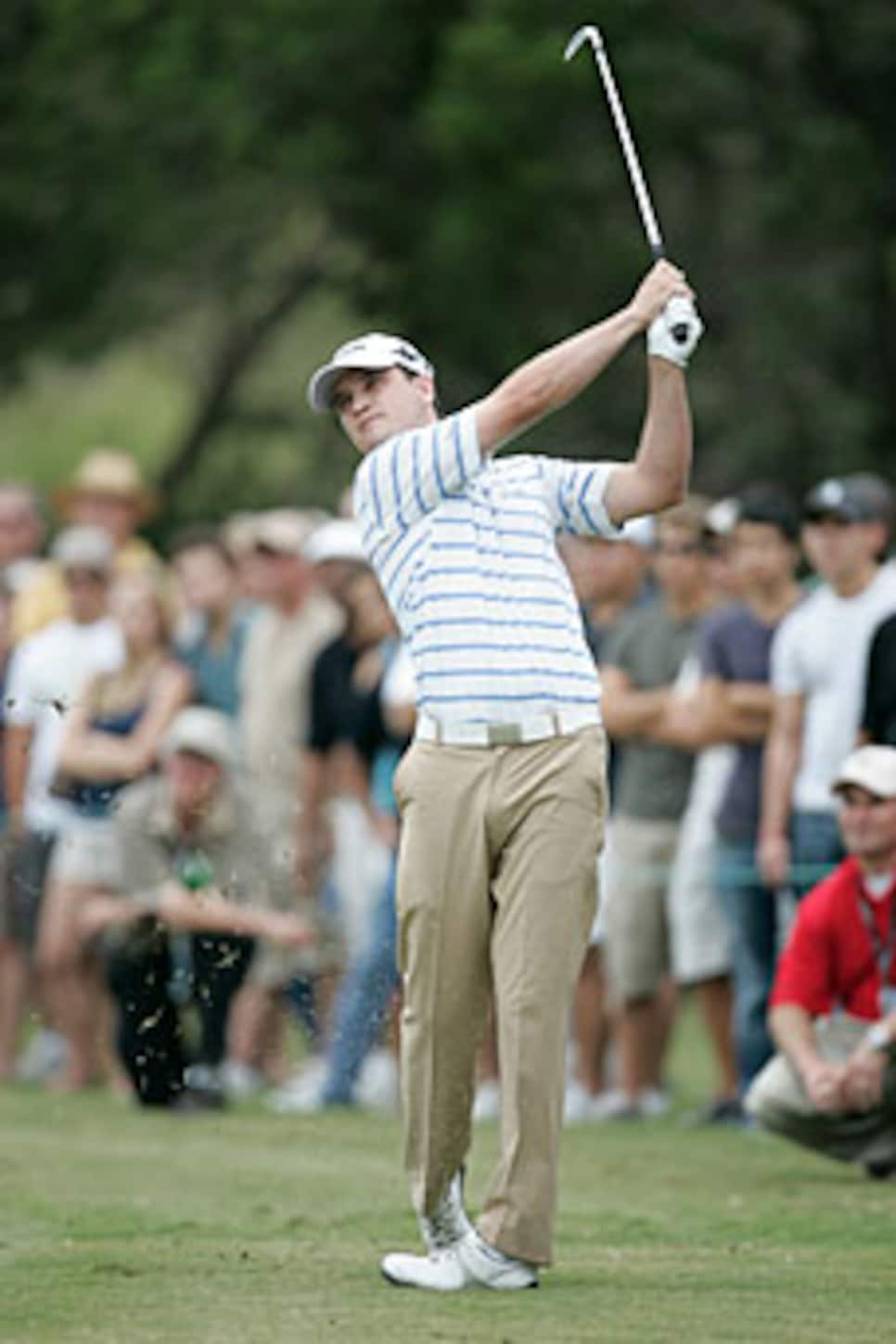 The Texas Open win marked Johnson's first top-10 finish since Doral in March.
His name is Zach Johnson, and he is from Cedar Rapids, Iowa, and after winning the 2007 Masters, he really should need no introduction. But he has been rather quiet since, so last Sunday's victory at the Valero Texas Open should wear well on the fiesty veteran of green-jacket fame. Johnson carded a final-round 64, on top of Saturday's 62, to prevail by two strokes and thus reinforce what he has been telling himself throughout this dark patch. Think about the process, not the outcome, and the game will be your friend again.
Johnson had managed only one previous top-10 in 2008, leaving him a lowly 125th on the money list. For his first crack at the Fall Series, he felt strongly two ways. "I had no expectactions coming here, yet I knew I was going in the right direction and was encouraged," Johnson said. "I liked how I was striking the ball, probably better than a year ago. It was my putter that had always been a strong point for me, that I had to get back."
The short stick obliged as Johnson logged a 19-under 261 at La Cantera, a resort layout not meant to be walked by man, woman or billy goat. Who said Texas is flat? But this quarry will yield some numbers. Johnson, in the lead pairing, had to fend off three hot players who also bucked a noticeable breeze to share second—Mark Wilson (63), Tim Wilkinson (64) and Charlie Wi, who posted 61 seven twosomes ahead, perpetuating a week-long feast. To wit: Steve Elkington and Bob Sowards each shot 28 (doubling the season's total on tour) on his back nine Sunday, but neither had a sniff at the $810,000 grand prize.
If you're scoring at home, Johnson's win was his fourth on the PGA Tour and first outside Georgia, where he claimed his second ATT Classic about a month after his Masters moment. But it was more than that. Johnson dedicated this trophy to the citizens of his native Iowa, which was ravaged by floods in mid-June. "Those people have been unconditionally supportive of me," said Johnson, who has returned the favor. Last month he hosted a fundraiser that funnelled $350,000 to the cause. "That's my roots. When I heard about what happened there, and then went and actually saw it, it hurt. Bad."
So did watching the Ryder Cup. "I know I didn't belong there based on results," Johnson said. "But I saw every second, rooted for our team and want desperately to be back there. If I play the way I think I can, I think I can be in the mix again." Johnson effected a three-stroke swing Sunday at No. 1, a par 5 that he birdied. Meanwhile, third-round leader Rory Sabbatini made a mess there with a double bogey from a tee ball in the fairway. Johnson bogeyed No. 2, but he saved par at No. 5 with a six-footer, then birdied the next three holes. At No. 9, Johnson and Sabbatini were put on the clock, and Zach beat that too. He quickly birdied No. 10, then broke a three-way jam at 17 under with a birdie at the 14th. When he saved par at No. 15 from 13 feet, it looked like the same old Zach. "That was huge … this win is huge," concluded Johnson, who praised caddie Damon Green for reading greens and dutifully noted the benefits of finding fairways on a fast track. "I estimate I used eight to 11 wedges every day," he said.
Nathan Green's 62 led after Thursday, but he sagged to 75 Friday when Chris Stroud shot 64 for a two-shot advantage at 10 under. Saturday was Sabbatini's turn to go low, and his 63 was just low enough to secure the slimmest of margins over Johnson. Like your neighborhood 7-Eleven, Sabbatini doesn't seem to close very often, but Johnson gladly will wait less than a year to defend his newest title. Despite its sub-prime autumn date and quirky venue, the Texas Open led the league in charitable contributions for 2007 with $8.4 million. But with Atlanta off the schedule, this tournament will move to mid-May in 2009 and in 2010, to a Greg Norman-designed TPC layout. "La Cantera has been great for us," said Tony Piazzi, president and CEO of Golf San Antonio. "But we've gotten to the point where we've outgrown it." The spring date will place this tournament after Wachovia/Wells Fargo and the Players, and before Byron Nelson, Colonial and Memorial. Rare will be the golfer who plays those six in a row, and the three Texas events might be most vulnerable. "But we like our chances," said Piazzi, "and we'll see how it works out."
At least during the spring, there will be no football except spring football. In May the NBA Spurs are usually involved in playoffs, but they work at night, all the better to tempt golfers seeking complimentary tickets. Last Saturday's third Valero round took distant undercard billing to the Texas-Oklahoma game that started at 11 a.m. in Dallas. "We can't put the telecast on the scoreboards," said Piazzi, "but we can make it available on TVs in the hospitality areas." Sunday the Valero was up against the Dallas Cowboys and Houston Texans on TV, not to mention highlight shows hailing Texas' upset of Oklahoma.
Mia Parnevik, Jesper's vivacious wife, doesn't care about football, but, like many of the golfers' families and friends, appreciates perks such as privileged access to the Six Flags amusement park beside La Cantera. On Wednesday night the complex was closed except to Valero VIPs. Trailed by her children, she was asked whatever happened to school. "Not this week," said Mia, whom Piazzi has seen departing the joy rides with bags of stuffed animals. "Her kids will be carrying a bunch of stuff, too," he said. "They walk out of there with all these prizes they won. And then they give them all away. They donate them to local charities. Nice."