News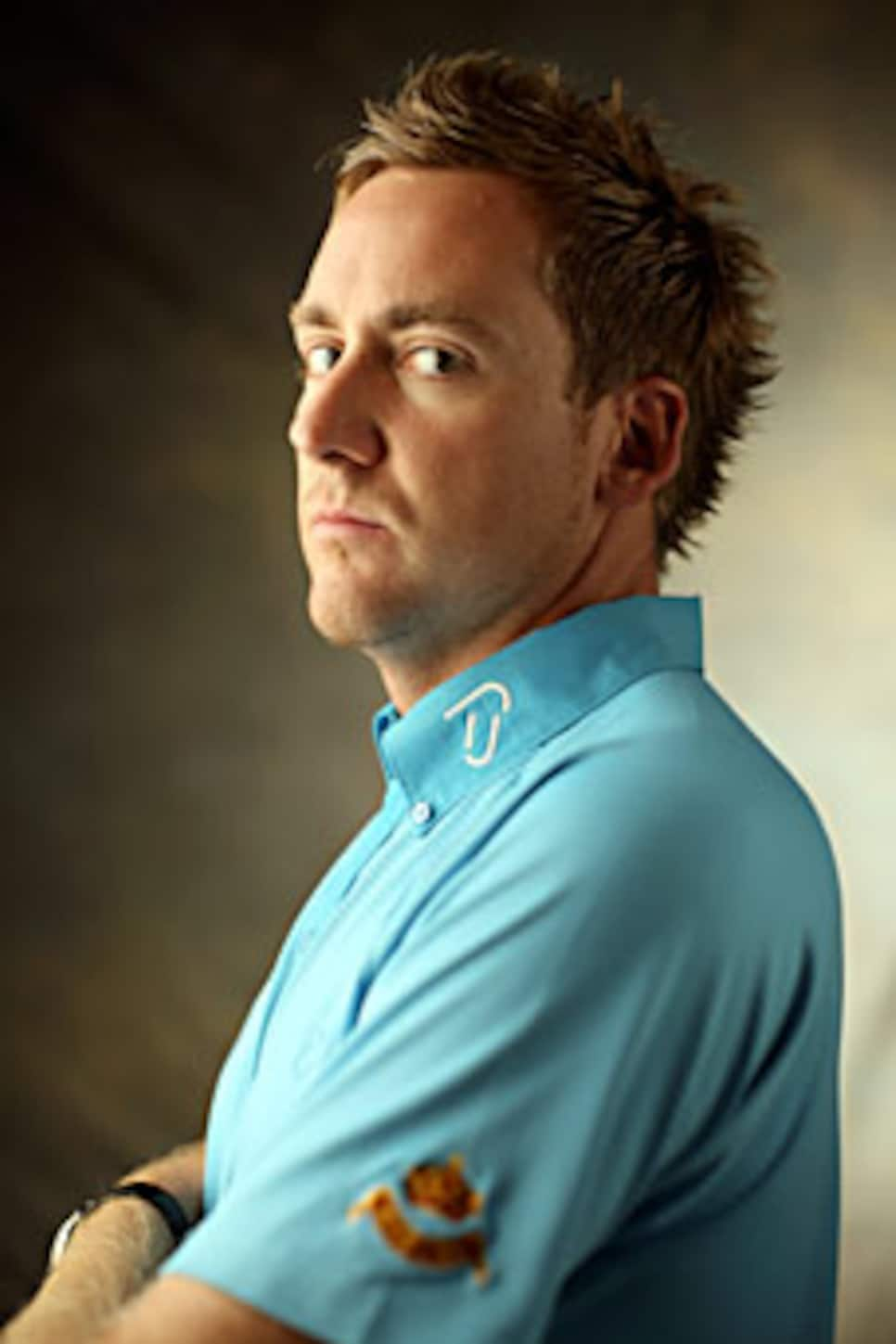 A picture of confidence, Poulter has made news on the course as well as off in 2008.
Back in England after playing in the Kolon-Hana Bank Korea Open and the Ryder Cup, phone pressed to his ear, Ian Poulter was pacing around the barn he converted into a home in Milton Keynes, a town northwest of London, multi-tasking as always. Poulter is the type of person who can never sit still; his mind is alive with creative thoughts, such as the look of his new website or his line of clothes that will be shipped to 18 countries in January. That's the way it always has been for the cheeky boy who grew up selling clothes in a marketplace in the village of Stevenage, not far from where he was taking this call.
The Ryder Cup would be either his breakout moment or a major career setback, and with the heat on him to produce, Poulter evolved from all the previous adjectives used to describe him -- "brash," "cocky," "flashy," "audacious" -- to become a world-class star. After years of trying to make it on one of golf's biggest stages, Poulter finally had. "I'm happy," he says. "The question was asked prior to the Ryder Cup -- when I was being asked some very awkward questions -- what I thought I could bring to the Ryder Cup. My answer was short and sweet. 'Passion, flair and excitement.' "
Poulter could have added "buzz" to the mix, one of his favorite descriptive words. He used it to explain the highs he felt at the British Open in July at Royal Birkdale, where he was tied for the lead after his 16th-hole birdie Sunday, and at Valhalla, where he won four of five matches after dealing with the emotional stress of being one of Nick Faldo's controversial captain's picks. But it was all a part of the landscape for Poulter, who created massive buzz this year on many fronts.
In January he posed nude for the magazine Golf World UK for a story in he which was quoted as saying, "I know I haven't reached my full potential yet. And, when that happens, it will be just me and Tiger." A pink Cobra golf bag may have covered his private parts, but there was no masking the words. After winning at Dubai the same week the magazine published, Woods responded to a question about whether the gap between Nos. 1 and 2 in the world was greater than that between No. 2 and No. 1,000, Woods grinned and said, "I thought Poulter was No. 2 in the world."
Poulter was, indeed, the No. 2 golfer at the British Open, finishing four strokes back of Padraig Harrington. Even then, he stirred up a mini-controversy before the tournament by standing for hours in the same spot on the practice putting green, leaving indentations of his footprints on Royal Birkdale's sacred sod. This drew a rebuke from R&A chief executive Peter Dawson. Like a mischievous student with a strict headmaster, Poulter recalls the conversation:
Dawson: "The putting green."
Dawson: "Two large footprints, indentations in the putting surface."
Dawson: "I'd quite like it if you didn't do that again. If everybody did that, we'd have no putting green left."
Poulter: "I was engrossed in my work. But no matter what I should have done, it was a putt I wanted to keep working on. I'm sorry."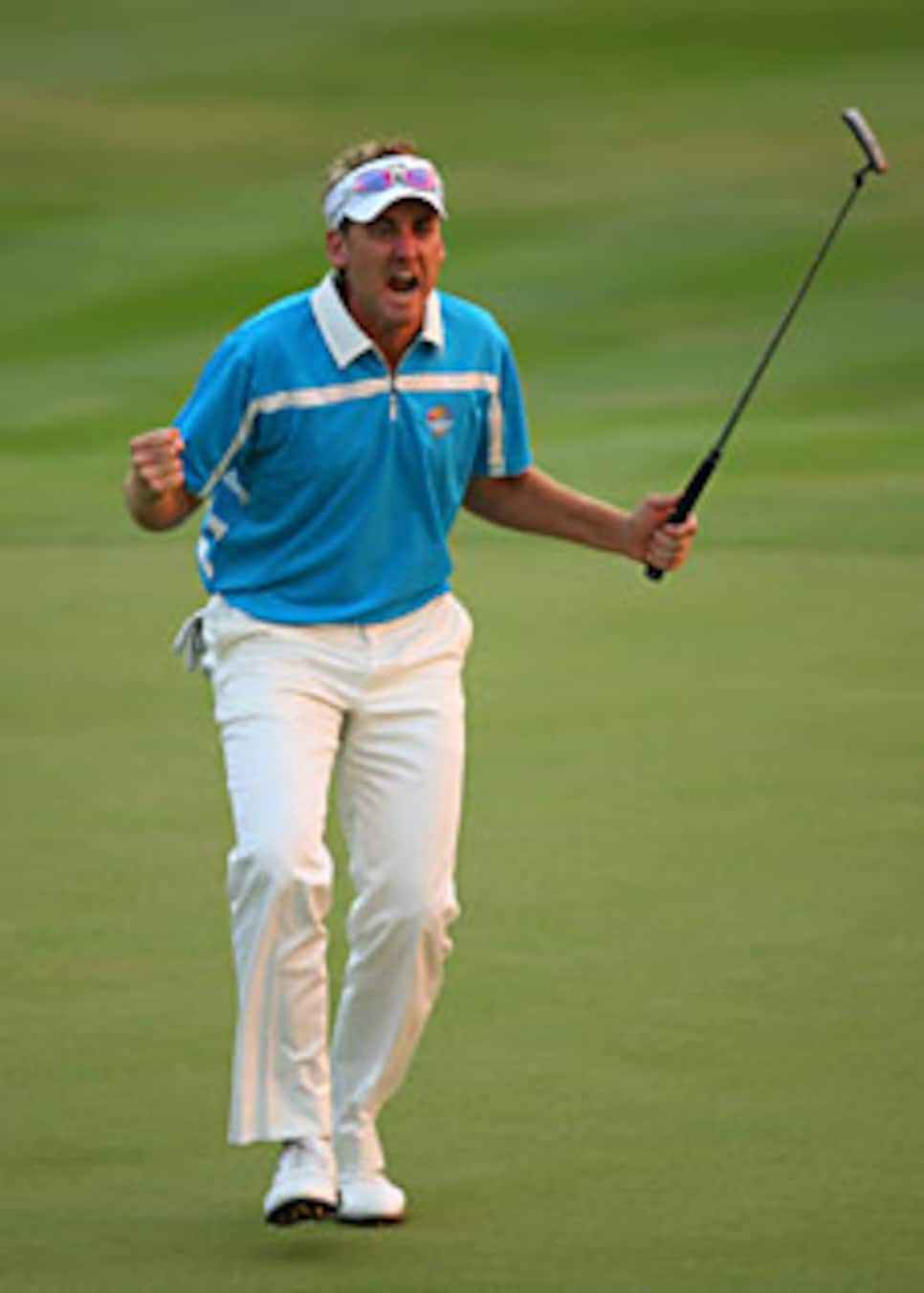 So sorry that coming down the back nine Sunday, Poulter turned to caddie Terry Mundy and said that if he won, he would return to the practice green, cut out his footprints and either transfer them to his garden or concrete them as a trophy.
Six weeks later Poulter angered many in the U.K. media by skipping the Johnnie Walker Championship at Gleneagles, the final qualifying event for Europe's Ryder Cup team, in order to play the Deutsche Bank Championship, his 15th PGA Tour event of the year. Poulter explained he wanted to secure his playing privileges in the U.S. for 2009 and didn't want to have to return to do that after the Ryder Cup. When Faldo eventually added him to the team instead of fan favorites (and Cup vets) Darren Clarke or Colin Montgomerie, it created still more controversy.
But Poulter responded. Despite Europe's defeat, he had the best record of all 24 players in the matches, closing with a 3-and-2 victory over Steve Stricker in singles. "Big moment," Poulter says of the week in Kentucky. "I'm just so pleased to come away with that record. It was a relief to play like I played, to show everybody and tell everybody. One of the papers said, 'All mouth and trousers.' [I just wanted] to make people think twice about those comments. I took a lot of that personally in the weeks leading up to the Ryder Cup. I decided to turn my phone off and to work hard on my game. To perform like I did was awesome."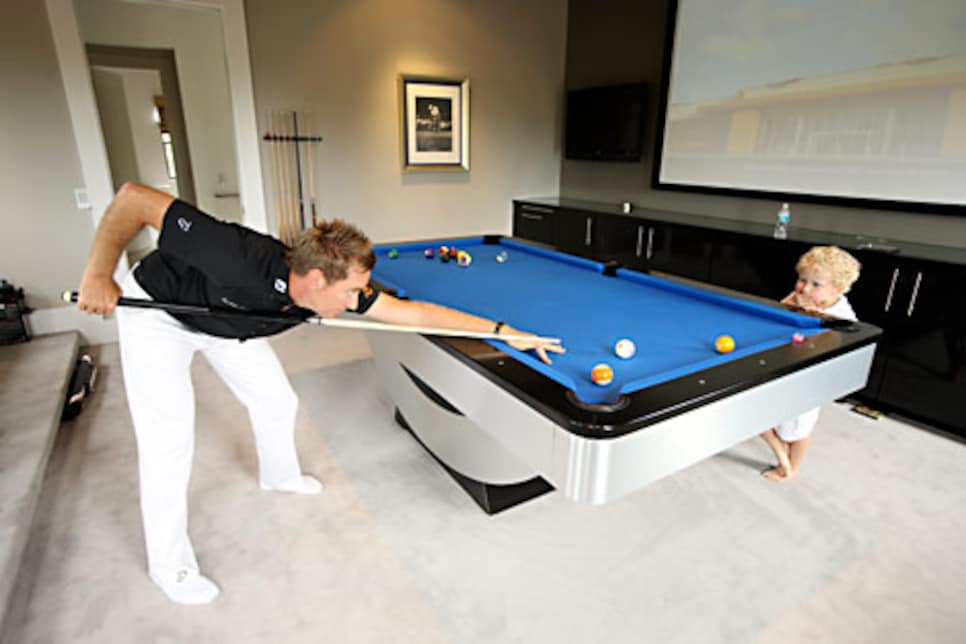 The son of a British aerospace engineer and a mother who worked in women's clothing stores on High Street, the 32-year-old Poulter wanted more and figured out a way to get it, whether it was that first pair of Nike Air trainers or the wealth he has accumulated over the past decade. He created a character with spiked hair and flashy clothes. "If you look at old pictures, where his hair was flat, none of this spiky stuff, very normal is the way to put it," says Ryder Cup teammate Paul Casey. "Not the rock star kind of image he tries to pull off."
Not a junior prodigy, Poulter learned the game by sharing a set of Patty Berg irons with his brother Danny, playing at the local course or hitting balls on a nearby soccer pitch. In 1991 at age 15, Poulter worked in the pro shop at a club called Jack'O'Legs near Hitchin, selling Mars bars and Diet Cokes from behind the counter rather than continuing his education at the Barclay School in his hometown of Stevenage, where he was known for skipping classes or drawing pictures of golf-ball packaging.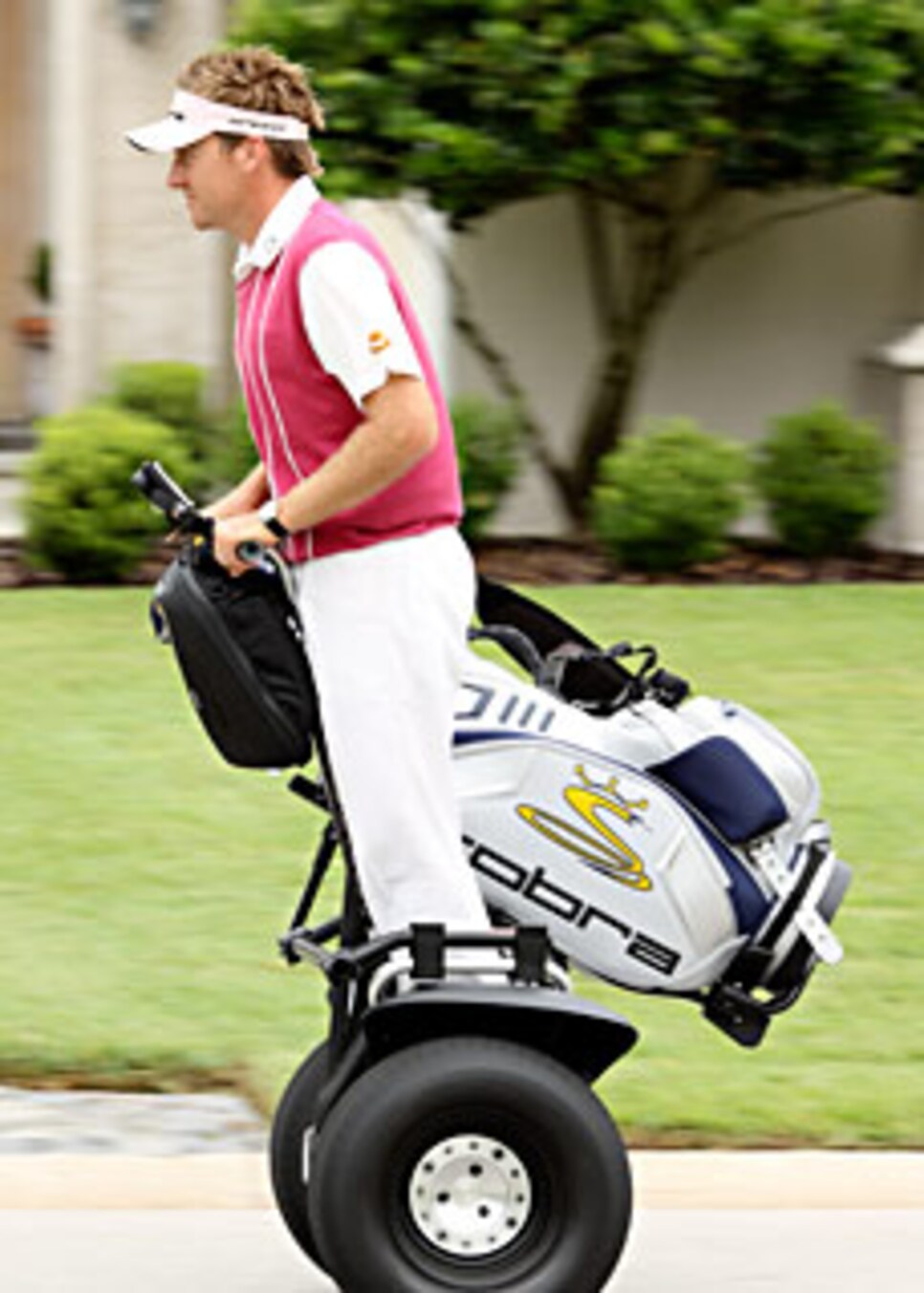 In 1993 Poulter went to the British Open at Royal St. George's, where Fred Couples autographed the face of his Ping putter with a Sharpie. He also remembers the pants Payne Stewart wore in a practice round, tailored with a slit at the bottom of the pant leg. Not surprisingly Poulter was a big fan of the persona Stewart created through his wardrobe. "Wow," he thought. "I want to get to the stage where I get my trousers made with slits on."
Later that year he went to the Ryder Cup at The Belfry. He was now working full time in the shop for meager wages and scraped together enough to attend the matches. "We camped in a tent about a mile and a half down the road," he remembers. "The campsite was full so we found a place where they only charged us £3. We pitched a tent in their back garden. We were washing our clothes in their kitchen, cooking baked beans and [eating them] with white bread. We might have been a little under the drinking age. It was seriously funny."
At the tournament Poulter displayed the brashness that would define him as a pro. Describing himself as "the cheeky spectator who would slide inside the ropes," Poulter sat next to Seve Ballesteros and talked Montgomerie into giving him a Titleist 4 that he still has in a desk drawer. "I remember the roar from Faldo's hole-in-one," he says. "We were two holes away, and it was the most unbelievable buzz, an electric atmosphere on every hole."
At 19, still working at Jack'O'Legs, Poulter entered a club pro tournament called the Pansanger Classic. To qualify, he had to make up a certificate that he was a 4-handicap, but once in competition he played like a tour pro, shooting 66 to win. The next day at work, he proudly put the trophy on the counter in the golf shop, but the head pro told him to remove it. Poulter didn't last there much longer.
Poulter took a job at Leighton Buzzard GC and played in events such as the Mizuno Assistants Cham­pionships, which he won, or the Hippo Tour, where he won the Order of Merit. Unlike his previous boss, Poulter found an encouraging mentor in Lee Scarbrow, who recently told theguardian.com, "Ian is without doubt the most self-confident person I have ever known. He really believes that for him, anything is possible."
Poulter worked his way up through the Challenge Tour, where he became friends with Justin Rose, who was struggling at the beginning of his pro career. They met on a putting green at the 1999 French Open and ended up rooming together.
"He's a fighter," says Rose. "He never had anything handed to him, He went out and got it. He had a different career than me. He knows nothing about amateur golf. If I'd mention the Eisenhower Cup, he'd say what the hell is that? He was competing in the PGA South Region Assistants at Leighton Buzzard."
While Poulter has seven European Tour victories, including a playoff victory over Sergio Garcia in the 2004 Volvo Masters, most golf fans became aware of Poulter because of his style rather than his substance. He wore Union Jack pants in the 2004 British Open, the fanfare ultimately leading to his own clothing company, in which he has invested seven figures in start-up and production costs, as well as creating a super high-tech website (www.ianpoulterdesign.com). His latest catalog was shot on location in London, with Poulter hitting shots at some of the city's landmarks.
It's part of the trendy rock-star image Casey talked about -- "England's golfing peacock" is what the papers call him back home. "A lot of people miss the point," says Danny Poulter. "Ian is Ian. He's a pain in the ass sometimes, but everything he does is for a reason. He always tries to make himself better. He's so confident, it borders on arrogant. But that misconstrues Ian. He's ultra-confident, not arrogant."
So the kid who managed to acquire that first pair of Nikes is now the gadget and big-boy toy freak, from the two-wheeled Segway he uses to tool around his second home in Orlando's Lake Nona, to the two-door silver Bentley in his garage, to the flat-screen TVs on his walls, to the Villeroy & Boch bathrooms. Over 12 years the kid who was making $300 a week in the golf shop has grown into an adult with a tiny empire -- all on his own. "My mom always laughs," says Poulter's wife Katie, who the golfer married last year. "The first time she met Ian, he told her he'd be a famous golfer someday. My mom sort of laughed at him. Determination got him there. I think my dad mentioned that at the wedding speech."
That determination was first apparent when Poulter was a boy. He tells a story of the time he substituted in his father's company pool tournament and ended up rolling the tables. He was age 10, "as nervous as I've ever been in my life. But that was the start of the winning thing."
Despite this reputation as a closer, Poulter let his latest tournament slip away in Korea, bogeying two of his last three holes to lose to Bae Sang Moon, then ranked 348th in the world. It was not the type of finish expected out of the 25th-ranked player and vindicated Ryder Cup star, let alone the player with aspirations of being No. 2 someday.
But if Poulter is blunt, he is blunt about himself as well. "The year has been very weird in terms of how I've played," he says at the start of a three-week break, after which he will play all the high-profile events in Asia, including the Dunlop Phoenix, where he is the defending champ. "I certainly haven't fulfilled what I said I should fulfill early in the season."
But then he talks about that look he had on his face, the putts he holed at Valhalla, and if he could bottle that intensity, he ­really could, in his mind at least, move up 24 spots on the World Ranking. He promises to prepare as he prepared for the Ryder Cup, preparing the way Tiger does, getting off the plane at every event, no matter where, ready to win. Poulter knows he's not there yet. But that doesn't mean he isn't going to try and find that buzz.