News
Tiger Has New Territory To Conquer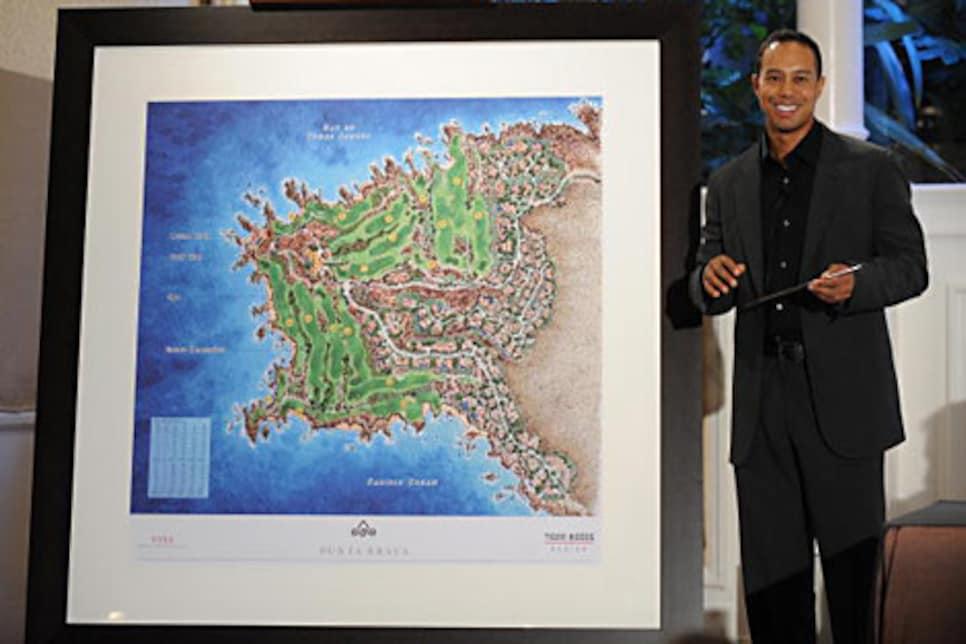 Tiger debuts the layout for his latest design project, Punta Brava.
Tiger Woods pop-ins are always welcome, but especially when he has been so conspicuous by his absence. Last week during two public appearances in Southern California, the recently named "most powerful person in sports" appeared in fine fettle -- little leaner through the shoulders, hair a bit longer, hairline a bit higher, no limp.
Competitive golf remains on hold. At a brief Saturday morning clinic for his learning center at Pelican Hill near Newport Beach, Woods wore shorts that revealed a two-inch long vertical scar on his left knee attesting to this year's surgical procedures, but no apparent signs of atrophy. Though he held a 5-iron, Fred Couples and Chris Riley hit all the shots. Woods occasionally dropped into address position and checked his takeaway, but never made so much as a lazy practice swing.
He won't hit his first ball since the U.S. Open until after the first of the year. Currently a hostage to the healing process, he's using his vaunted willpower to suppress any longing for the arena. "If I could play, I would miss it," he says. "But I can't, so I don't." Over and out.
His budding career as a course architect is another matter. Last week he appeared at the tony Hotel Bel-Air in Los Angeles to announce his third project, Punta Brava, located on the tip of a stunning Mexican peninsula on the Pacific about 70 miles south of San Diego. A compact 6,835 yards from the back tees, the private par-70 scheduled to open in 2011 will feature eight shots over ocean water and ocean views from 18 tees, fairways and greens. With the 16th and 17th holes each par 3s played over crashing waves, and a 544-yard, dogleg-left par 5 hugging the coastline as the closer, the course seems a direct (and more spectacular) descendent of Cypress Point and Pebble Beach.
With a rumored fee of $25 million, it would be easy to dismiss Woods' entrance into the course design field as a slick money grab. But blogger/architect Geoff Shackelford, a self-described curmudgeon with a particularly sensitive antenna for the design sellout, had to admit he was impressed that Woods fought and won a battle with his developer to assure that property originally planned for premier homesites be used instead to create the 12th hole. Woods compares the planned par 4 to the eighth at Pebble Beach and calls it the best hole on the course. "That stuff just doesn't happen anymore," said Shackelford.
Such is the hammer Woods wields. Still, even with his injury, his career as an architect holds more unknowns than his return as a golfer. As a player Woods never has appeared particularly passionate about design. His highest praise for courses tended to be sound bites such as "It fits my eye" or "It's all right there in front of you." Those he didn't like were dismissed with the all-purpose, "It is what it is." Where other players such as Ben Crenshaw and Geoff Ogilvy enjoy deconstructing the playing field, Woods has channeled his energy into taking it apart.
But Woods has long expected he would be leaving behind a body of course design work. Over the last few years he has enjoyed picking the brains of the leaders in the field, and speaks of his long conversations with Pete Dye with particular relish. As his healing period has given him time to shift more focus to a new discipline, Woods has the catchphrases down. Empathetic to the average golfer, he favors "playability," "use of the ground" and "fun," while generally averse to "target golf." He also professes to enjoy studying topographical maps enough that they've begun to litter his living room.
Asked to list his five favorite courses, he skirts the issue in the same way he refuses to say which presidential candidate he is planning to vote for, but still provides an revealing answer.
"There's only one, St. Andrews," he says. "Because of all the options and the execution, the wind and slopes, the lay of the land -- the whole thing. You have to think, and that to me is what it's all about."
Just as Woods lets his clubs do his talking, he will let his courses do the same. While plenty of great players have disappointed in their course-design work, Woods' temperament would seem extra intolerant of failure. To this point, his legacy is consistent excellence, and he doesn't want that to change. "Like everything else, I go in leery and questioning," Woods said about taking on the Mexico project. "I always want to do the right thing in my life."
Because being a genius at more than one thing is perhaps the rarest attainment in human kind, it's unlikely Woods' design work will reach the standard of his play. Then again, the living cultural icon most often compared to Mozart may turn out to be more like Leonardo.