News
Back To The Drawing Board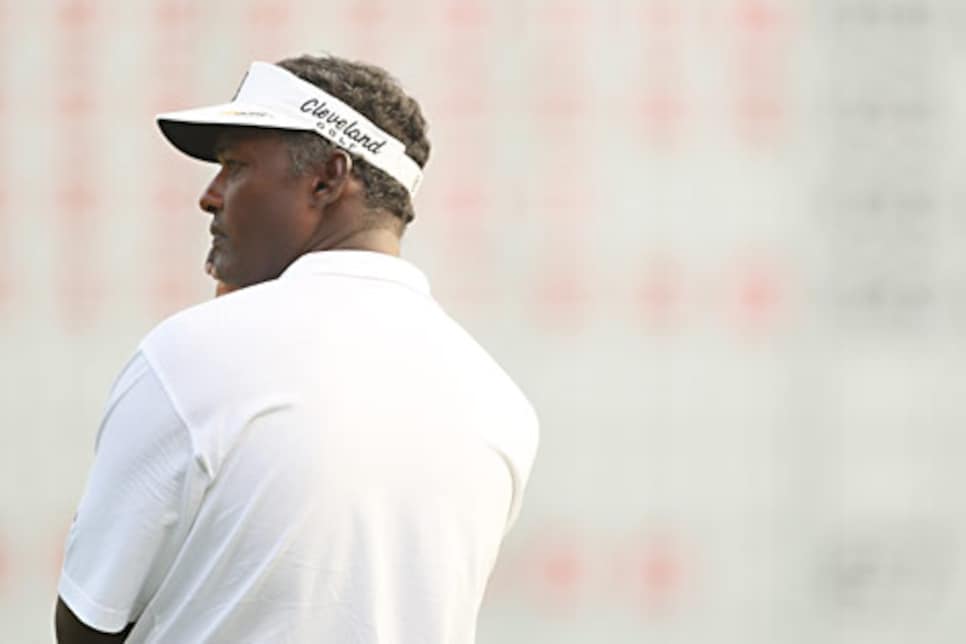 Singh's FedEx view -- "this [system] is good enough" -- is atypical.
Tim Finchem's in-box was full last week in Atlanta, but he was still taking feedback even as Vijay Singh accepted the publicity-smudged and still unkissed FedEx Cup trophy. It seemed as if every tour player, media member and corporate marketing executive connected with the Tour Championship had a suggestion on how to fix the PGA Tour's attempt as a season-ending exclamation point. The commissioner was in town early to take temperatures, returned to headquarters in Florida for a couple of days to digest the input, then flew back Sunday to cajole sponsors and present the first-place check to Singh, winner of the playoffs before the final tournament -- ostensibly the Super Bowl of Golf -- was ever played.
"I get e-mails from people who stay up all night working on the math," Finchem said over lunch in the East Lake clubhouse Sunday. He spun the criticism into a positive, saying that if people were talking FedEx Cup, that was good. He praised the competitive nature of the system. He admitted the kinks hadn't been worked out yet but bragged about what a show his guys were putting on. In a statement to Golf World, FedEx said it "continues to be very pleased" with its sponsorship. "It's all good," Finchem concluded.
All good? How could it be all good when a Sunday duel in the final event of the year between Sergio Garcia, Camilo Villegas, Anthony Kim and Phil Mickelson -- all of whom had a putt to win or tie on the 72nd hole -- was rendered meaningless by a flawed point system? A huge buzz-kill, especially in the aftermath of a Ryder Cup that was absolutely electrifying. Finchem never flinched: We'll tweak it, roll out something better in 2009, it's a work in progress.
"It's been very positive," he went on. "It's been fine. Guys have made some very good, interesting suggestions. I think that's the great thing about it. I've never been troubled about discussion about the Cup. None of that stuff bothers me. It's been a good week for me."
Finchem did admit a variety of solutions are being considered, from turning the Tour Championship into match play to creating a system similar to the LPGA's ADT Championship, where players are eliminated each day to produce a Sunday shootout for all the cash. As reported last weekend on golfworld.com, one of the alternatives is an 18-hole shootout among the top four to eight players in the standings. "The fundamental is we know it needs to finish this week," Finchem said, meaning not four weeks earlier, when Singh effectively locked up the Cup by winning the Deutsche Bank Championship on the heels of The Barclays.
In the shootout scenario, the Tour Championship would begin Wednesday and conclude Saturday, leaving Sunday open for the last men standing to play one round of stroke play for a whole lot of money. "In theory, it's a pretty good concept," said Joe Ogilvie, a member of the tour's policy board.
PGA Tour executive vice president Ty Votaw acknowledged the shootout as an option and added, "It may seem alluring in some respects. We may come up with a better idea or receive feedback that leads us in another direction." The possibility of a mini-match-play competition may warrant consideration, although the tour's contract with Accenture, which hosts the WGC-Accenture Match Play Championship, is believed to hold exclusive rights to that particular format.
The only definite right now is that there will be changes. Players won't receive 2,000 points for making a postseason cut, as was the case this year, and there's a good chance the original qualifying field of 144 will be cut to 125. These are minor details compared to the end result, which has failed to come even close to generating the final-day drama commonly associated with playoffs in other sports.
Volatility became the catch-word for this year's points system, a result of tweaking the original format. For many, it was a case of creating too much volatility. "I don't have the answer, but I think last year is closer to what we need than this year," said Kevin Sutherland, who vaulted from 57th to 11th in the FedEx standings, mostly on the strength of a playoff loss at the Barclays. "This year was much too much volatility; they overcooked it big time. I've said the problem with movement is you might get movement, and that's what they got. It's tough because you want to reward Vijay for what he did the first two weeks, but you also want to allow for suspense."
All of this will shake out in the next three months, as Finchem, his staff, the board and the mathematicians pore through the ideas to tweak the tweaking. "I'm one of those guys, I'm a perfectionist, and I've looked at the system, tried to analyze it," said Villegas, sitting outside the clubhouse Friday evening, two days before his victory. "I had a great talk with the commissioner Wednesday night. He really agreed and enjoyed the input I gave him. The system is going to be better next year."
The Colombian's suggestions: First, create smaller gaps between players in the top 30. Also (and this suggestion is almost unanimous among players), don't give points to players for simply making cuts. "It rewards better play and consistency," said Villegas.
It's been fine. Guys have made some very good, interesting suggestions. ... I've never been troubled about discussions about the Cup.' -- Tim Finchem [#image: /photos/55ad9124b01eefe207f75400]|||Commissioner Tim Finchem|||Photo: J.D. Cuban
Villegas' friend and playoff combatant, Sergio Garcia, isn't sure if any system can prevent the anticlimaxes of '07 and '08 -- short of weighting the points for each event leading up to the Tour Championship. In the playoffs Garcia finished second (in a playoff), T-5, T-20 and second (in a playoff) but had no shot at the $10 million first prize, even if he had triumphed over Villegas in their playoff. "No matter what you do, what's happened the last two years, you can't prevent it," Garcia said. "One guy [Woods] goes second, win, win. The other guy [Singh] goes win, win. It's going to be really tough to have it close, like they want it to be. If I were to win the first one, and Vijay the second one, and Camilo the third one, then this week would be really tight. Unfortunately it didn't happen that way, so there's nothing I can do."
Admitting that he was having a hard time accepting congratulations before the tournament even began, Singh agreed on this point. "How can you tweak it?" he said. "Unless everybody starts over evenly at the Tour Championship, somebody's going to have an edge. I think this is good enough."
Easy for Singh to say holding a $10 million prize, but Finchem's dilemma is making each one of his members happy, and for every Ryuji Imada and Dudley Hart who says there is too much credit in the current system for making cuts and not enough for top-10s, there is a good soldier such as former Tour Championship winner Billy Mayfair who supports the tour by playing a large number of events (27 in 2008), and believes there should be value in qualifying to play on the weekend in the first two FedEx Cup events. (There was no cut at the BMW Championship.)
As Mayfair pointed out, the key to him qualifying for East Lake was making the cut at the Deutsche Bank. Mayfair's finishes in the four FedEx Cup events were T-31, T-78, T-22 and T-10. He wound up 23rd in the final standings for a $210,000 bonus payout. "I talked to Tim this week and told him you have to reward guys who play all year," Mayfair said. "When Tim made this FedEx Cup, one of his designs was to reward guys who play a lot."
Ultimately, it was Villegas' missed cut at the Barclays that cost him the FedEx Cup title. He missed the weekend by a shot at Ridgewood. Had he survived and finished the event dead last, he would have wound up beating Singh. The MC cost him $7 million -- the difference between first and second in the bonus pool. Said Imada with a smile, "I guess the motto for this FedEx Cup is, 'Making the cut is everything.' "
Additional reporting by John Hawkins