News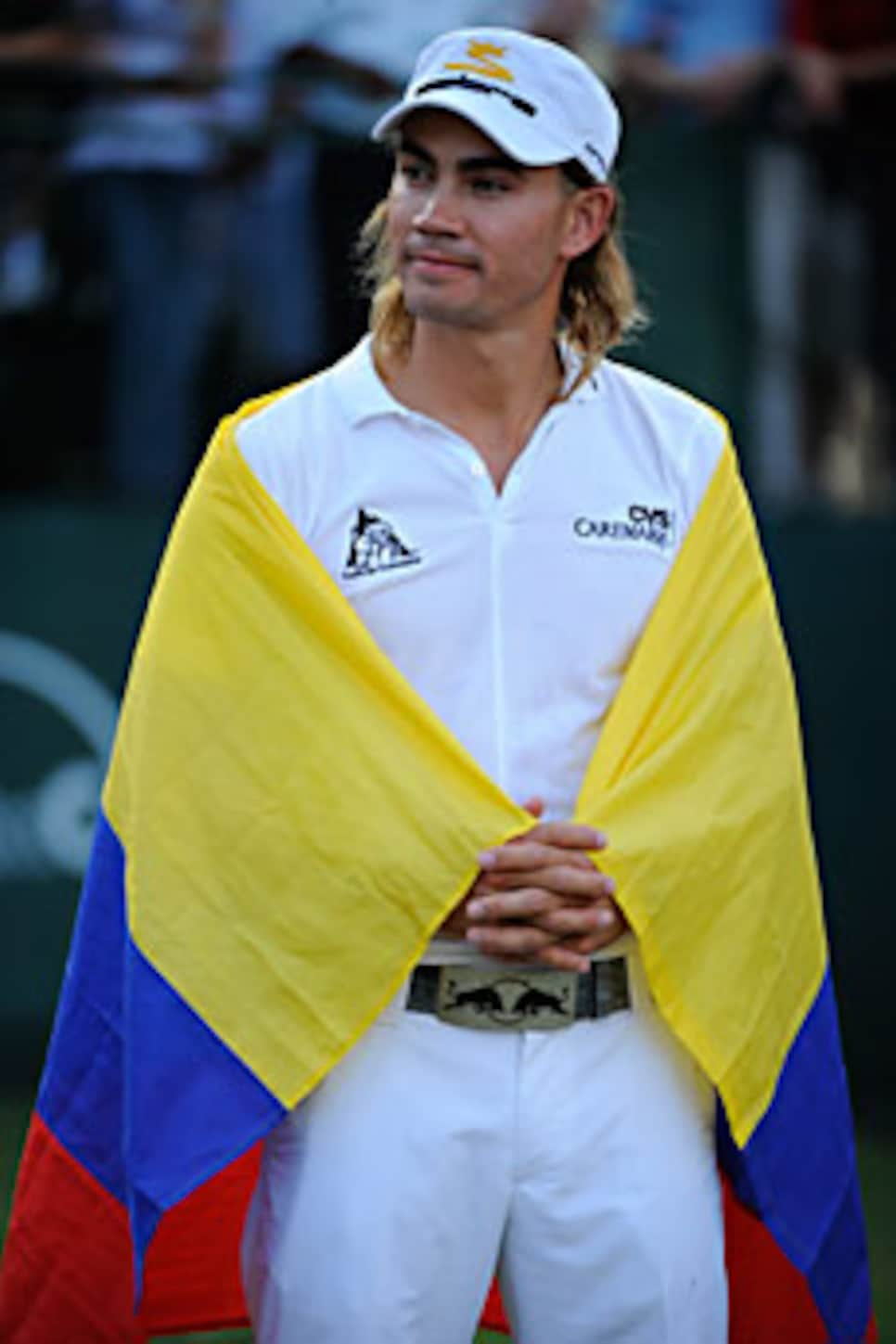 It took time, but Villegas has begun to display his true colors.
Lost in the micro-analysis of the FedEx Cup points system was the macro-development not only of Camilo Villegas as a bona fide world-class star with sticking power, but also the budding rivalry between the 26-year-old Colombian, Sergio Garcia, 28, and Anthony Kim, 23. Villegas and Garcia are like brothers, dining at night and ribbing each other by day, both in English and Spanish. One night at Nan, a popular Thai restaurant in Atlanta, the two international players sat at a table for 15, along with their caddies, who are extremely close, and a group of friends including Morgan Norman, daughter of Greg Norman, who is dating Garcia again. It was reminiscent of the European Tour, where players socialize at night and compete during the day. Kim is new to the group, but accepted as the third member of golf's new brat pack. As he completed an interview Saturday afternoon with NBC's Jimmy Roberts, Kim got a little bump from Villegas who, already having noted the Sunday tee times, said, "You and me tomorrow."
Villegas' rise in the wake of Tiger Woods' absence (he's now seventh on the World Ranking, just behind fifth-ranked Garcia and sixth-ranked Kim) can be attributed to his work ethic. Before he was a ripped rock-star type in white pants, shirt, hat and shoes that make him the tour's No. 1 heartthrob, Villegas arrived at the University of Florida as a skinny kid from Medellin with substance underneath all that style. "We knew he was a special kid," said Florida coach Buddy Alexander. "He always was so focused on what he needed to do to get better. He went way beyond what we were doing in the weight room, so he got a lot stronger, and consequently a lot longer."
Villegas made a splash when he finally earned his tour card in 2006 after one year of development on the Nationwide Tour. An original bomb-and-gouge poster child (along with J.B. Holmes and Bubba Watson), Villegas had more all-around game, and showed it with top-three finishes at TPC Scottsdale, Doral and TPC Sawgrass in his rookie year. His sophomore season produced a playoff loss at the Honda Classic along with five other top-10 finishes, but this year not much was happening until the British Open, where a 65 in the second round earned a third-round pairing with Norman, and the PGA Championship, where he shot 67-68 on the 36-hole Sunday at Oakland Hills for a T-4.
Off the course, Villegas has been busy building a new home along the Loxahatchee River in Jupiter, Fla.. It's not far from the compound Woods is building on Jupiter Island, and near Raymond Floyd's Old Palm GC. He set up shop there along with his brother, Manuel, a fellow Florida Gator who turned pro this summer and immediately won the Colombian Open. They left Tuesday for an event in Japan.
One thing they don't share is Camilo's new love for cycling. Featured in Men's Fitness as one of the most finely conditioned athletes on the PGA Tour, golf's Spiderman is quite a sight all decked out in bike shorts and jersey, hair flying out of his helmet. "I went home [to Colombia] five months ago and one of my buddies called me up," Villegas explained. "He got a cycle and said, 'Let's go up the mountain,' this mountain I used to drive up to get to the golf course. I didn't know if I was going to make it, but when I got to the top, I said, 'I love this thing.' "
When Villegas returned to Florida, he bought an exotic road bicycle. Three days later he called the bicycle shop, looking for people to ride with. Next thing Villegas knew, he was geared up and part of a cycling club that meets four days a week for rides of between 35 and 60 miles through Jupiter Island and along the Florida coast, at speeds of 30 miles per hour or more. "It's not easy," said Villegas, "but it's so peaceful and pretty sweet."
Something else that's pretty sweet is winning, which Villegas has now done two starts in a row. "It's awesome," he said. "Again, I've worked so hard. Thanks to the team that's behind me. I can't do it as an individual. There are a lot of people behind me. They've believed in me. They've supported me, and they've motivated me to just put in all those hours, to work hard."
One of those team members is Dr. Gio Valiante, the sport psychologist who also works with Vijay Singh. Valiante was on the practice green at East Lake Sunday night, surveying the scene as Villegas and Singh held their trophies and posed for photos with executives of Stanford Financial, one of their sponsors. It seemed fitting that arguably two of the hardest-working gym rats on the PGA Tour would hold the hardware and the cash at the end of a 38-week season, but the year was not complete.
They celebrated that night at Nan, before Villegas headed to Japan. As he said, he has to work next week. He knows Garcia and Kim won't be backing off. "The center of everything we do is work ethic," Valiante said. "There was a moment at dinner when we were sitting next to each other, and I said to him, 'Let me tell you something. It's easier to get to No. 7 in the world than to stay there.' He looked at me and said, 'You've got it, bro.' "