News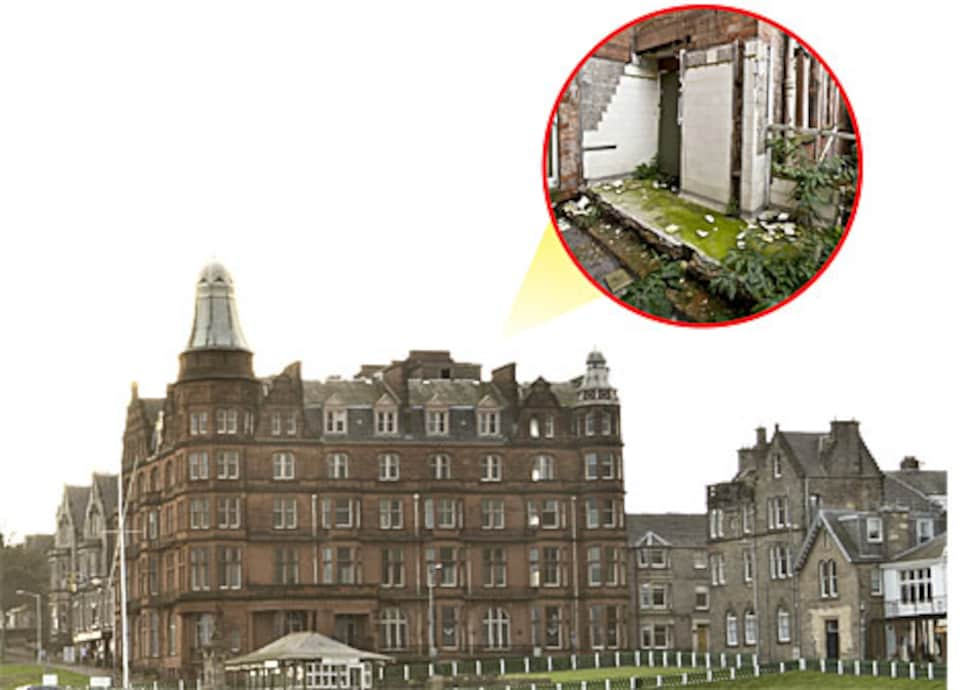 Purchased for $40 million by a Rhode Island firm in '06, the former Hamilton Hall today shows signs of neglect.
For more than a century, hamilton hall has stood guard over the 18th green of the Old Course at St. Andrews. One of the game's most photographed landmarks, the imposing structure next to the RA clubhouse has provided backdrop for 19 British Open finishes, not to mention the Academy Award-winning film "Chariots of Fire."
As the European Tour prepared to visit the Old Course this week for the Alfred Dunhill Links Championship, there was little doubt TV cameras would capture Hamilton Hall's Victorian splendor framing the storied links. But panoramic footage is unlikely to reveal the building's recent deterioration.
Hamilton Hall's iconic façade is marred by broken windows and peeling trim paint. And the back of the building looks even worse. Surveying the scene Sept. 8, Golf World discovered many windows and doors missing, leaving some areas of the building's gutted interior unprotected from the Scottish elements. The remaining windows appeared filthy, and the floors visible from outside were strewn with bricks and dirt. Considerable amounts of construction debris and garbage littered the property.
Hamilton Hall's current state is a far cry from the vision promised by its owner, Wasserman Real Estate Capital LLC, a Providence, R.I., development firm that bought the building from St. Andrews University for £20 million (about $40 million) in 2006. A 40-year-old developer of retail, mixed-use and residential properties, the firm planned to transform the old dormitory into a luxury residence club called St. Andrews Grand that would open in mid-2008 and count Phil Mickelson among the members paying a seven-figure sum for a share in one of 23 lavishly appointed apartments.
But those plans have been abandoned, and as St. Andrews looks toward the Open's slated return to the Old Course in 2010, locals are speculating about Hamilton Hall's future and expressing concerns over its appearance. The public outcry is a prominent example of the conflict that has emerged in Scotland between local interests seeking to preserve the historic character of golf's birthplace and real-estate developers—including Donald Trump, who for two years has battled local officials over a plan to build a $2.1 billion golf resort along Scotland's northeast coast—looking for a piece of the country's lucrative golf tourism pie.
Aiming to attract wealthy travelers, St. Andrews Grand did not generate the interest Wasserman Real Estate Capital had hoped for, said David Wasserman, the firm's principal. "We had demand but not necessarily enough demand to carry the whole project through," he said. "We learned the market is not deep enough for fractional residences at that price point."
Wasserman Real Estate Capital is considering other options for the property, including marketing single-owner units, and has been talking to several potential capital partners about joining the venture, Wasserman added.
Asked if Hamilton Hall is for sale, Wasserman replied: "The building, from the day we bought it, has been for sale, hasn't it? We'll either develop it or sell it, that's our business. There's never been a for-sale sign on the building."
The talk in St. Andrews is that Herb Kohler, the plumbing-fixture magnate whose Kohler Co. owns the Old Course Hotel in St. Andrews, might be a player in subsequent development plans for Hamilton Hall. But the Kohler Co. is focused on launching its own residence club at the former Craigton Manor in
St. Andrews and has not talked to Wasserman Real Estate Capital about the Hamilton Hall project, said Scott Anderson, president of Kohler's hospitality and real estate group.
"[Hamilton Hall] is not something that would be on our radar screen right now," Anderson said. "We have not been approached."
Meanwhile, local officials have decried Hamilton Hall's condition. "We in St. Andrews have a responsibility to the heritage of the town, to that iconic view beyond the 18th green," said Ted Brocklebank, a member of Scottish Parliament representing Mid-Scotland and Fife. "If this particular developer is having difficulties for whatever reason, at least he should be trying to keep the place looking reasonably smart. He could at least wash the windows."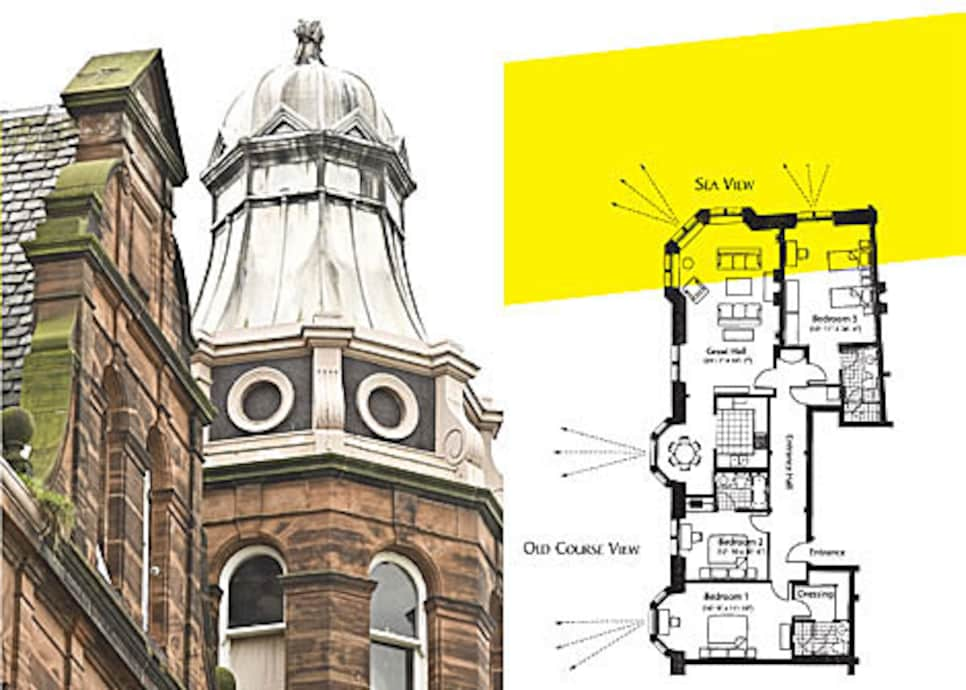 Added Elma Penny, chair of the St. Andrews Preservation Trust: "We are very perplexed that this building, one that has such a fascinating history, is falling apart."
Wasserman contends that his firm has been taking care of Hamilton Hall. "We're making all efforts to maintain its cleanliness and security," he said.
Signs posted on Hamilton Hall advertise that the building is guarded by Focus Security Scotland. "What we actually do is visit once each night to check that nothing is on fire and that there has been no vandalism," said Bob Black, the security company's planning director.
Focus Security Scotland began guarding the building in December 2006, and there has been no construction activity at Hamilton Hall since then, Black said. Although the building hasn't been vandalized, "it is becoming an eyesore," he admitted.
Designed by Glasgow architect James Milne Monro and built in 1895, the six-story structure stands out from surrounding buildings because of its height, its construction material (Dumfries red sandstone) and the distinctive white cupola that sits atop its northwest corner. The building served as The Grand Hotel, an elegant inn that hosted royalty, until World War II, when the armed forces requisitioned it. In 1949 St. Andrews University bought it and converted it into an undergraduate residence hall.
In recent years some enterprising students added to Hamilton Hall's lore during a fog-plagued Dunhill Cup match in 1988. A day after Nick Faldo refused to play an approach shot because he claimed the vapor was clouding his view of the 18th green, the residents hung banners out windows that read, "Hit It Here, Nick" and "SEE THIS ONE NICK?"
During more than half a century housing students, Hamilton Hall had grown ill fit for the purpose, said Stephen Magee, St. Andrews University vice principal of external relations.
The university had created 110 student rooms of varying shapes and sizes through a series of interior renovations over the years but faced steep costs to keep the building current, he said.
"It was going to cost us a small fortune to refurbish it as a student residence," Magee said. "To say we were looking for a buyer would be too strong, but we had been aware for several years that we were getting to the point where a decision had to be made."
In July 2004 the university announced it had entered a negotiating agreement with American developers after receiving an unsolicited offer for Hamilton Hall. At the 2005 British Open at St. Andrews, Wasserman Real Estate Capital was promoting its plans for St. Andrews Grand, and the firm scored a coup in June 2006 when Mickelson announced he would become a founding member. That September, Wasserman Real Estate Capital announced completion of its acquisition and the start of interior restoration work.
St. Andrews Grand members would be offered access to one of the building's apartments for certain high-season and off-season usage periods annually, and would enjoy amenities such as on-site dining, concierge services and spa treatments, according to a marketing brochure obtained by Golf World. The brochure's listed price range for a St. Andrews Grand charter membership was $1.8 million to $3.1 million, while founder-level memberships ranged from $2.8 million to $3.7 million; annual dues at each level were approximately $28,000. Grand-residence memberships, offering exclusive use of a specific residence, cost $14 million with annual dues of $140,000.
Wasserman Real Estate Capital sold more than a third of St. Andrews Grand's 115 available memberships, David Wasserman said. For a share in a four-bedroom penthouse unit, Mickelson agreed in June 2006 to pay $3.4 million, the Wall Street Journal reported at the time. Wasserman declined to comment on the status of the memberships purchased, and Steve Loy, Mickelson's agent at Gaylord Sports Management, also declined to comment.

According to its brochure, St. Andrews Grand membership included playing privileges at nearby Balcomie Links and Craighead Links and the option to arrange privileges at other
St. Andrews courses such as Kingsbarns GL (of which Wasserman Real Estate Capital sold a 50-percent ownership interest in September, Wasserman said). Although the brochure claims "there is only one home of golf, and only one St. Andrews Grand at its doorstep," members were not offered preferred access to Old Course tee times.
"Wasserman promoted it as a fancy timeshare apartment literally footsteps away from the first tee at the Old Course," Brocklebank said. "What he neglected to mention was that everyone has to enter a ballot, and that they would have to be very lucky to get off. That was a bit mischievous."
The lack of Old Course playing privileges was not an issue for prospective St. Andrews Grand members, Wasserman said. "Nothing comes with playing privileges at Pebble Beach," he said. "What's the difference? Plenty of people live there."
The residence club the Kohler Co. is launching in St. Andrews, called The Duke's Residence, will offer members guaranteed tee times on The Duke's Course, an adjacent layout the company owns. But golf isn't the project's only draw, Anderson said.
"I think it's important, but not as important as one might think," he said. "We think other amenities of St. Andrews are equally impressive. We have a great golf course, but it's certainly not going to be the only thing we sell. We're selling the St. Andrews experience."
Although Wasserman Real Estate Capital's first attempt to sell a similar experience failed, the company still possesses an historic asset in an unbeatable location. "Sooner or later," Magee said, "someone will make money from Hamilton Hall."
Historic Scotland, a government agency that safeguards the country's historic environment, classifies Hamilton Hall as a Category B listed building. Wasserman Real Estate Capital is operating under an approved listed building consent application, said a spokeswoman for Fife Council, a local planning authority. A consent application, which is valid for five years once approved by the authority, is required for any proposal to alter a listed building in a way that would affect its character.
As the listed building's owner, Wasserman Real Estate Capital is legally obligated to maintain the building, said Alastair Hamilton, Fife Council's development promotion and design team leader. "It is an offense for the owner of a listed building to willfully neglect or damage such a property," he said.
The Council is concerned about the unprotected openings in the back of Hamilton Hall. "Sealing those up is what we have been pursuing with the developers," Hamilton said. But thus far Hamilton Hall's condition hasn't prompted the Council to pursue legal action against Wasserman Real Estate Capital for willful neglect or damage.
"The current condition is still the right side of the legal line," Hamilton said. "The building may look somewhat forlorn, but any action we take has to be justified legally."
Brocklebank has fielded several complaints about Hamilton Hall from its neighbor, the Best Western Scores Hotel, and has pursued the matter with Fife Council. "They claimed that Wasserman's planning application would last for five years and as long as he retained the building 'wind and watertight'… there wasn't really an awful lot they could do," he said.
And although Brocklebank has traded voice-mail messages with David Wasserman about the situation, the two have never managed to connect, Brocklebank said.
Another Hamilton Hall neighbor, the RA, moved its championships department out of Beach House, a building directly adjacent to Hamilton Hall, because it anticipated intolerable construction noise from the redevelopment project, said chief executive Peter Dawson.
"As yet, we haven't moved back into Beach House. As soon as we do, Hamilton Hall will be sold and building will start," Dawson said with a laugh.
Although the stalled project has created inconvenience for the RA, Dawson does not expect Hamilton Hall to cast an ugly pall over the 2010 British Open.
"The building is largely hidden by grandstands behind the 18th green," he said. "So it is hardly a crisis for us."
But while the RA isn't fretting, Hamilton Hall lies dormant, carrying the luster of an unpolished claret jug.
With additional reporting by John Huggan