News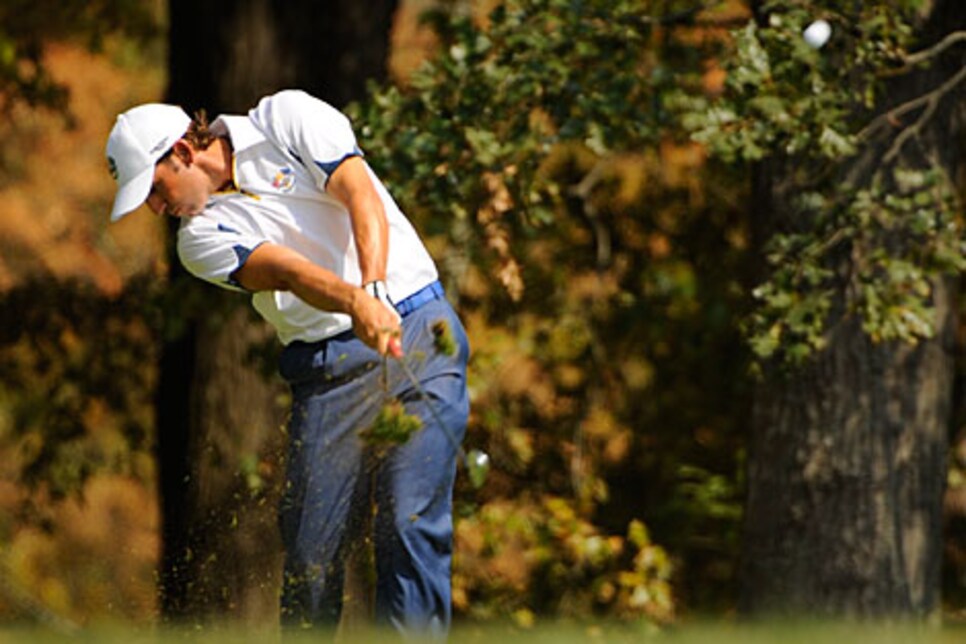 For Garcia, ball fitting begins with the trajectory of short-iron shots.
For most of Ryder Cup history part of the matches' intrigue came from the pairings in foursomes, as the alternate-shot format required some golfers to play balls different in brand and construction than those they normally play.
A Ryder Cup rules change in 2006 helped alleviate some of that. Instead of having to play one make and model of ball the entire round, teammates now can switch golf balls on each hole, providing a different kind of strategy.
"I tee off with their ball, and they tee off with my ball," said Phil Mickelson early last week. "Off the tee it's not going to make too much of a difference. It's the distance control and how it comes off the irons and the trajectory and so forth [that is important]. And we will be hitting our own balls with our iron-approach shots."
Ironically, Mickelson and his foursomes partner, Anthony Kim, ended up using Lefty's Callaway Tour ix ball on all shots. However, that does not diminish the fact that although the pros want to squeeze every last drop of distance they can out of their equipment, most are looking to optimize their control into and around the greens.
That proved particularly important for the U.S. side last week as three of the four foursomes pairs played balls from different manufacturers (the duo of Chad Campbell and Stewart Cink being the exception, as each plays Nike's One Black). For everyday players, however, it also serves as an inside look at how professionals approach the concept of ball fitting—something most weekend warriors don't give much thought to.
Deciding what ball is best for you is no easy task. The latest figures from Golf Datatech show more than 60 models of balls, plus the technology ladder now reaches down to golf balls costing as little as $20 a dozen. That's a lot to dig through.
For those seeking a place to start, simply try to figure out what problem you want solved, what feel you seek or what trajectory you prefer. The answer is different for everyone, but by zeroing in on one or two characteristics, you can narrow the field.
But beware the temptation to determine a ball's efficiency solely on how far you can bust it off the tee (although some tour players, such as Justin Leonard, tend to put a little more premium on distance when testing balls). When TaylorMade, for example, developed its TP line of balls, it received input from Sergio Garcia on the ball's trajectory with the short irons. "Sergio didn't even sniff a driver for a good portion of the testing," said Dean Snell, senior director of research and development for golf balls. "He spent nearly all his time working on shots from 100 yards and in, and when he was happy with that he said, "Make it go as long as it can and we have something good here.' " For Tiger Woods, part of his determination in testing balls for Nike is how a golf ball performs on chip shots, including the trajectory of these short shots. On the surface that may make great sense for a player as skilled as Woods, but hardly useful for an everyday player. But fact is, starting your ball-selection process from the green and working back toward the tee is probably more helpful than starting with drives and moving toward the green.
That is not to say you should ignore the numbers off the driver. If you are a slow swinger, odds are you might need a ball that spins a little more off the driver to keep the ball airborne longer for greater carry. "If you think about what you need instead of want, you're closer to finding the right ball," said Snell.
Whether you're playing alternate shot or not.
The closely shaved surrounds of the putting surfaces at Valhalla GC last week made some Ryder Cup players rethink shots around the green. Europe's Graeme McDowell opted to keep the majority of such shots close to the ground, using a putting-like stroke with his 17-degree Adams a2 hybrid to roll shots up the slopes.
Normally the Ryder Cup isn't the place to change equipment, but that didn't stop J.B. Holmes from taking his Guerin Rife Barbados long putter out of the bag and replacing it with a long version of TaylorMade's Rossa Monza Spider he used earlier in the year to win the FBR Open. ... Paul Casey came to Valhalla armed with a prototype Nike blade putter that features red grooves on the face, designed to enhance roll.