News
Redemption In Mississippi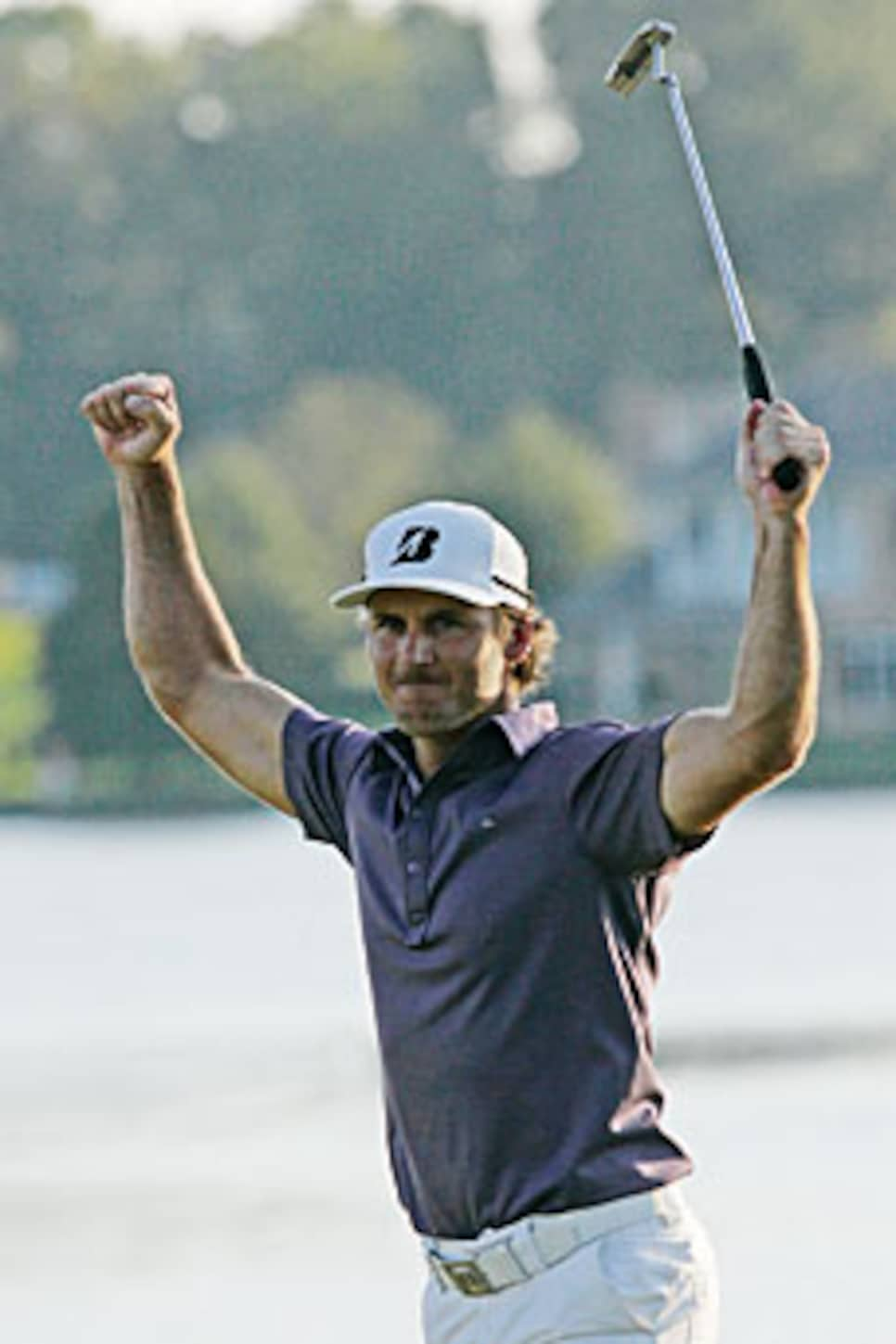 After short-selling himself early in the week, MacKenzie took home $648,000.
Will MacKenzie was sure he could win on the PGA Tour again. He just didn't know when it might happen.
In fact, the PGA Tour's most free-spirited dude took a trip to Madison, Miss., last week fully expecting to chop it up in the Viking Classic, his game still rusty from a lack of practice attributed to arthroscopic knee surgery in May and the birth of his first child (a boy named Maverick) in July.
"I didn't feel good about it," said MacKenzie. "I even told my wife, 'I'm not hitting it that good.' You know how you do, when you're hoping she'll say, 'Oh, you'll hit it great, don't worry?' "
Even after he had blistered Annandale GC with an eight-under 64 Friday to move within one shot of the lead at the halfway point, MacKenzie wasn't convinced. "I will win out here again," he said. "I think I have the ability to … I think soon, but I don't know if I'm going to win one of these six or seven [final events]."
Turns out, the 33-year-old North Carolina native was selling himself short.
Finding a tempo in his swing that had been missing, MacKenzie survived his own dumb mistake during the third round and took advantage of a colossal one made by Marc Turnesa during the final round to rally from six back with eight to play to beat Turnesa and Brian Gay in a playoff, after the trio had tied at 19-under 269.
MacKenzie's three-foot birdie putt on the second playoff hole—his third of the day on No. 18, one day after a triple bogey there caused by a two-shot penalty cost him the third-round lead—made him a winner for the second time on tour and made Turnesa the hard-luck loser.
A New Yorker whose family tree is peppered with tour titles (his grandfather, Mike, won six of them; a great-uncle, Joe, has 15), Turnesa, a 30-year-old rookie, seemed destined to win for himself. He held the lead after each of the first three rounds, and with two holes to play Sunday, he led Gay by two shots and MacKenzie by three.
But Turnesa couldn't close.
Instead, he fatted a 7-iron from 167 yards into the pond fronting the par-4 17th and made double bogey.
Until that point Turnesa, who paced the field with 101 putts, had made just seven bogeys through 70 holes. "I just made a mistake you can't make," he said. "And it cost me the tournament." Gay and MacKenzie shot 68 Sunday to Turnesa's 70.
With Gay in the clubhouse, Turnesa still had a shot at winning on 18 but didn't birdie. When MacKenzie did, he joined the playoff, completing a remarkable comeback that saw him birdie four of the final six holes.
With Gay eliminated the first time, MacKenzie and Turnesa returned to the 18th. MacKenzie hit the green in two and two-putted from 63 feet. He won when Turnesa missed his 18-foot birdie try.
The 18th is a great finishing hole, reachable by most, yet tinged with risk by water off the tee and guarding the green on the left and front. It's the kind of hole a carefree player such as MacKenzie loves. "You bomb it down there, hit a hybrid on the green and make birdie," said MacKenzie.
In perhaps a burst of victory-infused hyperbole, MacKenzie went so far as to say the 532-yard hole "might be one of the better finishing holes on the whole PGA Tour" because of its risk-reward factors. "I love that golf hole," he said. "I love the idea of being able to make eagle on that hole or hitting that green in two."
That was Sunday, $648,000 check and two-year tour exemption in hand.
Saturday the tour's resident Jeff Spicoli was, in his own words, "just really bummed" about No. 18, because that's where what had been a spectacular round turned ugly, where the snowboarder who once lived in a van in Montana for five years showed everyone how to make a snowman in Mississippi in September, by mixing bad swings with a boneheaded move.
MacKenzie was on fire, running off nine birdies to shoot past Turnesa and into the lead at 18 under. But MacKenzie missed the final fairway left and was forced to hit a "weird shot under a limb" for his lay up. The 6-iron went too far and ricocheted off rocks in the creek fronting the 18th green, coming to rest in the rough, playable but inside the red-painted hazard line.
When he got to the ball, MacKenzie absentmindedly brushed some grass clippings away from his ball—inside the hazard. "I just spaced out, big-time," he said.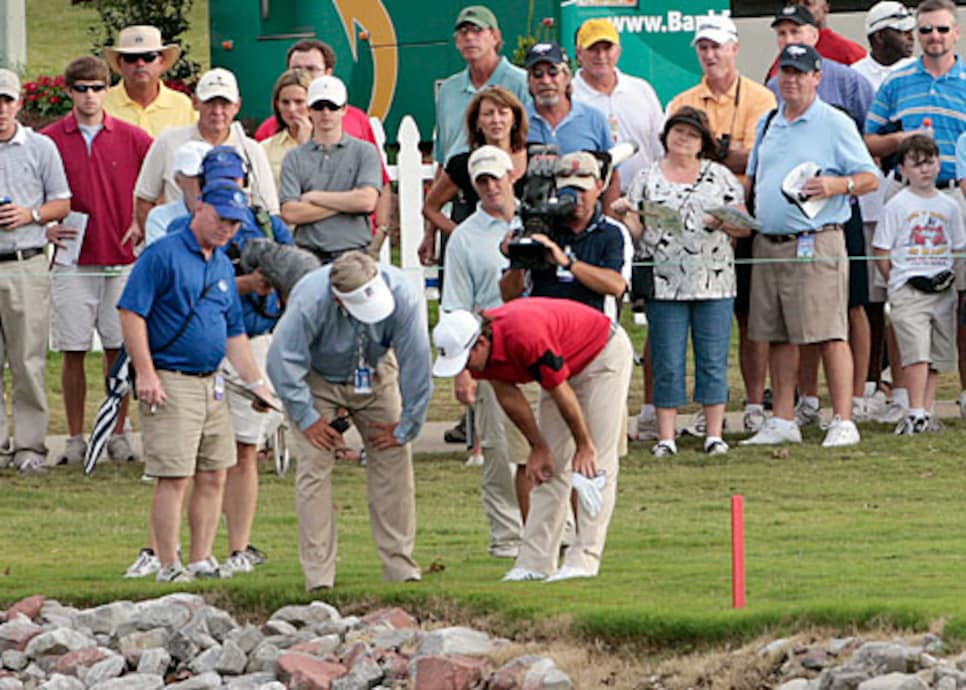 MacKenzie called for a rules official, who delivered the bad news: A two-shot penalty for moving a loose impediment in a hazard.
"Great," said MacKenzie. "I was already hacking my way home. I made a bogey and turned it into a triple."
Instead of being tied for the lead going into the final round, MacKenzie was two back—and steamed.
He couldn't clean the slate by Sunday, either. "I was still a little frustrated and angry," he said. "I felt a little funky early."
But he got hot just in time to catch Turnesa and Gay, whose second-place check moved him to 28th on the money list. Big names who came up short included David Toms (T-8), Woody Austin (T-8), Rory Sabbatini (T-14), Rich Beem (T-14), David Duval (T-22) and John Daly (T-40).
MacKenzie was 178th on the money list, hoping to scrape together enough game in the Fall Finish to get into the top 125 and keep his card. Now, despite missing two months with a knee injury he said he suffered while dancing at his brother's wedding, he is headed back to Maui for the 2009 Mercedes-Benz Championship, the place where two years ago MacKenzie introduced himself to the golf world by giving out his hotel room number during a Golf Channel interview, soliciting calls from around the country.
Look out Hawaii, the surfer dude/golfer is back. "We will go early," MacKenzie said. "That's a great way to start the year off."