News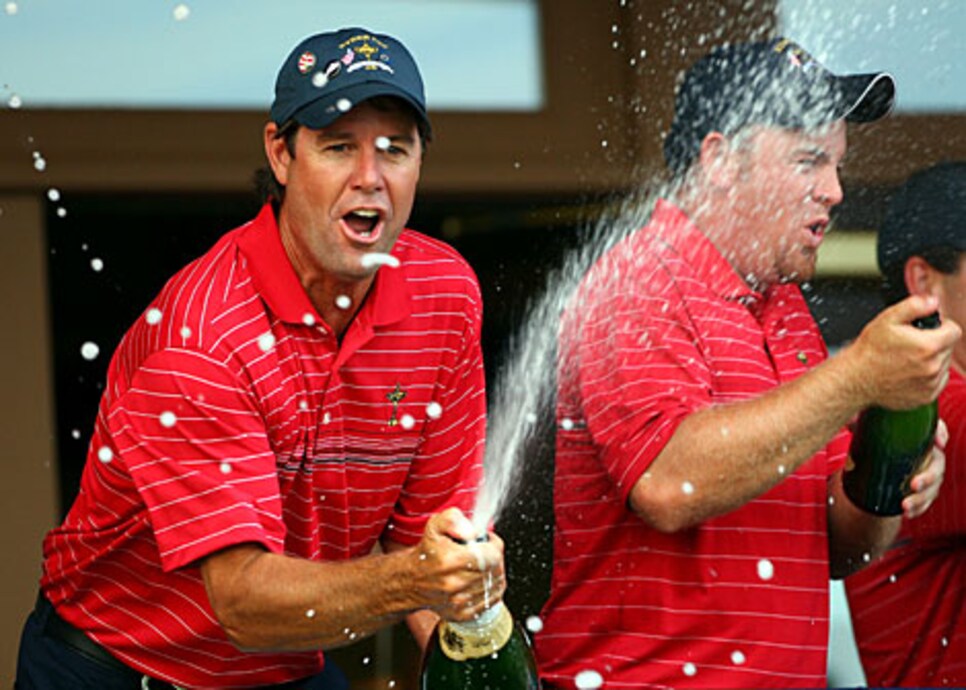 Great shakes: Azinger's captaincy pointed the U.S. toward a wild Sunday celebration.
Even before the first shot was struck in anxiety at Valhalla GC in Louisville, it was clear the 37th edition of the biennial matches was going to be a Kentucky Fried Ryder Cup. No golf function is free of a bagpiper, even those held a long way from Scotland, but last Thursday's opening ceremony commenced with a bugler playing "Call To The Post." It was, after all, the last week of summer in Kentucky, land of backstretches and bourbon. Emcee Dan Hicks, of NBC, noted that Ben Hogan once called golf "a universal language," but the southern accent of the proceedings would be abundantly clear once play began thanks to the presence of Kentuckians Kenny Perry and J.B. Holmes and Boo Weekley from the Florida Panhandle on Paul Azinger's American team.
Kentucky Gov. Steve Beshear concluded his remarks on the sunny afternoon by saying, a bit awkwardly, "Now let's go and rumble." Just a couple of hundred feet away from where Beshear spoke, in huge type on the back of the first-tee grandstand, was a quote from Samuel Ryder, father of the event, from 1931: "I trust that the effect of this match will be to influence a cordial, friendly and peaceful feeling throughout the whole civilized world."
While for decades the Ryder Cup was largely a goodwill exhibition between the United States and Great Britain, the modern incarnation has been more about competition than conviviality. With the U.S. having lost three straight Ryder Cups, the last two in routs, and five of the last six to Europe, Azinger hadn't been preparing for two years in the name of global harmony.
Azinger touched a lot of bases getting ready for last week, and left nothing to chance except how his charges would putt, which always is what the Ryder Cup comes down to and the area that Europe has excelled in claiming eight of the 11 contests since 1985. "I've got a feeling that we've got nothing to lose," Ben Crenshaw, captain of the 1999 U.S. team that won dramatically, said before play started last week. "To win holes, you've got to chip and putt."
In Azinger's mind, you've also got to have the gallery, "the 13th man," as he (and the souvenir T-shirts) called it, fully engaged, as if the spectators were playing for something. Late Sunday afternoon, with a 16½-11½ U.S. victory in the books and champagne spray having been substituted for the forlorn expressions on the Americans at The Belfry (2002), Oakland Hills (2004) and The K Club (2006), the home crowd was being toasted for its role as surely as Perry, Holmes, Weekley and the rest were being cheered for theirs.
It was no accident, no impromptu first-tee cheerleading à la the American wives at Muirfield Village GC in 1987 after their husbands had a bad first day. Azinger's message to about 4,000 people at a downtown pep rally Thursday night was clear: Customary golf-tournament etiquette could be breached. "I think I said, 'You can cheer when they miss,' " Azinger said the next day, following the morning foursomes. "Essentially, when we go over there, they cheer when we miss. I don't think the American fans are really into what the Ryder Cup is all about … that there is that other element. And it wasn't meant to be malicious, and I'm really proud that the fans have been absolutely perfectly behaved this morning. … I was just making sure that they understood if we win a hole, they can cheer, and even if somebody misses a putt for us to win a hole."
Azinger was unapologetic about lighting the fuse of raucousness, seeing it as tit for tat, because certainly European galleries traditionally have shown little pity for American mistakes across the pond, where the roars and songs reverberate when European blue goes up on the leader boards. "Well, their gallery's smooth, our gallery's got an edge," Azinger said Sunday evening, when asked to compare Ryder Cup crowds. "They sing those sweet, smooth songs that stick in my head. I was whistling 'Olé, Olé, Olé' on the way home last night, and my wife caught me. The song stuck in my head. But I heard those were the only words they could remember after eight beers."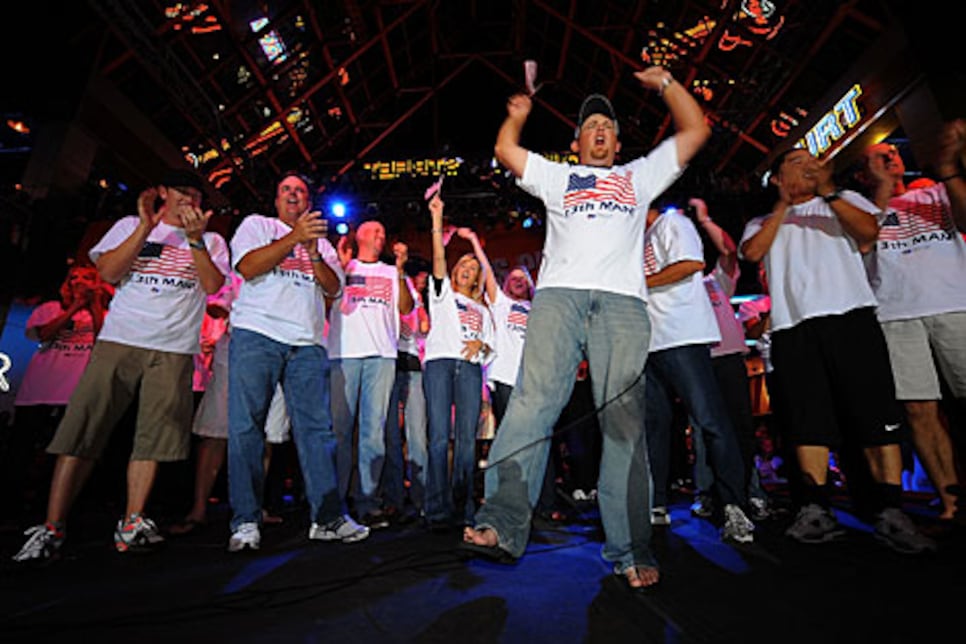 Still, it was impossible to envision past American captains such as Jack Nicklaus or Tom Watson advocating fans to applaud an opponent's misfortune, regardless of how much their inner competitor wanted to win. Much of the cheering for missed putts did feel like the atmosphere overseas, whether you like it or not, but one moment in Sunday's singles did feel ugly. After Garcia hit two balls in the water at the par-5 seventh to lose the hole and go 3 down to Anthony Kim, many fans cheered loudly. The sounds were exactly the same, but it brought to mind the reaction after Seve Ballesteros dunked his second shot on the 15th hole in the final round of the 1986 Masters.
Europe's Lee Westwood, who was irritated by Weekley in a Friday four-ball match when the American exhorted the gallery several times with the Englishman yet to putt, made peace with Weekley after he apologized and watched the timing of his antics in a Saturday four-ball rematch. "He didn't do it between the shots like he did yesterday, so he's obviously learned," Westwood said. "He apologized last night, which is the kind of man he is. He's a nice guy."
Westwood was less kind toward the bozo he said made a crank call to his hotel room early Sunday morning and the minority of fans who razzed him inappropriately during his singles loss to Ben Curtis, including someone in a ghost costume. "All of the abuse I got was fairly nasty," Westwood said. "That was only a minority, and the crowds were great. I expected them to get behind the American team, which they did, but some people don't know the difference between supporting their team and abusing the opposition."
There was no doubt where much of the full-volume support went, to Perry, Holmes and Weekley. Perry, who at 48 had built his whole season around making the team—and was heavily criticized for skipping the U.S. and British Opens as a result—went 2-1-1; Holmes, the 26-year-old long hitter who justified his captain's selection, was 2-0-1; Weekley, one of the tour's best ball-strikers and biggest characters, went 2-0-1. In all, the trio combined for six points while inspiring the partisan gallery to make some of its loudest noise.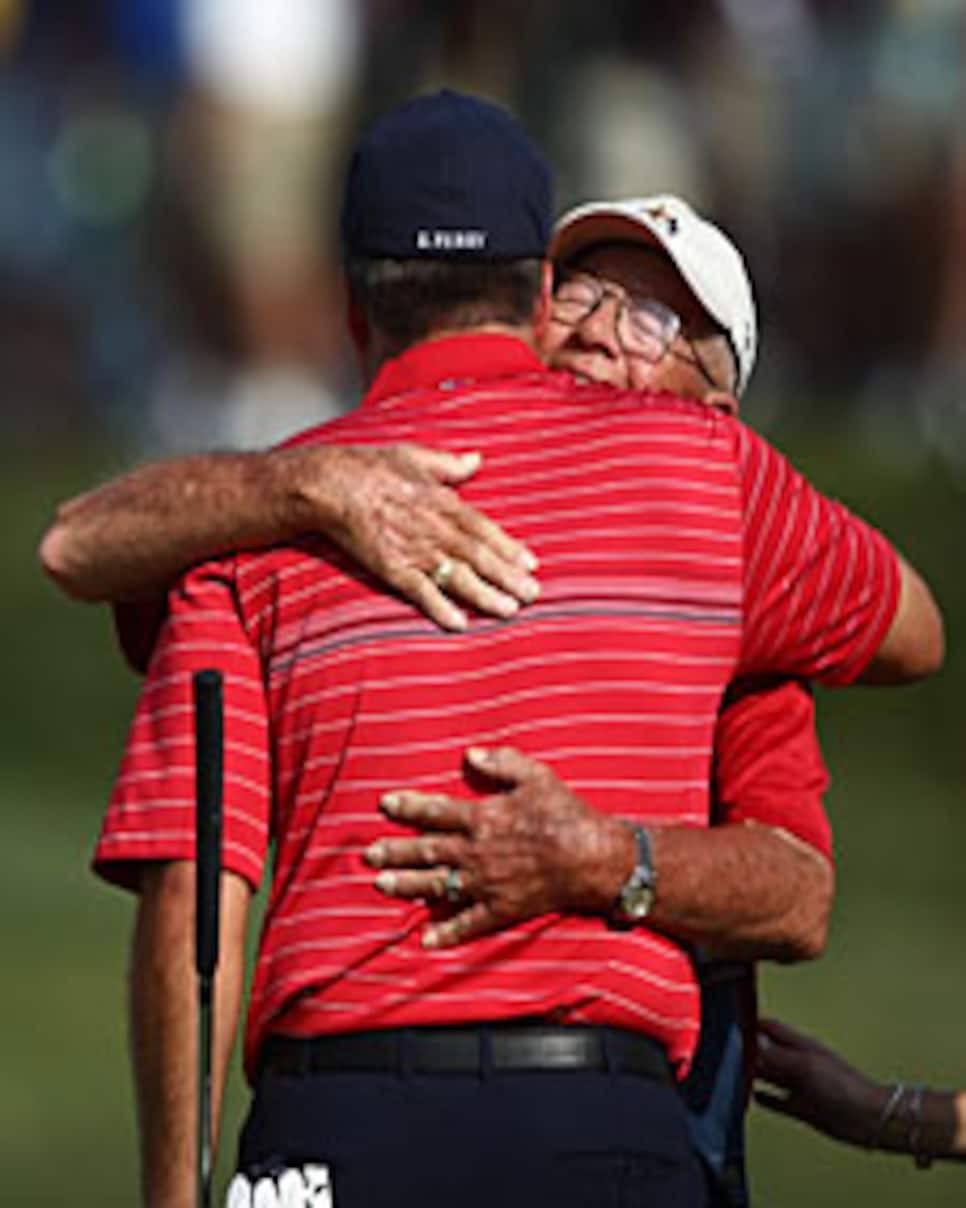 Perry is a fixture in his native Franklin, Ky., where he is known for his good deeds and charitable giving. But after his performance last week, which included a 3-and-2 singles victory over Henrik Stenson in which he made seven birdies and an eagle despite hurting his arm on the ninth hole, Perry probably will be OK with people pausing briefly to recall his glorious week at Valhalla. Perry had an obsessive focus on making the Ryder Cup team, a quest that wasn't going well at all until he lost a playoff at the ATT Classic in May. He won the Memorial tournament a couple of weeks later, followed by victories at the Buick Open and John Deere Classic. The Deere win was Perry's 12th career PGA Tour triumph, moving him past fellow Kentuckians Frank Beard, Bobby Nichols and the late Gay Brewer, who each won 11 times.
"There are very few men in golf who have the game to set a goal in January, go through tough times, then win three tournaments and come and deliver here like he did," Russ Cochran, another tour pro from the Bluegrass State, said Sunday. "When you draw it up and ask for it, and it comes your way and you step in and deliver, that is something pretty special."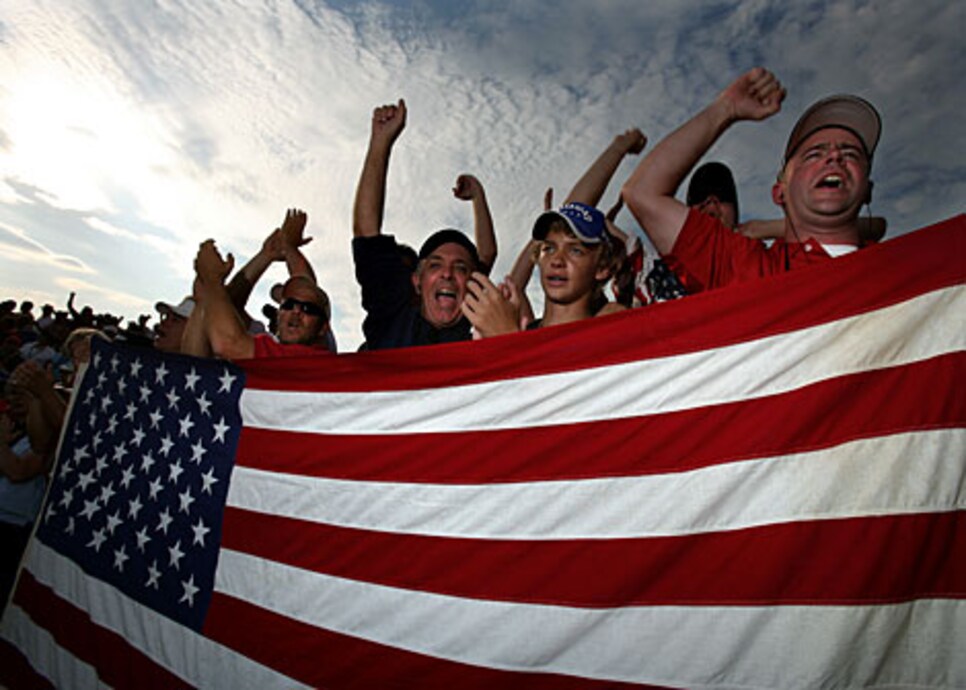 Perry was six under through seven holes against Stenson, thriving under his self-imposed pressure, possessing, in his words, "the putting touch of Tiger Woods and Jack Nicklaus. I mean, I had such a calm about me, and I was just so determined. It's a magical day for me, the greatest day of my life."
Woods, of course, was absent because of his knee injury. "I think we all felt like we needed to own up a little bit more, carry a little bit more of the burden and a little more of the responsibility without him," Perry said. "It's easy to lean upon your horse. No telling how awesome it would have been with him here. But this team—Zinger did a great job. This team came together."
Some observers—NBC analyst Johnny Miller foremost among them—questioned why Azinger made Holmes (whose attempt to qualify for the team on points cratered with his final-round 81 at last month's PGA Championship after he held the 54-hole lead) one of his four captain's picks. But not only was Azinger sold on the former Kentucky Wildcat star's game and aware that he had played Valhalla (a bomber's delight) many times, but that, like Perry, he would enthuse the crowd with a strong rooting interest.
By pairing Holmes with the homespun Weekley for two sessions of four-ball matches, Azinger got 1½ points—and a dynamic duo that unquestionably threw the normally imperturbable Westwood off his game. In his singles match against Sren Hansen, Holmes combined power and touch to score a 2-and-1 victory. Holmes birdied Nos. 14, 16 and 17, the last after one of his trademark 350-yards-plus tee shots set up a sand-wedge approach that he hit two feet from the cup. "Yeah, I was going right at it," Holmes said. "I had 79 yards to the flag. I mean, I'm a professional golfer. I can't shoot away from the pin."
Holmes has a pair of PGA Tour victories, but this was another dimension of achievement for him. "To be able to be on a Ryder Cup team, to win two points, is just unbelievable," he said. "And to be able to do it in my home state, I couldn't in my farthest dreams have imagined this thing to play out like this."
While Perry and Holmes brought some local color to the matches, Weekley hauled a tractor-trailer full of it to Valhalla. "You know, I'm from here, so I kind of expected them [the fans] to embrace me a little bit," Holmes said. "And Boo might as well be from here."
Weekley, a late-blooming pro who was a laborer at a Monsanto chemical plant years before he got the keys to his first courtesy car, kept his teammates loose and laughing, especially Saturday night in the team room, when he regaled them with the infamous story of getting cold-cocked by an orangutan at a county fair when he was 16. "He's smart like a fox," said Azinger, who spoke at the closing ceremonies about the team's unity. "We wanted to build strong relationships within the team," said Azinger. "In the infamous words of Boo Weekley, we wanted to Com-pat-i-bate."
Asked Saturday what was different about playing a team event for your country instead of a tournament for yourself, Weekley said, "The adrenaline of it, for sure. I feel like a dog that somebody done stuck a needle to and juiced me up like I've been running around a greyhound track chasing one of them bunnies."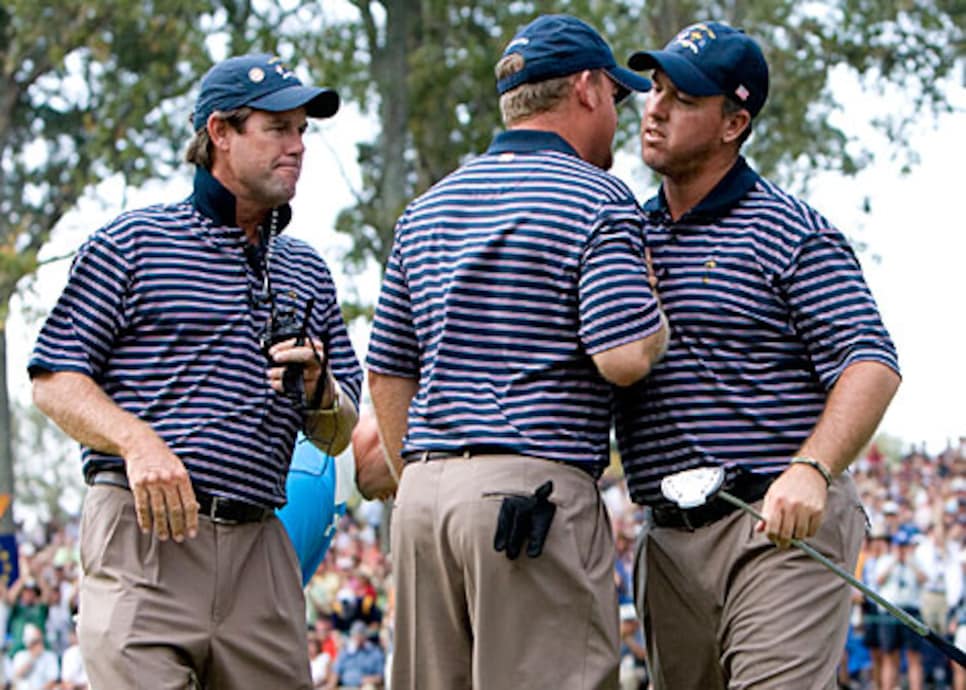 Animal analogies come easily to Weekley, who, it is safe to assume, was the only one of the 24 golfers competing last week to bring deer hunting into his pre-shot routine. "When the pressure gets to me," he said, "I'm sittin' there thinking to myself, 'This deer's going to step right around this corner. You know he's going to come out. Do you think you can make the shot?' If you're not a big deer hunter and you don't put yourself in those places, it's kind of hard to imagine. Things that have already happened to me. I think of what happened last time. Now, let's see if we can make it a little better this time."
Weekley expressed regret that his effort to amp up the gallery got to Westwood Friday afternoon. "I hated that Lee and them felt I was pumping them up just to aggravate them [the Europeans]," Weekley said. "I just wanted the crowd to be there, be a part of it. I wasn't trying to be disrespectful by no means. Why not get the crowd fired up?" He cracked them up at the first tee Sunday. After hitting a big drive, he galloped off the tee using his driver as an imaginary horse like "Happy Gilmore." "I'm always nervous, you know, out there on the first hole," Weekley said. "I felt like I had to do it to loosen up a little bit. It's just my nature to be a little goofy anyway."
Azinger stopped laughing long enough to go up to Weekley on the first fairway and urge him to settle down. He followed instructions well, holing out from a bunker on the seventh for an eagle and building a 4-up advantage through 10 holes en route to a 4-and-2 victory over Oliver Wilson. Weekley couldn't walk very far without hearing someone yell "Boo" or "Boo-S-A." A few guys wore camouflage outfits with duct-taped "Bs" on their backs. "Being able to show them a little bit of golf, and them hollering and hooting your name, it's unreal, it really is," Weekley said. "The support that the fans gave us, I think it took my game to the next level."
In the closing ceremony Azinger made a point of thanking "our fans, the 13th man. You were unbelievable. You made the difference this week, you really did." Later, when questioned specifically about the galleries, he was steadfast. "I thought the crowd was phenomenal," Azinger said. "They made a big difference, and I thought everybody was beautifully behaved. There was a lot of alcohol served out there, and there were no fights going on, nobody screaming at inappropriate times. The incidents, if there were some, were few and far between."
A golf purist could argue that things weren't wholly civil, but for an American team that found an elusive victory amid the southern comfort, there was plenty of peace in all the noise. In any accent, that much was certain.