News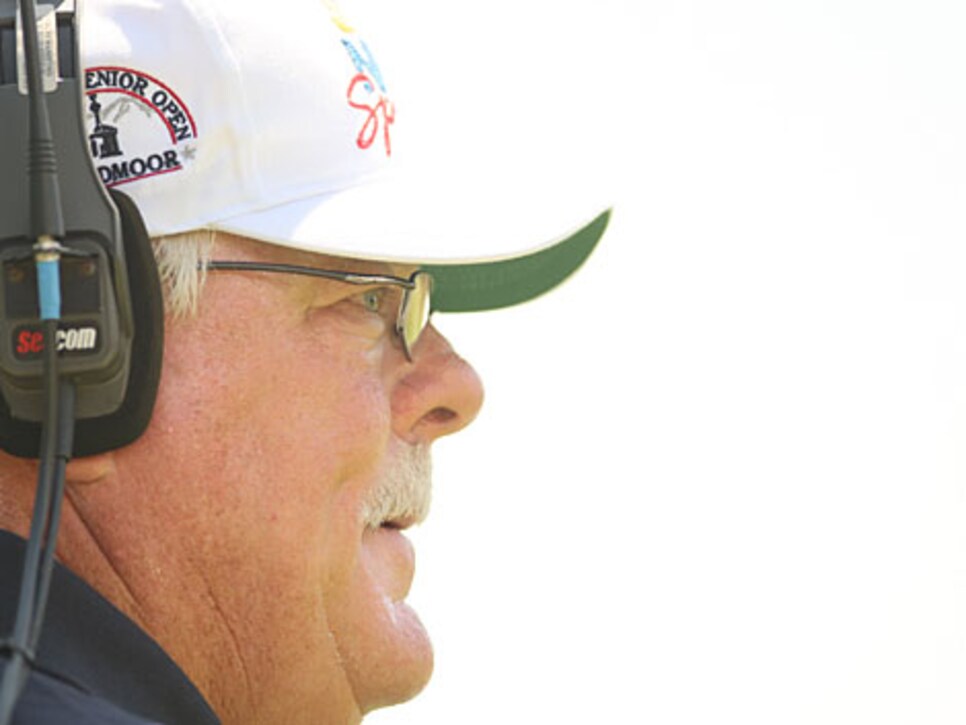 "Which floor?" The U.S. Senior Open volunteer asked as she glanced toward Roger Maltbie with a smile, pointing toward the elevator buttons.
"Mezzanine," he said with a sense of merriment. "I know it's only one floor up, but it's uphill and I don't do uphill."
He was kidding, but only by half. Maltbie, 57, is not the most athletic course reporter in network golf television, but he doesn't seem to have any trouble covering the real estate with enough speed to be one of its best foot soldiers.
Maltbie cuts the most recognizable figure among on-course broadcasters. There is no mistaking him for a denizen of the fitness trailer as the corners of his physique—if there ever were any—have been rounded off considerably. His white hair and mustache, which turned gray long ago, can be spotted from the green while he is still in the landing area. Everybody knows when Maltbie's coming.
He is central to the golf coverage on NBC—which will broadcast its ninth consecutive Ryder Cup next week from Valhalla GC in Louisville—and his observations are always a combination of a player's feel and a critic's discerning eye, with a few laughs and jousts with Johnny Miller thrown into the mix.
As far as his career with NBC is concerned, there has been no steep ascending grade. His job, since 1992, has been a downhill, right-to-left, reachable par 5, and no one can assess a birdie hole any better than Maltbie.
"The realization came to me a couple of years ago," says Maltbie, sitting outside the Broadmoor Hotel during last month's U.S. Senior Open. "I spent my whole life playing golf and did so with some measure of success. But I'm going to do [television] longer, be better known and make more money and I never spent one minute thinking that I'd do this for a living."
Except perhaps for some diehards older than 40, not many people either remember or know at all that Maltbie was an accomplished PGA Tour player. In 1975, his first full year, he won the Quad Cities Open and the Pleasant Valley Classic in back-to-back weeks. The following year, he won the inaugural Memorial tournament in a playoff over Hale Irwin. And in 1985, he won at two storied venues—Westchester and Firestone—and finished eighth on the money list. Two years later, at age 35, Maltbie was T-4 at the Masters, his best career finish in a major.
But a couple of shoulder surgeries curtailed his playing career, and in 1989 NBC asked him to join a tryout for new announcers at Kapalua in Hawaii that included Miller, Irwin, Gary Koch and Pat McGowan. The network broadcast about 18 tournaments in its package, and Maltbie turned down what he considered a meager offer. Two years later NBC came back to Maltbie about working on its expanded coverage of the Bob Hope Chrysler Classic. He said yes with the proviso that he be allowed to work the 1991 Ryder Cup at Kiawah Island, S.C.
It was at Kiawah that Maltbie would face a defining moment as a broadcaster. He had been covering the Payne Stewart-David Feherty Sunday singles match about the time Mark Calcavecchia was losing a 4-up lead to Colin Montgomerie with four holes to play to halve the match. Maltbie was told to leave the Stewart-Feherty match and find Calcavecchia for an interview.
"I find him, and he's with Peter Kostis, who was my instructor and Calcavecchia's instructor, at the USA Network trailer," Maltbie says. "His eyes were swollen shut. He had been throwing up, and I don't know clinically what a nervous breakdown is, but he was not in any shape to do an interview. I walked out of the USA trailer and over to our production truck and told [executive producer Terry] O'Neil that I wasn't doing it.
"He said, 'Stay with him. He'll talk.' I said, 'You stay with him. Maybe he'll talk to you.' I was still a player, and that was crossing a line. I don't know that I would look at it quite that way today, having done it all these years."
A month later Mark Rolfing left NBC for ABC, and the NBC team had an opening. The network only would air nine events in 1992 and still wasn't offering the kind of salary Maltbie thought he needed. But after the second shoulder surgery, the doctors told him his normal playing schedule of 28-30 events would be too much wear and tear. He decided he could do television work and play in fewer events, and it would all balance out.
CBS' Frank Chirkinian came courting Maltbie, but NBC's Dick Ebersol wouldn't allow CBS to talk to him. "He said he would make it up to me," Maltbie says. NBC won the television rights to the USGA package and fended off another offer to Maltbie from CBS. Maltbie has never looked back.
Since then, Maltbie has developed from a player with a microphone and headset into a full-fledged analyst with no punches to pull.
"In the beginning I viewed myself as a player and my relationship with them was that they viewed me as such," he says. "There was a certain trust factor that I wasn't going to throw them under the bus. I appreciated how difficult a job they had, and hopefully I haven't lost that.
"But it's safe to say that I don't have the same relationship with the players I once had," says Maltbie. "I'm media now. You just develop [that way] over the years. I'm more willing to be critical now. And being critical is OK. There's nothing wrong with that. My credentials are such that I know a good shot from a bad one, and I think I'm very qualified to say, 'That was a bad shot.' When you start crossing lines and getting into personalities and what a player might be thinking or feeling, unless I see something really obvious, then I'm probably not going to say too much. That's speculation, and I'm not going to do that. We've got a fellow who's paid a lot more than me to do that. That's his job."
Maltbie is referring, of course, to Miller, whose candid commentary is sometimes pointed at players like an arrow in an archer's bow. It is Miller's most endearing quality—and, at the same time, his most aggravating, especially when it goes flying wildly over the top. Maltbie is the one NBC announcer who is steadfastly unafraid to call Miller out on the air.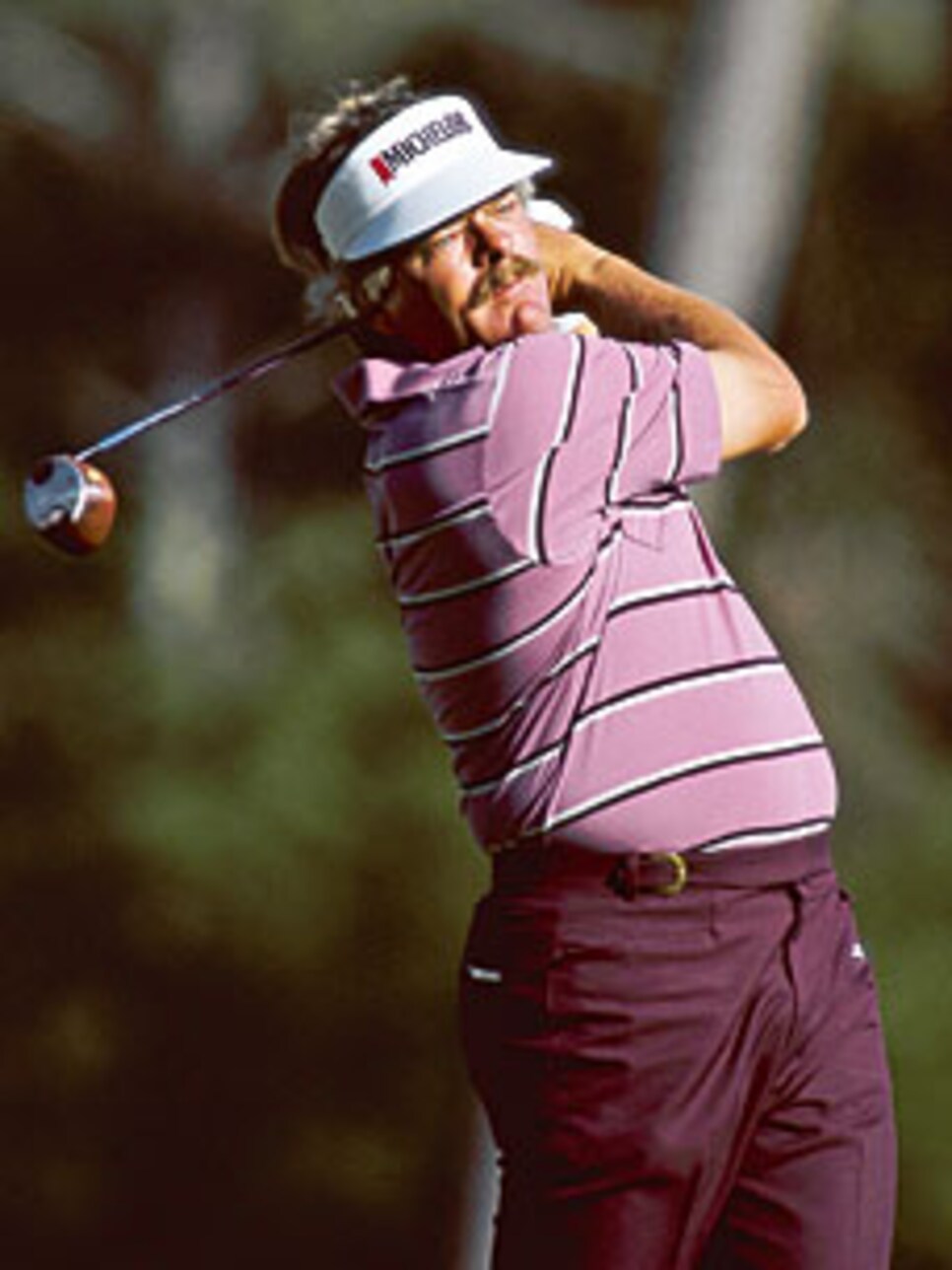 At this year's U.S. Open, Miller asked Maltbie how many people were following Tiger Woods, as if Maltbie was expert in the art of crowd math. "I don't have a complete count yet," Maltbie retorted.
"I'd rather shank it than three-putt for par," Miller said after Woods did so.
"Well, maybe not," Maltbie shot back.
"To NBC's credit, they've never told me not to," Maltbie says. "They encourage it. If he says something you don't like, that makes for great television. That's what [NBC executive producer] Tommy Roy wants. He wants people sitting at home listening to golfers talking about golf and maybe they'll learn something, like they're eavesdropping.
"Now, to Johnny's credit, he's right more often than not," Maltbie says. "Every now and then he gets over the top, and you've got to go, 'Whoa, big fella.' That's what makes Johnny great, what makes him so listenable. There's no telling what's coming next. I don't know, and I'm pretty sure he doesn't. That makes for great TV. That's refreshing. Whether [viewers] like him or not, he gets a reaction and they're listening to him. That's compelling."
Maltbie not only knows his position on NBC's pecking order, he seems comfortable with it. "Johnny is the best there is by far," says Maltbie. "It's not even close. Maybe the best analyst in all sports. Does he say things you want to take him to the mat for every now and then? That's part of it. Our system is that Johnny is the sun, and we are all the planets that revolve around him."
Maltbie's role includes that of chief humor officer, and he is known around the NBC compound as "Captain Morale." When someone on the crew is out of sorts, Maltbie reminds them how lucky they are to do what they do for a living.
"He certainly has a keen sense of observation," says Koch, who joined NBC in 1997. "I think he's as good as there is at sizing up a situation and succinctly painting a nice picture. He has a sense of humor that is very enjoyable, and that's a good thing for our telecast because we can get more serious than we need to be. He keeps things in perspective for all of us."
Maltbie was born in Modesto, Calif., and grew up in San Jose, where he went to college. He still lives in the San Francisco area, and he and his wife, Donna, have two sons, Spencer and Parker. When he turned 50 in 2001, Maltbie cast a jaundiced eye toward the Champions Tour and for the most part, let it pass.
"One thing I learned about having two sons, if you are a player, other people see you playing in tournaments," he says. "But when you're home, you're working on your golf game. You have to. You're at the golf course every day. Kids don't care if you're across town or across the country. You're not home. When I'm done with TV, I go home and it's my time."
But in 2003, Koch invited Maltbie to team with him at the Liberty Mutual Legends of Golf in the Raphael Division—two-man better ball. Surprisingly, they won. The next two years, Koch was eligible to play in the individual competition. "He thought I threw him under the bus," Koch jokes.
In 2006 and 2007 they joined forces again and finished second to the team of Tom Watson and Andy North, a fellow broadcaster. In the lead-up to the Legends in '06, Koch was in contention at the ACE Group Classic with nine holes to play. He didn't win, but he accepted the congratulations of many who praised his good play—with one exception.
"I know everybody was pulling for you, but I wasn't," Maltbie told Koch.
"What the heck are you talking about?" Koch said. "I thought we were buddies."
"Man, you would have won this thing, you'd have an exemption, you'd have gotten me an exemption and I'd be playing three days from the back tees," Maltbie said. "That wasn't going to work."
Koch and Maltbie teamed at the Legends again this year and won for the second time in the Raphael Division, shooting a 12-under-par 60 in the second round. But it wasn't without danger.
"Roger is on the eighth hole, a par 3, with a 9-iron, and he cold-shanked it," Koch remembers. "On the next hole he's got a second shot and, guess what, he's got a 9-iron. He said, 'What do I do? I've got a 9-iron.' I told him to be a man and step up and hit it.
"He hit it to within six feet and made the birdie," Koch says. "On the last 10 holes he was five under on his own ball."
Among golf insiders Maltbie is renowned for his expertise around a wine list and a fine-dining menu. He has a well-deserved reputation among golf journalists for being one of the game's last true raconteurs for his ability to hold court and spin a tale at a moment's notice. But it's his knack for holding the attention of viewers that has kept him following the final group on the weekends.
"What I came to find out is that doing live television is like playing tournament golf," he says. "When it's your turn, you've got to be ready to play. You're going to make mistakes. If you dwell on the mistake, there's more to follow. And when you do it right, it's like hitting one on the screws. You know it immediately."