News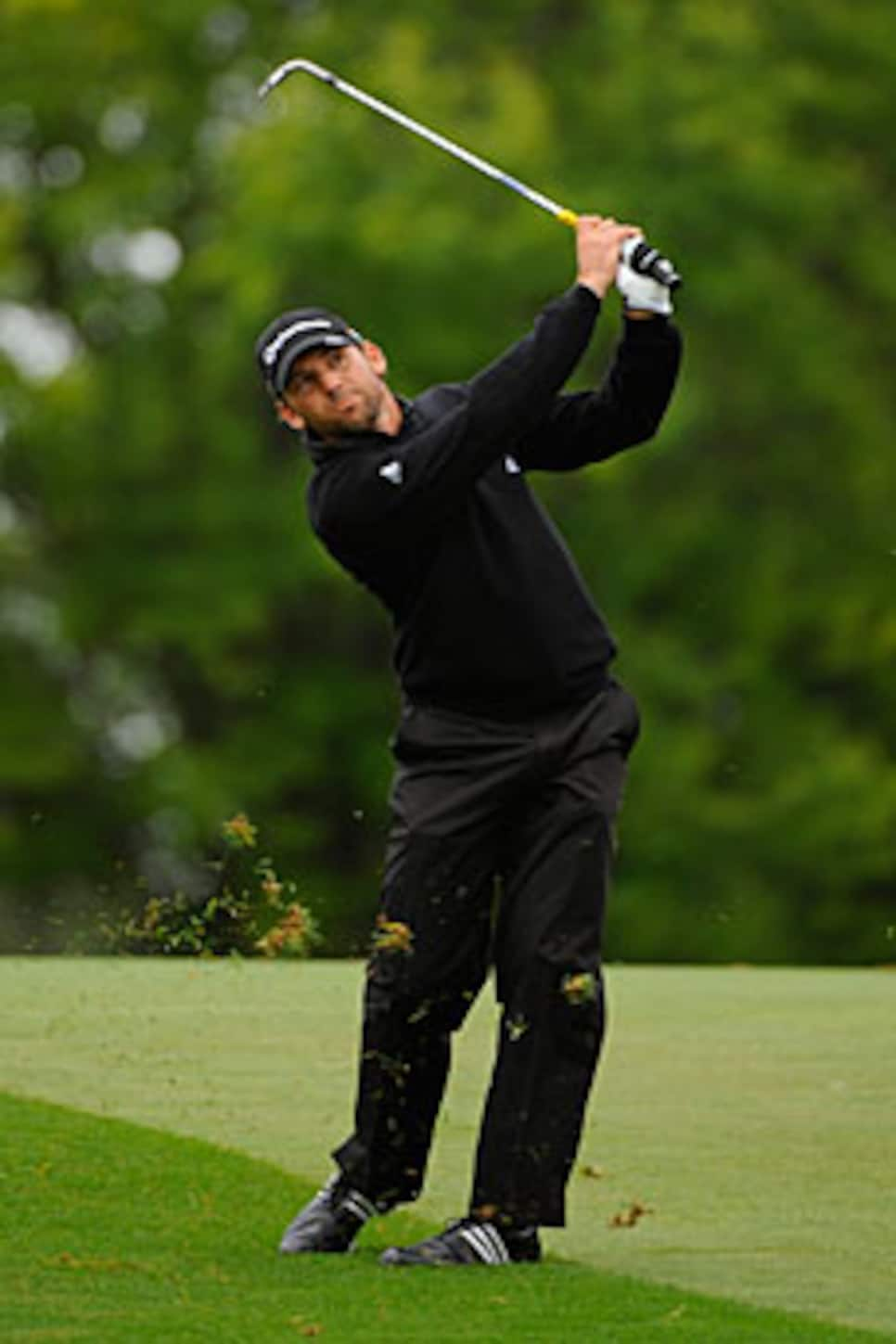 With four wedges, Sergio Garcia has all the shots inside 100 yards.
Hang around tour events long enough and you are bound to pick up some of the jargon. One of my favorites was hearing a player talk recently about hitting "a little three-finger" shot into a green.
Before you start staring at your hands, the translation is this: The pro was describing a less-than-full shot. Unfortunately, understanding the phrase and being able to execute the shot are entirely different matters.
That's why knowing the gaps in lofts between your irons and wedges is important. If you're going to swing fully at everything, you need to make sure each club is going a specific distance. Most manufacturers have done the job for you in iron sets, but once you get to the wedges, you are pretty much on your own. Some thoughts:
Although iron lofts have decreased during the last 30 years, to the point where today's pitching wedge loft is sometimes as low as 43 or 44 degrees, the standard sand-wedge loft has remained at 56 degrees. As such, players are noticing a discernible—and disturbing—gap between those wedges, as much as a three-club difference at times.
It's a fact: Most average golfers only hit four or five greens a round, meaning they have lots of shots from varying distances less than 100 yards. Therefore, getting dialed in on your wedge distances is a must. To do that, determine your pitching wedge's loft, then expand your wedge set in increments of 4 or 5 degrees. If your pitching wedge is 46 degrees, adding wedges of 50, 54 and 58 degrees makes sense. If you want to only carry another two wedges, a 51- and 56-degree works, although you're asking for trouble on certain lob and sand shots with only a 56-degree option.
The desire to fill in the gaps extends to the tour, too, as 11 of the 70 players at last week's BMW Championship carried four wedges. Still, players such as Robert Allenby, Woody Austin, Aaron Baddeley and Scott Verplank have close to 10-degree gaps between their pitching wedges and their next wedge. But if you are thinking of emulating them, remember this: They also know how to hit the three-finger shot.
Despite all the new technology, some clubs never go out of style. Case in point: the 59-degree Ping Eye2 L-wedge Hunter Mahan used at Boston and St. Louis. Mahan opted for the club—which first debuted 26 years ago, when he was 2—because of its different (boxy) look and added bounce. Mahan hoped the Eye2 would combat the courses' softer conditions.
Jay Williamson is a member of Bellerive CC but had reservations about how he would perform on the club's greens. Asked which putter he would use, Williamson replied, "I've got two [with me] this week. One is waist-length and one is throat-length." Williamson opted for the "throat-length" TaylorMade Rossa, but ranked 40th in putts per greens in regulation at the BMW Championship. … Since breaking his Srixon W-403 driver in 2006, Jim Furyk has fiddled with big sticks—to the detriment of his game. "I think that's part of the problem, to be honest with you," said Furyk, who is winless in 2008. "I finished third at the ATT [Classic] with four different drivers in four days." Furyk currently is using Titleist's 909 D3 driver. … Kyle Thompson may have found a reason he failed to qualify for the FedEx Cup playoffs—he discovered his Srixon I-701 irons were off by 2 or 3 degrees. Armed with new sticks with the proper lofts, Thompson finished T-2 last week at the Nationwide Tour's Utah Championship.