News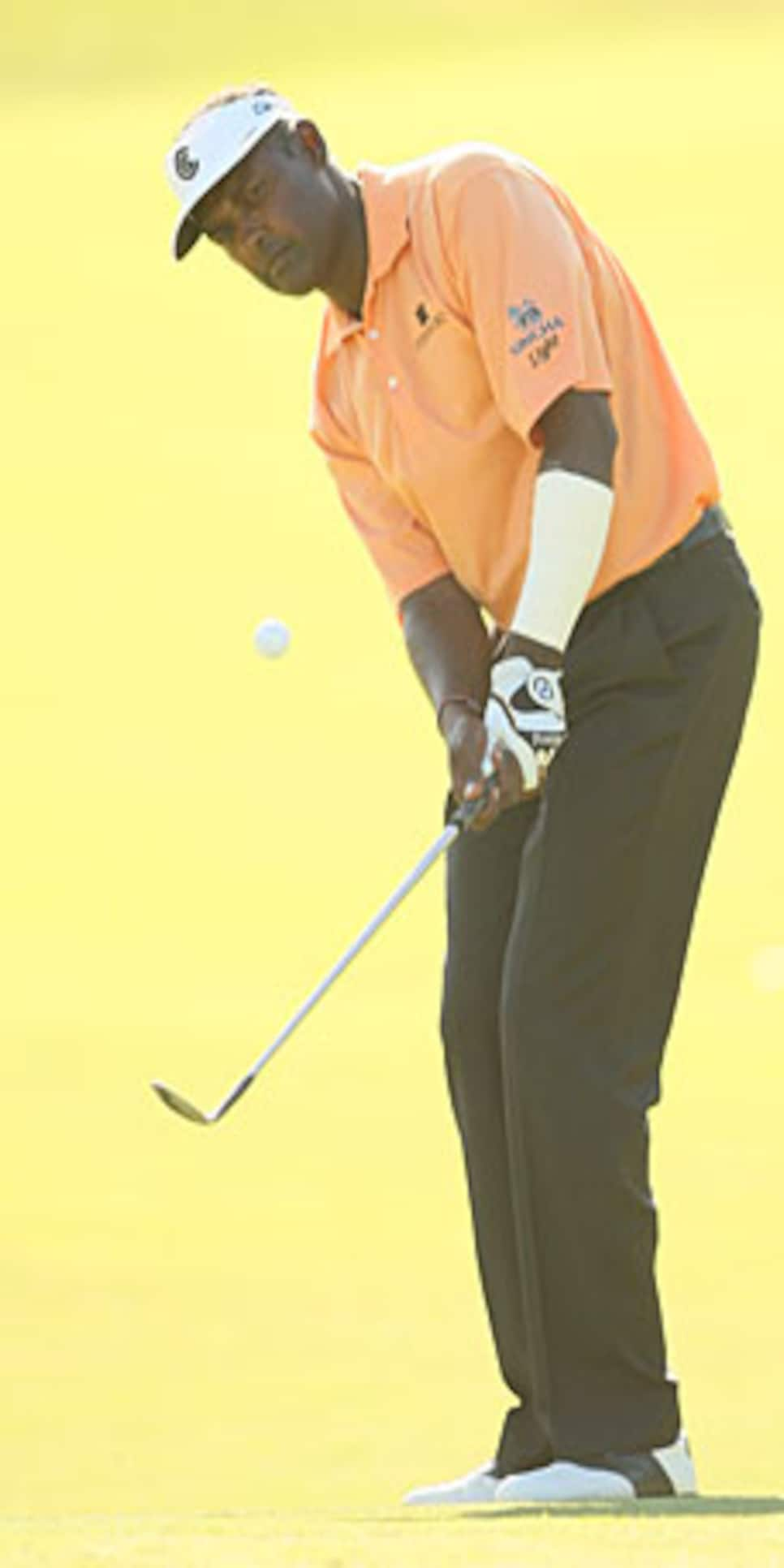 Pitch shots from the short grass also will spin less under new rule.
YOU may find it hard to believe that after all the words that have been devoted to the new groove rule in this space, there is more to consider. Weighing the rule's implications for a couple of weeks, however, there are still some questions worth raising. (Then I'll let it rest for a while—honest.)
First, is the graduated implementation a violation of the Rules of Golf? While all qualifying events for the U.S. Open will be played according to the new rule, one qualification to enter the U.S. Open is a Handicap Index of 1.4. Therein lies the problem: You are free to establish an index using clubs not allowed in the qualifying events. In a convoluted but intriguing way, this contradiction sounds like a violation of Rule 1-3, namely that, "players must not agree to exclude the operation of any Rule or to waive any penalty incurred." (Most likely, the USGA will handle this by saying it's a condition of competition and not an actual Rule of Golf.)
Second, if several popular irons already in use on the PGA Tour are said by their manufacturers to have groove patterns that already conform to the new rule (Titleist, Cobra, Adams and Ping have irons that may meet the new requirements), how much will the rule alter performance? And if the answer turns out to be not all that much, what is the USGA's next move?
Then there is manufacturer research that says the shot that might be affected most is the pinched wedge from the fairway. Does it not seem odd that a rule meant to restore the value for hitting the ball in the fairway might result in less effective shots from the short grass?
Much has been made of the ruling bodies' decision to implement the groove rule over time, grandfathering current clubs used by us hackers until "at least 2024." Given the power of peer pressure and the overwhelming tradition of golfers saying they want to play by the rules (whether they actually do or not), it is at least conceivable that the practical implementation of the new rule might occur in half that time frame, if not sooner. Recall how fast non-metal cleats in golf shoes became the norm. Could grooves make a similar speedy move at the club level?
Additionally, it is not impossible that engineers might develop a groove pattern or clubhead design that produces similar efficiency yet adheres to the new guidelines. Or a golf ball that spins more, yet retains the current distance benefits. Legislating against the unimagined is tough duty—and is never a sure thing.
In the movie "Ghostbusters," Bill Murray's character, Dr. Peter Venkman, is asked what all the strange ghost-like happenings are all about. "This city is headed for a disaster of biblical proportions," replies Venkman, whose cohorts go on to depict an escalating cataclysm that includes "Fire and brimstone coming down from the skies! Rivers and seas boiling! Forty years of darkness! Earthquakes, volcanoes. … The dead rising from the grave! Human sacrifice … Dogs and cats living together!" This might be where the great groove change takes us.
Could the majority of average golfers choose to ignore this rule, especially if they believe it unnecessarily makes an exceedingly difficult game even harder (despite the fact that much research says the change might not be noticed by average golfers at all)? If so, where does that leave golf's ruling bodies? Do they risk becoming irrelevant? What other rules might not be adhered to in the future? And how, ultimately, does the game grow in this kind of environment? Biblical implications—or at least dogs and cats living together—indeed.
Although it's not unusual to see players use a wedge to putt (Woody Austin and Mike Weir at last month's PGA Championship are two recent examples), Kenny Perry raised some eyebrows last week when on the 17th hole of the third round of the Deutsche Bank Championship he used his sand wedge for his first putt from 25 feet, then returned to his putter for the eight-foot par putt.
Almost every tour player has spent time on a launch monitor, studying launch angles and spin rates to optimize distance off the tee. But at last week's Johnnie Walker Championship, Colin Montgomerie got his first taste of high-tech help. "This particular course having five par 5s, ... I'm looking for another 15, 20 yards off the tee," said Montgomerie. "I think I've got 15 of it. I'm still five short. But we will see. I was trying to find launch angles and all kind of fancy technical stuff that I've never been into before." The numbers prompted Monty to drop from a 10-degree Yonex Cyberstar driver to a 9-degree version. ... Martin Laird has made the most of a change to TaylorMade's Spider mallet putter. Prior to making the switch at Reno, Laird ranked 85th on tour in putting average and had no finish higher than T-22, but he has posted three top-seven finishes since and is now ranked T-24 in putting average.