News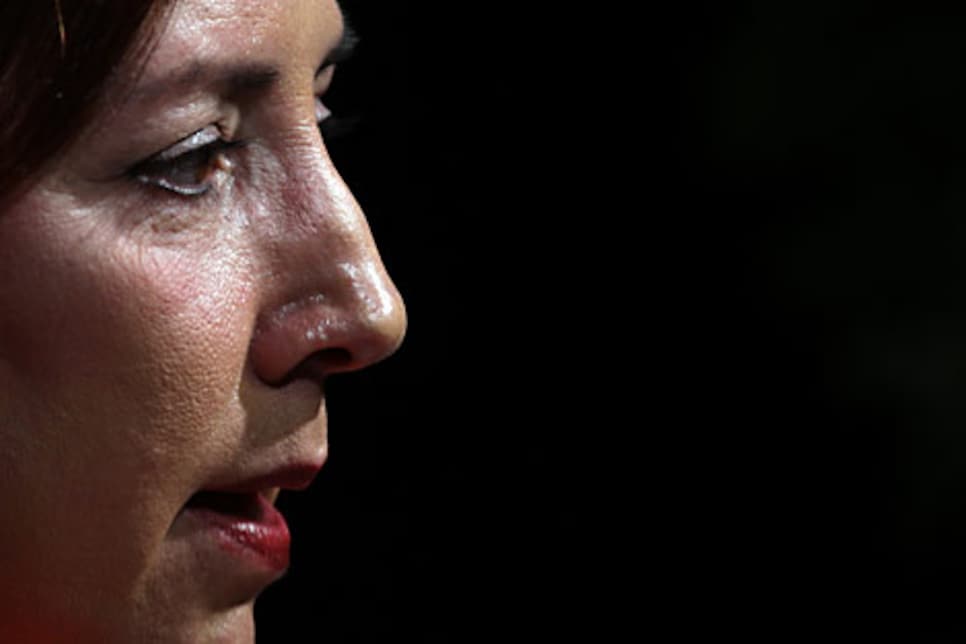 Bivens contends inaction will reduce non-English speakers' earning power.
With the Summer Olympics just leaving the world's stage, the Cold War reheating in Georgia and the Democratic National Convention in full swing, having the LPGA in the headlines last week meant commissioner Carolyn Bivens was having either a really good week or a really bad one. Put it this way: If this had been Olympic gymnastics, the degree of difficulty presented by the reaction to the LPGA's decision to impose English proficiency standards next year under penalty of suspension achieved its maximum value.
Bivens, trying to enjoy an off-week at her Southern California home a continent away from tour headquarters in Florida, instead had her Blackberry buzz to life with reports of headlines such as the one in the Boston Globe that screamed "LPGA way out of bounds." And when she opened her New York Times last Thursday, Bivens saw an editorial entitled "A Bad Idea from the L.P.G.A.," which concluded by saying: "For the L.P.G.A. to impose discriminatory rules on its own members is not only offensive, it's self-destructive."
Why such intense reaction to the LPGA's plan to make all players pass an English proficiency test after two years on tour beginning at the end of 2009? Perhaps because it strikes a chord that vibrates far beyond golf.
I can't imagine that someone who has thought this through does not realize that in opposing this measure they are penalizing the very people they are trying to help.'
"While we talk about the golf-related issue, there is a massive political undercurrent, with the Fox News fans thinking the LPGA did the right thing while The New York Times can use this as a thinly veiled opportunity to address the official-language-of-the-United-States issue," said one executive involved in LPGA tournament management, speaking on the condition of anonymity. "Keep an eye on the pressure special interest groups will put on politicians, the LPGA, sponsors, individual players and TV" over this, the source warned.
Bivens was both surprised and angered by the reaction to the proficiency policy. "I find it troubling that media that does not know the whole story would jump on a racist bandwagon," Bivens told Golf World. "If these players don't take this step [and learn English], their ability to earn a living is reduced. They will be cut out of corporate and endorsement opportunities. I can't imagine that someone who has thought this through does not realize that in opposing this measure they are penalizing the very people they are trying to help."
In deciding to make English proficiency a requirement, the LPGA has stepped onto a treacherous tightrope stretched between its American-based business model and the rapidly growing Asian component of that model. While there are 121 international players from 26 nations on the LPGA Tour this year, 45 of them are from Korea and they were clearly the targets. Factor in that the tour's biggest revenue stream is Korean TV money and that it is looking to expand in Asia, and it's easy to see the hornet's nest toppled here.
Further complicating the issue is the fact there are athletes in other sports who are not comfortable speaking English to the media, including 2007 U.S. Open champion Angel Cabrera and baseball stars Ichiro Suzuki and Vladimir Guerrero, who are not required to do so. In fact, Major League Baseball resembles the LPGA in that it has players from Japan, Taiwan and South Korea -- as well as nearly 30 percent from Latin America -- yet has no English-proficiency requirement.
Of the three areas the LPGA has identified as linguistic trouble spots -- media interviews, victory speeches (where sponsors are praised) and the pro-am competitions -- the pro-am is unique to professional golf and is perhaps the tour's strongest arguing point. Ichiro does not have to interact with four fans one day of every week. The cost of entering a four-person team in an LPGA pro-am is around $24,000; if the pro can't speak English it creates an awkward situation.
The language proposal has been under discussion for several years as the number of Korean players has grown. It moved to the front burner, according to a well-placed source, when Eun-Hee Ji won the Wegmans LPGA in June and was unable to deliver the victory speech in English. A meeting was held with Korean players, their parents and managers at the Safeway Classic two weeks ago at which Bivens revealed the English-proficiency plan.
According to the source, one father lashed out at Bivens, who was defended by several veteran Korean players. A second source said some Korean players walked out of the meeting along with a few fathers. Multiple sources said the Korean players requested a private meeting with no LPGA officials, managers or parents, at which the veterans told the younger players it was to their economic benefit to learn English.
"I truly believe that if the players follow the direction of what the tour is saying in terms of learning the language, it will benefit them," says J.S. Kang, a Korean-American agent with Sterling Sports Management, which represents six Asian players. "Maybe now their parents will get the message that [studying English] is just as important as spending an extra 15 minutes putting. If your child has the potential to be No. 1 in the world, it is not enough to be a superstar just in Korea. You have to care enough about your sport and your celebrity to be a superstar around the world and not in just your little world."
Most everyone agrees having so many stars unable to speak English creates marketing problems for the LPGA. The disagreements concern the mandatory nature of the rule, the severity of the penalty (a suspension) and the difficulty in defining English proficiency, a standard the tour hopes to define by the end of the year. "Generally, Korean LPGA players agree with this rule," says Minsuhk Choi, a Korean journalist who follows the LPGA Tour and has spoken with many about the issue. "But they have doubts about the punishment." Choi says a fine would be more acceptable than suspension.
The intense reaction to the rule raises questions as to whether individuals or organizations will challenge its legality. "We believe it is pretty clear that effective communication in English is really fundamental to our business," said LPGA deputy commissioner Libba Galloway, who is a lawyer. "It's pretty clear businesses and organizations have the right to establish a certain set of skill requirements [for participation]."
The LPGA's bold move to tackle a very real problem was intended to be a solution but may, in fact, create even more problems. The full scope of those problems will only be understood over time -- and will certainly be told in many different languages.