News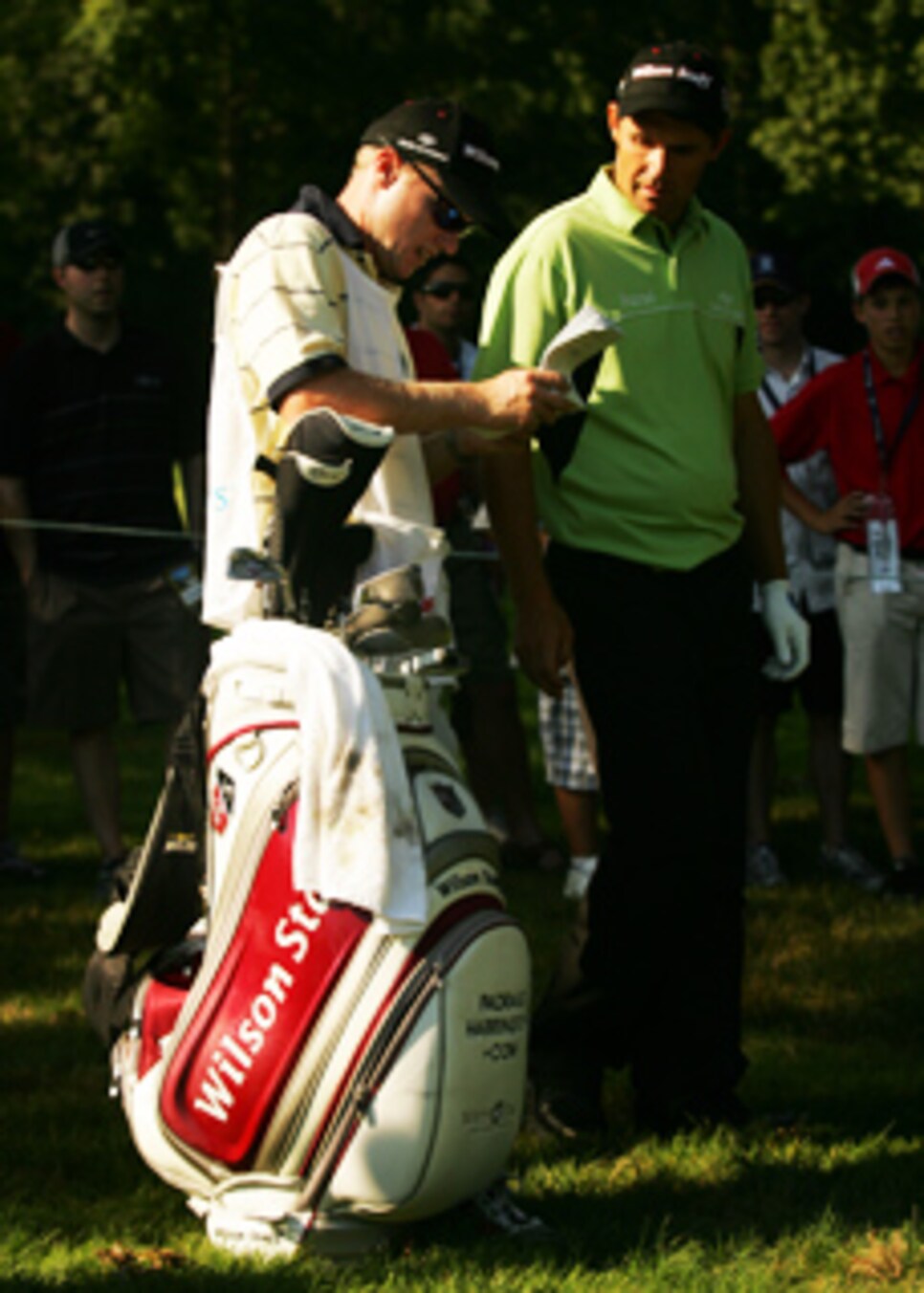 Poster boy: Harrington has been Wilson's top player for several years.
Congratulations on the big wins. Majors back-to-back not only likely helped you sew up player-of-the-year honors (see pg. 24), but couldn't have come at a better time as I understand your contract with Wilson is up after this year. Even if Wilson is hard-pressed to come up with the kind of money you will be looking for, surely you will be able to parlay your newly burnished résumé into a mega-offer from another equipment company.
But before you go down that road, here's a little free (and unsolicited) advice: Don't do it.
I know, I know--I'm saying you should pass up millions. But it goes beyond that. Staying put may not be the best thing for your savings account, but it could be the right thing for your game and your suddenly increased standing in the game's history. If those things are important to you, well, read on.
Let's start with a history lesson. Namely, the game is littered with players who have been successful, chased equipment dollars and then fought to rediscover their games with unfamiliar bats and balls.
One example of taking the money and running backward was Payne Stewart, who left Wilson to sign with Spalding in 1994. Stewart's deal not only required him to change from forged blades to cast, offset irons, but to play Spalding's two-piece Top-Flite ball--a far cry from the wound ball he had used. For a feel player such as Stewart, the results were disastrous. After ranking sixth in earnings, Stewart ended the following year 123rd on the money list. Not exactly encouraging.
Other poster boys include Lee Janzen and Corey Pavin. Janzen, who won the 1993 U.S. Open, signed with Ben Hogan in 1994--and his game immediately unraveled. Pavin's play suffered even more. A win in the 1995 U.S. Open using Cleveland clubs gave Pavin his fourth year out of five in the top 10 in earnings. But after leaving Cleveland in 1997, he finished outside the top 100 on the money list six of the next seven years. A coincidence? I think not.
Look, I know you're discerning about your equipment and a change would come as more of a shock to your system than some others. There's also the fact you play Wilson clubs, an Odyssey putter, Titleist golf ball and wear Hi-Tec shoes. Any company, whether it be Acushnet, TaylorMade or Nike (the three most likely to shell out big bucks), is likely going to insist you play 13 or 14 clubs, wear its shoes and play its ball. Do you really want wholesale changes as you prepare to go after your third-straight major at next year's Masters?
Sure, there have been players who have changed and done OK. Heck, Phil Mickelson ditched Titleist after his Masters win and has chalked up two more big ones with Callaway. But on the flip side is Ernie Els, who hasn't won a major since leaving TaylorMade at the end of 2002. And I can't help but compare your situation to that of Nick Price, who won the 1994 British and PGA to up his major total to three (sound familiar?). He was with Ram, a company that couldn't afford to keep him (also sound familiar?). Price was a similar age, too. But after leaving Ram he went from company to company and never won another major. I certainly couldn't blame you if you turn your success into sacks of hard cash. But it would be cool if, for once, that wasn't the case. Here's hoping that bag holding your sticks next April at Augusta still says Wilson on the side.
Hunter Mahan used a prototype Ping iWi putter just 23 times during a first-round 62 at the Barclays. The putter features changeable weights in the heel and toe areas, and appealed to Mahan (who used the 12-gram weights) right away. "As soon as I grabbed it [and] put it down, it just looked good to me," said Mahan, who cooled off with the putter the next three rounds, averaging 33.33 putts. "I liked the weighting of it and the feel."
Tour pros are famous for changing putters, but Rich Beem takes it to a different level. "I've got about five or six bagfuls of them at the house," said Beem, who did not change putters (for once) at the Barclays. "That's the big staff bags, by the way. Putters are evil." ... Padraig Harrington put an Aldila Voodoo shaft in his Wilson Smooth driver last week. ... Mike Weir doesn't often change drivers (he played TaylorMade's r7 Quad almost exclusively since 2004), but last week he switched to TM's r7 Limited, a driver with three adjustable weights and a somewhat triangular shape. ... Joining Paul Casey as a player of Nike's prototype VR (Victory Red) irons last week was Trevor Immelman, who ranked T-29 in GIR for the week at the Barclays.